A stunning outfit for a mother of the wedding or a formal wedding guest!
Shopping tip: Nordstrom Clearance Sale is on now through September 13th!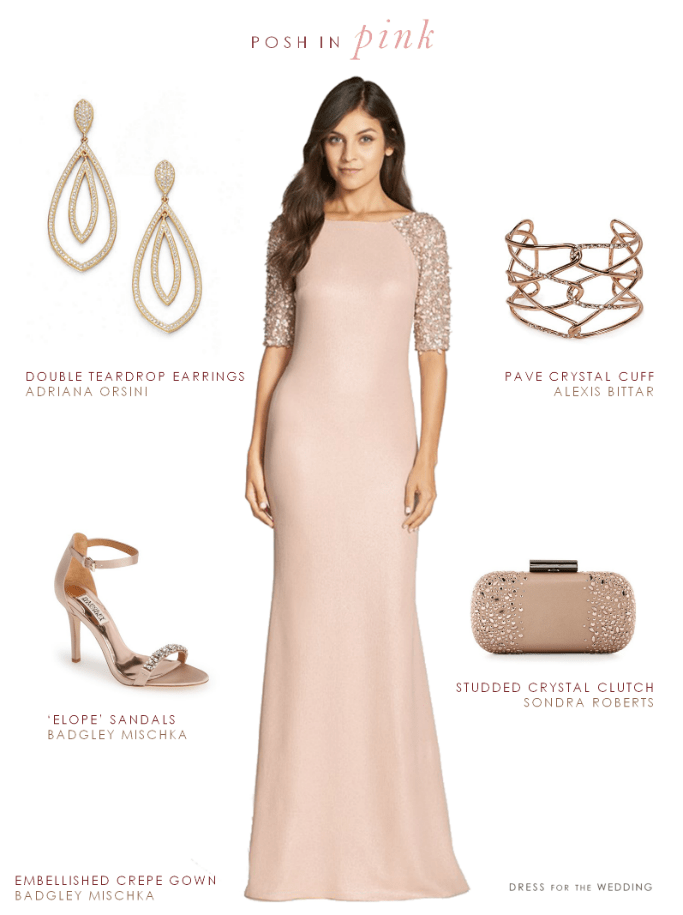 Sponsored shopping links from our affiliate partners in are underlined and in italics in the shop details in this post.
Gown: Embellished Foil Crepe Gown by Badgley Mischka at Nordstrom  | Earrings: Double Teardrop Earrings by Adriana Orsini from Saks Fifth Avenue  | Cuff: Alexis Bittar 'Miss Havisham' Pavé Crystal Barbed Cuff by Alexis Bittar from Bloomingdale's | Clutch: Studded Satin Clutch by Sondra Roberts in Taupe from Neiman Marcus | Sandals: 'Elope' Sandals by Badgley Mischka in Latte Satin from Nordstrom
For the mothers of the bride or mothers of the groom wanting a stunning sleeved gown, I have a great one with today's featured gown  - and it's in a lovely color with some embellishment, too. I've been keeping my eye on this beauty from Badgley Mischka  for quite some time and I think it's gem of a gown because it has sleek lines but some beautiful details like the length and sparkle on the sleeve and in the blush metallic fabric,  and it has a beautiful deep back for a graceful look.
A gown like this pairs perfectly with Badgley Mischka shoes in Latte Satin  and is accented by some rose gold tones in the cuff and clutch. Add some statement earrings by the always impeccable jewelry styles of  Adriana Orsini and you're ready to go to a formal wedding or glow in your role in the wedding!
Links that are in italics throughout this post and images in the shop section are from our affiliate retail partners and sponsors, meaning that this blog may earn a small referral commission if a qualified sale is made.  Happy shopping!