A long neutral maxi dress for bridesmaids or a wedding guest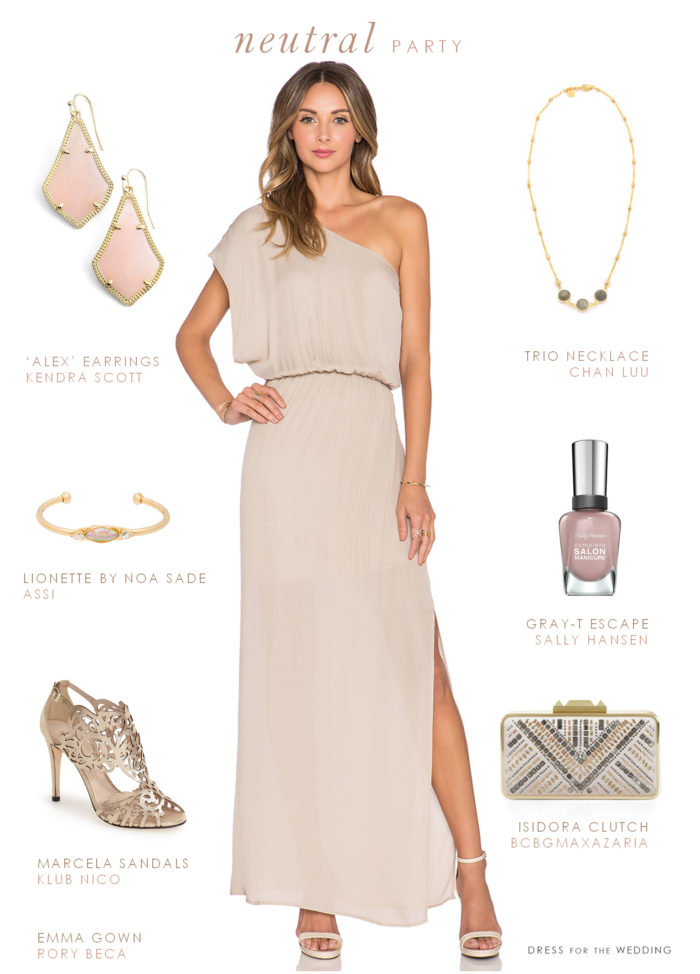 Sponsored shopping links from our affiliate partners in are underlined and in italics in the shop details in this post.
Shop the look: Dress: Rory Beca Maid by Yifat Oren 'Emma' Gown from Revolve Clothing (now out of stock), but the same designer now has a collection at Forever 21 called Pretty by Rory with a nearly identical maxi dress. Check it out here.| Earrings: Kendra Scott 'Alex' (smaller) or 'Alexandra' (large) earrings in Rose Quartz | Necklace: Chan Luu Trio Stone Necklace from Shopbop | Nail Polish: Gray-T Escape Nail Polish by Sally Hansen | Clutch: BCBGMAXAZRIA Isidora Jewel Embellished Clutch | Bootie Sandals: Marcela' Sandal by Klub Nico from Nordstrom| Bracelet: Lionette by Noa Sade from Assi at Revolve Clothing
Taupe Maxi Dress to Wear to a Wedding
Neutral bridesmaid dresses are at an all-time high in popularity, and the soft, natural look of this color doesn't show any signs of stopping. What is a revelation is the style of dress that is emerging for bridesmaid which has a long, loose, maxi style. The featured neutral maxi dress could even be worn as a wedding guest dress (provided this color isn't too much like cream or ivory in person - but I believe it is wedding-guest friendly and faux-pas-proof taupe). It also comes in other darker shades and cobalt for a truly irreproachable color.
This line from Rory Beca just for bridesmaids is what I would call polished bohemian - the gown is silk, but the look is relaxed, and that's what many wedding parties want - a sort of undone formality.
Accessories for a Neutral Maxi Dress
For this look, I styled it with an 'after the wedding' look, although you can certainly include some of these pieces in a look for bridesmaids. To keep this gown from fading in the background, I went with some eye-catching details like those laser cut sandals, and embellished clutch, and paired it my favorite neutral polish. I'm wearing this nail polish right now as I type this, and I love its pinkish, gray, lavender tones for fall. If you want a neutral look that is far from basic and very versatile, go neutral, but go with a dress like this!
More Mocha and Neutral Maxi Dresses:
Links underlined and in italics throughout this post and images in the shop section are from our affiliate retail partners and sponsors, meaning that this blog may earn a small referral commission if a qualified sale is made. Happy shopping!
SHOP THE LOOK


Mismatched Neutral Bridesmaid Dresses