This is a wedding outfit with a floral maxi dress for a spring wedding!

Floral Maxi Dress for a Spring Wedding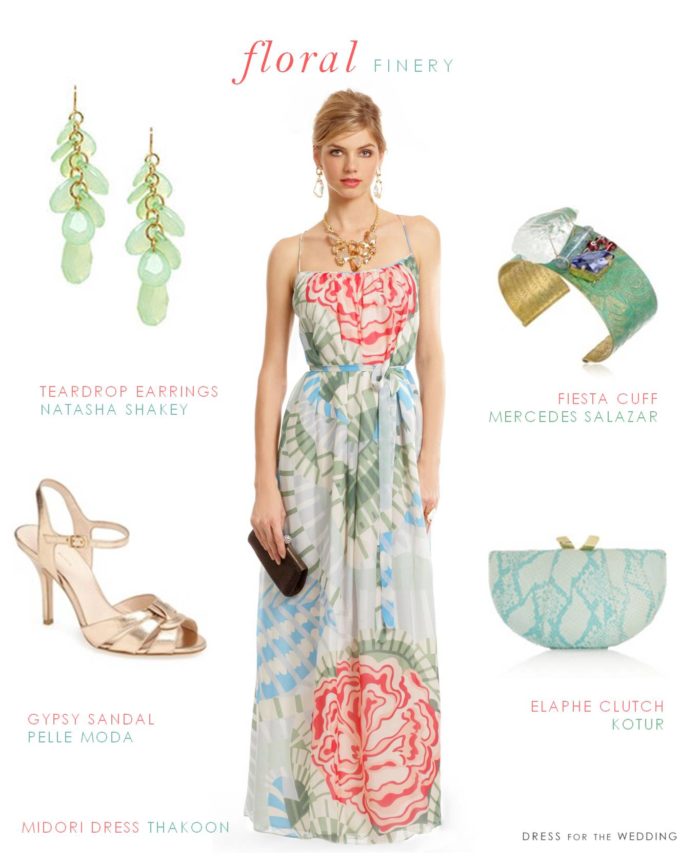 From affiliated shops: Thakoon Midori Maxi at Rent the Runway / Natasha Shakey Teardrop Earrings / Mercedes Salazar Fiesta Cuff / Kotur Melon Elaphe Clutch / Pelle Moda Gypsy Sandal
Floral Print Maxi Dress
This floral maxi dress grabbed me the second I saw it on Rent the Runway, and when you see in the renter photos all the different ways it can be worn ( from a boat ride to a bridal gown!) you might see why I love it so much! I am really into floral prints again this year, and this one has so many great colors to play with: cool blue, with sage green, and that bright pop of coral. In short, I absolutely love it! Last year, I remember being on the fence about wearing a maxi dress to a wedding, because there were so many flimsy maxi dresses that looked like beach cover ups. Thankfully, the fabrics and silhouettes have gotten so much better!
How to Style This Long Floral Dress
For accessories, you can wear so much with this: I picked up the sage green and blue with the accessories I chose, but you could just as easily play up that great spot of coral pink. I just love this one for a destination wedding guest dress, beach wedding guest dress, or outdoor spring wedding. Do you love it too?
More Floral Dresses You Might Love
Affiliate commission links are used in the shopping links in this post about spring print pink floral maxi dress. This means this blog may earn a commission if a qualified purchase is made.

More style ideas you might enjoy :