What should you wear to a destination wedding? It can be tricky to figure out what to wear to any wedding -- especially a destination wedding! We'll give you ideas for how to dress for a destination wedding based on the wedding's location, time of day, and level of formality. We've also included some destination wedding guest dresses to make finding the perfect look easier!
Affiliate links are used in this post. This means this blog may earn a commission if a qualified purchase is made.
What To Wear to a Destination Wedding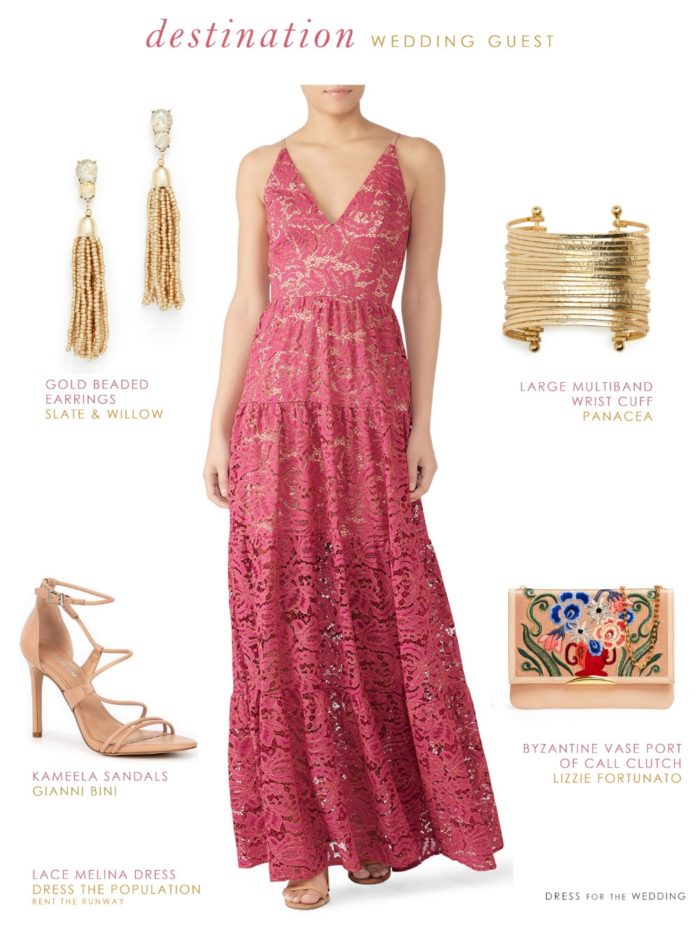 Dress: Fuchsia Melina Lace Maxi by Dress the Population from Rent the Runway | Earrings: Gold Beaded Earrings from Rent the Runway | Bracelet: Large Multiband Wrist Cuff by Panacea from Nordstrom | Clutch: Byzantine Vase Port of Call Clutch by Lizzie Fortunato from Rent the Runway | Shoes: Kameela Leather Strappy Dress Sandal by Gianni Bini from Dillards
While we often think of far-flung exotic lands or tropical beaches when we think of destination weddings, technically, any wedding that doesn't take place in the area where you are primarily settled is a destination wedding!
You might be invited to a beach wedding in a warm climate, or an amazing venue in Europe, or just a little venue a few hours away that might be the couple's hometown or favorite vacation spot.
In any case, deciding what to wear to a destination wedding is similar to deciding what to wear to any wedding, but you'll want to add a layer of awareness about the climate you're going to, any of the special attire requirements that the destination may have.
How to Dress for a Destination Wedding
It is helpful if the couple has included the attire requirements for their destination wedding on the invitation or on the wedding website. If they haven't done that, you can use some clues to help you!
Usually, you can either gain direct guidance from the invitation or be able to figure out the formality from the time of day of the event and the location. For instance, a daytime beach wedding is probably an event that only requires casual attire like a nice sundress, while an evening formal reception in a European castle might require a ball gown or tuxedo for the guests.
Here are some tips for what to wear to a daytime or casual wedding, what to wear to an afternoon or evening wedding, and gowns and dresses to wear to a formal wedding to help narrow down the wedding dress code.
Different Types of Destination Weddings and Attire
Right now in the winter, tropical destination weddings at beach resorts are popular, so you can get plenty of ideas for what to wear from our post about what to wear to a beach wedding, or check out tan suits that are perfect for beach and destination weddings. If it's a destination wedding with a hotel reception, then semi-formal attire is a good place to start. If it's a rustic wedding, you can check out more ideas in this post What to Wear to A Rustic Wedding. We are also starting to tackle popular destinations individually starting with this post about Charleston and What to Wear to a Southern Wedding.
All in all, you'll wat attire that is easy to pack. You may also want to bring some options to dress up or dress down what you'll be wearing in case you realize what you've envisioned won't exactly suit the event or climate.
Let Your Look Reflect the Location
When being aware of the climate and venue, it's also a great idea to let some aspects of the location be reflected in your attire. For a beach venue, beach wedding attire like a printed tropical maxi dress, or linen suit, or brightly colored shift dress is a great look. If you are going to a black-tie wedding in the destinations' hotel or mansion, consider wearing a fashionable formal gown or well-cut suit. Maybe you're attending a mountain destination. In that case rustic wedding guest attire like a floral dress, or a tweed suit can be a great way to echo the spirit of the location.
Be Aware of the Local and Cultural Practices
You'll also want to be aware of any cultural expectations for the ceremony or reception. For example, some friends of mine who were married in Italy learned that the church had strict attire guidelines. Female guests and attendants had to make sure their shoulders were covered, and that their dresses or skirts and fell below the knees. Knowing details like this ahead of time is key for everyone; especially if your destination doesn't have any shops for miles around!
Wedding Guest Dresses for Destination Weddings
Here are some of our picks for destination wedding attire. We'll also add more links to specific dress code ideas as we have them!
Affiliate links are used in this post and in this shoppable section.