This shopping guide is full of ideas for what to wear to a June wedding. We've selected over 90 dresses that we think are perfect to wear to a wedding in June. Our ultimate guide to dressing for early summer weddings has been updated with trending styles and up-to-date outfit picks for the 2023 summer wedding season!
Links in italics and in the shop section are from affiliates and sponsors, meaning that this blog may earn a commission on purchases.
What to Wear to a June Wedding 2023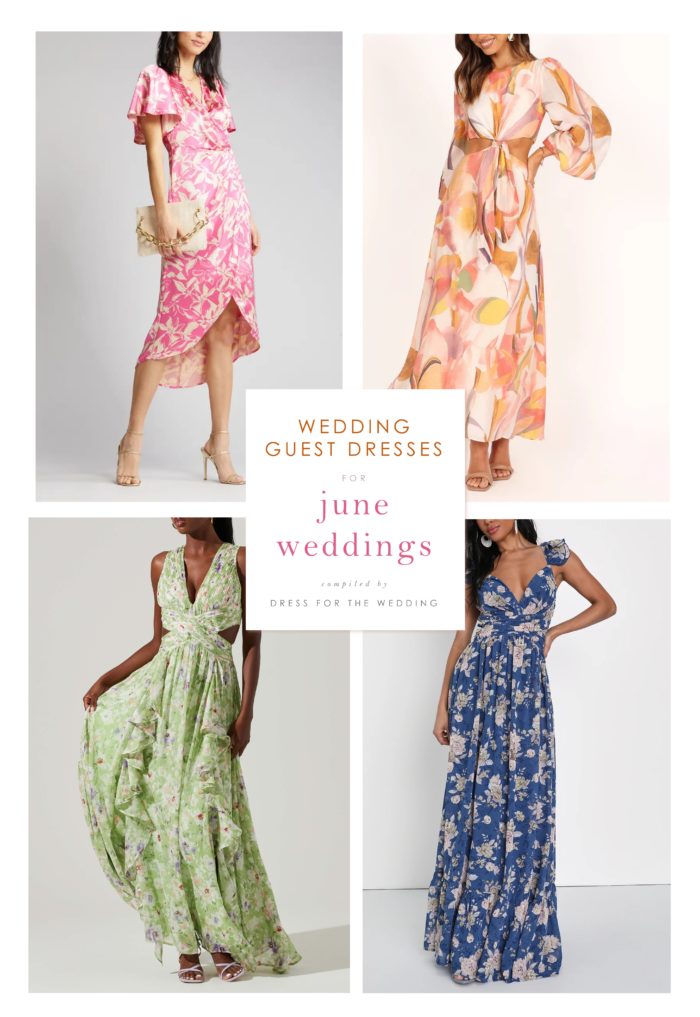 Image credits and shopping links: 1. Pink Satin Faux Wrap Midi Dress by Chelsea28 from Nordstrom 2.Pink and Coral Printed Laquin Long Sleeve Maxi Dress from Petal + Pup 3. Noya Cutout Maxi Dress from Astr the Label 4. Ruffled Soiree Celebration Lace Up Maxi Dress from Lulus
It's June, which means the most popular month for weddings is upon us! By this point, the wedding dress and other important wedding party attire have already been selected, but the guests of June weddings might still be looking for pretty dresses to wear. Here are our picks for fabulous dresses with suggestions of where you might wear them. With over 20 dresses, there's an outfit or dress for nearly every type of wedding you might encounter this month! You'll also want to check out our picks for The Top Summer Wedding Guest Dresses for 2023, also see our new post with sustainable wedding guest dresses.
Links in italics are from affiliated retail sponsors.
Best Dresses to Wear to a June Wedding
We know there are many, many different types of weddings planned for the month of June. We'll take you through some of the best dresses we've seen this season, and show where to wear these dresses and outfits for June weddings in trending colors and styles. june wedding guest outfit
June Wedding Outfits by Time of Day
Most wedding dress codes are heavily influenced by both the season and time of day. In general, morning events are less formal than afternoon and evening events. Here are a few ideas of what to wear to a June Wedding by time of day.

Morning or Early Afternoon Wedding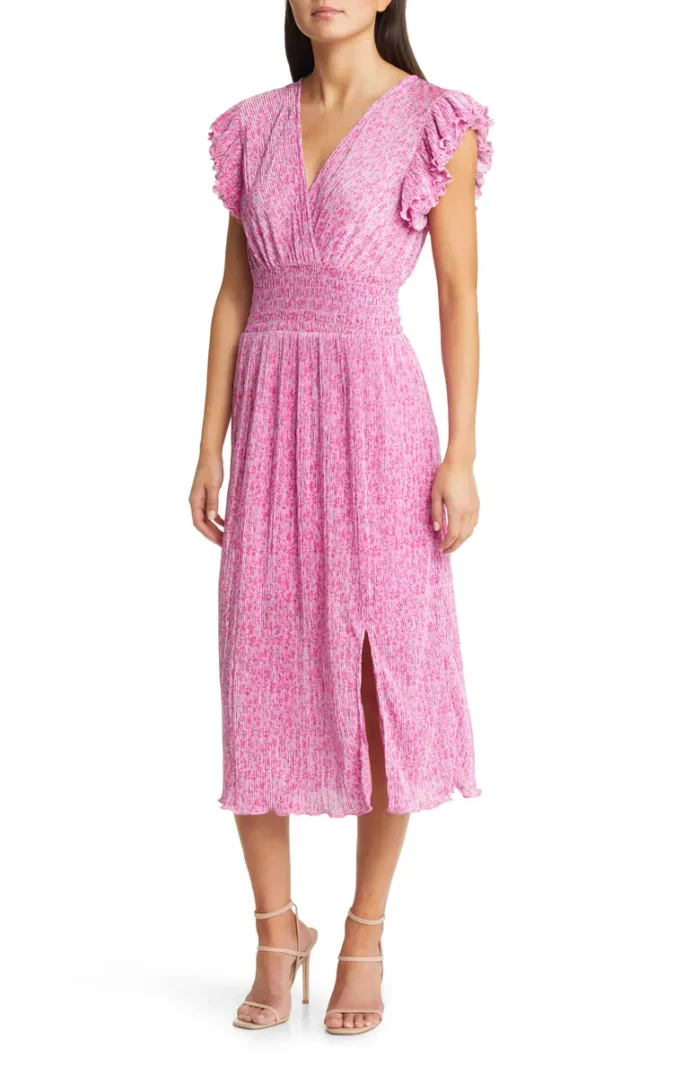 This casual style in a midi length is perfect for a morning June wedding at a casual or outdoor venue. It's a dressy daytime dress that can be dressed up with a clutch and heels, but still keeps a breezy, casual look for a daytime event.
Shop This Dress from Nordstrom
Afternoon Semi-Formal Wedding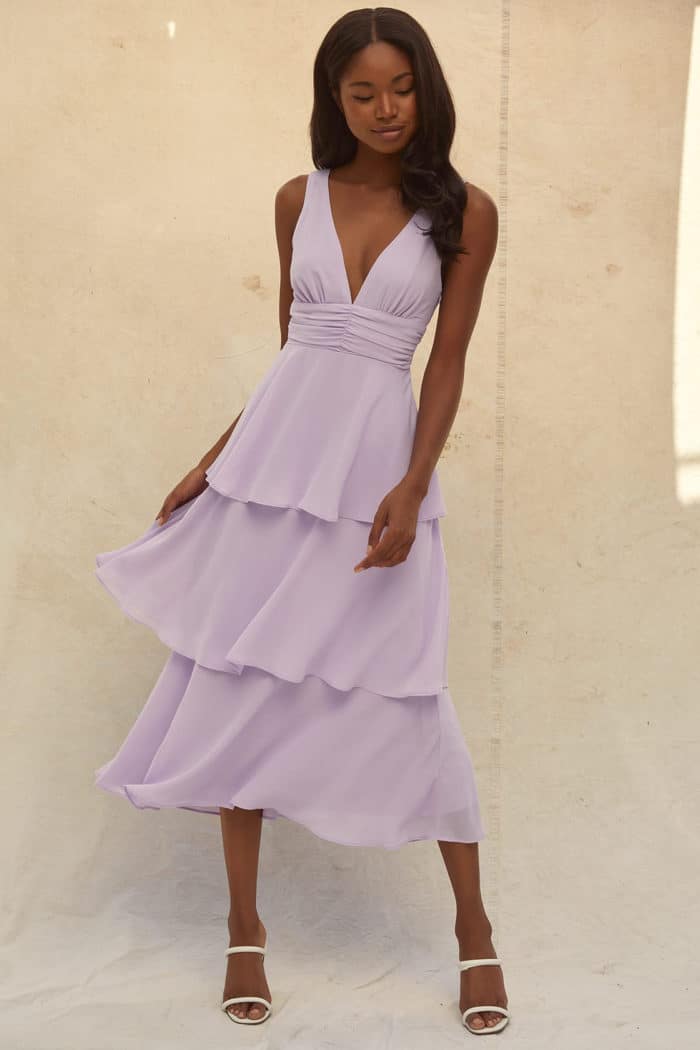 As the day goes on, usually a wedding calls for some semi-formal attire. This lavender color is one of the top colors for the season, and the tiered style of skirt is also on trend. This look combines a cool color with a semi-formal style for afternoon wedding guest-style perfection.
Cocktail Hour Wedding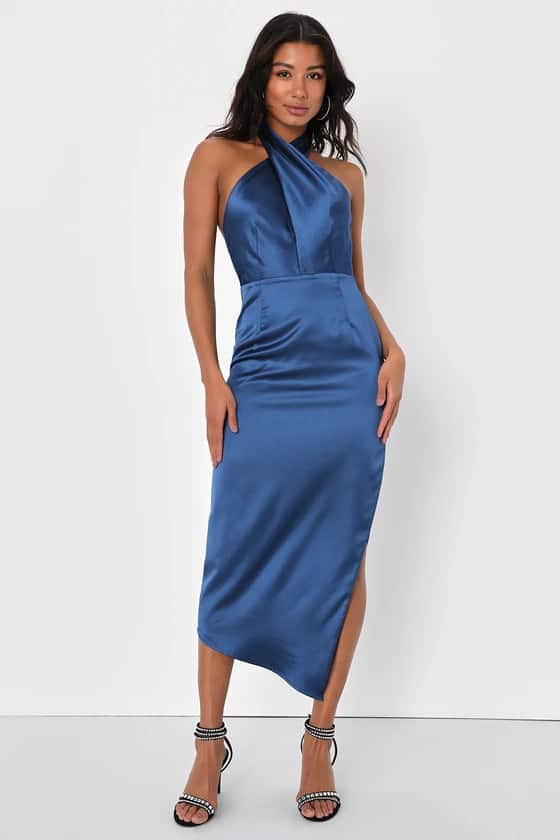 A wedding starting in the late afternoon and going into an early evening cocktail reception with dinner and dancing into the evening is one of the most common types of weddings we see!
Black Tie or Formal June Wedding Outfit
This long gown is decidedly black tie wedding ready. We love that has gorgeous floral accents that keep it summery and chic.
June Wedding Guest Outfit Ideas by Style of Wedding
In addition to the time of day and the stated formality of a wedding, the style and venue of the wedding also play an important role in defining exactly what to wear. Here are some of our favorite June wedding guest outfit styles based on the type of wedding you'll be attending.
Informal Wedding
Casual venues, small backyard weddings, and daytime weddings usually fairly casual dress codes. This pretty printed black and purple floral wrap dress is dressy yet easygoing enough to not be too over the top for an informal June Wedding.
Shop This Printed Wrap Dress at Nordstrom
Outdoor June Wedding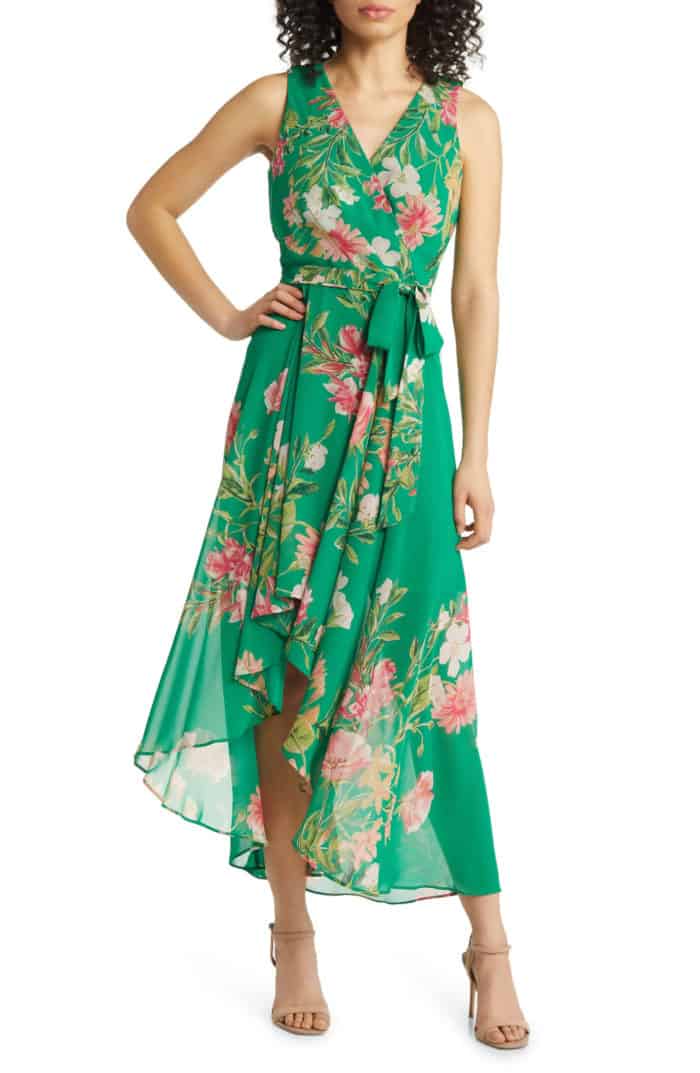 June usually means many weddings move outside. For an outdoor ceremony and reception, you'll want something that's a little more relaxed but still nails the dressy look. We love this green printed midi dress with a wrap top and a hi-low hemline by Eliza J.
Shop This Green Floral Dress from Nordstrom
Rustic or Country June Wedding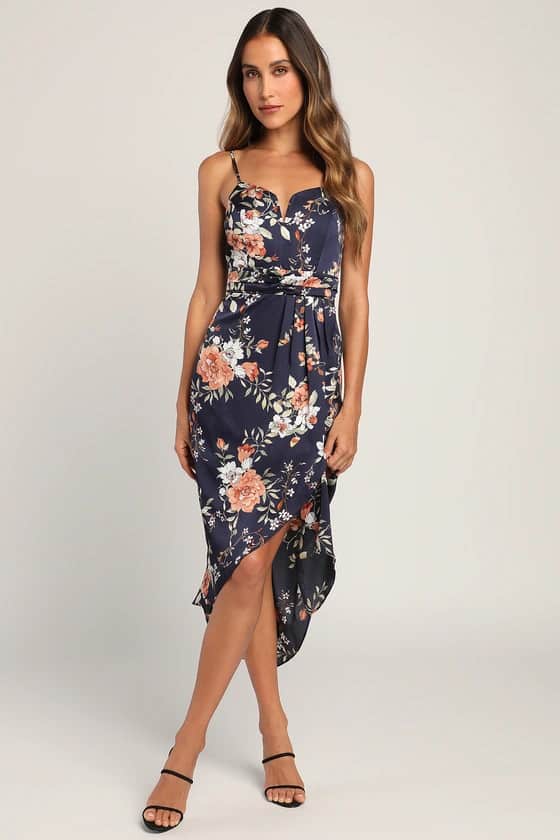 We always love a bit of floral print that's balanced with a formal color like navy blue. This style of dress will work at any semi-formal wedding, but the wildflower style seems particularly appropriate for a rustic country wedding venue. If this dress isn't the one for you, you can see our shopping guide filled with more rustic and country wedding guest dresses.
Outdoor Wedding in Hot Weather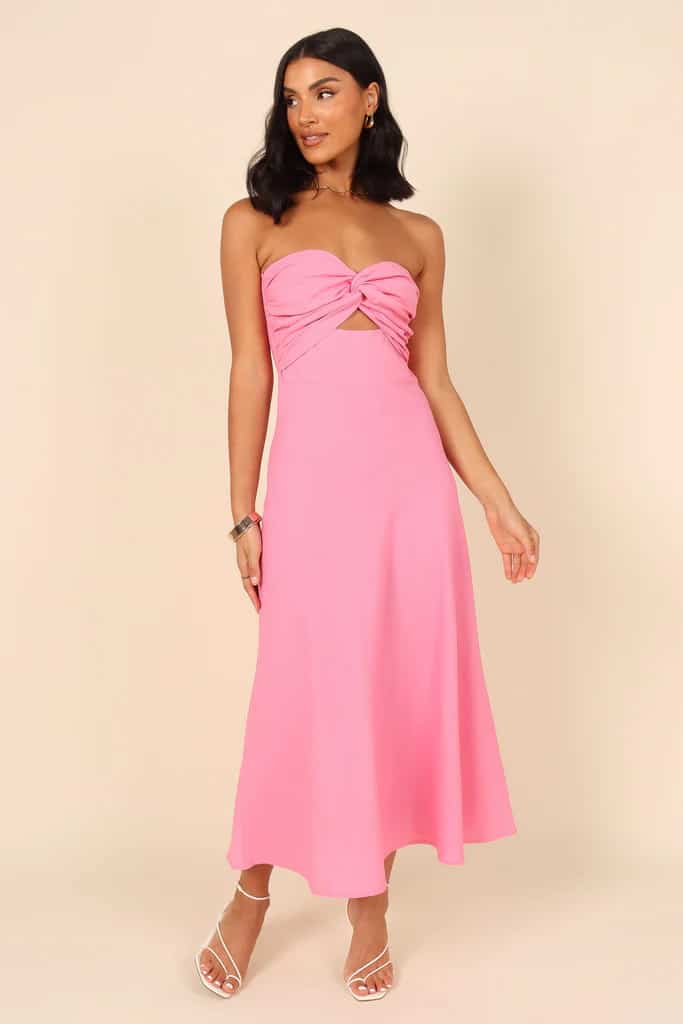 June can be one of those months with mild summer heat punctuated by scorching hot days. If you know the weather will be running hot in the area where you're visiting. Try this hot pink strapless midi dress as a way to stay cool while looking hot. It also comes in a few other colors and a range of sizes.
Shop this Pink Strapless Dress
Winery Wedding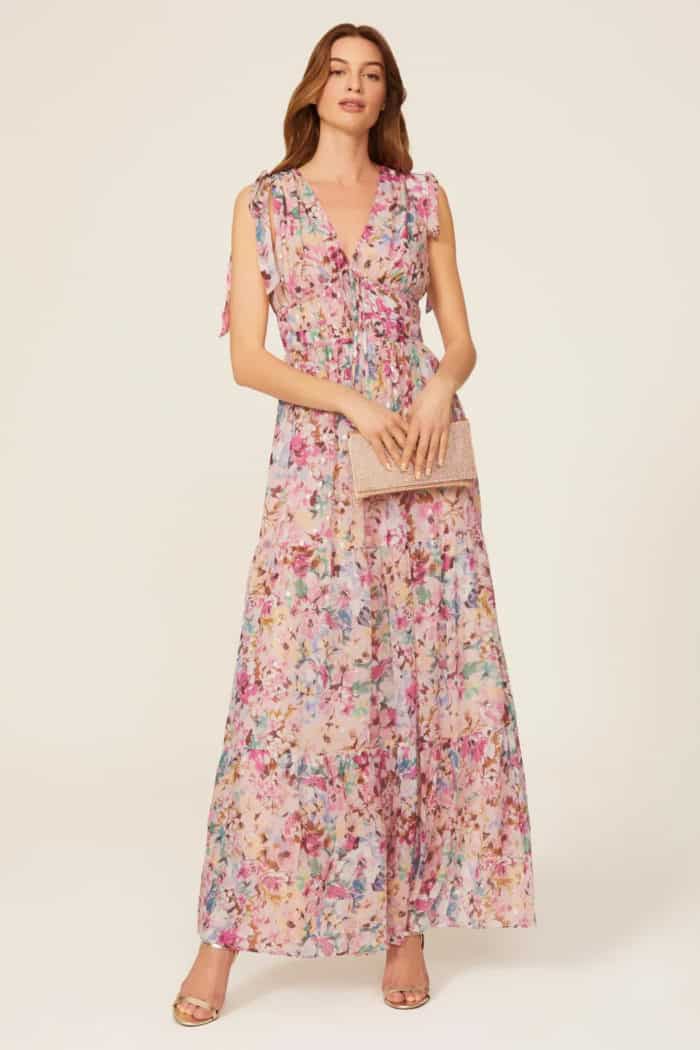 This formal floral style is a rental that is perfect for an outdoor vineyard wedding setting. If this isn't quite the dress, you might want to see our other ideas for winery wedding guest dresses and attire.
Modern Wedding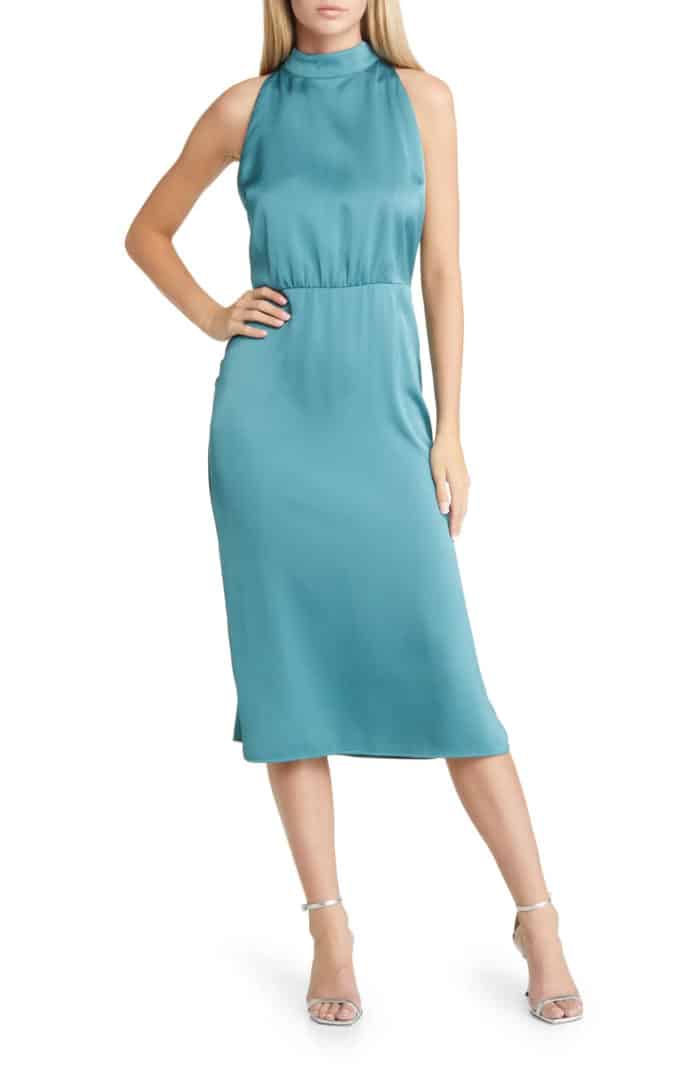 This chic and sleek look is timeless and can be accessorized in a number of different ways. We also have more picks for modern wedding guest styles.
Shop This Halter Neck Blue Satin Midi
Beach Formal Wedding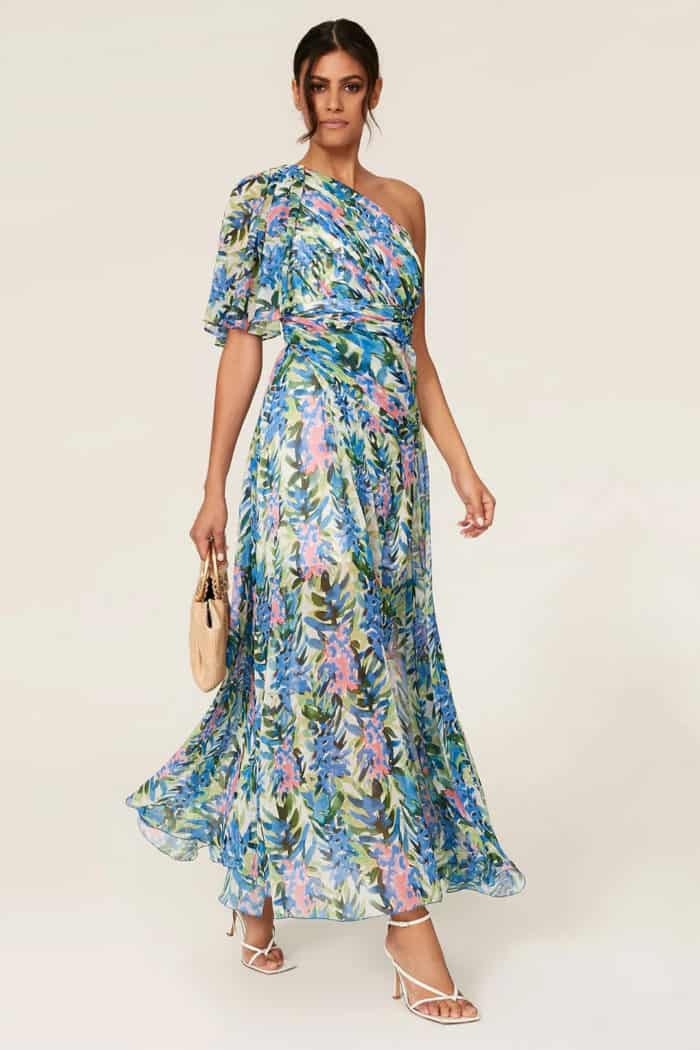 We absolutely love this multicolored dress for formal events. This one has beautiful colors and one-shoulder styling that make it the perfect choice for a wedding at an upscale beach resort. See more formal wedding guest dresses or beach wedding guest dresses
Rent This One Shoulder Printed Gown
Beach Casual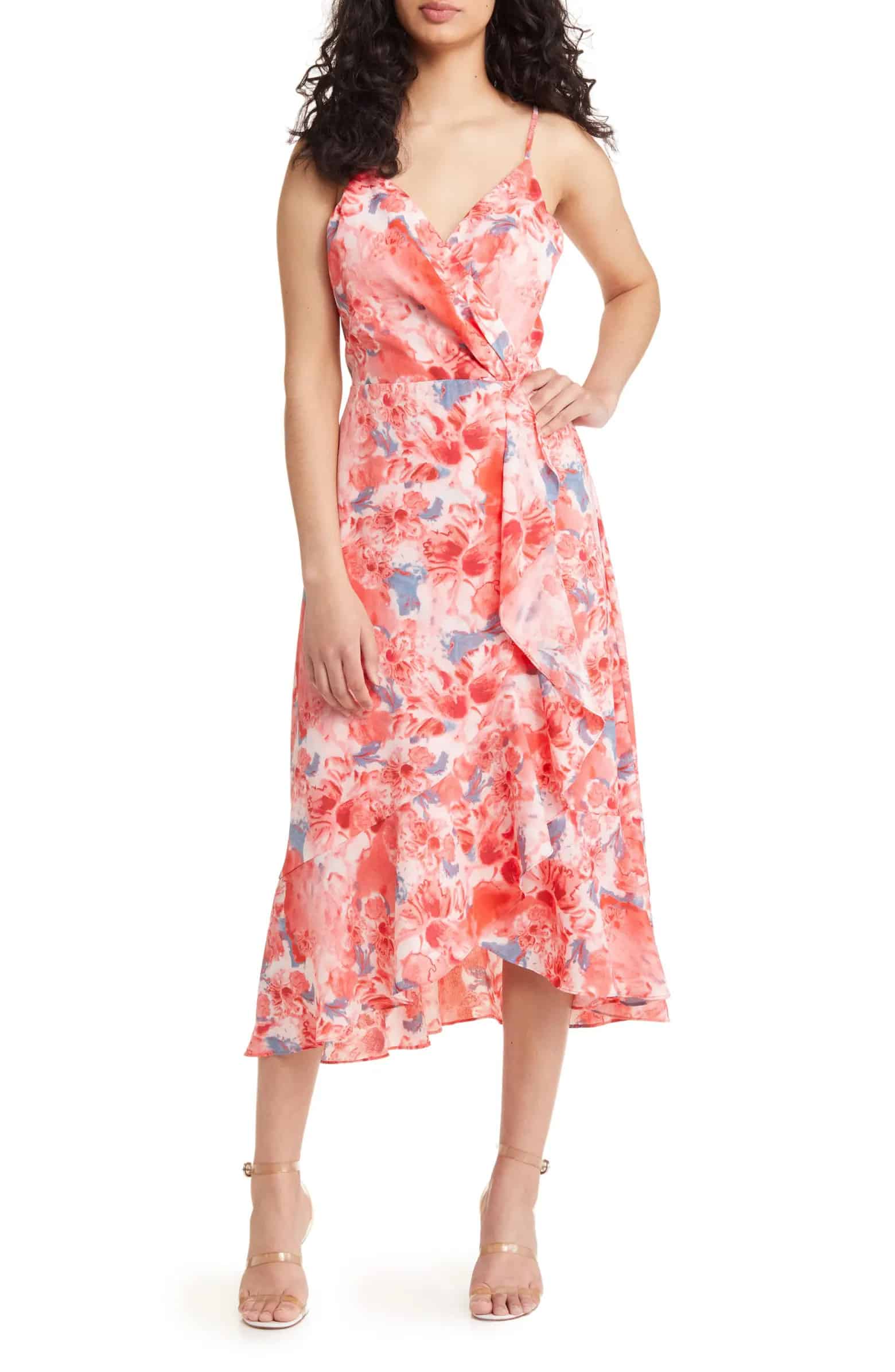 This bright coral floral dress is perfect for a sandy beachside ceremony.
Shop This Wrap Dress at Nordstrom
Garden Wedding
This is one of our favorite dresses of the season, and with its off-the-shoulder style, pretty green and purple print and hemline, it can go to any wedding, but we particularly love it for an outdoor garden wedding.
One Shoulder Green Floral Dress from Astr the Label
Boho Wedding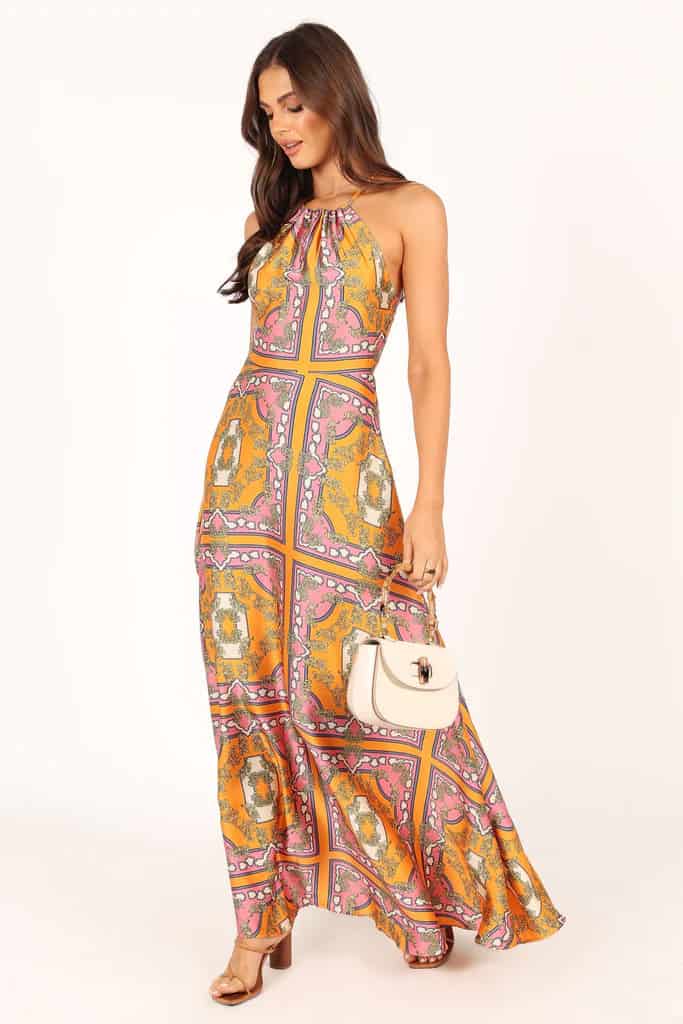 If the couple is having a relaxed boho, desert, or festival-style event, this pretty little dress 70s-inspired maxi is a style to try!
Plus Size Styles
We'll be updating our plus size wedding guest dress shopping guide shortly, this teal maxi dress is already one of our favorite styles for June!
Country Club Wedding in June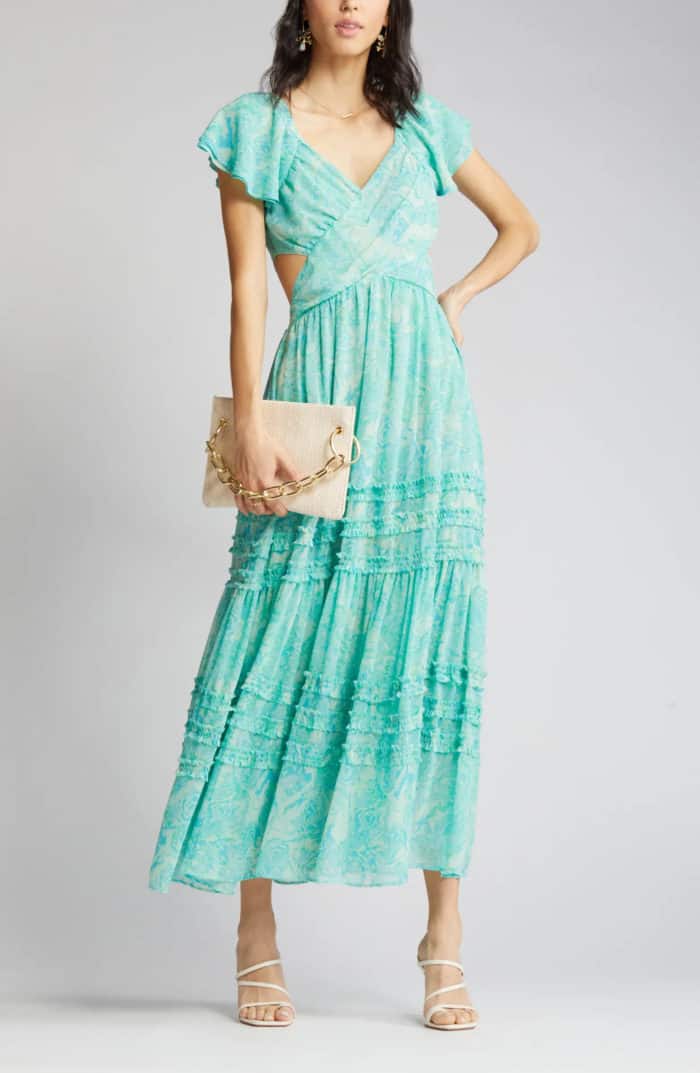 This pretty green style with just the right amount of cutouts and criss-cross styling is sure to be a favorite at a country club venue.
Shop This Criss Cross Midi Dress
Where to Shop For June Wedding Guest Dresses
Think there are so many fantastic wedding guest styles at spots like Nordstrom, Revolve, Lulus, Petal + Pup, Rent the Runway, and more. Instead of needing to browse through each site, we've tried to bring the best of their wedding guest options to you in this curated section of our top picks for June wedding guest dresses, jumpsuits, skirts, and suits.

Trending Dresses We Love For June 2023
These are our current favorite dresses for June weddings. These dresses and jumpsuits are central to a June wedding in colors and silhouettes we love for the current wedding season.
Peach Floral Maxi Dress

This Style by Eliza J has actually been a favorite of ours for a few seasons, and we were thrilled to see it comeback for June! The colors and easy-to-wear wrap style works for evening formal but also for daytime with just a change of styling and accessories. It's comfortable at the beach and in a ballroom, so we love this one for any event you don't know what to wear.
Green Maxi Dress with Cutouts

This green flowy maxi dress with cutouts is perfect for a black tie wedding or a formal garden wedding in an upscale venue.
Neutral Printed Gown

This chic style is in a soft neutral print that will be a timeless look for any formal or black tie wedding.
Watercolor Maxi Dress

This watercolor printed pastel maxi dress has beautiful ruching and style that will look just right at any outdoor or coastal weddings this season.
Short Sleeve Floral Dress with High Neckline

This modest style dress looks just right for daytime June weddings. It's also in one of the most popular colors for this season.
Modern Geometric One-Shoulder Maxi Dress

This beautiful green one-shoulder gown is accented by a geometric print. It's an effortless style that's perfect for formal and semi-formal weddings.
Best Colors for a June Wedding Guest to Wear
If you need more suggestions for dresses and styles for June weddings you can also check out our wedding guest dress shopping guides by color. We think floral prints, pink, pale green, light blue, purple, and yellow are some of the hottest colors this season. We also love the trend of tiered ruffled dresses, midi dresses, and floral printed maxi dresses for the summer 2023 wedding season.
You'll also want to check out our picks for Summer Wedding Guest Dresses, also see our new post with sustainable wedding guest dresses.
Well, I feel like I was just writing my summary of wedding guest dresses for early spring, and now we find ourselves in June! It's prime wedding time! If you're scrambling to find a dress to wear to a June or July wedding, this post will help you find some of the newest picks for wedding-appropriate attire!
Previously Featured Guest Dresses
We keep this section of links and names of the dresses previously featured on this post or other posts that now have been folded into this updated page. We do this in case you've reached this page from Pinterest searching for a dress linked there. In most cases, if you don't see it on this page, it means it is now out of stock, but we keep this list just in case you want to contact the shop directly or just want to see if it's still available.
2015- 2022 Link Features
Bright Yellow Fit and Flare Dress with Rhinestone embellished neckline yellow party dress by Qasis from ASOS
Sleeveless pink lace fit and flare dress with a jeweled belt Eliza J Belted Lace Fit & Flare Dress from Nordstrom
Sleeveless turquoise lace fit and flare dress layer dress from ASOS
Halston Heritage Peach Fit & Flare Dress with Asymmetrical Hemline from Nordstrom
Oasis Pink Gray and Blue Watercolor Midi Dress with Spaghetti Straps and V neckline from ASOS
Turquoise short sleeve above the knee Dress with Bold Embroidered Print Sea Song Dress from Anthropologie
Pale Orange Wrap Halter Dress with Asymmetrical Drape and Spaghetti Straps from Haute Hippie at Shopbop
Green Floral Print Dress with Pintuck Bodice -Adrianna Papell Floral Print Dress from Nordstrom
Cobalt Blue Asymmetrical Hem Midi Dress Belle Emma Dress from Shopbop
Pleated Chiffon in Turquoise Maxi Dress from Nordstrom
Turquoise Tiered Dress BCBG MaxAzaria from Rent the Runway
Hot Pink and Purple Floral Chiffon Maxi Dress by Lipsy from ASOS
Light blue mock crop top sleeveless and pleated maxi dress from ASOS
Pink, Green, Coral and Gold Janice Shift Dress by Lilly Pulitzer at Nordstrom
Mikaela Blue and Black Print Wrap Dress from Nordstrom
Kelly Green Fit and Flare Sleeveless Belted Debutante Dress from ASOS
Strapless Bright Yellow Dress Olsen Dress by Black Halo from Shopbop
Coral embellished sheath dress with pleated hem from ASOS
Daisy Pop Hot Pink Lace Column Maxi Dress from ASOS
Cobalt Blue Flutter Maxi With Cut Out Back Dress from ASOSs
Magenta Lace Top Chiffon Skirt Gown by JS Collections from Nordstrom
Coral lace maxi dress with embellished collar from ASOS
French Connection Fitted Square Neck Sequin Mermaid Cocktail Dress from ASOS
Orchid Petal Strapless Black Tie Gown from Rent the Runway
Lemon Yellow Lemon Scallop Midi Dress with Illusion Neckline from Dorothy Perkins.
Warehouse Pale Pink lace top pleated chiffon skirt midi dress from ASOS
Blue Lace and Satin Fit and Flare Viviana Dress for rent at Rent the Runway.
Blush with stripes and all-over florals. Oasis Floral Organza Skater Dress from ASOS.
Purple Gabi Dress lavender floral hi-low style dress from Rent the Runway.
Scuba material Fitted Kelly Green Floral Midi Dress with Sweetheart Neckline from ASOS.
ASOS Printed Off-the-Shoulder Bold Floral Print on Mauve Backgroun Hitchcock Midi Pencil Dress.
Chiffon Pink Back Midi Dress from Revolve Clothing.
Amelie Cobalt Blue Pleated Maxi Dress
Privacy Please Lehunt Dress in Black Floral
Blue Floral Scuba Fit & Flare Dress
Maternity Coral Floral Pleated Wrap Cami Midi Dress by Asos
ASOS CURVE Hot Pink Midi Dress With Pleat Detail
Bright Floral Deep Fold Dip Back Debutante Dresfrom Asos
Halston Heritage Shirred Midi Dress in Marigold
ASOS CURVE Pale Turquoise Kimono Cape Pleated Mini Dress
Gia Backless Pale Yellow Chiffon Wrap Dress
Oasis Pale Blue Satin Lace 2 In 1 Dress
Gianni Bini Laura Off the Shoulder Floral Mesh Dress
Aijek Lavender and Nude Lace Peplum Hem Dress
Lights Out Coral Pink Asymmetrical Midi Cocktail Dress
Lime Green Halter Gown By True Decadence Petite Plunge Front Maxi Dress
Mauve Pleat Chiffon Gown by Vera Wang from Nordstrom
Aidan Aidan Cobalt Blue Ruffle-Trim Gown from Bloomingdale's
Floral Border A-Line Chiffon Gown from Nordstrom
JS Collections PEach Eyelet Necklace Halter Gown
Previously Pinned Images that Might Have Brought You to this Page
Wedding Guest Dresses for 2016 June & July Weddings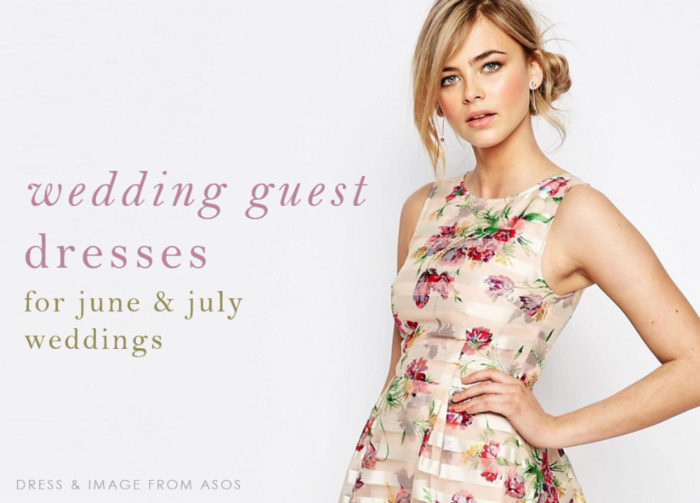 Dress: Oasis Floral Organza Skater Dress from ASOS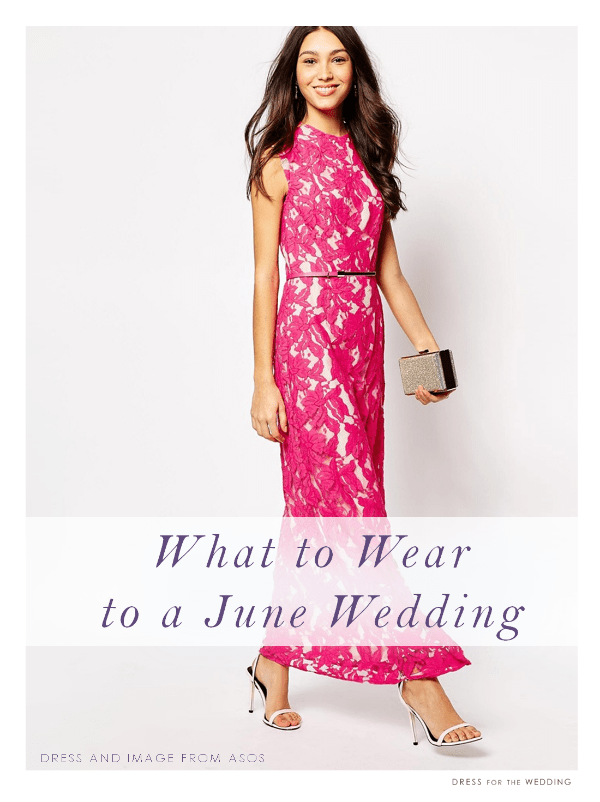 Dress in this Image: Hot Pink Long Lace Sleeveless Gown with Belt Daisy Pop Maxi Dress from ASOS
From the Post 20 On Trend Dresses for June Wedding Guests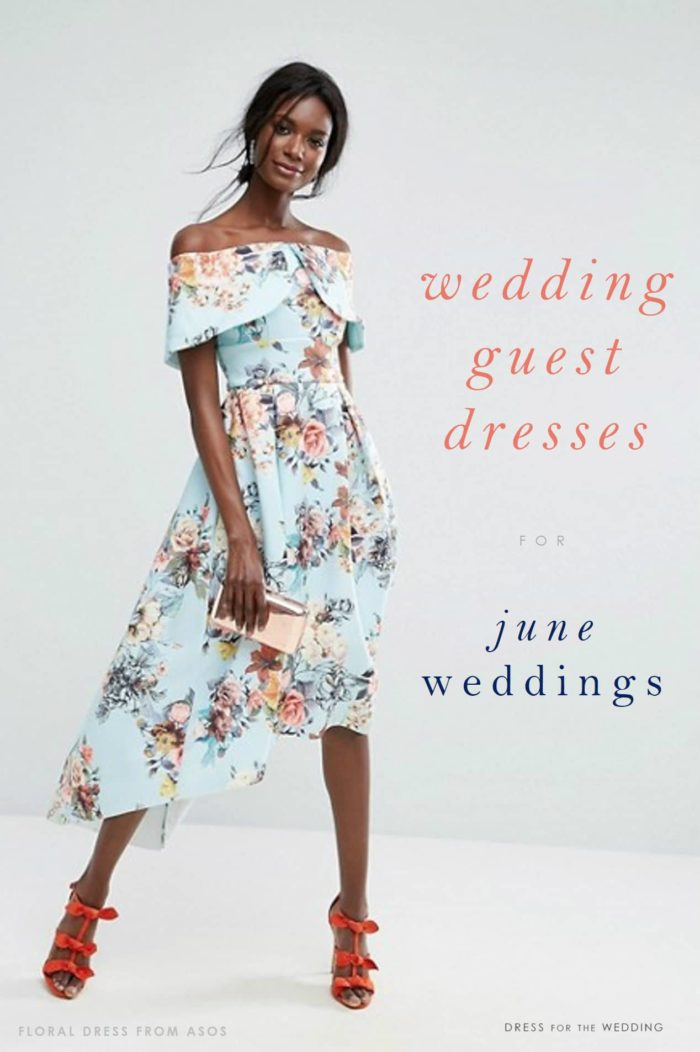 Dress: ASOS Bright Floral Deep Fold Dip Back Debutante Dress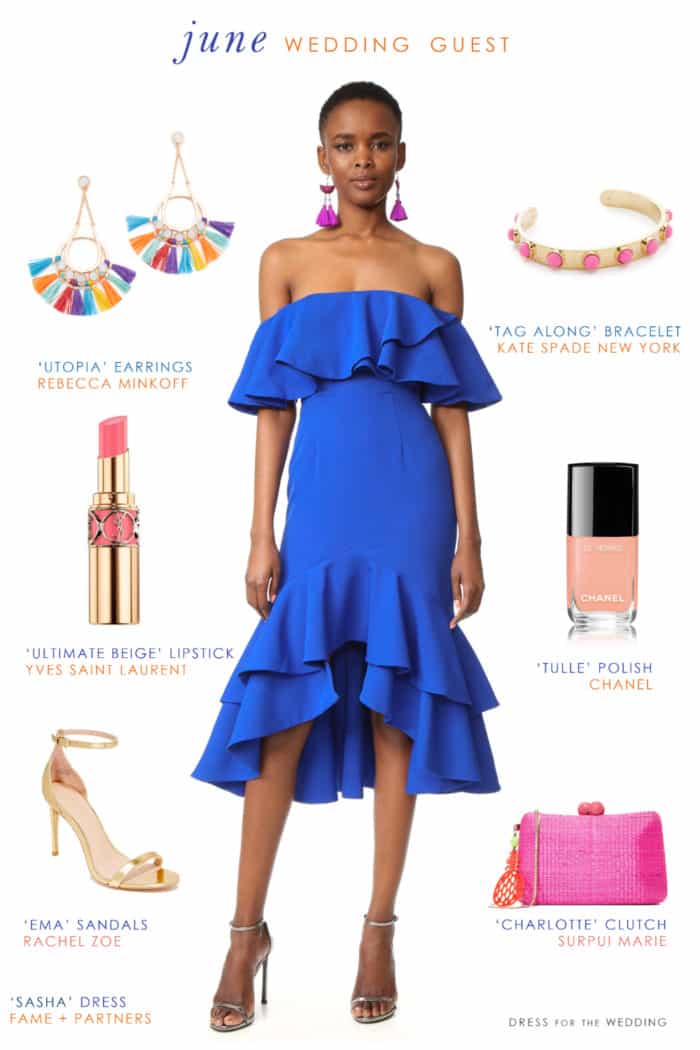 The shopping sources and images for this post about Dresses for June 2017 Wedding Guests uses affiliate links from our sponsoring retailers.
Dress: Sasha Dress by Fame & Partners from Shopbop | Earrings: Utopia Tassel Earrings by Rebecca Minkoff | Bracelet: Tag Along Cuff by kate spade new york | Nail polish: Chanel Le Vernis Longwear Nail Polish in Tulle from Nordstrom | Clutch: Charlotte Clutch by Surpui Marie | Sandals: Ema Sandals by Rachel Zoe from Shopbop | | Lipstick: Rouge Volupte Lipstick in Ultimate Beige by Yves Saint Laurent from Nordstrom
From the Post Cocktail Dress for a June Wedding Guest

Ria Dress by Diane von Furstenberg at Shopbop /Tai Pave Bracelet/ Tobi Earrings by Dannijo / Jean Michel Cazbat D'orsay Sandals /Margo Lace Clutch by Kotur
This post was originally published on June 10, 2015, and has been updated over the years, and combined with other articles on June weddings. This article was updated most recently on May 25, 2023.