Finding flower girl dresses for the smallest members of the wedding party can sometimes be a hard task! Today, we'll point you in the direction of some of our recommendations for where to find cute dresses for your flower girls or for young wedding guests.
This post has affiliate links. Sponsored shopping links from our affiliate partners in are linked in italics in the shopping details in this post.
Where to Find Cute Flower Girl Dresses
Featured image and featured dress: Boho White Lace Dress by NicolettesCouture on Etsy
Today we're talking about where to find cute flower girl dresses for the littlest ladies in a wedding. We all know that some of the most memorable wedding moments occur when the flower girls and ring bearers head down the aisle--sometimes along with some sweet and impish antics. It's usually a guaranteed "Awww" moment for the collective guests! They also have some of the best clothes with those mini-suits and scaled-down stylish dresses!
However, finding a style of flower girl dress that fits the wedding style and fits a young lady who might be going through a growth spurt can sometimes be a tricky task. We hope these tips for where to shop for a flower girl dress will help you find the perfect dress!
Dresses for Flower Girls and Young Wedding Guests
if you are buying your wedding dress from a local boutique, they often will have a selection of flower girl dresses for try-on and to order. They may recommend making a special trip with your flower girl ( as opposed to having her try on at the same time as the wedding dresses or bridesmaid dresses) just to make sure the day isn't too overwhelming for everyone involved!
If you are looking for a flower girl dress online, here are some great places to look!
Anthropologie (Formerly BHLDN)

The Anthropologie wedding section always has boutique-level wedding styles, even for the littlest ladies! They offer classic cream and ivory flower girl dresses, some are inspired by the styles and silhouettes of wedding dresses and bridesmaid dresses.
Bloomingdale's

Bloomingdale's has some lovely dresses that for girls including labels like Tutu Du Monde with fun tulle and sequins. They also offer Us Angels and Pippa & Julie, classic party dresses for girls that are perfect for flower girl attire!
Nordstrom

Nordstrom also carries a selection of flower girl dresses. They offer classic white dress styles as well as designer dresses in prints. They have labels like Badgley Mischka, Popatu, Us Angels, and Dessy!
Macy's

Lots of fun girls dresses! From styles for young wedding guests, as well as flower girls Bonnie Jean's and Rare Editions,
Etsy
Etsy is the perfect place for all sorts of wedding must-haves, so it comes as little surprise that Etsy has so many wonderful flower girl resources! Here are a few favorites to check out. Also, you may wish to see our running list of all of our favorite Etsy products.
Olivia Kate Couture on Etsy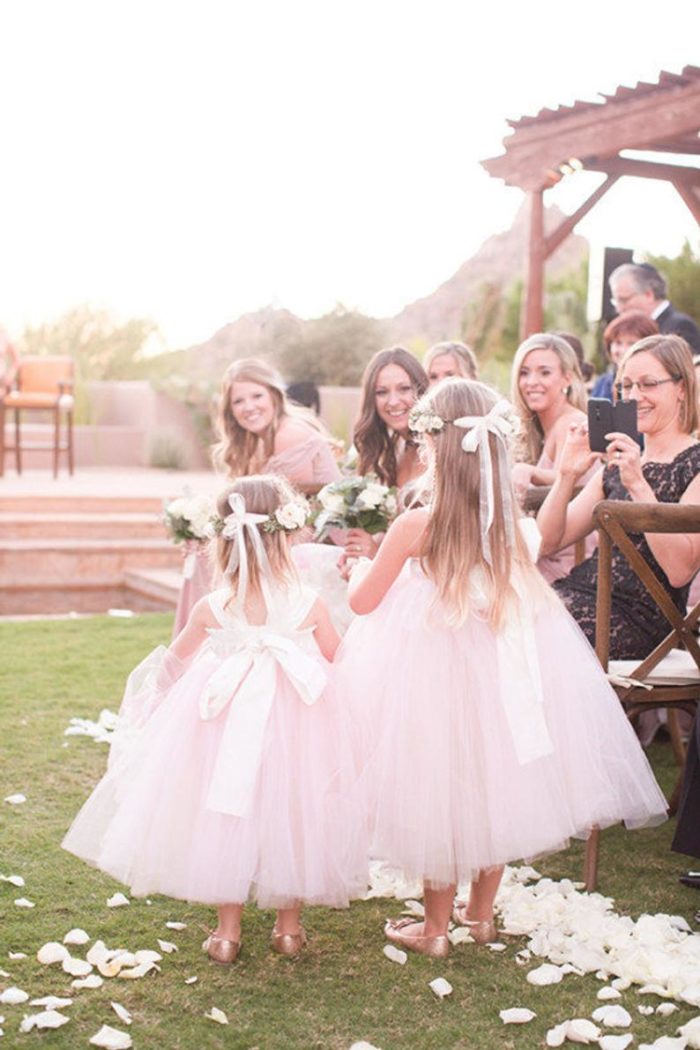 Image credit and product details: Adjustable Flower Girl Dress in Pink Blush by OliviaKateCouture on Etsy.
This sweet shop for flower girl dresses specializes in tulle tutu dresses and adjustable styles - perfect for those who are growing! These are dreamy dresses that any flower girl would feel lucky to wear. Made in the USA, too!
See more by OliviaKate Couture on Etsy
NicolettesCouture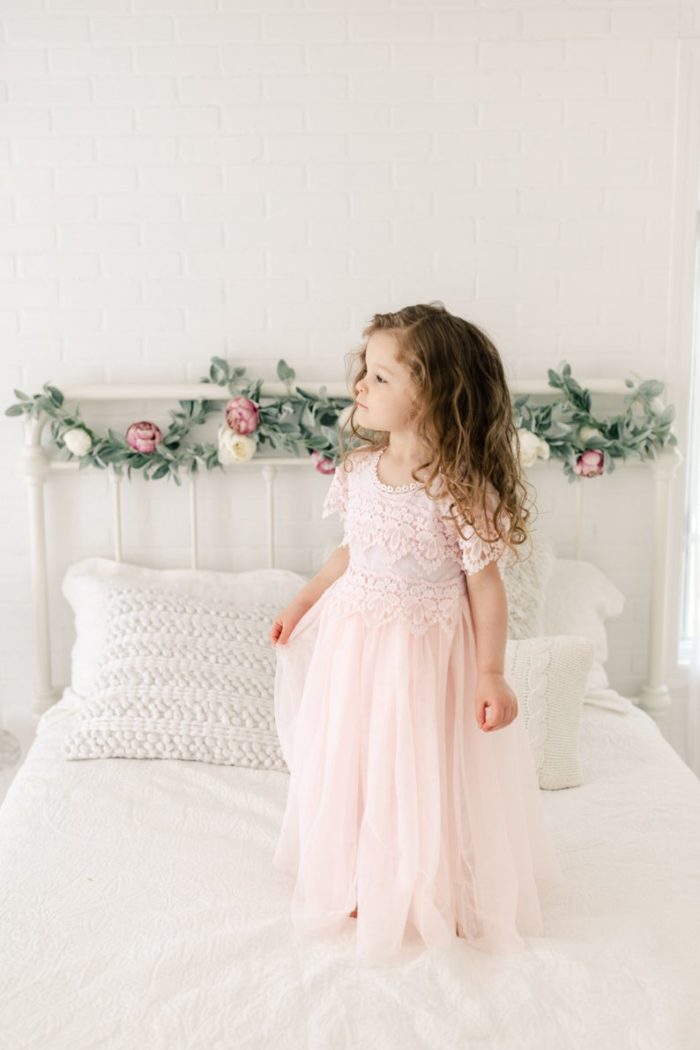 These beautifully handmade dresses have lots of lace details. Sweet styles for a boho=wedding, rustic wedding. They also come in a few different colors besides white.
See more from NicolettesCouture on Etsy
LoveYouForeverDesign on Etsy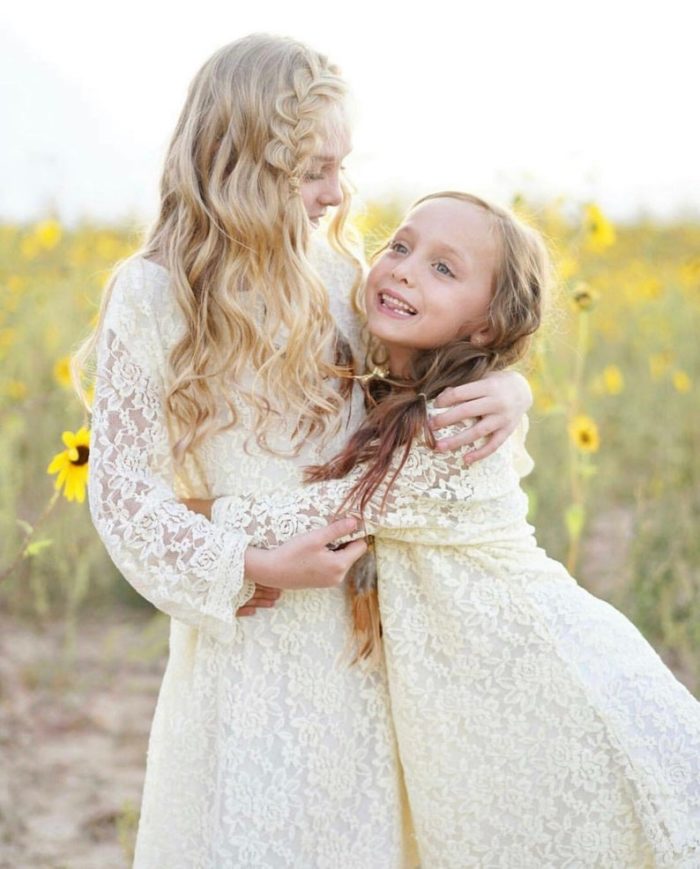 Simple Ivory Lace Dresses by LoveYouForeverDesign on Etsy
These white lace shift dresses are beautiful styles for an outdoor wedding or rustic wedding style.
See more by LoveYouForeverDesign on Etsy
OLO Designs on Etsy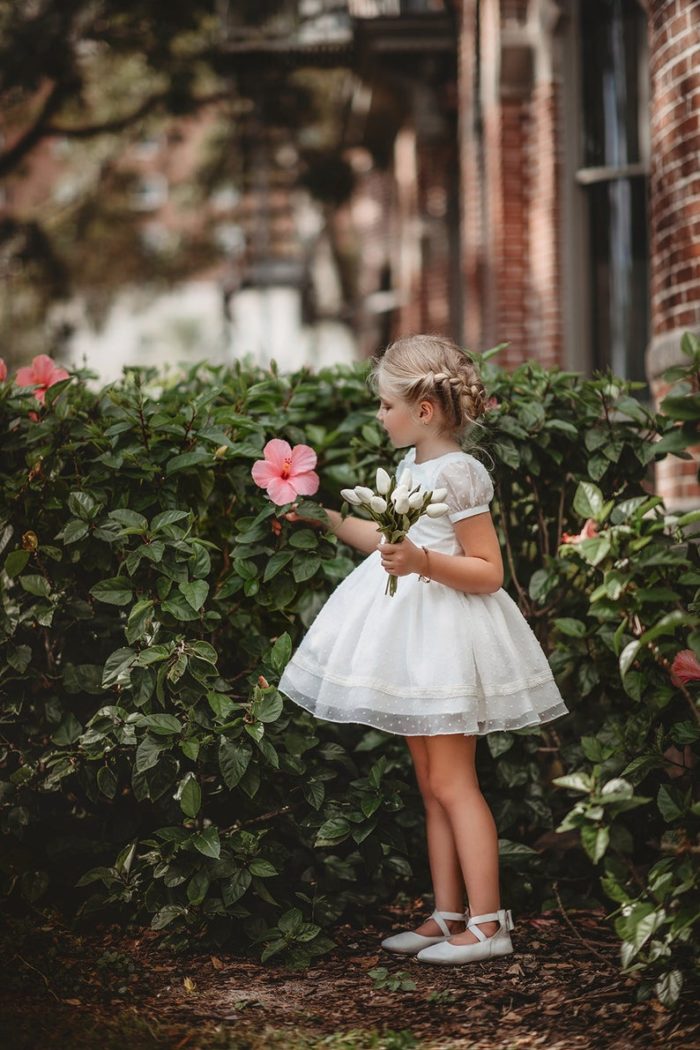 This wonderful shop has so many unique dresses, custom and sweet handmade dresses for young ladies! These look like high-quality heirloom dresses. OLO stands for Only Little Once - and these dresses make the most of that special time by offering dresses that little girls will love to wear!
See more by OLO Designs on Etsy
Shop Flower Girl Dresses
Here's a quick way to shop some of the dresses we've picked for flower girls. We try to keep this section updated with our latest picks! And check out our post about where to find junior bridesmaid dresses if you're looking for dresses for girls ages 9 to 16.


Where to find more cute dresses and accessories:
Links in italics and in the shop section are from affiliates and sponsors, meaning that this blog may earn a small commission at no cost to the purchaser if a qualified sale is made.
This post was originally published on March 19, 2013, and updated on May 10, 2021
These images were from an older version of this post. We have kept them here in case you reached this post from an old pin, but they are no longer available.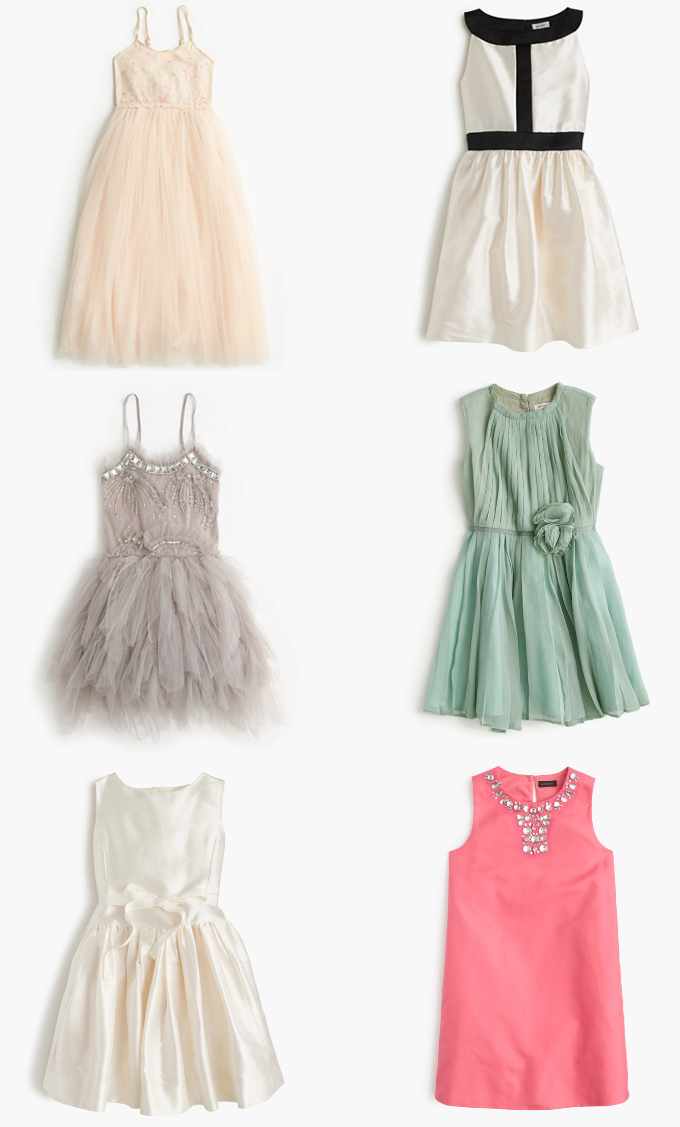 All from the J.Crew Flower Girl Collection. 1. Blush tutu - Girls Tutu Le Monde Miles Away Long Dress 2. Black and white Girls' Two Toned Dress in Silk Dupioni 3. Gray tutu - Girls' Tutu du Monde Wild and Free Dress 4. Dusty ShalePleated Dress: Girls' rosette dress in pleated chiffon 5. White silk dress: Girls' Bow Dress in Silk Dupioni 6. Pink shift dress: Gracen dress in Cotton Cady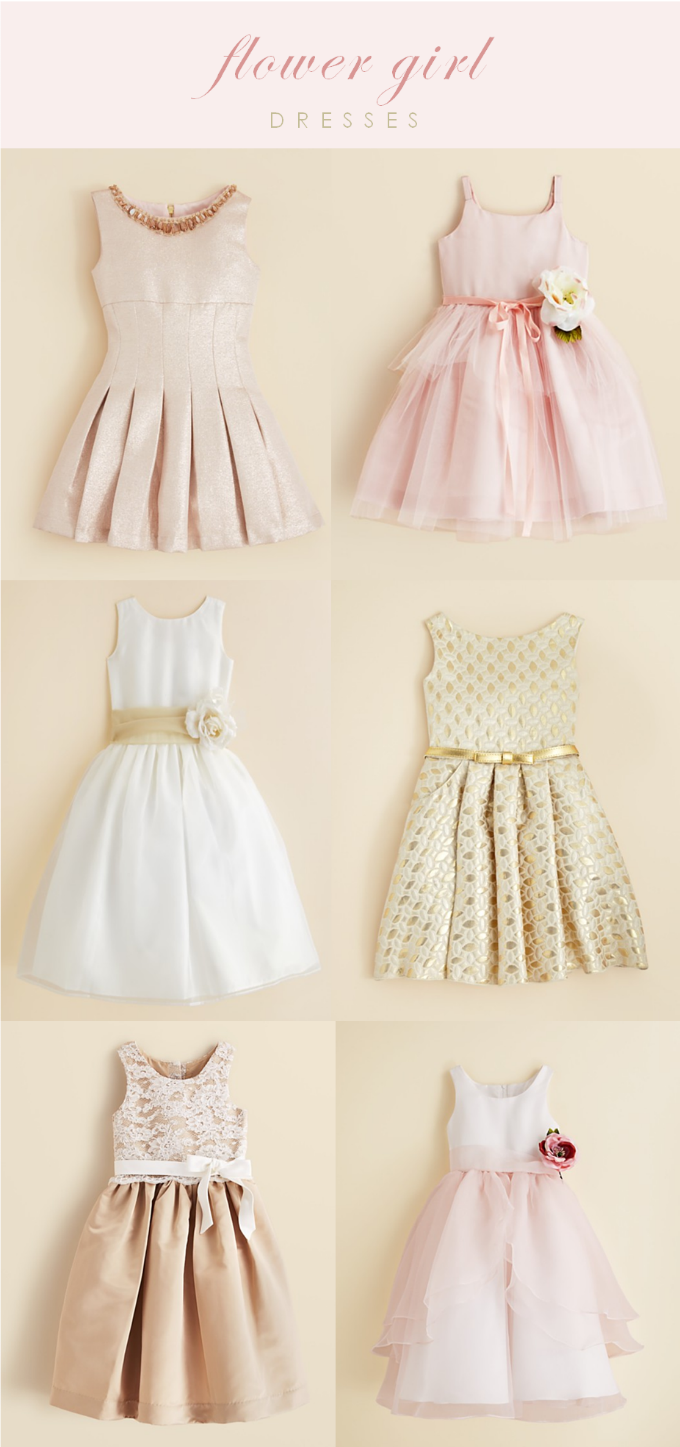 All dresses from Bloomingdales: starting top, left to right1. Zoe Pink Embellished Drop Waist Dress 2. US Angels Ballerina dress 3. US Angels Organza Dress with Mix and Match Sash 4. Girls' Gold Metallic Geometric Brocade Dress 5. US Angels Lace overlay dress in Champagne 6. US Angels Organza Overlay Dress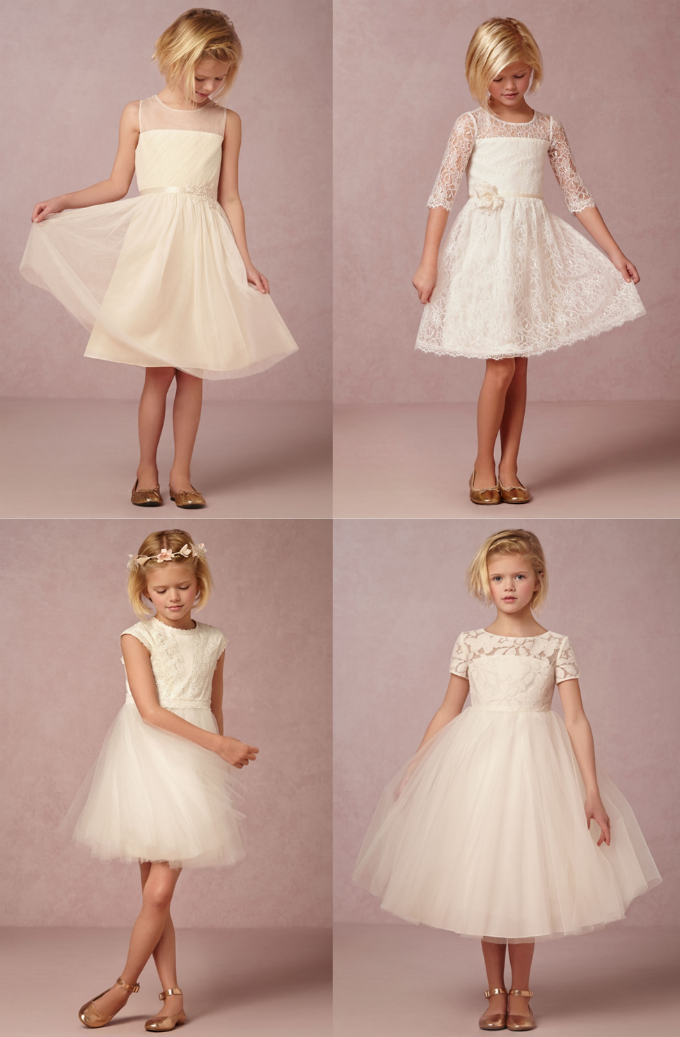 All dresses from BHLDN 1. Elodie Dress 2. Annie Dress 3. Gracie Dress 4. Portia Dress