Flower Girl Dresses : As Chosen by an 8-Year-Old Fashionista!
I have wanted to feature more flower girls dresses for some time. If you think it's fun to peek at wedding dresses–and, believe me, it is–it's also really, really fun to also look at dainty flower girl dresses.
For many of us ladies, being asked to be a flower girl was a huge rite of passage our lives. I'll never forget where I was when I got the call from my cousin, and how excited I was about the dress, the flowers, and that I got to wear fancy tights for the job.

Assorted Styles from Watters' Seahorse Collection.
See below for style specifications.
Now that I am decades past my own flower girl duties, when I was contemplating the dresses to pick for  the post, I tried to think about what the young ladies in my own life would get really jazzed up about wearing. As I thought more about this, one singular fashion plate I know stood out.
My dear friend's daughter, Alison, can put an outfit together in ways that top fashion bloggers might be envious of.  In her everyday just-going-to-school outfits, she puts together textures and prints and patterns in unexpected ways, and picks them out the night before–naturally! Last summer, we had lunch, and she had the most fantastic ensemble: gold gladiator sandals, a striped skirt, and a hip Minnie Mouse tee. She's only 8 and she really puts it together.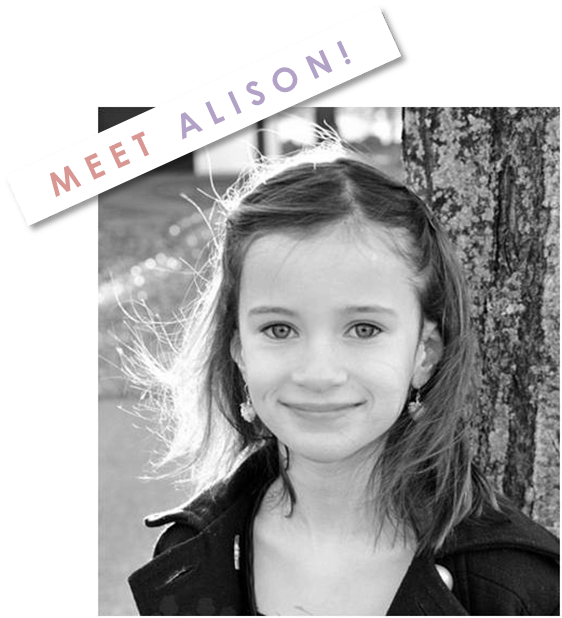 Photo by: Jessica Torosian Photography
Since I chat with her mom frequently, we were joking one day about how Alison should be a fashion blogger when she grows up–then the light went off:  Alison should be a fashion blogger–now!  I asked Alison's mom to show her the flower girl dresses from Watters' Seahorse line I was considering, have her pick her own color combinations, and give me a line or two about what appealed to her. I think you'll agree, her picks–and the reasoning behind them–are fantastic.
Seahorse Style #43479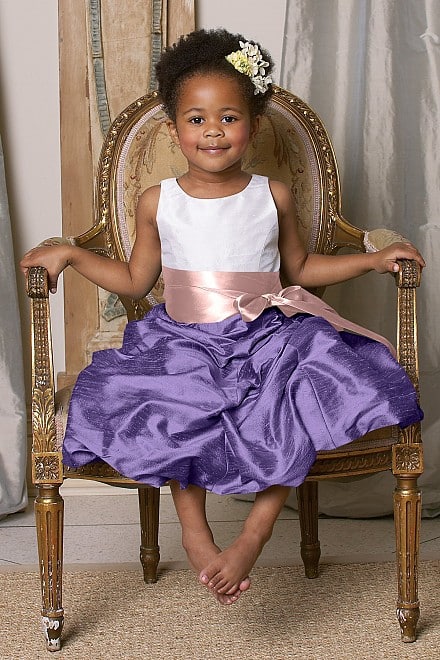 Alison says,"I like this dress because it has some of my favorite colors in it."
—
Seahorse Style #44218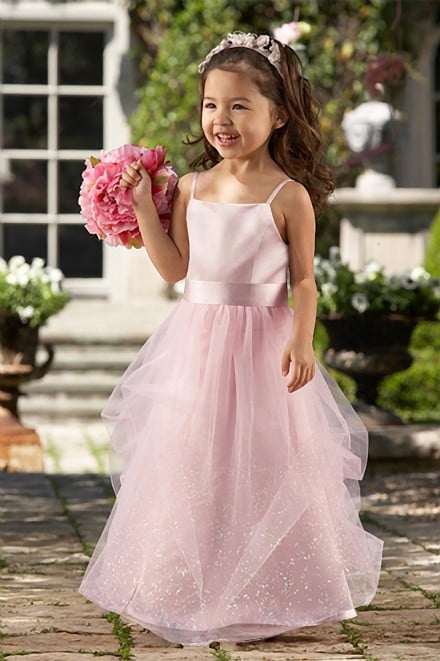 Alison says, "I like this dress because I like the sparkles in the bottom. The top looks silky."
—
Seahorse Style # 46231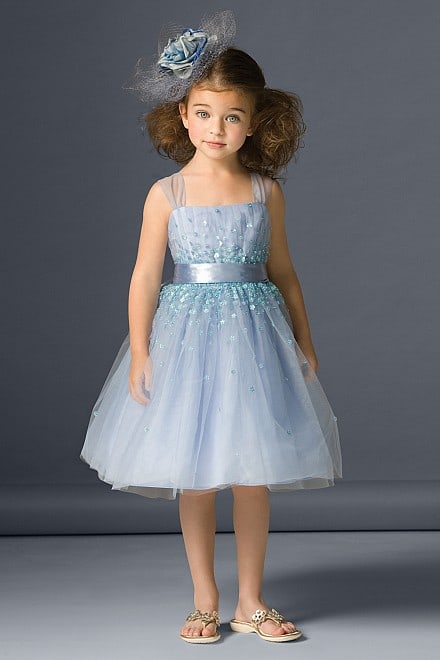 Alison says," I like this dress because I like the color blue. I like how it has different ruffles to make the skirt poofy."
 Seahorse Style #49729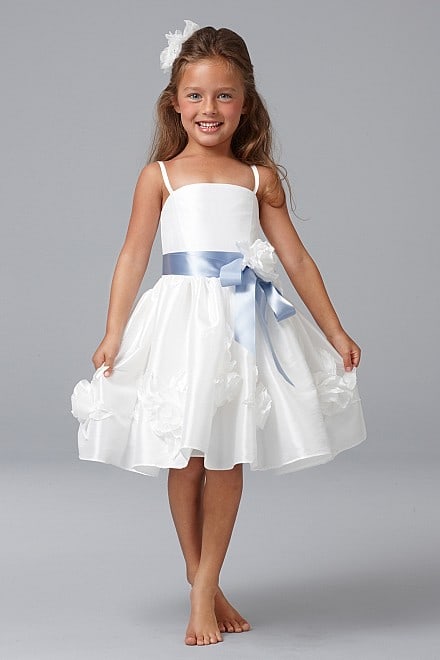 Alison says, "I like this dress because it has a blue ribbon and I like the flowers on the bottom."
 —
Seahorse Style #42730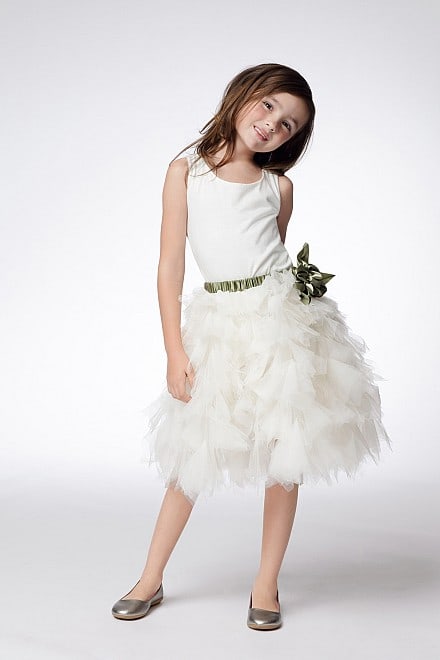 Alison says, "I like this dress because I like how the bow reminds me of a bow on a present. I like EVERYTHING about the bottom."
—
Seahorse Style # 42355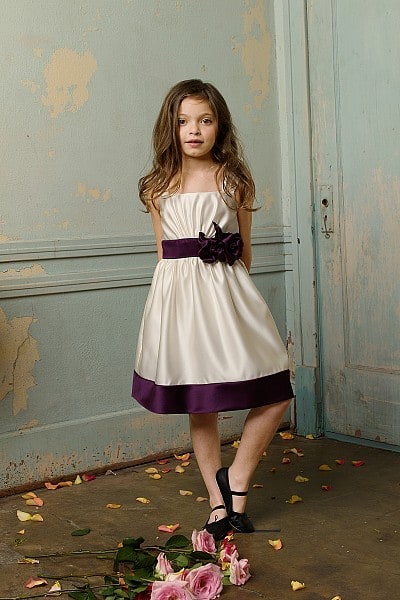 Alison says, " I like this dress because I like how most of the dress is white and the ribbon and the trim are purple."
The dresses shown are all available in the shades Alison chose and also in a rainbow of colors, to match with any wedding colors scheme you may have selected. They make great party dresses, and are perfect for Easter or First Communion as well.
Special Thanks
After telling the team at Watters about this post and sharing Alison's picks and comments, the dress that "most" caught her eye (style 42730) was generously gifted to her by the team at Watters as a surprise!  Alison loved the playfulness of the bottom of the dress and it was easy for her to see herself twirling in it at a wedding or party. Alison, her mom, and I were really moved by the thoughtfulness of our friends at Watters, and send them great thanks for showing such kindness to our young fashionista.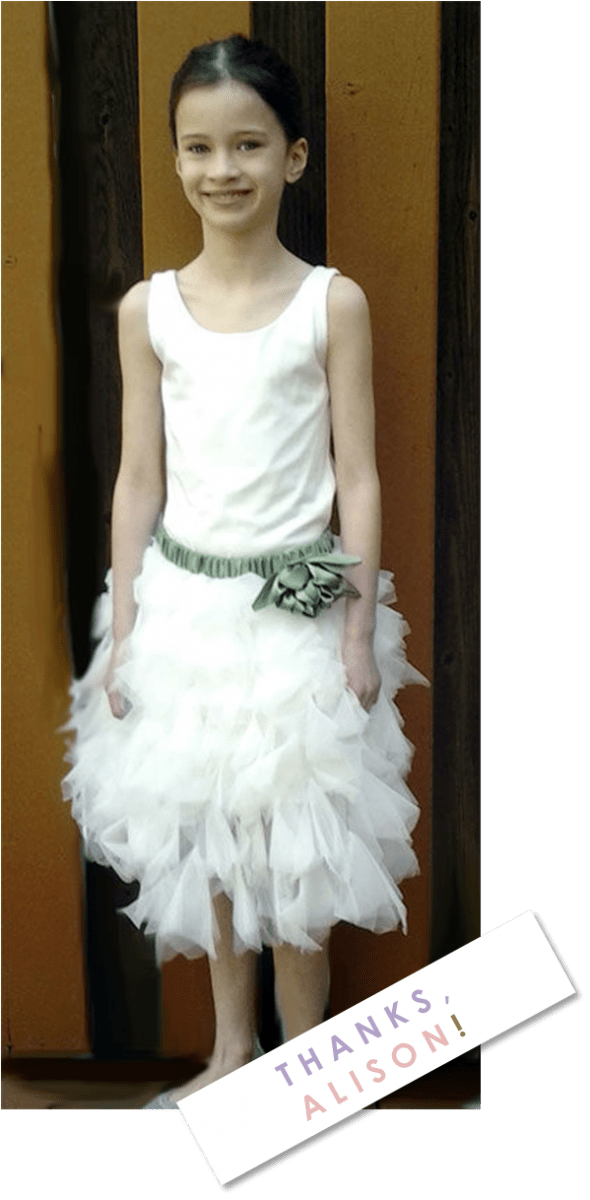 About our Guest Blogger
Alison, age 8, has always been interested in fashion. She loves to plan outfits. Alison enjoys coordinating every detail from the dress to accessories. When approached to help Dress For The Wedding with this post, Alison was thrilled! She took the task very seriously and put great effort in selecting the perfect flower girl dresses.
More style ideas you might enjoy :