Gold Outfit for A Wedding - Gold Brocade Dress
A gold brocade dress for a mother of the bride or wedding guest, plus more gold dresses to choose from!
Shopping sources on this site use affiliate links, which means this site may earn a commission if you make a purchase from our links.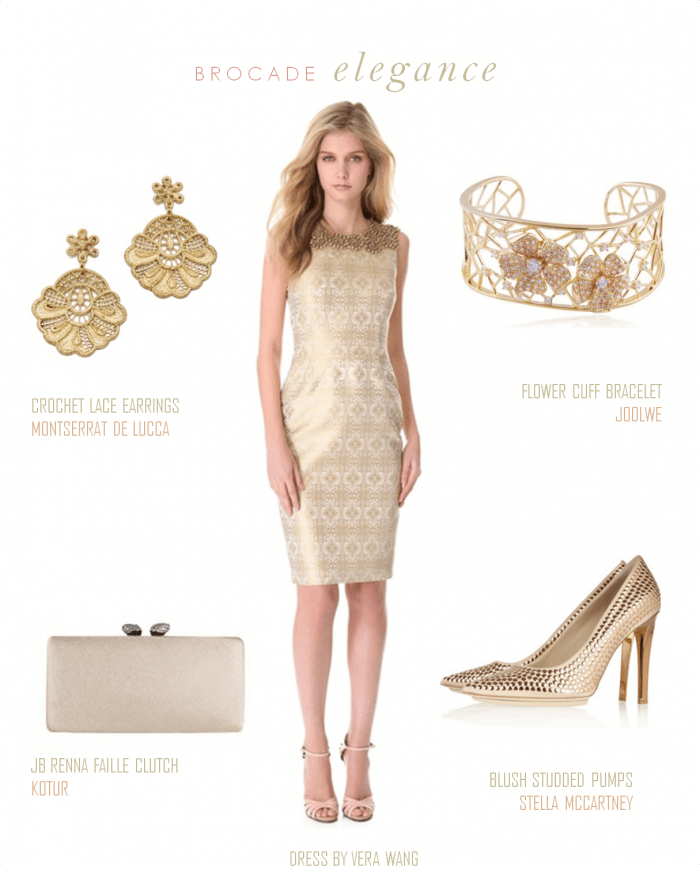 Vera Wang Jeweled Yoke Dress /Joolwe Gold Intricate Flower Cuff Bracelet / L-atitude JB Renna Faille Clutch / Monserat De Lucca Crochet Lace Earrings / Stella McCartney Studded satin pumps
Gold Brocade Dress for a Guest or Mother of the Bride
Brocade is a big trend right now, and when I saw this sleek Vera Wang gold brocade dress, I thought it would be a perfect pick for the mother-of-the-bride or groom who is looking for something tailored and elegant, and wants something cocktail length and different than the normal mother-of-the-bride suited attire. I think it's appropriate for a semi-formal wedding guest, too, but I'm just a little cautious since the background color says it's white. I'd love to see it in person to make sure it's really the pinkish gold color I'm seeing, and isn't at all bridal looking, and then I could recommend it for a guest, too.
How To Accessorize a Gold Dress for a Wedding
With all the detail, I just thought it really would be stunning easy-to-wear cocktail dress for a mother-of-the-bride. Thanks to that jeweled neckline, this dress has built in embellishment, so I just put some filigreed accessories that echo the lacework feel of the pattern in the dress. I added another texture and bit of subtle pink with those rose gold and blush Stella McCartney heels, and a metallic blush-colored clutch. The pattern and pinkish gold hue makes it all ornate but also simply elegant , if I do say so myself!
Shop More Gold Dresses