Cute bridesmaid tank tops are great if you're planning a bachelorette party, trying to find ideas for bridesmaid proposal boxes, or just generally wanting to give your bridesmaids a sweet gift!
Bridesmaid Tank Tops for Bachelorette Parties and Bridesmaid Gifts!
Affiliate links are used in this post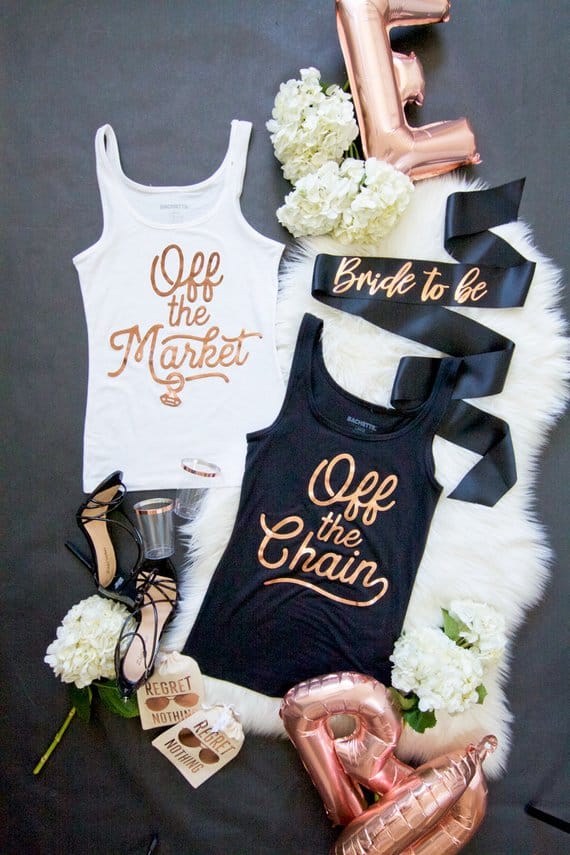 We found these rose gold tanks and more fantastic bachelorette party stuff like these hangover bags, and sashes from Bachette on Etsy
Bridesmaid tank tops are especially well-suited for bachelorette parties, hen parties, and bachelorette party weekends, because they immediately show that you're celebrating and party of a group!
Not only does it find of make for a great bonding and-- dare I say -- sort of a team building experience, it also makes it easier to keep the group together if you're doing a pub crawl, or other outing. It also, of course, makes for the cutest, and most cohesive, pictures and a nice keepsake of the weekend and party!
Where to Find Tank Tops for Bridesmaids
The best place to look for cute custom bridesmaid tanks and shirts is by far, Etsy!
There are SO many Etsy sellers with fantastic ratings who are selling clever bridesmaid tank tops. No matter what wedding or bachelorette party theme you might be, you can probably find a bridesmaid or wedding tank top that fits your style and your group of friends.
Bridesmaid Tank Tops from Etsy Creatives
Here are a few of the cutest tanks that caught our eye from these bridesmaid gifts we've also listed a few more you'll want to check out! Bonus tip, many of these sellers have so many more items you might want to pick up for bridesmaid gifts or bachelorette party supplies, so give their shops a close look!
The shopping sources on this site use affiliate links, which means this site may earn a commission if you make a purchase from our links.
Bride and Bride Tribe Tank Tops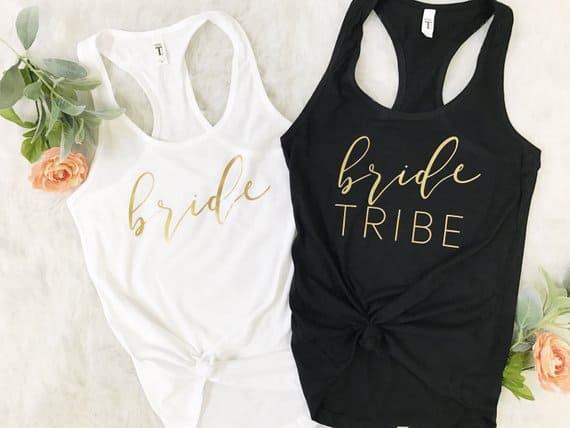 Bride and Bride Tribe Tank Tops From KeepLifeSimpleDesign on Etsy!
This shop is a real find for bridesmaid gift ideas and tank tops! They have so many cute bridesmaid tanks in a variety of colors,  pjs, jewelry, gifts, koozies, champagne flutes, custom hats, and bachelorette party favors ,too
Cute Team Bride Tank Tops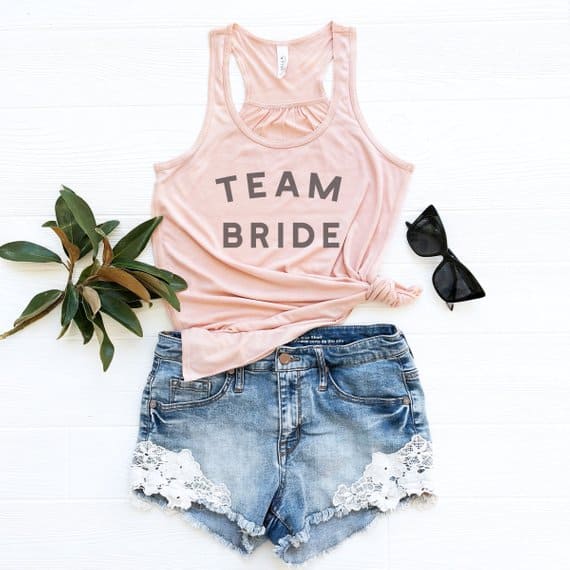 This sweet 'Team Bride" tank is an oh-so-flattering flowy loose racerback style from OhHelloSparkle on Etsy
You have to check out all the tees and tanks, and sweatshirts in this shop, there's something for everyone!I mean it; they offer tanks, tees, sweatshirts by home state, tees for dog lovers, moms, moms to be, taco lovers, bee lovers, llama fans, and just cute sayings! It's your new gift-giving destination!
The tank colors, fabrics, graphics and fonts look fantastic too! Check out  this tank top as well as the Future Mrs, Bridesmaid, and Mother of the Bride /Groom tanks from OhHelloSparkle!
Bride and Maid of Honor Tank Tops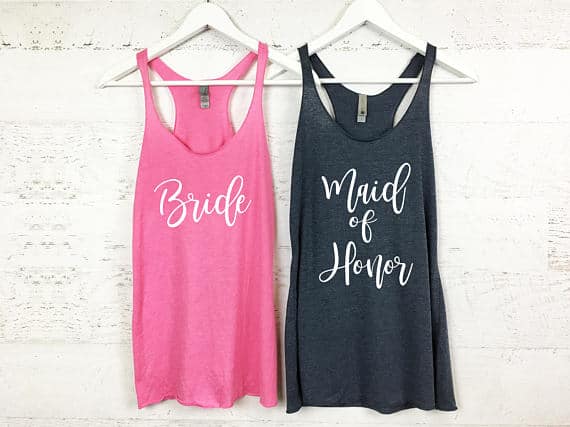 NelaandCompany on Etsy makes theses cute tanks for brides-to-be, and maids of honor!
They also have tanks for bridesmaids, mothers of the bride, and get great reviews. Check them out for all sorts of gifts, and sashes, robes, floppy hats, and makeup Bags! Check out NelaandCompany on Etsy
Tank Tops for a Bachelorette Weekend at the Beach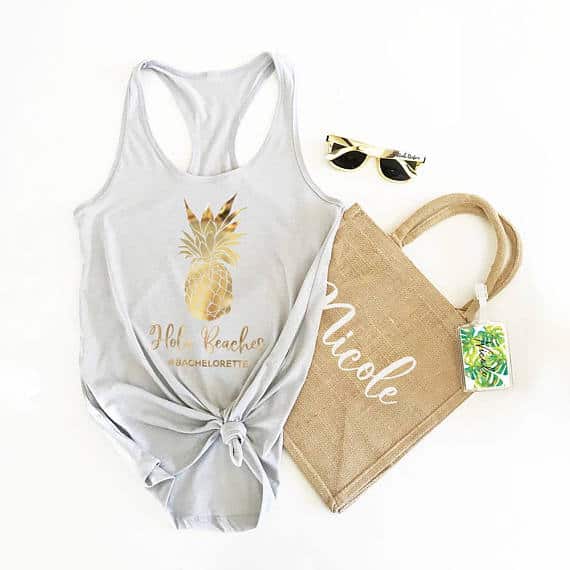 Tropical Tanks for Bridesmaids from ModParty on Etsy
ModParty on Etsy has nearly every possible customized gift for your wedding party or and custom bachelorette party supplies galore! They stock customized sashes, champagne flutes, sunglasses, and the sweetest gifts, so it's no surprise that the have so many sweet tank tops for bridesmaids and wedding parties. This particular one is perfect for a bachelorette party that will be poolside, at the beach, or held at tropical destination! They also offer these tanks with custom text!
Feyoncé Tanks and Tanks with Cute Sayings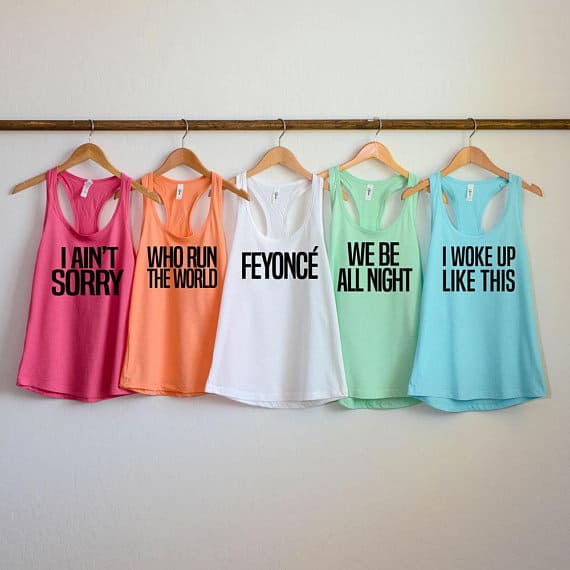 Beyoncé Themed Tank Tops from BridesmaidShirts on Etsy.
Beyoncé fans will not be disappointed in the selection on Etsy.  There are so many Beyoncé themed bridesmaid tanks, like these from BridesmaidShirts on Etsy.  BridesmaidShirts on Etsy also specializes in custom colors, and completely customized phrases and sayings  so they're perfect if you want to make a tank top with your own message, your own nicknames, or customize some tanks with your own phrases or inside joke!
Mermaid Tank Tops for a Bachelorette Party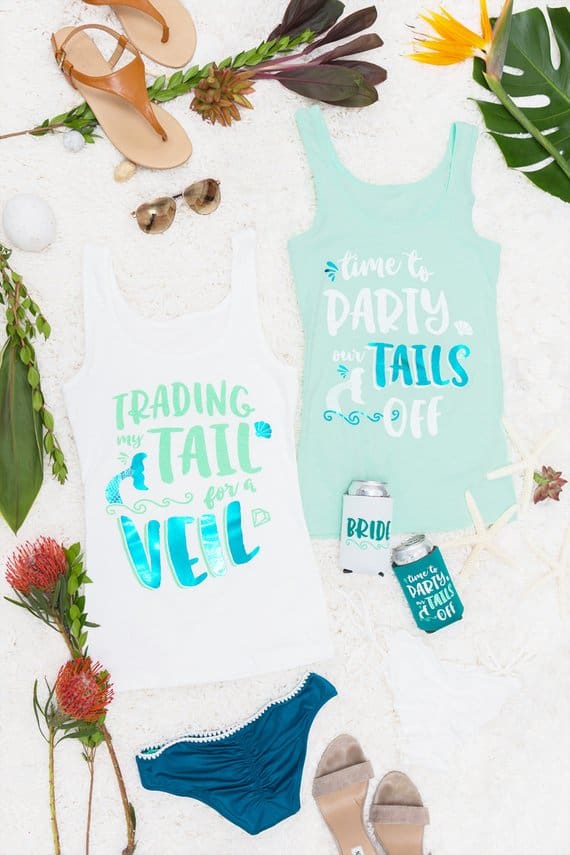 If you need to stock up on everything you need for your next Bachelorette party, we highly recommend that you check out Bachette on Etsy!
They made these cute mermaid tanks, and they have so many other themed ideas. (Like these Brewery Bachelorette Party Tanks, and these Disney themed tanks. Not to mention, they have the cutest hangover kits bags, sashes, and hats! They truly live up to their tagline, which is "Bachelorette party shirts and stuff that doesn't suck!"
Monogrammed Bachelorette Tank Tops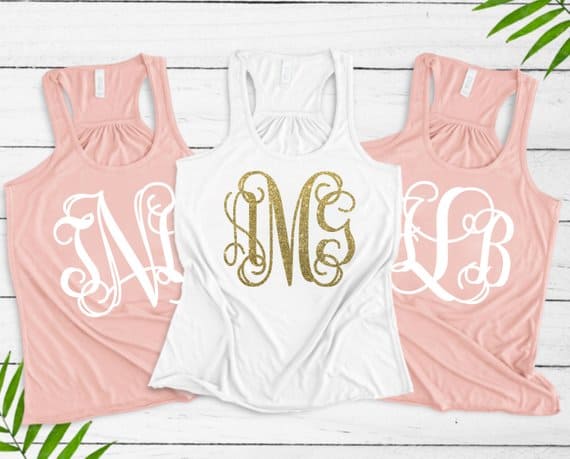 Monograms never go out of style, and they are a great way to customize a gift. These monogrammed tanks from EverlyGrace on Etsy can also be worn again and again, rather some of the other custom options which sometimes are limited to a one time use for a specific party!
These can be sold as a single tank or in a set of 5 to 12! Check out all the great customized bridesmaid gift offerings from Everly Grace.
Custom Bridesmaid Tanks
If none of these quite fit your image of what you want, check out the custom options from After the Ring on Etsy!
They had the largest range of custom bridesmaid tanks with a range of 30+ colors, 6 fonts, and complete control over the text! After the Ring on Etsy
More Bridesmaid Ideas
Before you go, you'll also want to check out bridesmaid dresses for the main event. We've organized some of our favorite bridesmaid dresses by color!
Also check out our gifts for bridesmaids and gifts for mothers of the bride sections!
And lastly check out our new Wedding Shop where we're adding some of the prettiest finds for bridal accessories, wedding dresses, and everything else you need for your wedding!
Shop Tank Tops for Bachelorette Parties and Bridesmaids


You Might Also Like
More style ideas you might enjoy :