Happy Holidays!  May You Sparkle and Shine in 2013!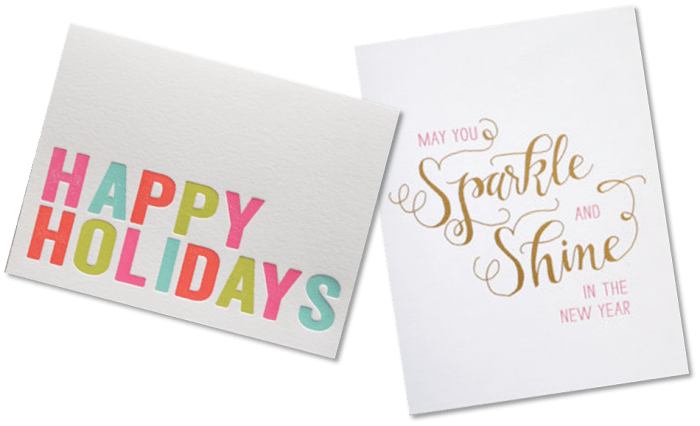 Cards Designed by Parrott Design Studio
With the holidays in full swing and Christmas quickly approaching, I would like to wish everyone  a very happy holiday season, and a wonderful 2013 to come.
2012 has been a fantastic year, thanks in large part to the people I've met through this blog and the long-standing pre-blog friends who have supported me. I'm grateful for each and every reader, fan, and follower.
When I started out, I never would have imagined that I'd be in touch with readers from all across the U.S. and as far afield as New Zealand, South Africa, and Spain. I feel so fortunate to have made wonderful new friends, and to get to know some of the talented and creative people behind the photos, dresses, jewelry, and accessories I feature. Thank you all so much for being a part of my little blog adventure.
As I was sending out Christmas cards in my non-blog related life, I realized I really I wanted to send out a few holiday notes to a few new blog friends who are great sources of daily support, and to send a virtual greeting to anyone visiting the site. I searched for hours for the right card, because I wanted something that would reflect the fun that I try to have on Dress For The Wedding.
I finally came across these beautiful cards from Parrott Design Studio --  the designer there, Sarah, had created exactly the cheerful and bright greetings I wanted to send! I picked up a few cards on her Etsy site, and since I don't have addresses for all of my readers and visitors, Sarah has graciously allowed me to use these images of her cards to wish you all Happy Holidays!
These cards turned out to be a perfect choice for Dress For The Wedding greetings, not only because of the message and beautiful design, but also because I learned Parrott Design Studio  has wedding invitations, wedding congratulations cards, and the cutest "Will You Be My Bridesmaid?" cards, too. So, if you are going to a wedding or might be getting engaged over the holidays, they have the perfect thing for you, too!
From the bottom of my heart, thank you all for making 2012 so memorable for me. I wish you peace and joy in the season and in 2013.
Happy Holidays!
Sukey at Dress For The Wedding