Gold Dress: Golden Sequined Dress with Champagne Inspired Accessories
Affiliate links are used in this post.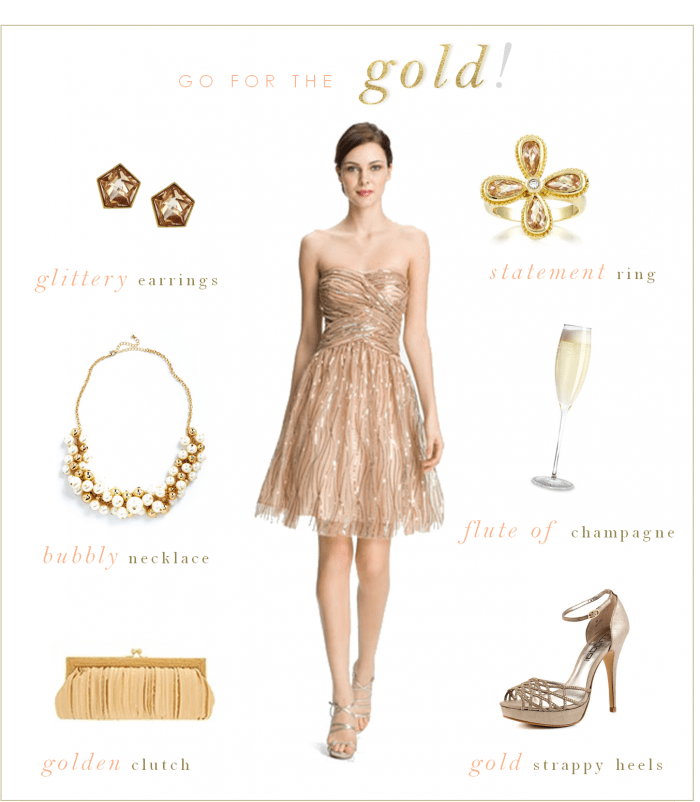 Hailey by Adrianna Papell Strapless Sequined Mesh Dress/ Marisa's Champagne CZ Flower Statement Ring / Sur La TableZwiesel 1872 Enoteca Champagne Flute Glass / Moda Spana Fern - Gold Metallic /Franchi Handbags - Schiaparelli Pleated Silk Clutch in Gold /Break Out the Baubly Necklace/ Vince Camuto Earrings in Champagne Glass

Gold Dress for Bridesmaids or Wedding Guests
What better time of year for gold dress and a champagne-inspired golden, glittery look? With just a few days to spare before New Year's Eve, I've created this golden outfit for New Year's Eve parties, a golden wedding theme, or anyone looking to outfit themselves with little gold and glamour.
Prediction: I think gold and sequins will be an even bigger trend this year, finding their way into bridesmaid's attire, too. The days of being worried about upstaging the bride are going, and instead brides are favoring a little sparkle in their day and glamour for each member of the wedding party - allowing everyone to shine! So, since this outfit is festive in every way, please join me in toasting the new year, and any newly engaged couples with this golden, champagne-inspired look!


More style ideas you might enjoy :