Summer Black Tie Optional Wedding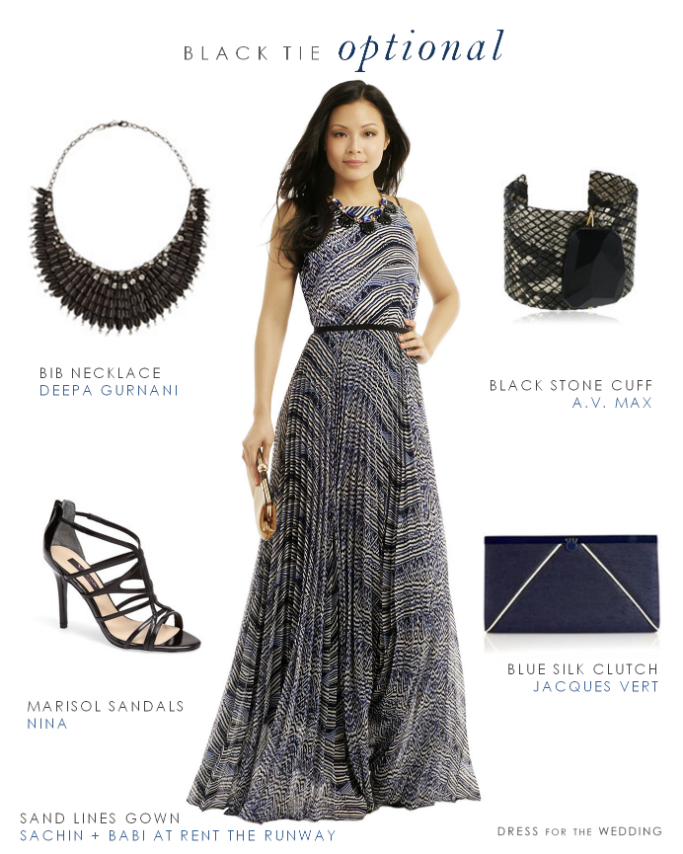 The shopping links in italics use affiliate links from our sponsoring retailers. Sachin + Babi Sand Lines Gown at Rent the Runway | Deepa Gurnani Bib Necklace at Neiman Marcus Last Call | A.V. Max Cuff Bracelet with Black Stone on Amazon | Jacques Vert Clutch | Nina Marisol Black Sandals from Nordstrom
Black Tie Optional Dress in July
I'm back from my mini break over the 4th, and hope that you all have been enjoying some of the summer relaxation July often has to offer! Even formal wedding invitations usually relax dress code a little for this balmy month, which is why I'm bringing you this slightly laid-back, but still formal wedding-appropriate look today for a summer black tie optional event.
Black Tie Optional Dress for a Summer Wedding
While black tie events usually call for a formal long gowns, in the midst of July heat, heavy satins or sequins won't always work, so a flowy long dress like this will! Many black tie weddings in the summer adopt a black tie "optional" dress code where some elegance and formality is expected but the full tux and black tie regalia is not.
This black, white, and blue maxi dress fits that kind of event perfectly because it can be dressed up with chandelier earrings and more sequin touches for even more glamour, or styled as you see here with more understated accessories, that will allow the back of this Sachin + Babi Gown to stand out! This gown is also a lovely choice for a less formal wedding, but if you want to beat the heat, and still have a bit of formality, this gown will also allow for that!
More Dresses for Summer Black Tie Weddings
I've included some more gowns in the Shop The Look below that will help any wedding-goer walk that fine line between the appropriate formal formality and comfort during blistering summer temperatures. Wondering what to wear if you're a fellow to these events? Gents should still wear dark a suit with a formal and dark tie, but full tuxedo and bow tie aren't required.
More looks:
Pieces in the shop use affiliate links from or retail partners and sponsors of this blog. Post has been updated with additional information as of 2017.