Crystal Wedding Shoes
Now trending: embellished wedding shoes are having a huge moment! Just look at any set of pictures from an elegant wedding -- especially the layout of accessories and shoes -- and you're likely to see a pair these statement-making crystal back wedding shoes!
Affiliate links are used in this post.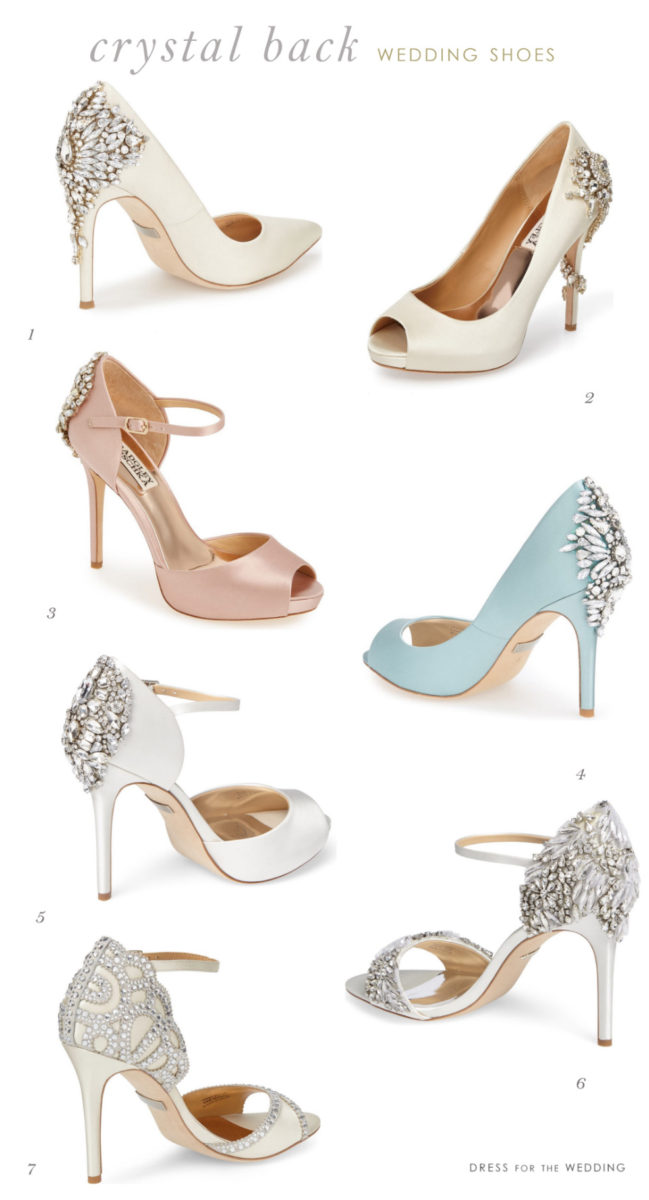 Shopping sources for these shoes use affiliate links from our sponsoring retailers.
1 | 'Gorgeous' Crystal Embellished Shoes by Badgley Mischka 2 | 'Royal' Crystal Embellished Pump 3 | 'Dawn' Crystal Back Pumps in Blush Satin 4 | 5' Nilla' peeptoe pumps | 6 'Tampa' Ankle Strap Sandals 7 | 'Roxy' Sandal in Ivory Satin
Bridal Shoes with Rhinestone Heel Details
It's no wonder these wedding shoes are so popular; embellished shoes have always been a fantastic choice for wedding attire, and this crystal backed variety just makes such an elegant statement - especially from the back. Just imagine kicking up your heels on the dance floor at the reception in these! I love that this style allows for a clean look from the front (and probably a little more comfort too - no crystals to snag on the top of your feet) but then makes a statement from the back. Crystal back wedding shoes aren't just for brides-to-be, mothers, bridesmaids or even guests can opt for the colorful variety. There's no question, these special heels are like jewelry for your feet.
Designer Crystal Back Bridal Shoes with Embellishment
Right now, the main designer who does this signature look is Badgley Mischka, so all of my picks are from there. Badgley Mischka bridal shoes, and the more affordably priced "Jewel" by Badgley Mischka are a great place to look for these crystal-encrusted beauties! Just look at the detail on a few of these pairs! Fit for a modern-day Cinderella. Enjoy!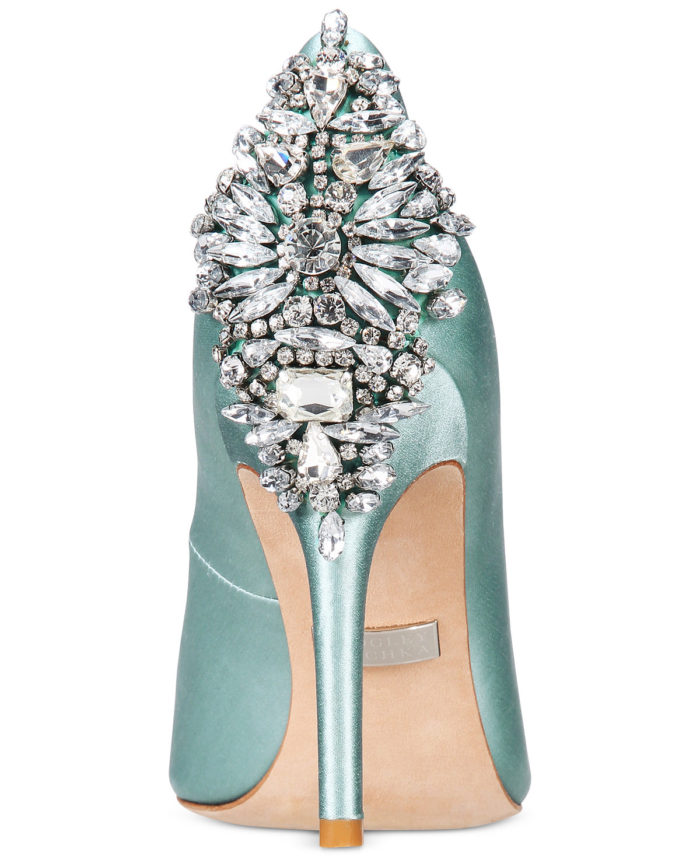 'Nilla' peeptoe pumps from Macy's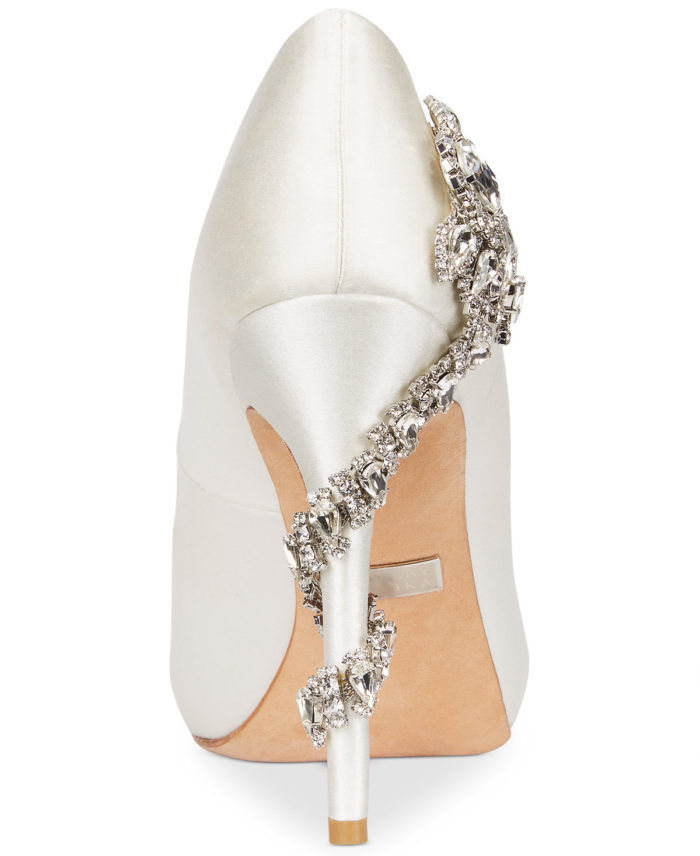 'Royal' Shoes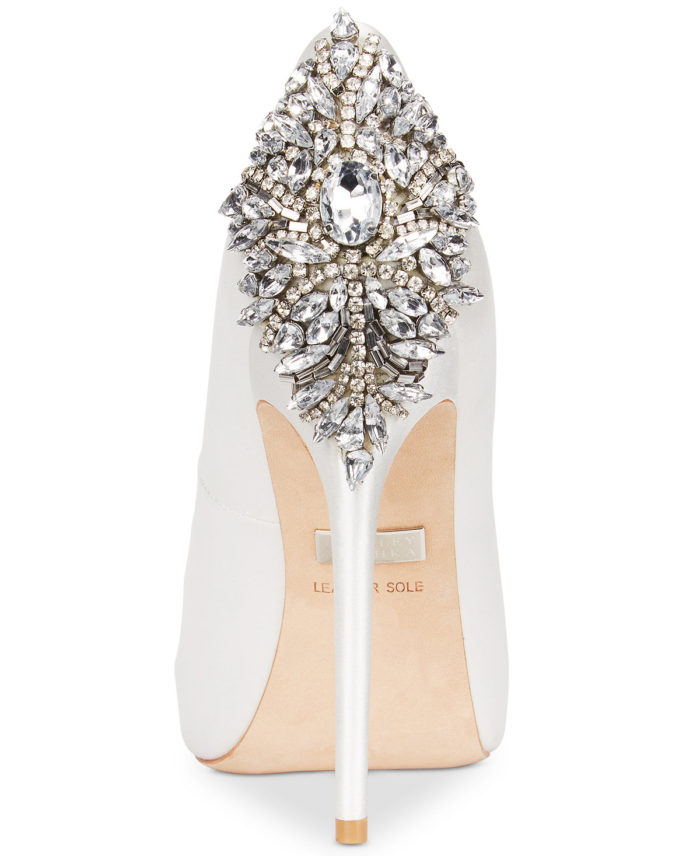 If this much bling isn't your thing, be sure to at least check out our other top picks for this season's wedding shoes, more Badgley Mischka bridal shoes, our picks for lace wedding shoes, and more wedding accessory ideas!
Shopping sources use affiliate links from our sponsoring retailers.
Shop The Shoes
More embellished wedding shoes for you to browse,