Sophie Blake NY Accessories
Long Black Gown
Sophie Blake NY Accessories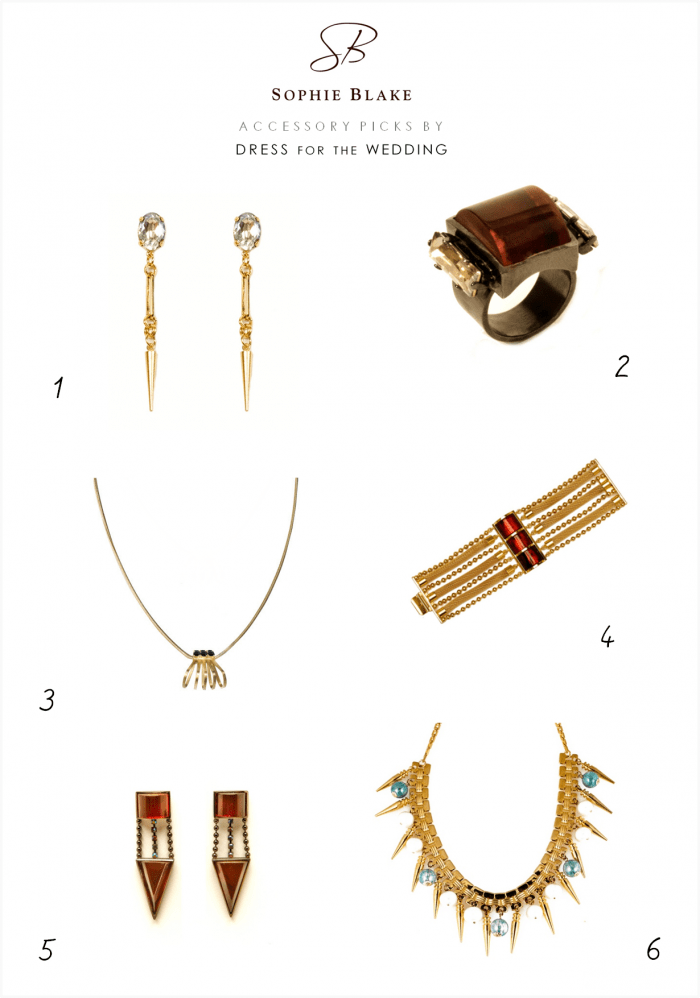 1. Jazz Earrings 2'' 2. Ashya Ring 3. Kissa Necklace 4. Ashya Bracelet 5. Aida Earrings 6. Malliha Necklace
As is often the case, I learned about Sophie Blake NY's collection a few months ago through the wonder that is Twitter, and I have been meaning to introduce her work to Dress For The Wedding readers ever since. As we march into 2013, I continue to be hugely fascinated by Art Deco styles, especially jewelry, bags, and dresses.
Sophie Blake's art deco influence is clear, but she re-imagines those natural 1920s and 1930s references with a very modern edge in her handmade pieces. Spiky modern metals and shapes are juxtaposed with crystals, Bakelite, and other beautiful materials to make standout accessories.
Above, I have picked a few from her collection that caught my eye as being perfect for wedding guests, and brides alike The Jazz earrings are a favorite of mine; I think they'd be a stunning accompaniment to a modern and sleek bridal look.
Black Gown Wedding Guest Look with Sophie Blake NY Accessories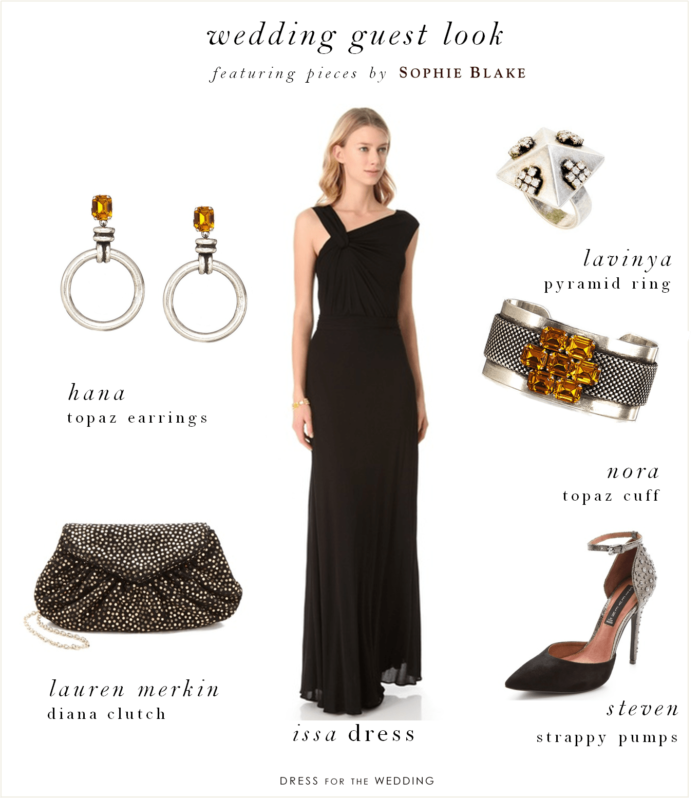 Sophie Blake NY Hana Topaz Earrings //ISSA Asymmetrical Shoulder Gown//Sophie Blake NY Lavinya Ring// Sophie Blake NY Nora Topaz Cuff //Steven Triummp Ankle Strap Pumps // Lauren Merkin Diana Suede Clutch with Metallic Polka Dots
Since Sophie Blake's style inherently reflects her New York location, for this wedding guest styling idea I was imagining a wedding guest heading to an evening semi-formal wedding held in a chic New York restaurant or gallery space. This long black ISSA gown has a asymmetrical neckline that adds a bit of interest to this simple long black dress. I thought Sophie Blake's topaz accessories: the Hana earrings, and the Nora cuff , would really pop with this black dress. Her Lavinya cocktail ring adds edgy sparkle to glamorous fingers. I also added a Lauren Merkin metallic clutch that I thought paired nicely with this look and Steven Triummp ankle strap pumps, studded with silver for a little bit of a departure from the standard pair of heels.