Navy Maxi Dress for Bridesmaids
There are some dress silhouettes that just look current and fresh, and for me, this sleek maxi dress is one of them. I've featured many navy dresses here on Dress for the Wedding, but today I wanted to present a take on a navy dress that is undeniably modern, and will be a favorite with bridesmaids and wedding guests alike.
Affiliate links are used in this post about navy maxi dresses.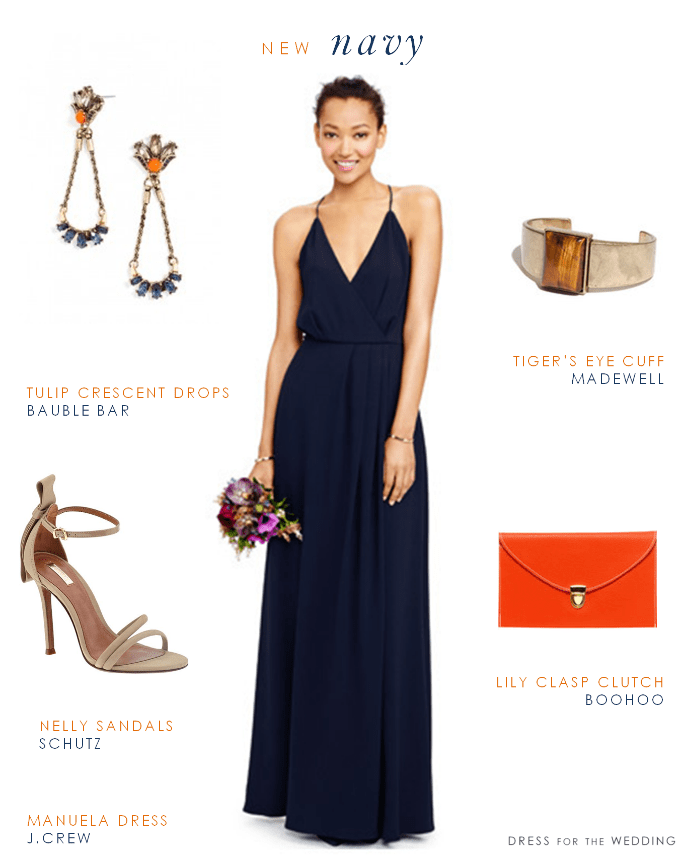 Dress:  J.Crew Manuela Long  Dress in Crepe  See other J.Crew Bridesmaid Dresses   Manuela Wedding Gown //Earrings: Tulip Crescent Drop Earrings from BaubleBar  //Cuff: Madewell Tiger's Eye Cuff at Shopbop  //Clutch: Lily Clasp Clutch Bag at Boohoo //Sandals: Shutz Nelly Sandals at Piperlime
This dress called the Manuela from J.Crew. It is part of their wedding collection and available as a bridesmaid dress option, or as a wedding dress. It has such a relaxed sophistication --especially in navy--which makes it easy to envision this as both a beautiful bridesmaid gown and a closet staple.   I love this type of maxi dress for a wedding, because the length gives the look some formality, while the light fabric and blousy styling offer a casual, modern style.
How to Style a Navy Maxi Dress
For the accessories, I thought navy with a bit of orange seemed right. It makes this ready for fall, and gives this already contemporary look a punch of color. I also love those sandals that have a cute little obi-like bow on the back--just a little detail like that and some modern accessories with an edge make this a great look for modern weddings.
Shop Navy Blue Maxi Dresses

See more style + shopping ideas for dark blue and navy blue dresses:
Navy Blue Dresses for Wedding Guests