A classic navy blue cocktail dress is one of the go-to looks for nearly any wedding. Here's one classic look for fall with a navy blue dress to wear to a fall wedding as a centerpiece.
The links in this post about a navy blue dress for a wedding guest use affiliate links, which means this site may earn a commission if you make a purchase from our links.
Navy Blue Dress to Wear to a Fall Wedding

Dress: Off the Shoulder Scuba Crepe Cocktail Dress by Eliza J | Earrings: Crystal Drop Clip Earrings | Bracelet: Crystal Chain Bracelet | Clutch: Straw Minaudière | Shoes: Madeleine Sandal
When to Wear Classic Navy Blue Dress
When a dress code is unclear, or you simply need a dress that will be completely appropriate no matter what the dress code, a classic navy blue cocktail dress like this is our recommended go-to. We had been saving this classic style for a post about what to wear to a hotel wedding, but this year, hotel receptions are barely happening and outdoor weddings are happening instead!
This dress is the perfect example of a tasteful and chic dress. And, because it has a thicker scuba fabric, we think this particular structured navy dress is perfect to wear to a fall wedding. Just pair it with some gold accessories, and you will be dressed in style for any wedding. You might also love these fall wedding guest dresses and more blue wedding attire and outfit ideas!
More Dresses Like This

This post was originally published on September 8, 2012 and was updated (finally!) on August 19, 2020 with a new look. Below is the original image and details in case you are visiting this from an old link.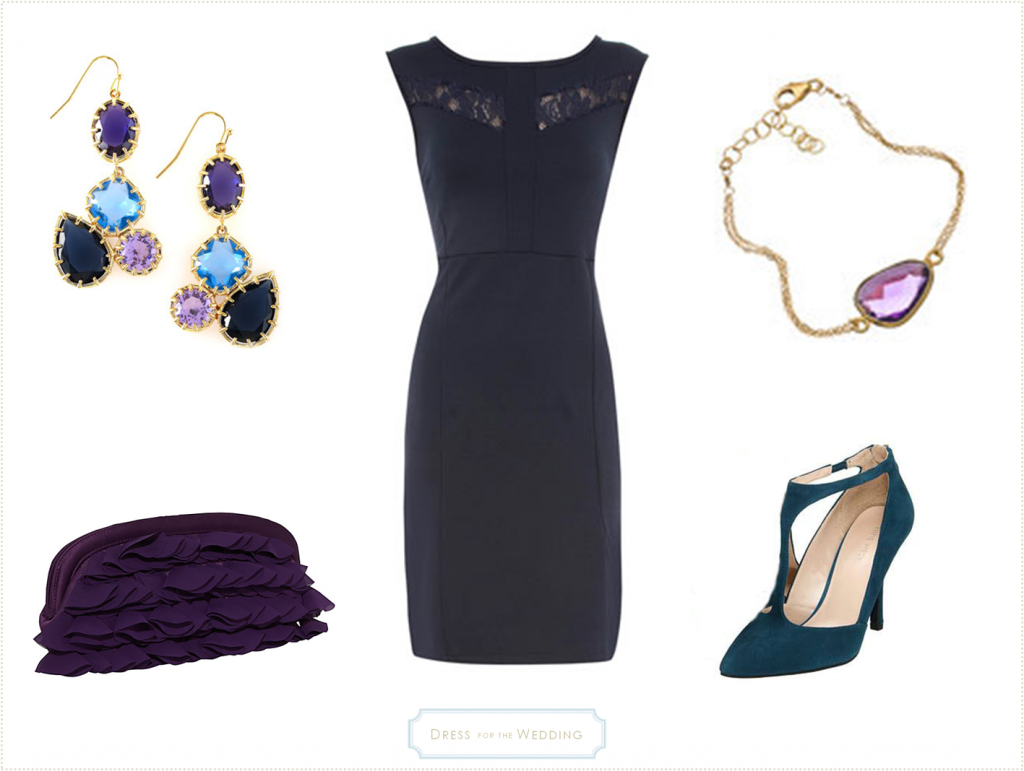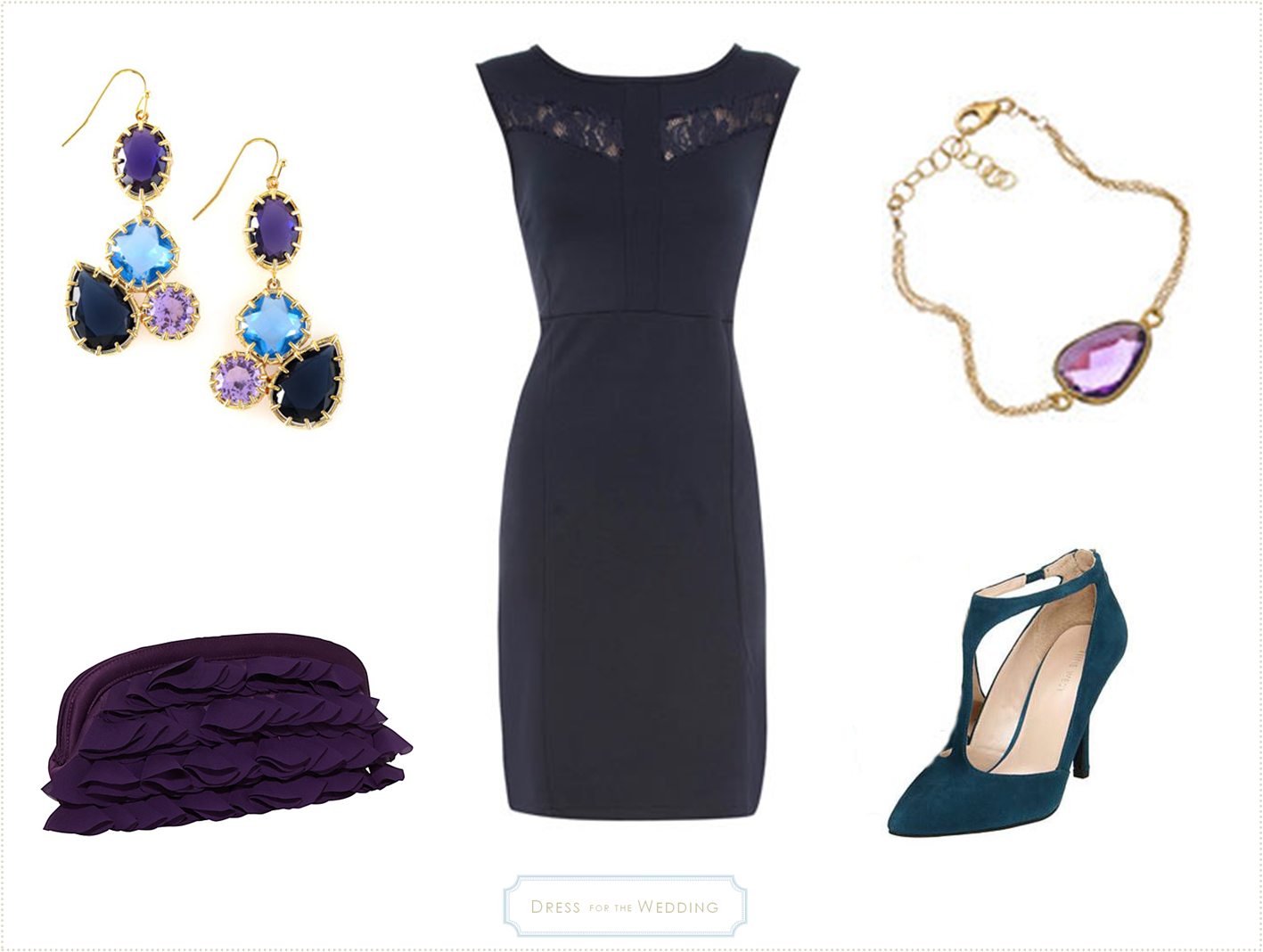 Navy Lace Detail Dress -www.dorothyperkins.com| Amethyst Bracelet - Brace Yourself LA - www.maxandchloe.com | Lee Angel Multicolored Drop Earrings - www.cusp.com | Nine West Blonsky - Blue T-Strap Shoes - www.ninewest.com | Magid Ruffled Purple Clutch - www.ebags.com
I thought this dress and these accessories would be great for Wendy because they have a retro feel, it's a flattering, tailored dress, and the neckline with the lace detail adds a little interest. I was inspired by the pairing of the blue, amethyst, and navy colors in the multi-colored earrings, so I decided to pair this with an amethyst bracelet ( because of the great neckline, I don't think it needs a necklace), a purple bag, and some wonderful blue suede shoes in a mallard blue color. Maybe this is the dress Wendy will wear to the wedding?
This post is very outdated (from the very early days of our blog!) Find updated navy blue dresses for wedding guests!
More style ideas you might enjoy :