How to Dress for an Outdoor Fall Wedding

Today's look is inspired by a recent reader request, and I hope it will help many of you heading to weddings this fall! My dear Dress for the Wedding reader is attending her sister's wedding at the end of September, and it will be a casual outdoor backyard wedding under an enclosed tent. The wedding is to be held in Seattle, so rainy and chilly weather certainly might be in the forecast. As the sister-of-the-bride, our wedding guest also needs to look nice for family photos. The wedding theme is a laid back woodsy style, so this wedding goer wanted a casual dress with long sleeves to stave off the chill, or some ideas for a wrap, cardigan or shrug cover-up to go over a short sleeved or sleeveless dress. Below is one look I created for her. I know I've been in this position for finding pretty and warm clothes for chilly fall weddings, so I hope this will help many of you!
What to Wear to an Outdoor Afternoon Wedding In September
Update: I know this knit style is really *very* casual, because that fit the bill for this reader request, but I'm sure many of you would like to get dressed up even more than this look for an outdoor wedding, and this dress has sold out since last year. If you're looking for updated styles check out this post filled with dresses to wear to a casual fall wedding, and this one filled with more cocktail dresses for semi-formal fall wedding attire, in addition to the wedding guest dress shop. In general, if you're heading to an outdoor fall wedding, wear a pretty cocktail dress with a jacket or wrap, or, if the event is casual, choose a dress in a heavy knit material with a long sleeve or some length and dress up the look with accessories. Remember to wear some shoes you won't mind having the the grass ( Or try these High-Heelers!) See more new picks for dresses in the 'Shop the Post' section below.
Outfit for an Outdoor September Wedding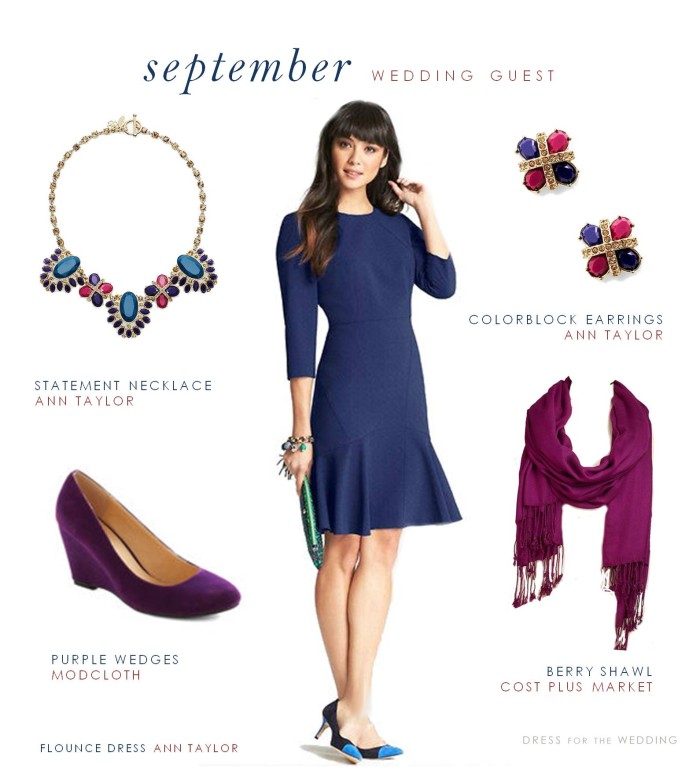 Affiliate links are used in this post: Ann Taylor Flounce Dress / Ann Taylor Statement Necklace / Ann Taylor Color Block Earrings / Purple Suede Wedges ModCloth / Raspberry Colored Shawl
Inspiration for this September Wedding Guest Style
A little background on this outfit: our sister-of-the-bride wanted a few dresses to chose from that were both long sleeved and sleeveless or short-sleeved with a jacket, or cardigan too match. She likes jewel tones, green, red, navy, pumpkin, deep purple, or mustard — these are perfect fall colors! She was also worried that it might be cold and that the ground could be wet, so she wanted some suggestions that included boots, closed shoes, or flats.
I gave her a few dresses to choose from and she decided this blue flounce dress was her style, and Ann Taylor has some great accessories to go with it, to make this wedding-worthy. We added some jewel-tone wedge heels and a wrap to ensure she'll be cozy and dazzling!
If you're interested, and also heading to a colder weather outdoor wedding, here are the long sleeved dresses, fall dresses, wraps, cardigans, and flat shoes I found.
Dresses to Wear to Outdoor Fall Weddings
Here are more dresses to wear to outdoor fall weddings. Don't forget to bring a wrap for the wedding, if the weather is going to be chilly! You might also want to consider a maxi dress for a fall wedding or take a look at suggestions for what to wear to an October wedding.
Commissioned affiliate links are used in the shopping section.