An outfit for an outdoor wedding in the fall! This post was an old reader request, and we've updated it at a time when many are holding outdoor weddings this fall!
This post about what to wear to an outdoor wedding contains affiliate links. This means this site may earn a commission on any purchases from these links.
How to Dress for an Outdoor Fall Wedding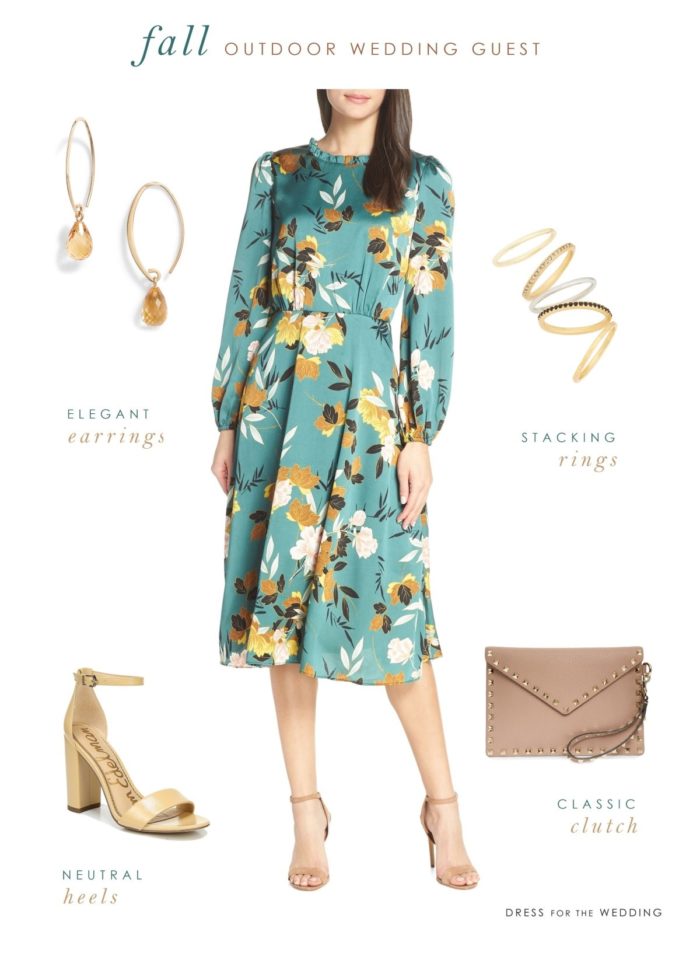 Dress: Floral Print Long Sleeve Ruffle Neck Dress | Earrings: Briolette Gemstone Hoop Earrings | Stacking Rings: Filament Set of 5 Stacking Ring | Clutch: Medium Rockstud Leather Envelope Pouch | Neutral Heels: Yaro Ankle Strap Sandal
Today's look was originally inspired by a recent reader request, and we hope it will help many of you heading to weddings this fall! We've paired a chic dress and some low key matching accessories to show a gorgeous style for a September wedding.
Because of the pandemic, many weddings are being held outdoors, so strappy little cocktail dresses just might not cut it! Instead, we love the look of a long-sleeved but dressy dress for outdoor weddings heading into the fall. This floral print dress in a beautiful green and gold color reflects the changing seasons but gives an elegant and warm style for an outside wedding. We also recommend some block heel sandals, so you don't sink into the grass and can dance with comfort! Or try these High-Heelers!
More Dresses to Wear to Outdoor Weddings
If you love the idea of a long sleeve dress for an outdoor wedding this is the look to go for, here are more long-sleeved dresses for wedding guests. You will also find some outdoor-ready looks in our past fall wedding attire ideas and outfits, and our picks for fall wedding guest dresses.
Here are more dresses to wear to outdoor fall weddings. Don't forget to bring a wrap for the wedding, if the weather is going to be chilly! You might also want to consider a maxi dress for a fall wedding or take a look at suggestions for what to wear to an October wedding.

This post was originally published in September 2013. The outfit is out of stock (and a little out of style!) but I have kept the original sources and content below for reference.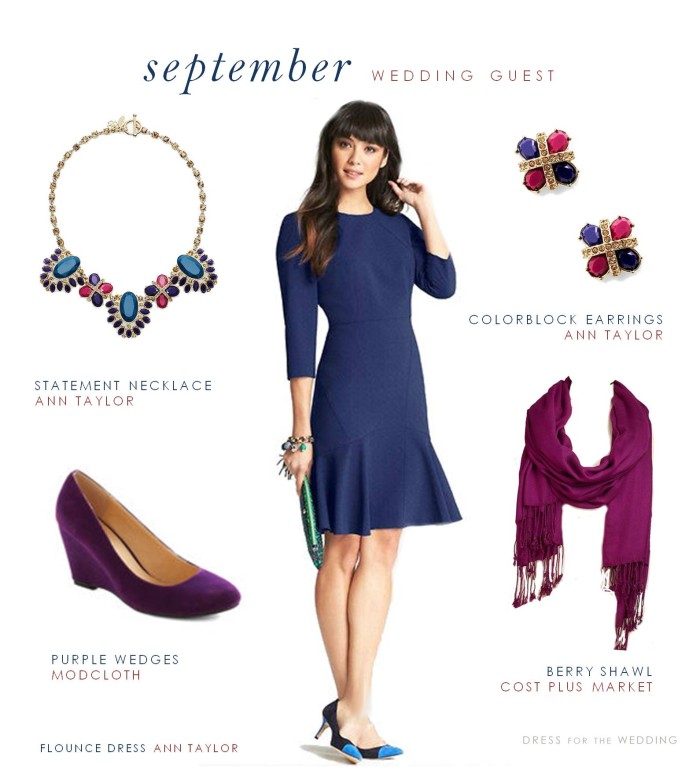 Affiliate links are used in this post: Ann Taylor Flounce Dress / Ann Taylor Statement Necklace / Ann Taylor Color Block Earrings / Purple Suede Wedges ModCloth / Raspberry Colored Shawl
Inspiration for this Style
A little background on this outfit: our sister-of-the-bride wanted a few dresses to chose from that were both long-sleeved and sleeveless or short-sleeved with a jacket, or cardigan to match. She likes jewel tones, green, red, navy, pumpkin, deep purple, or mustard -- these are perfect fall colors! She was also worried that it might be cold and that the ground could be wet, so she wanted some suggestions that included boots, closed shoes, or flats.
I gave her a few dresses to choose from and she decided this blue flounce dress was her style, and Ann Taylor has some great accessories to go with it, to make this wedding-worthy. We added some jewel-tone wedge heels and a wrap to ensure she'll be cozy and dazzling!
More style ideas you might enjoy :