Pink Mismatched Bridesmaids
I've hinted a few times about my own mismatched bridesmaid dress experience 5 years ago, and what I learned from it was this: there is definitely a right and wrong way to do the mismatched bridesmaid trend. Contrary to what the mismatched style looks like, it actually takes quite a bit of planning to get it right.   Here's how I'd suggest to do the look the right way! I'll use pink as an example this week, and I'll be showing you more ideas in a whole rainbow of  colors.
This post uses affiliate links to our sponsors.
Pink Bridesmaid Dresses to Mix and Match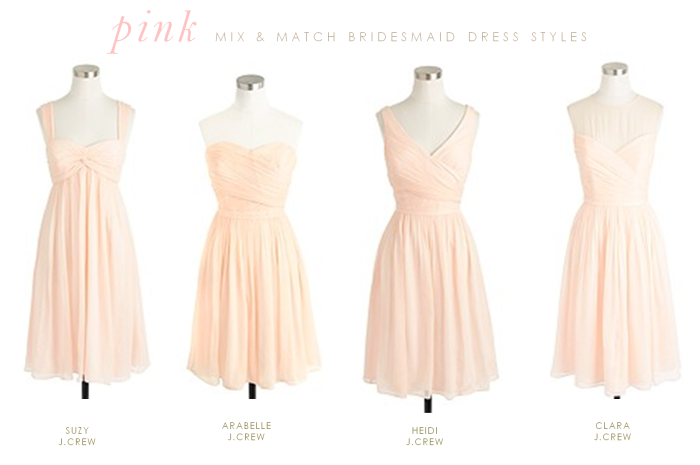 Affiliate links are used in shopping sources. Suzy in Pink Silk Chiffon / Arabelle in Pink Silk Chiffon / Heidi in Pink Silk Chiffon / Clara Pink Silk Chiffon
How to Style Pink Mismatched Bridesmaid Dresses
To successfully do the mismatched bridesmaid trend, I'd argue that it sometimes takes more planning than traditional bridesmaid dress styling. The wrong way is to do what I did. I never really wanted the mismatched look, but since three of my bridesmaids were pregnant and due right around my wedding, and all of my friends lived in very different geographical areas, I decided that it was the best option. With the hope that I was keeping things simple, informal, and inexpensive for my ladies of honor,  I loosely assigned a color and style, (i.e., "Just wear a blue summer dress!")  spoke individually to each one about their dress, and hoped my ladies of honor would just naturally arrive in a sea of pretty blue dresses that they already owned or could easily find in any store near them.
What really happened was complete confusion ( "What shade of blue? What fabric? What length?Is this one ok?)  And it became clear that leaving the dress search so open actually put a lot of unintended stress on my bridesmaids.  To assist, I crafted a PowerPoint of colors and dresses (and the first hint of  the idea behind the Dress for the Wedding collages were started) but it was too late; everyone was frustrated with searching for dresses. What ended up happening was this:  5 girls chose dresses in nearly the same light aqua color, and 2 had exactly the same dress; 3 chose in the same cobalt color with no "transitional" blue colors in between, with fabrics that ranged from gauze to satin. It looked fine in the end, but it definitely resulted in way too many emails and concerns!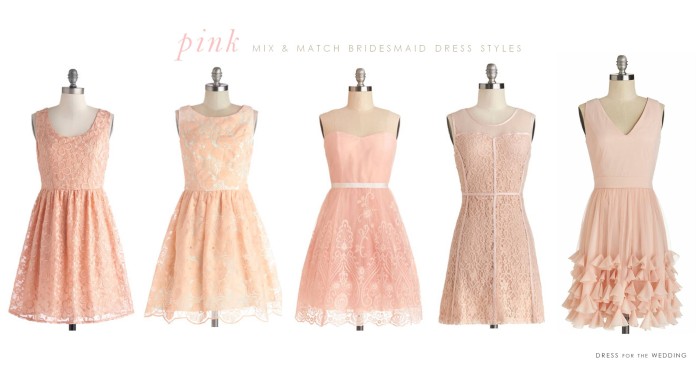 Date at Dawn Dress / Will & Graceful Dress  / Fancy Free Spirited Dress / Petal Panorama Dress / In Due Corsage Dress 
To do it the right way, I'd recommend this process. First, know how many bridesmaids you have, and how mixed you want the colors to be. Mismatched works for everything from wedding parties of 2 to 12 or more, and I actually really like it for large wedding parties to break up the color monotony a little bit.
Simple Mix and Match Bridesmaid Dresses
One way to do it is for the bride to assign a color and fabric, from one designer or retailer, and just allow your bridesmaids to pick a dress style or neckline  that suits them. I'd recommend keeping the skirt length uniform, and also assigning a small pool of styles you like, unless you truly don't mind if they pick whichever one they like best. This is barely even qualifies as a mismatch since it's really is the most coordinated of the mismatched options and looks something like this: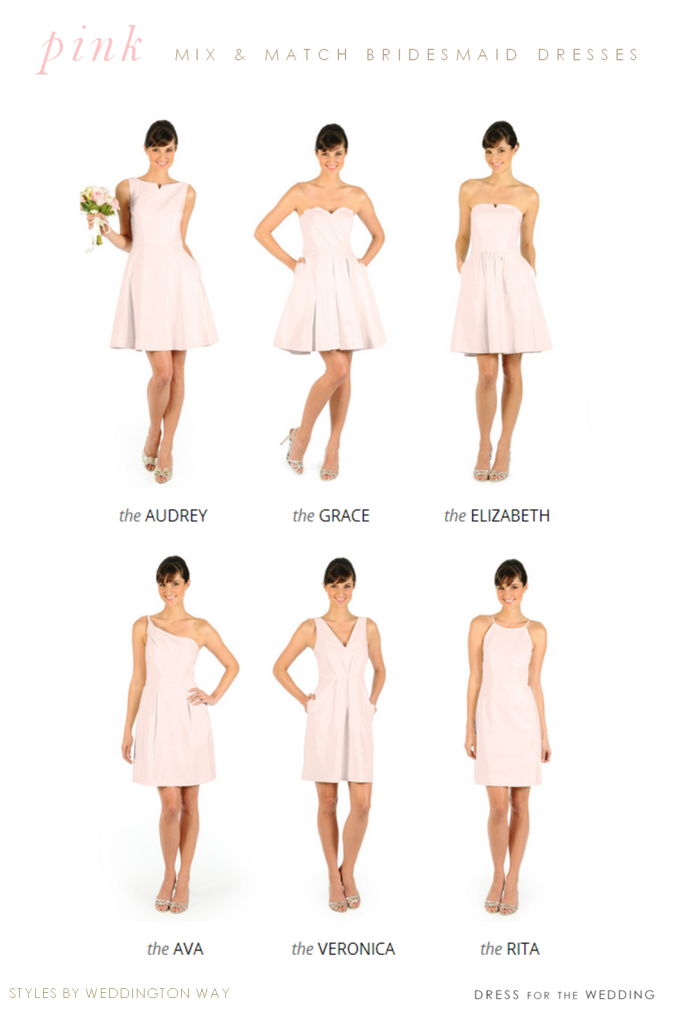 6 New Styles fromWeddington Way
I'd say this one the easiest, and is a win all-around because your bridesmaids essentially get to pick a dress, but don't have to sort through an overwhelming number of choices, and the bride can pick the fabric and general style. Weddington Way, a online bridesmaid dress retailer sorts dresses by color, style, fabric, and our partners Anna Elyse, and LulaKate offer so many bridesmaid dresses with this mix and match option. The other way to do this in a very simple way? Get a convertible bridesmaid dress like Annabelle by Jenny Yoo, which ties in different ways to make 15 + different styles, or the Dessy Twist Wrap Dress.
Variations on Pink Mismatched Bridesmaid Dresses
The second option is to pick a uniform fabric type and perhaps assign a general dress style, but pick some varying shades in the same color family. This the could give your wedding party that ombre effect, or you could do this in just the same color family with varying textures.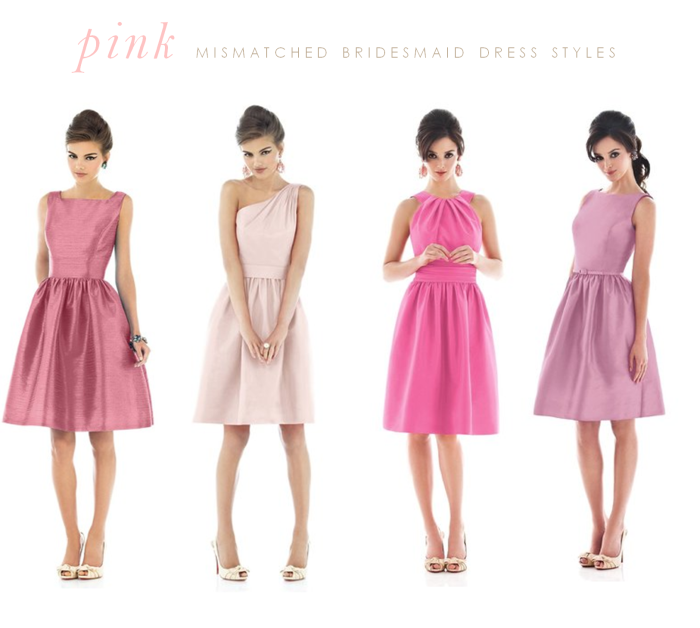 Alfred Sung Style D520in Carnation  / Alfred Sung Style D528 in Pearl Pink / Alfred Sung Style D494 in Strawberry / Alfred Sung Style D488 in Begonia
Mixing Prints and Textures in Pink Bridesmaid Dresses
The third option is to mix  everything - fabrics, prints, patterns and fabrics in a broadly related color family ( think blush, coral, and pink or ivory, pale pink, and gold). This is truly what I would call mismatched, and sometimes looks the most interesting and sophisticated, but  it can be the hardest to pull off, and I think it actually requires the most thought. You can introduce a print to tie in some colors, and play with different silhouettes.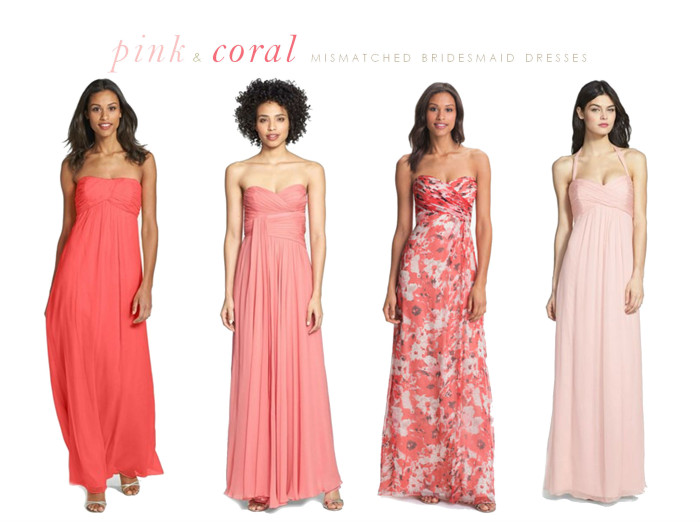 Strapless Chiffon in Coral / Dark Pink Chiffon Strapless / Amsale Printed Chiffon Dress / Amsale Halter Dress
When approaching this, think of how you might layer textures in a room, and make sure there is what I would call equal mismatch - so if you have a few dark pink dresses and a few light pink, make sure there's something in the middle to bridge that gap,  or that the bouquet or accessories will link the two styles. Also make sure each dress in the group is really distinct, otherwise it throws the mismatch off  if only two of the group are too similar.  This approach gives your wedding party style and interest, and each dress really reflects each bridesmaid's personality.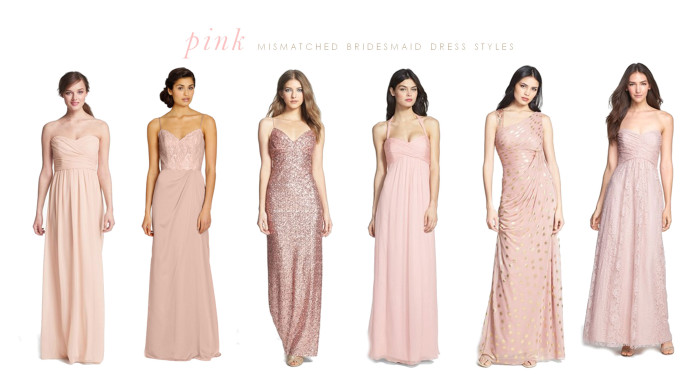 Pale Pink Chiffon Strapless Dress by Monique Lhuillier  / Pink Lace Gown by Jim Hjelm / Pink Sequin Gown / Amsale Halter Dress / Gold Dot Dress / Blush Lace Dress
Even among these three examples there's still room for more variation, for instance, you could introduce a totally different accent color, or you can mix sleeves and lengths. No matter which approach you take, I recommend getting all the dresses in the same room at some point so you can see how well they work together. As you know, colors online can vary a great deal, so it's best to see everything in person  for a trial run.
If you're still struggling with the artful mismatch, check out looks on Pinterest,  get some help from your nearby wedding boutique or style consultant online, and lay out options together on the rack at the boutique and see how you like it. This is such a  big trend right now, I'm sure wedding stylists will have more fantastic ideas for how to introduce this idea into any color scheme you'd like.
I hope I've helped you avoid some mismatched dress pitfalls with this post! Look for more posts in the future for how to mix and match other colors, and check out the pink bridesmaid dress ideas in the shop section.
Shop sections and links to shopping sources  use affiliate links which support this blog.
This post contains links to sponsors and affiliated retail partners.