An effortless blush bridesmaid dress by Joanna August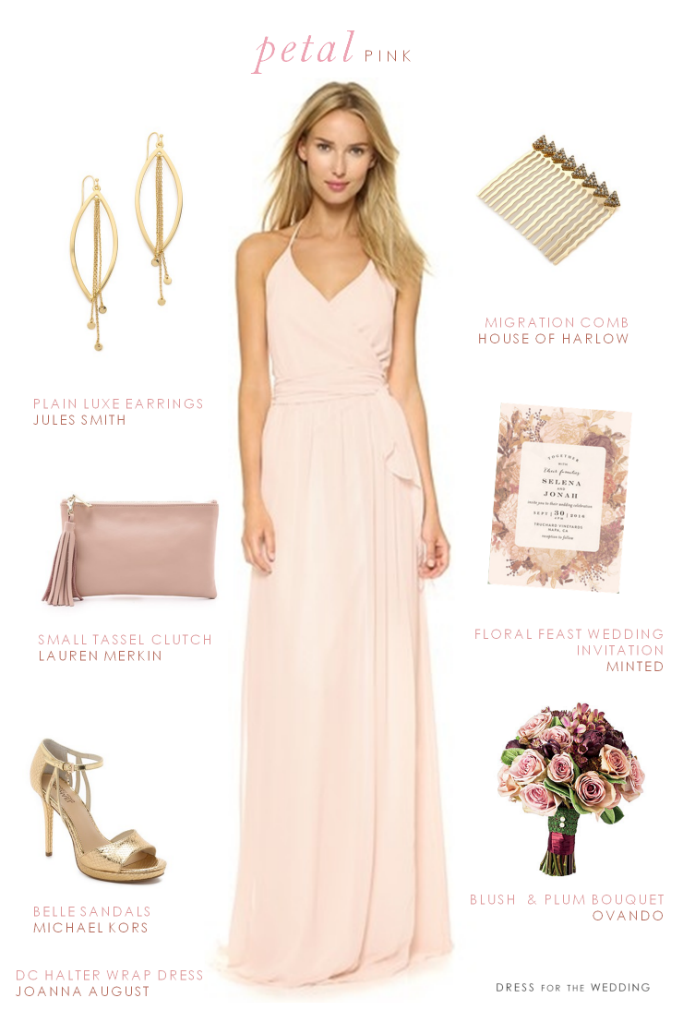 All shopping links use affiliate sponsor links. Dress: DC Halter Wrap Gown in Tiny Dancer by Joanna August at Shopbop.com | Earrings: Plain Luxe Drop Earrings by Jules Smith from Shopbop | Haircomb: Migration Comb by House of Harlow from Shopbop | Invitation: Floral Feast Wedding Invitation from Minted | Bouquet: Blush and Plum Bouquet as seen on Brides.com  Floral design by Ovando | Sandals: Belle Sandals by Michael Kors  | Clutch: Small Tassel Pouch Clutch by Lauren Merkin from Shopbop
A pink bridesmaid dress is always a popular choice for weddings, and in modern wrap style like this, the wear-again factor and sophisticated style factor goes way up. Designer Joanna August is known for these beautifully softly structured bridesmaid dresses – and this halter wrap is a favorite because of its flattering, easy to adjust style. Other silhouettes are available in this color, called 'Tiny Dancer". making it easy for your bridesmaids to choose a style they'll love.  I wanted to show that soft blush pink isn't just for spring and summer. It can segue quite easily into fall with the addition of tones like gold, mauve, and plum.  The mix of pastel and jewel tones is wedding ready and romantic fall or spring wedding style! Wedding guests – feel free to pick this style too! It's a pretty dress for any occasion!
More posts and dress picks you might like:
Mother of the Bride dresses for fall
The links in italics and in the shop section denote affiliate links to our retail sponsors. 




More style ideas you might enjoy :