A golden style for the Mother of the Bride, Mother of the Groom, bridesmaid or a formal wedding guest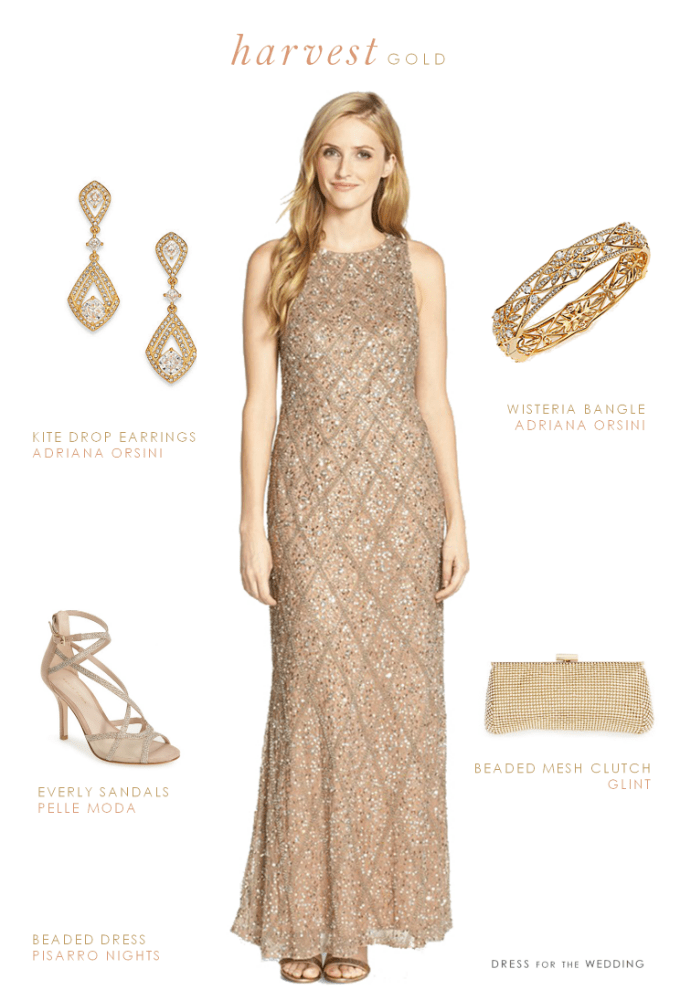 The shopping links in italics in this post use affiliate links from our sponsors. Gown: Beaded sleeveless dress by Pisarro Nights from Nordstrom | Earrings:  Athena Kite Double Drop Earrings by Adriana Orsini at Saks Fifth Avenue | Bracelet: Wisteria Pave Crystal Bangle by Adriana Orsini from Saks Fifth Avenue | Clutch: Crystal Mesh Clutch by Glint from Nordstrom | Shoes: Everly Sandals by Pelle Moda from Nordstrom
A beaded gown doesn't have to be overly flashy - as this dress proves! There is plenty of sparkle, but the warm gold topaz shade reads as a pretty neutral, and the straight lines of this silhouette keep things simple.  I'm envisioning this dress for a late fall wedding for the mother of the bride to wear, but with this much sparkle it could also easily work for the holidays.
 I know I have requests from many Mothers of the Bride to also show sleeved gowns options and plus size and this gown almost has both! If you'd prefer a short sleeve, try this gown by Adrianna Papell, and if you'd prefer a long sleeve try this Badgely Mischka gown, if you'd like this dress in plus-size it's available! And if you love this style but just want a wrap - try this satin wrap , this chiffon style or this silk one.
More posts you might like:
Fall Mother of the Bride Dresses
Neutral Dress for the Mother of the Groom
Beaded gowns for the Mother of the Bride
Neutral, Taupe, and Gold Mother of the Bride Dresses
Links in italics and in the shop section are from our affiliate retail partners and sponsors, meaning that this blog may earn a small referral commission if a qualified sale is made. Happy shopping!