Plum Bridesmaid Dress
I'm slowly embracing the idea that fall will soon be here, and that I need to start showing more transitional colors! This plum bridesmaid dress is the perfect summer-into-autumn color in my book. (It's actually fine for an evening wedding in any season, if you ask me!) It's somewhere between burgundy, berry, and purple, and it can be the backdrop to so many other colors.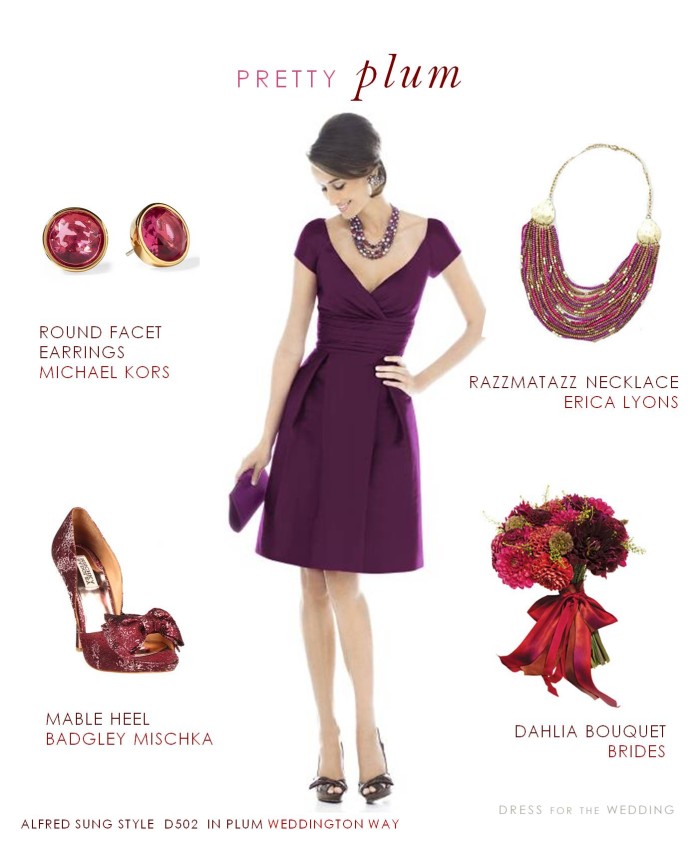 Alfred Sung Bridesmaid D502 Dress in Italian Plum /Michael Kors Round Facet Stud Earrings/ Erica Lyons Razmatazz Necklace / Dahlia Bouquet via Brides / Badgley Mischka Mable Pump in Metallic Wine

For this look, I kept things mainly monochromatic, but chose accessories that had a touch more of deep pinky red to contrast with the purple undertones. This color bridesmaid dress can also go with a deep blue, some shades of orange, pink, green, or any neutral or metallic color like black, bronze, gold or silver. I actually love this color with my new favorite neutral — bronze — but those wine colored heels were so interesting, I had to show them! I also love how all the orange and red shades in that Dahlia bouquet look against the deep plum of that classically shaped dress.
 Your bridesmaids will be ready for an autumn wedding in this ensemble!
If you'd like more purple or red bridesmaid dress ideas, check out the bridesmaid boutique, which has bridesmaid dresses arranged by color!
More style ideas you might enjoy :