Radiant Orchid Wedding Style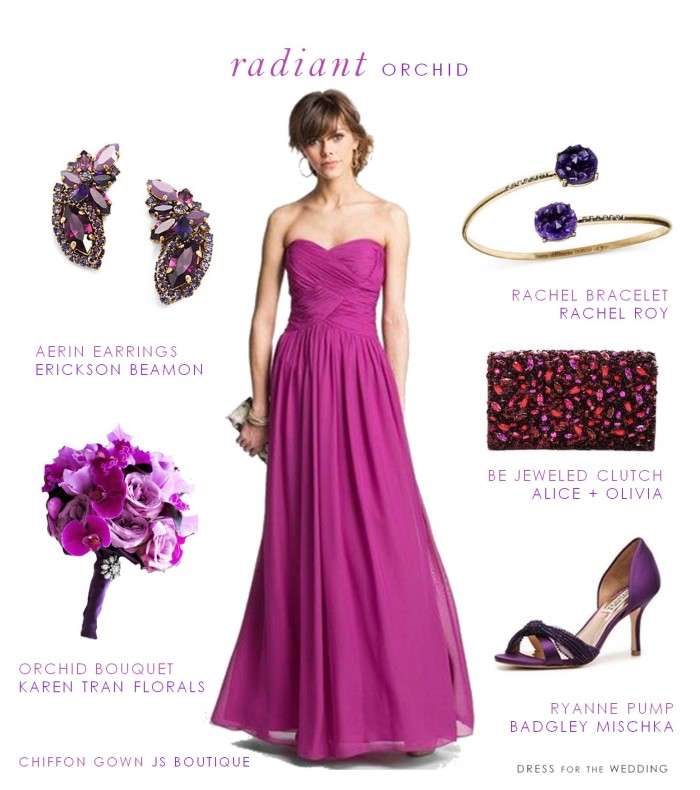 JS Boutique Ruched Chiffon Gown /Orchid Bouquet by Karen Tran Florals Photographed by Darin Fong /   Earrings by Aerin Erickson Beamon / Rachel Bracelet by Rachel Roy /Be Jeweled Clutch in Purple Combo by Alice & Olivia / Ryanne Sandals by Badgley Mischka

As you may have herad, earlier this week Pantone announced that Radiant Orchid is the 2014 Color of the Year. If years past are any indication, this announcement means we can expect to see this color emerge in fashion, decor, and especially for weddings! Radiant orchid is a particularly lovely color for weddings because as Pantone mentions, it "emanates great joy, love and health". The shade is somewhere between purple and pink, with a bit of hot pink and burgundy thrown in. It can be made vibrant, like in an all-over purple and pink look like this, or more subdued with put in small does with pastels and metallics.  Radiant Orchid works exceptionally well with many colors  - my favorites are lighter pinks, light or deep purples, and deep midnight blue tones. It also works wonderfully with all the usual metallics: silver, gold, platinum, pewter, and bronze would all look great when paired with this hue.
The announcement came at just the right time for me to show you this chiffon bridesmaid dress that I've had my eye on for a few weeks. It's a beautiful flowy shape, and it just looks like a dress that is festive and ready for a celebration.  To really play up the radiant orchid theme I've put shades of pinky purples with this, but again - don't be afraid to mix in other colors.
If this shade takes over as predicted, 2014 weddings will be full of vibrant fun and cheer!
P.S. I'm over on Aisle Perfect today with a guest post. Be sure to check out that golden guest look!
Affiliate links are used in shop sources.



More style ideas you might enjoy :