Beach Bridal Gown Inspired by Tidewater and Tulle
I'm so excited for today's post! I've been waiting for this day from this past fall when I learned my friend Chelsea LaVere was starting her own wedding blog, and she honored me by asking if I'd do one of my styled looks to commemorate the blog's launch.  The day is here--Tidewater and Tulle  (www.tidewaterandtulle.com) is the wedding inspiration resource for the Hampton Roads, Virginia area, and it just debuted this December.  Tidewater and Tulle is not only a fantastic resource for its local brides, but the stunning inspiration found on that blog is really suited to anyone in any location who loves classic or nautical style -- it's a great daily blog read for anyone planning a wedding. The name, Tidewater and Tulle evokes  the tidal (and bridal) elements area where the Chesapeake meets the Atlantic, and so I immediately pictured those swirling waters. I did this look for a bride to celebrate Tidewater and Tulle's launch here on dress for the wedding, but even more of a treat still awaits you; please head over to Tidewater and Tulle today to see the two other looks I've created for the launch.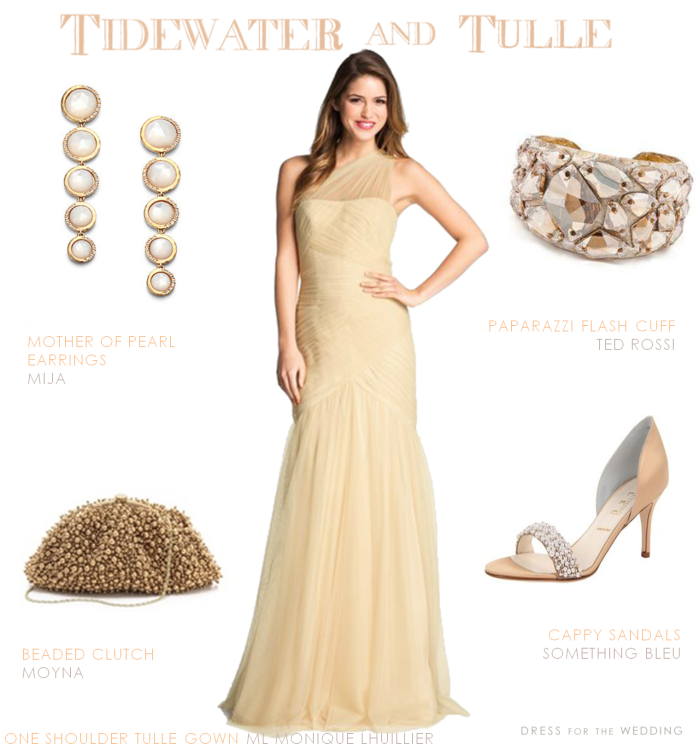 ML by Monique Lhullier One Shoulder Tulle Gown from Nordstrom and Neiman Marcus / Mija Mother of Pearl and White Sapphire Earrings from Saks Fifth Avenue /  Ted Rossi Paparazzi Flash Cuff via Rent the Runway /  Cappy Sandals Something Bleu / Moyna Clutch at Shopbop
This bridal look was meant to call to mind sand and sea foam, with sparkly elements of a coastal theme and a literal use of tulle. I intended for these accessories to look like a dressed-up version of found organic objects from the seaside. I used pearls not only because of their origins from the sea, but also because of that shell-like patina, and their time-honored place as the classic bridal accessory.   The clutch looks like a plump urchin to me, the bracelet shines like the inside of a shell, and the pearl accents on the earrings and shoes give this bride a look a traditional touch with a little bit of seaside siren mixed in.
If you're a lover of the coast and weddings ( and really who isn't?) please bookmark Tidewater and Tulle, Like them on Facebook, Follow Tidewater and Tulle on Pinterest, and Follow their tweets on Twitter! No matter if  you're by the shore, or presently landlocked like me - you'll be so happy for your daily dose of  this seaside inspiration.