We've written many times on this site about how we're fans of Lulus dresses for weddings, so the release of a new collection is always very exciting! This week, they released the dresses, separates, jumpsuits, accessories for their 2021 wedding collection and they are wonderful! We'll show you some of the looks that stood out to us in this shoppable post.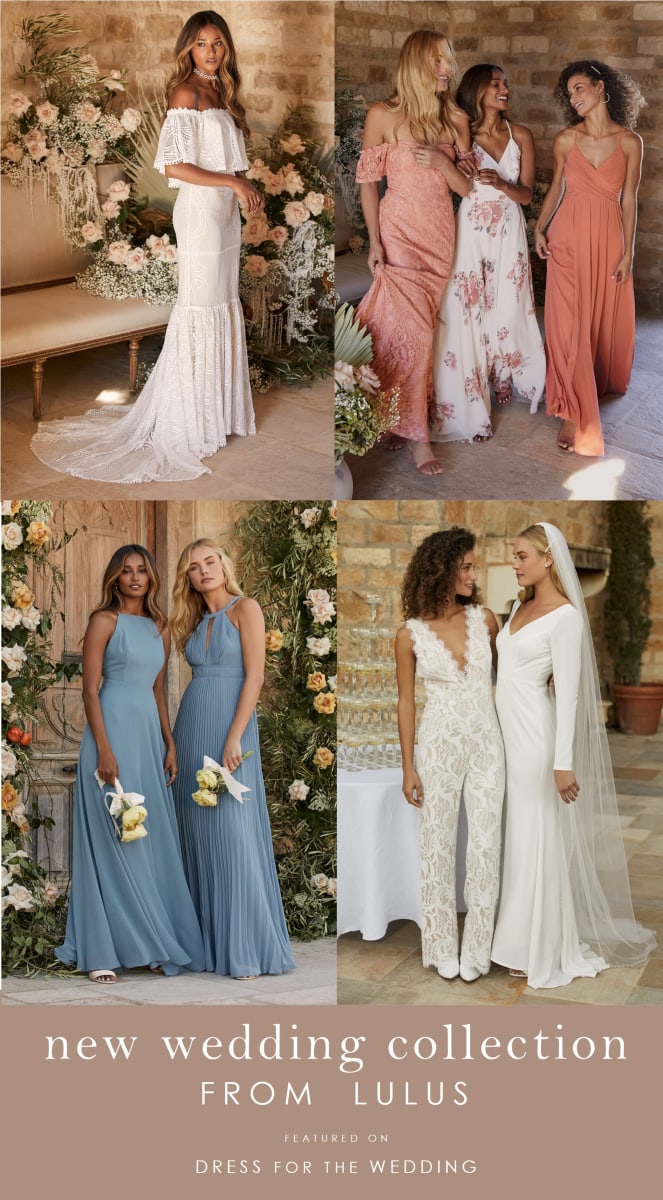 Image sources and shopping credits. All images courtesy of Lulus Wedding. 1. In My Life off the Shoulder Lace Dress 2. Adoring Hearts Rusty Rose Off the Shoulder Lace Dress, Elegantly Inclined Cream Floral Maxi Dress, Slow Dancing Rusty Rose Strappy Maxi Dress 3. Mythical Kind of Love Blue Maxi Dress and Slate Blue Pleated Maxi Dress 4. Lace Wide Leg Jumpsuit and Long Sleeve Button Back Wedding Dress
The New Lulus Wedding Collection for 2021
We love that Lulus offers so many bridesmaid dresses for reasonable prices with great silhouettes, colors, and sizing options. We also think they are one of the best places to look for wedding dresses under $100, and for white dresses to wear to your wedding events! So it's probably no surprise that we love their new wedding dress offerings!
Since 2021 is still an uncertain season for weddings, dresses from Lulus are a great pick, because they can be ordered and received quickly (No 4-6 month waits for a dress here!) They are also affordable and offer great style for small ceremonies and city hall weddings. We know of many who waited to wear their main wedding dress because of a postponed wedding, but still had civil ceremony wearing Lulus wedding dresses. These styles are also perfect for beach weddings and other destination celebrations.
Favorite Finds in the Lulus Spring 2021 Wedding Collection
Some other highlights include these heels with a bow back for under $40, which remind us of the designer wedding shoe that Hailey Beiber wore that costs $100s more! These sheer embellished heels also remind us of a top designer shoe. This lace jumpsuit is just gorgeous! This short white midi ready for pre-wedding parties or a sleek look for a city we also love the new luxe line of wedding dresses that has this plunge neck, side cut out taffeta ball gown.
You can view and shop the new picks below!
Shop The Look
Here are some of the many new looks that caught our eye. Commissionable links are used in the shopping suggestions. All images and products from Lulus.

You might also like checking out our bridesmaid dress picks by color, clutches for bridesmaids, or shopping our wedding dress picks.