A strapless pink chiffon bridesmaid dress is a classic wedding look. Is there anything better than a pretty coral pink strapless gown? It's a classic bridesmaid style, with a rosy color that gives off a happy glow.
Affiliate links are used in this post
Pink Chiffon Dress for Bridesmaids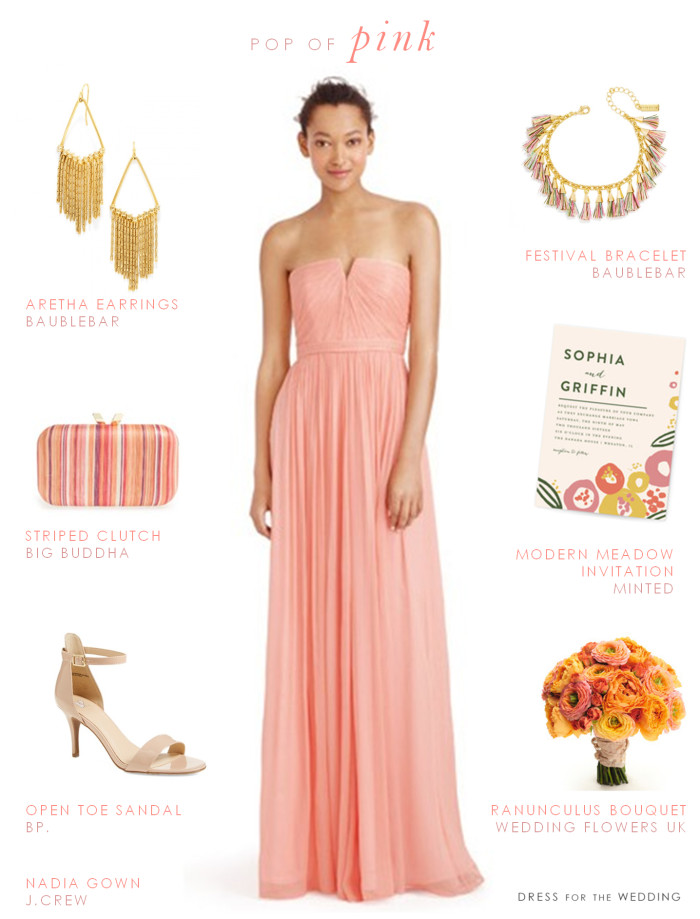 Links are from our affiliated retail sponsors. Dress: Nadia Long Dress from J.Crew in Misty Rose | Earrings: Aretha Drop Earrings from BaubleBar | Bracelet: Festival Tassel Bracelet from BaubleBar | Invitation: 'Modern Meadow' Wedding Invitation designed by Angela Marzuki from Minted |Bouquet from WeddingFlowersUK designed by Jens Jacobsen | Sandals: BP 'Luminate' Open Toe Sandals in Blush Patent | Clutch: Big Buddha Striped Clutch
More J.Crew Dresses in Misty Rose
In celebration of the long days of summer, I wanted to create a coral or rose look for a bridesmaid, and I've been drawn to the softly shirred chiffon style of J. Crew's Nadia gown for quite some time. I love the neckline and the flattering gathered pleats that accent the bodice. For summer, pairing a pink tone like this with a what I think of as the "sunset" tones: lavender, orange, peach, and yellow makes for a bright bridesmaid style. This color is called Misty Rose and it's a great pink-meets-coral color. A light silk chiffon gown like this is a light any airy fabric for daytime summer weddings. This look would be grand in any setting - but I can see it working really well for beach, destination, or garden weddings!
Styling a Pink Chiffon Bridesmaid Dress
I gave this look a modern twist with the fun invitation, and I love how the lines in the tassel bracelet, chain earrings, and punchy striped clutch add a subtly linear look that accents the pleating and modern styling.
*Links in italics and in the shop section are from affiliates and sponsors, meaning that this blog may earn a small referral commission from the retailer, at no cost to the purchaser, if a qualified sale is made.
Shop More Pink Dresses

More shopping posts you might love: