You can now try on wedding dresses, bridesmaid dresses, or Mother-of-the-Bride dresses at home with the Azazie Try at Home program. Take the hesitation out of buying wedding attire online, by seeing and trying on a dress before you buy it! Here's our own review and experience of Azazie dresses and their Try at Home program.
Review of Dresses from Azazie
Affiliate Note: Dress for the Wedding has an affiliate relationship with Azazie, which means we may earn a commission if you make a purchase using our links. Our shipping costs for the Try at Home program were waived through our contact at Azazie, but otherwise this post was not sponsored or compensated. All opinions are our own, and reflect our latest information at the time of publication. No personal endorsement or guarantee of Azazie's quality and service is implied by this post.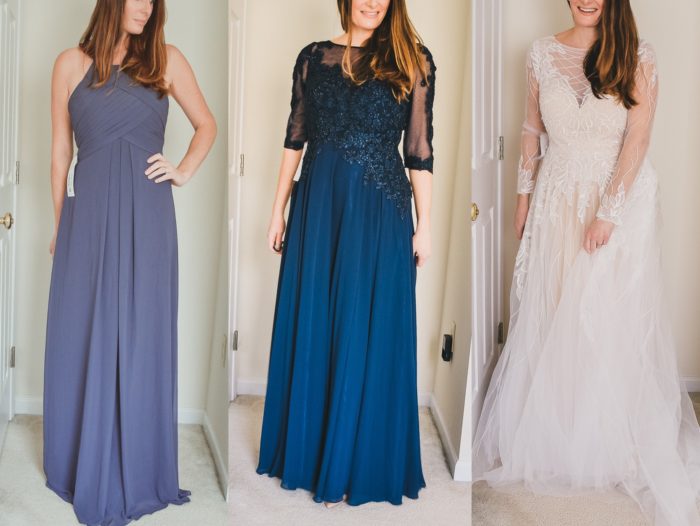 Azazie Dresses for Weddings: Ginger, Noelle , and Elvina
If you are in the market for a wedding dress, Mother-of-the-Bride dress, or affordable bridesmaid dresses, and are looking for a range of colors, sizes, and silhouettes, Azazie is often one of my recommendations for places to look.
In particular, Azazie has one of the most extensive and reasonably-priced offerings of bridesmaid dress colors; at last count they were offering up to 69 different shades! They also offer sizes from 0-30, with maternity and custom size offerings as well. The price points are also reasonable -- a great value with good quality. Bridesmaid dresses are between $89 - $129, Mother-of-the-Bride dresses are between $96 -$206, and wedding dresses are $199 - $799.
Azazie also offers including custom sizing so that the additional time and cost of standard bridesmaid dress alterations is minimized. The dresses come in a variety of lengths, necklines, and sleeve styles, including modest styles. Many of the selections even have pockets!
Buying Wedding Attire Online
Several years ago, buying wedding attire online wasn't easy or necessarily safe to do. However, now there are many online stores are legitimate sources for wedding attire, and Azazie is one of them. Since now Azazie is offering a Try at Home option, you can take away any uncertainty when you try before you buy.
This program is ideal if your members of wedding party live far apart and in different areas. Now there's no need to find out if a boutique in their town carries the bridesmaid dresses you want. Try at Home means your wedding party you can try on their dresses on their own schedule from the comfort of home.
Azazie's Try On Program
Azazie charges $10-$15 per dress (cost varies depending on style) just to offset some of the shipping costs. You have 7 days from receipt to try the dress out, and then return. See the full details and policies here.
My own curiosity about this program started few weeks ago, when my niece mentioned she was trying on bridesmaid dresses for a wedding using this program. Since I'm always interested in any wedding attire process, I was asking her lots of questions about her experience. Then, I realized that since Azazie offers this Try at Home program I should just try it myself and tell you all about it!
I don't need a dress at the moment, since I haven't been a bride or bridesmaid in several years, and I don't have any kids, so I won't be a Mother-of-the-Bride either. However, I thought it would be fun to see the dresses in person, so I would know more about these offerings when I write about them.
Thoughts on Azazie Dresses For Weddings
Everyone has their own set of expectations of quality and how the dresses will look on, so that's another reason that it's wonderful that a try-on program exists - you can judge for yourself!
For me, I thought that the dresses I tried were good quality, especially for the price. In person, each dress looked as I expected and as they appeared online. All dresses had linings, quality fabric, good stitching, and appropriate level of attention to detail. The colors were also as I expected.
The sizing was also accurate. I'm 5'7'', and my measurements are 38-28-37, so I'm usually between an 8 and 10. I'm very broad-shouldered and top-heavy so I chose a size 10. I figured that with an Azazie size A10, the dresses would fit me well through shoulder and bust but be loose at the waist and hips, which they were. The length was good too. I was wearing 3 1/2 inch heels and each dress was still floor length or longer. The wedding dress actually was longer than floor length, with a few inches intentionally pooling on the floor, and with a longer sweep train hem at the back. THe length on my was just as it is seen in the Azazie product picture.
Ordering Dresses for Try On
Because my dresses were ordered through my press contact, I didn't have any direct experience with the online order form or process, but I did have to select a gown from the site. The number of try-on dresses are both limited and in high-demand, so you may have to wait a bit to try out the one you're after! Since I didn't have my heart set on trying one particular dress, I was offered the Elvina wedding dress, the Noelle Mother-of-the-Bride dress, and Ginger bridesmaid dress.
My dresses arrived quickly by FedEx, and were packaged well. I was especially impressed with the wedding gown, which came in a nice garment bag, and also had a swatch tag with the color and lining options.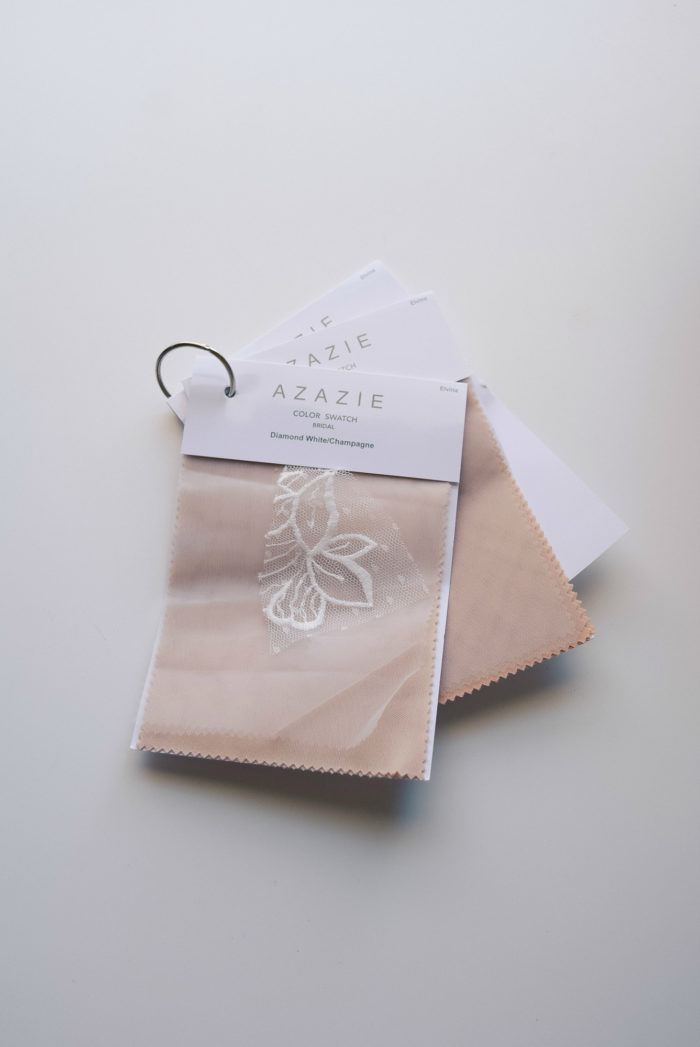 Review of the Elvina Gown from Azazie
I first tried the Elvina long-sleeved wedding gown. Now this isn't a style I'd usually choose for myself, but since I've always wanted to try on wedding dress with sleeves, it was kind of a fun experiment for me. Elvina retails for $349 and has a few options for linings.
The Elvina gown seemed substantial for a dress of this price. I hung it up out of the box overnight to fluff up from being packed. When did, it had a really nice fully A-line tulle skirt. (I think one could make even fuller with a underskirt if you wanted!) The details looked just as they do on site, with leafy lacy applique overlay, tulle mesh over a champagne lining, and lightly beaded bodice just as seen on the product listing.
Trying on the Elvina Gown from Azazie
I tried on some affordable and simple wedding dresses for my own wedding a few years back, and many seemed just like regular white dresses; they were missing that structure certain something that makes a wedding dress stand apart. Not so here! To me, Elvina has definite wedding gown look, especially for the pricing. It came with a built-in bra, champagne-colored lining, and a sweep train. The fullness and train gives it that wedding gown swish!
Fit and Details on The Elvina Gown
A few notes on fit for me personally, in case you have similar measurements. The built-in-bra wasn't enough support for me, so I did try it with a strapless bra, so having two bras added more padding in that area. I'd probably have to have bodice modified with more supportive bra somehow if I were truly wearing this for a wedding. The sleeves were a good fit too; they were a perfect length and just little loose on me - but that's nice too, since one wants some arm mobility. Overall, for a long-sleeved wedding dress with a bit of beading and a lined tulle skirt under $400, it's a great find!
I also just simply love that you can try on at home! It's such an easy way to check out the Elvina dress to see if it's the one for you!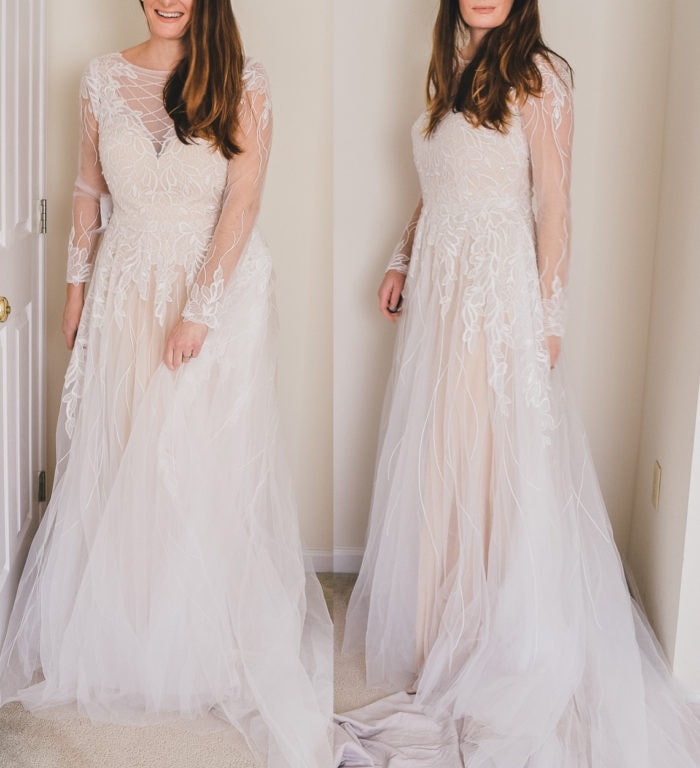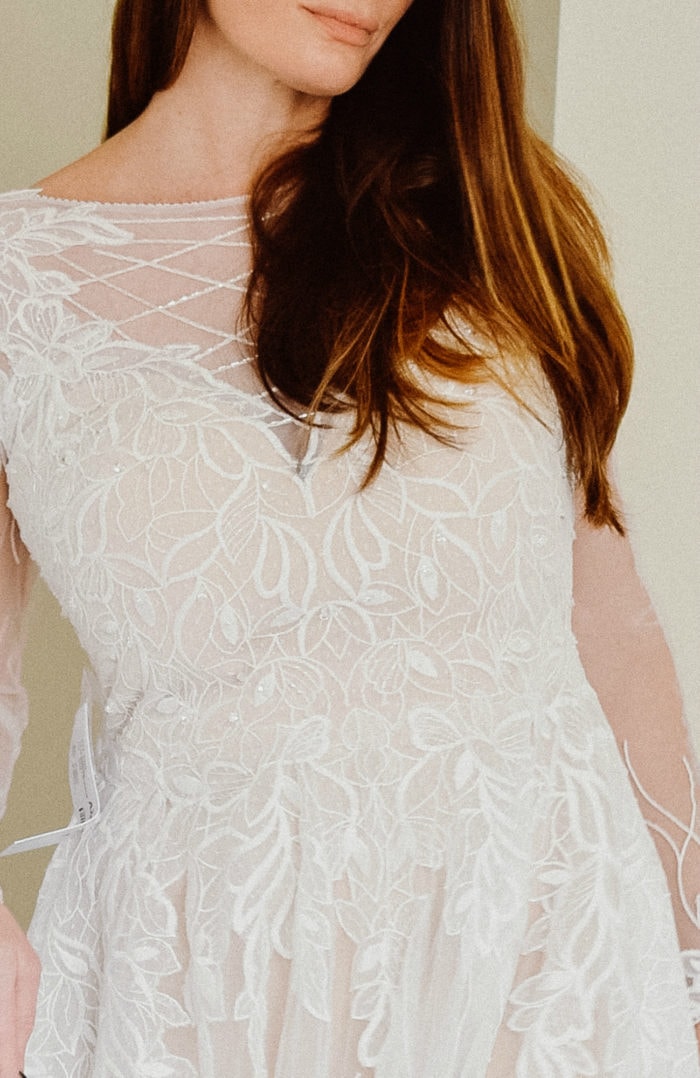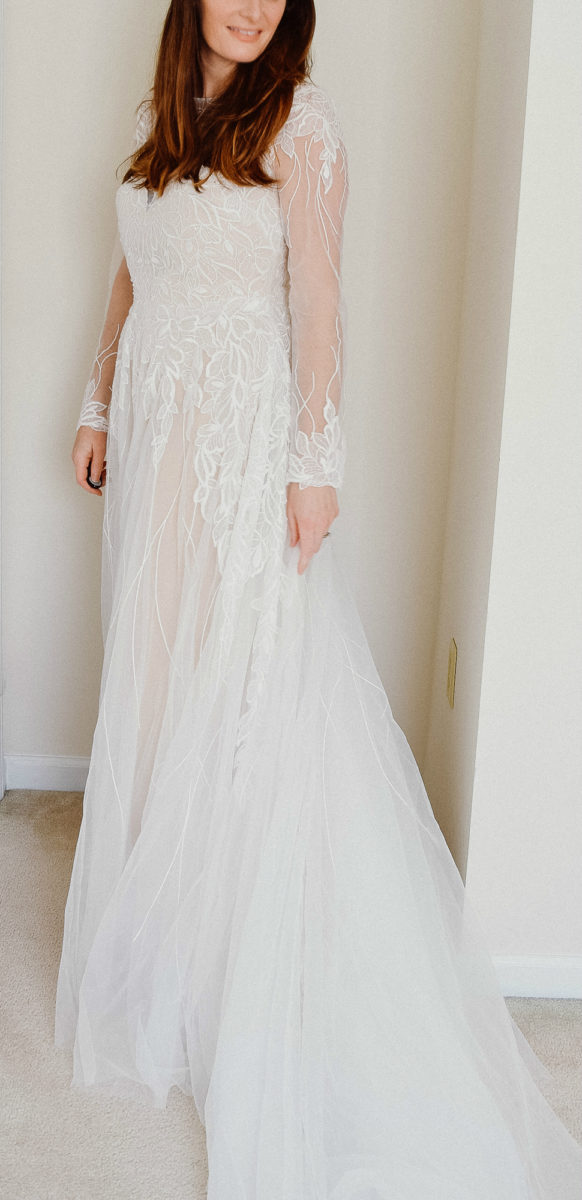 The Elvina Gown from Azazie
Review of the Noelle Mother-of-the-Bride Dress by Azazie
Next up was Noelle which is a style of Mother-of-the-Bride dress I can see many readers loving for its sleeves and beaded details. The Noelle gown comes in 3 colors, and retails for $176.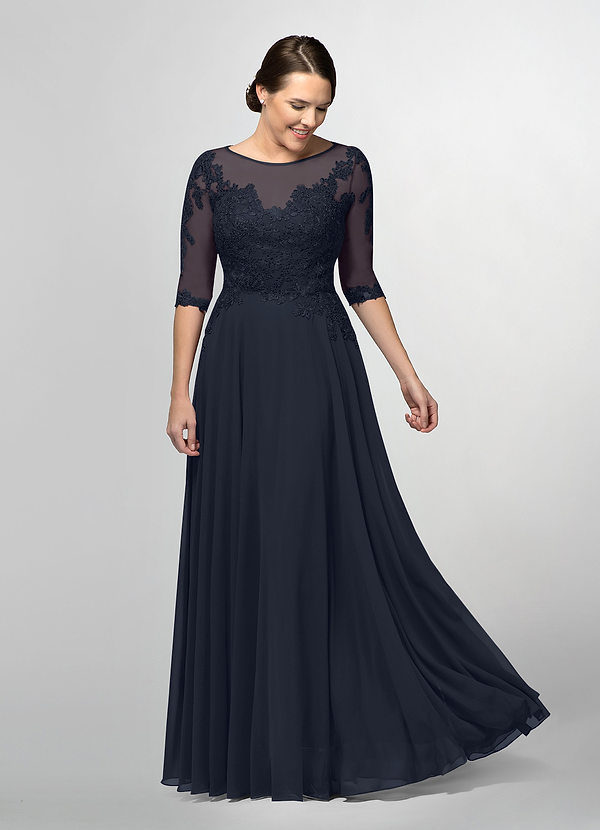 Noelle is lined and has a nice weight to the skirt. The sleeves were a nice 3/4 length with beaded appliqué on from the illusion bodice that extends to the sides of the sleeves. There are button closures at the elbows. The color was accurate online and a beautiful classic navy.
Note: In my photos was standing in direct lighting, and I use a photo editing software, so the color in my personal photos below is a little different. I lifted some of the highlights in the photos so you can see the beaded appliqué, but my images are not a completely accurate match of the navy color. The dark navy color in the Azazie product photo above is a more accurate representation.
Fit and Details on The Noelle Gown
The fit was also as expected, like the other gown I ordered the A10 knowing it would fit in the shoulders and bust, but need to be taken in at the waist a bit. Length was also perfect. With the same 3 1/2 inch heels, it was the ideal floor-skimming length.
The bodice features an asymmetrical beaded pattern, and came with extra beads. I didn't realize it was meant to be asymmetrical pattern at first, so I did check with Azazie about that aspect to make sure it wasn't something off with the design.The assured me it was intentional and actually does gives a nice interest at the bodice. (Noelle's applique and beading is as seen in the picture above. If you want a perfectly symmetrical beaded look try Mina or Libby, which seem to have symmetrical beaded necklines). I also wore illusion neckline with a skin-toned bra. Because of the applique placement, the straps were mostly hidden, but could be seen a little if I moved. Depending on your size and preference, you may be able to get away with a skin-tone or clear strap bra, if you don't like a wearing strapless bra (And who does!?)
Noelle seems to be on the same level with other Mother-of-the-Bride dresses I have seen in stores and boutiques, and seems to offer a great style and good value for the cost. Try it on to see if it's for you!
Please be sure to see the notes above about the dress color here. Azazie's own product image is accurate for color. My personal photos have a filter to adjust for interior lighting and to highlight the beading and detail, but are not a fully accurate representation of the color of this gown.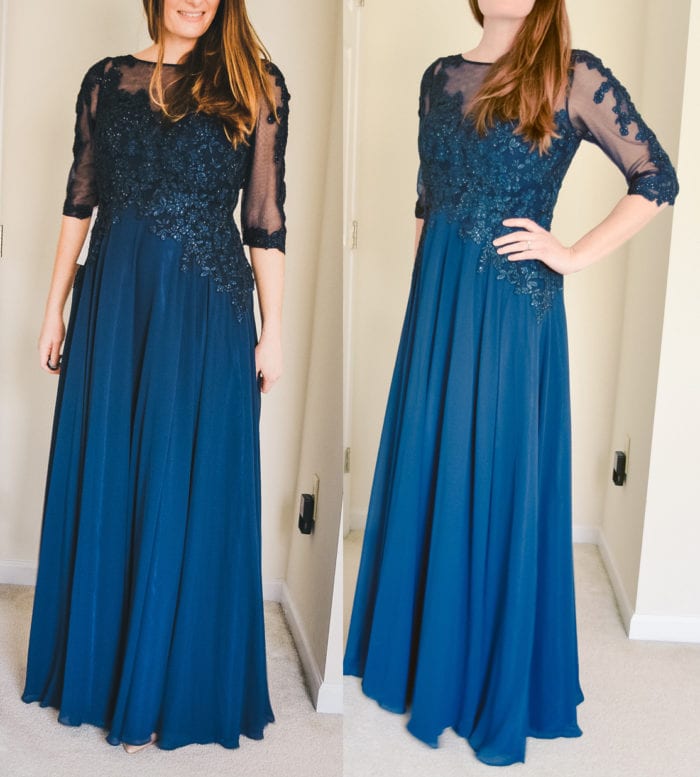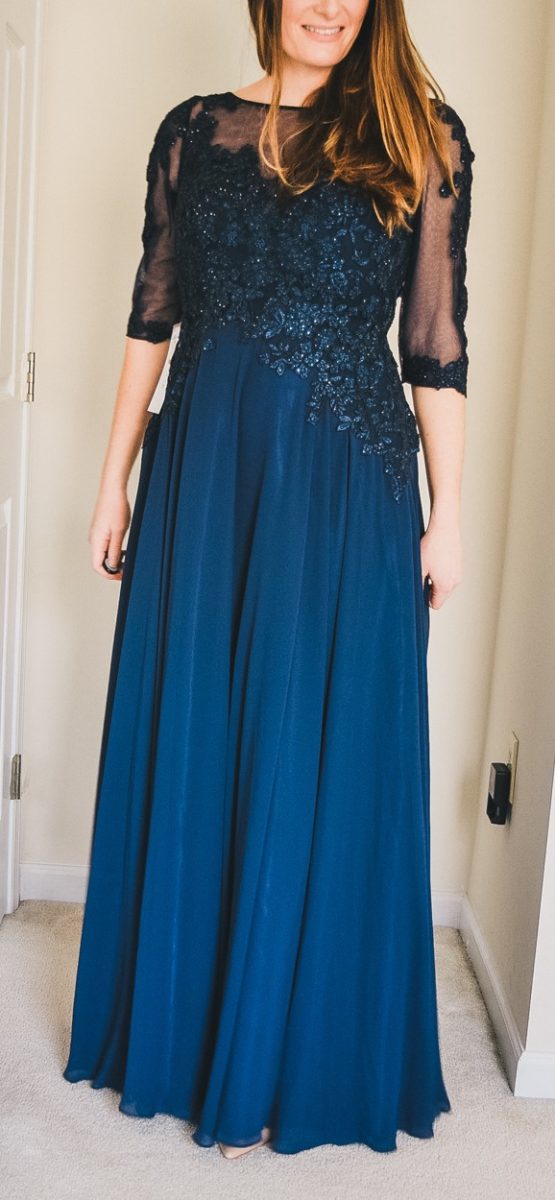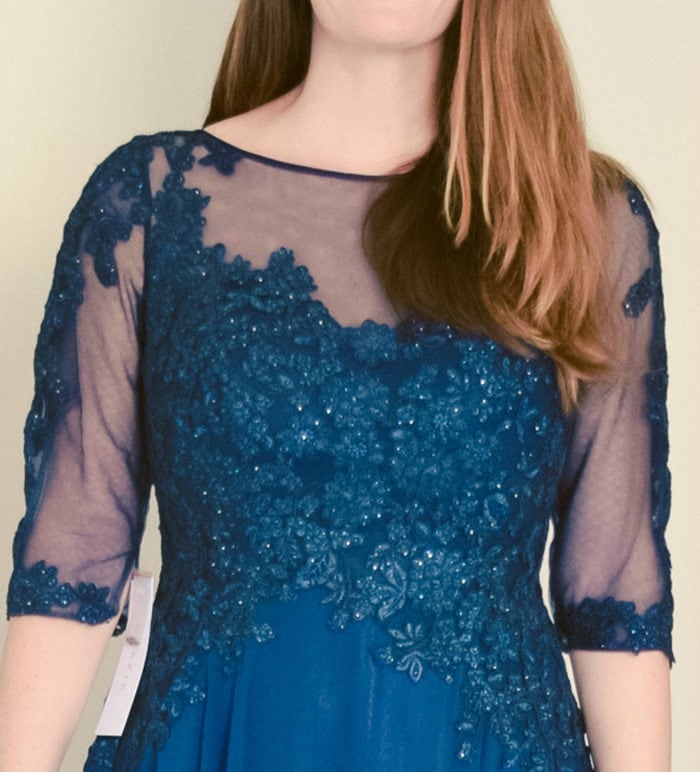 Noelle Mother-of-the-Bride dress from Azazie.
Review of the Ginger Bridesmaid Dress from Azazie
Ginger is one of the most popular and highly rated styles of bridesmaid dresses on Azazie's site. I can see why it's a favorite! Ginger costs $119 and comes in 69 colors!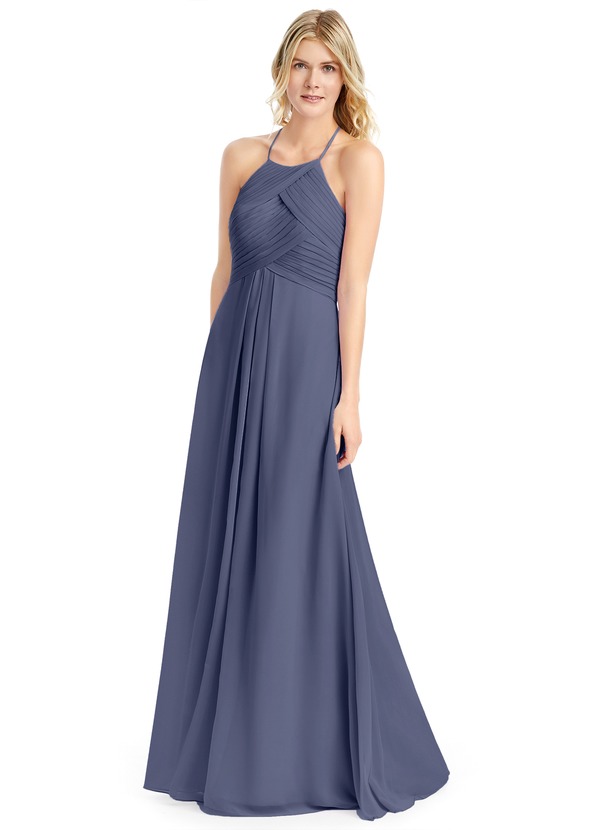 The Ginger dress was great, and I especially I loved the color I received - called 'Stormy'! Stormy is a perfect mix of gray, lavender and dusty blue, but, as I mentioned this style Ginger also comes all 69 colors offered by Azazie.
Fit and Details on The Ginger Gown
The halter neckline was also well thought out, with twist detail at the front and flat the back side for comfort -- in other words-- not digging in to your back or neck! The pleated bodice was pretty and flattering, with a slight empire waist and pleats down the front of the skirt, so that the gown doesn't cling to your stomach. Again the fit for the sizing was as expected. The gown is definitely floor-length and then some. With the same 3 1/2 inch heels I wore for the other dresses, this gown was sweeping on the floor. Some might want to take it up a smidge, but it's nice to have the length and hem according to your own taste and shoe height.
I thought the dress was well made, and lined with a nice weight to the skirt, and nice flow to it. Comparing it to bridesmaid dresses I have seen in stores, at bridal boutiques, or have worn myself, the quality was certainly inline with those other gowns.
It's also worth noting - since it's prom season, Azazie dresses like Ginger could also be great for prom dresses and for wearing to formal events!
Color in images below are a little inaccurate because of photo editing and lighting. See the Azazie site for accurate colors.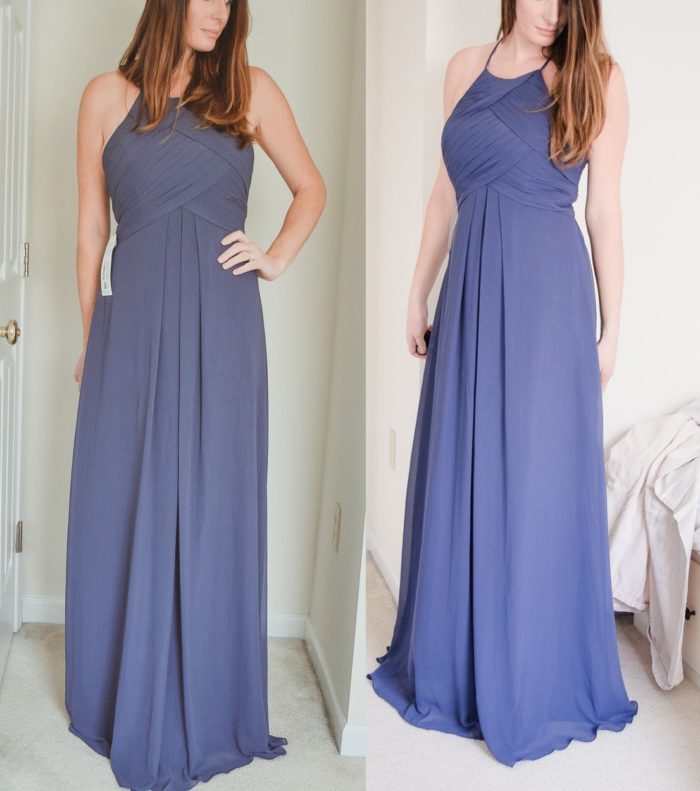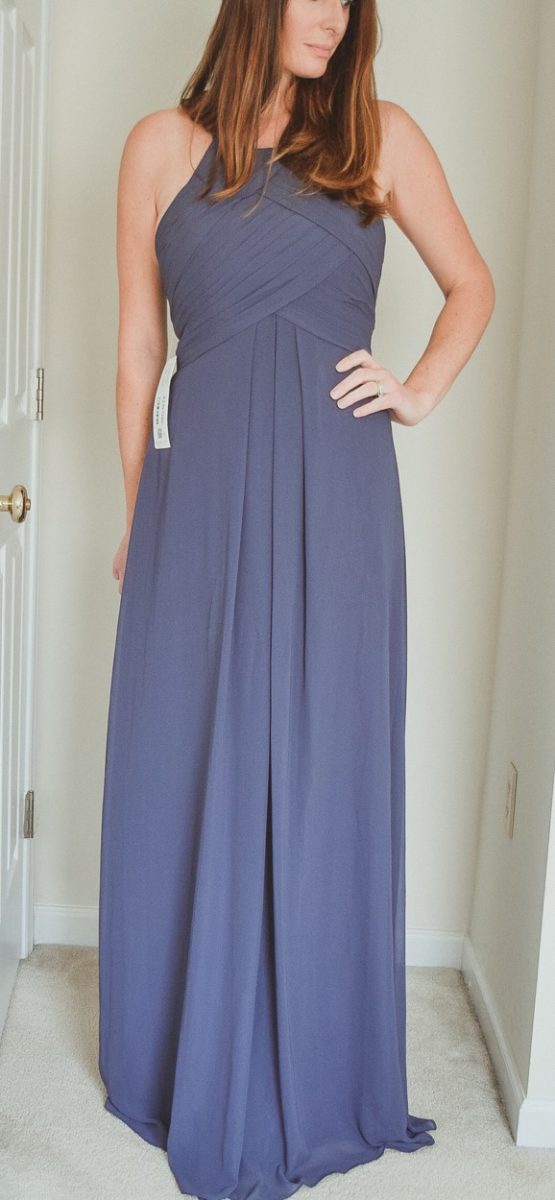 Tips for Trying On Dresses at Home!
Be sure to check out the FAQs , terms and guidelines from Azazie about the Try At Home program. Additionally, here are a few tips of my own!
Allow enough time before your event for your try on. The Try At Home program has a limited number of dresses in circulation at one time. This means dresses are not always available at a moment's notice for try-on. If you have a dress in mind, be sure to schedule the dress well in advance of your order deadline. If you can't get the dress in the size and color you want, remember, you can also order a swatch if you simply want to check out the fabric colors. Then you can just try the style and size of dress you need in any color that is available.
Make sure you try-on your dress in a clean, smoke-free, pet hair-free room. Chiffon can be very staticky, so you may need to use a lint roller to remove any dust on the hem before returning the gown. Be careful of leaving any makeup, deodorant marks, perfume, or other scents. You can be charged twice the cost for the dress if you damage it, stain it, or leave heavy scents in the fabric, or if you don't return it on time. Be sure to read your agreement carefully!
Have the right undergarments and shoes ready to go so you can get an accurate representation of fit. You may also want to have some accessories on hand to see how they look with the gown.
Take photos! If you'll be trying on other dresses somewhere else, or just want to get an opinion from people who can't be there, be sure to take some photos. Ask a friend to take some photos if you can, since mirror selfies can be tricky for full-length gowns like these!
Even better, if your bridesmaids live nearby, invite them over and have a fun try-on party. (Just keep any food and beverages away from the dresses!)
Just go for it! This is a fun, easy, and affordable way to make sure the dress meets your own expectations! It's worth the time and $10-$15 to try a dress!
Affordable Dresses for Weddings in a Range of Colors
Azazie also offers junior bridesmaid dresses, flower girl sashes, veils, accessories, coordinating grooms and groomsmen accessories, so once you pick a color, you know it will be easy to get all the components in one place.
See more styles we love below to get started trying on or shopping!
Dress for the Wedding has an affiliate relationship with Azazie, which means we may earn a commission if you make a purchase using our links.
More Azazie Wedding Dresses You Might Love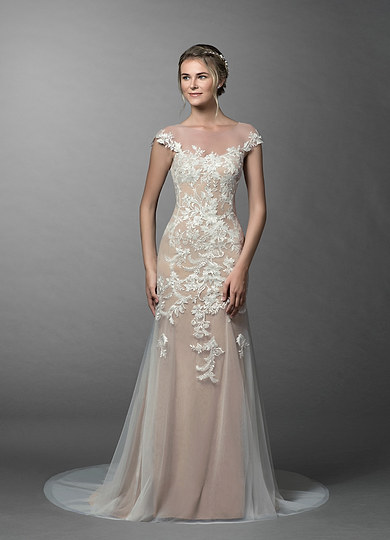 Azazie Eudora BG - $249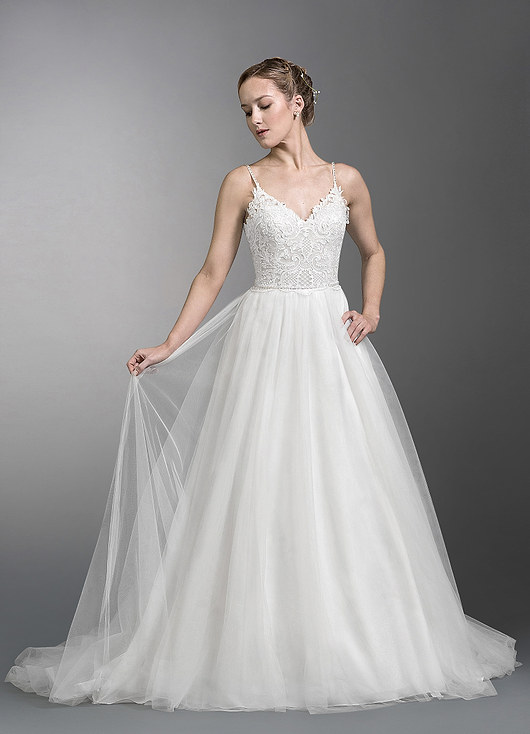 Azazie Venus BG - $349
More Azazie Bridesmaid Dresses You Might Love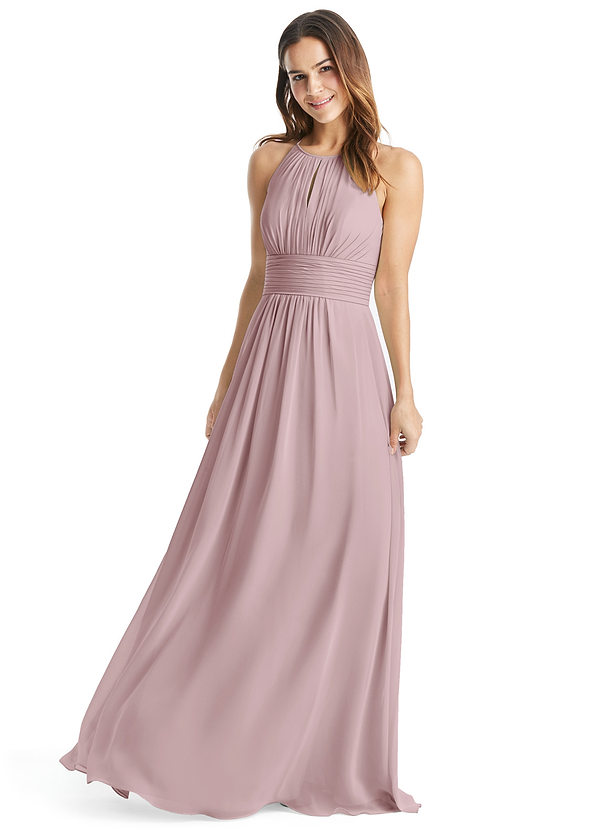 Azazie Bonnie - $119
from: Azazie Inc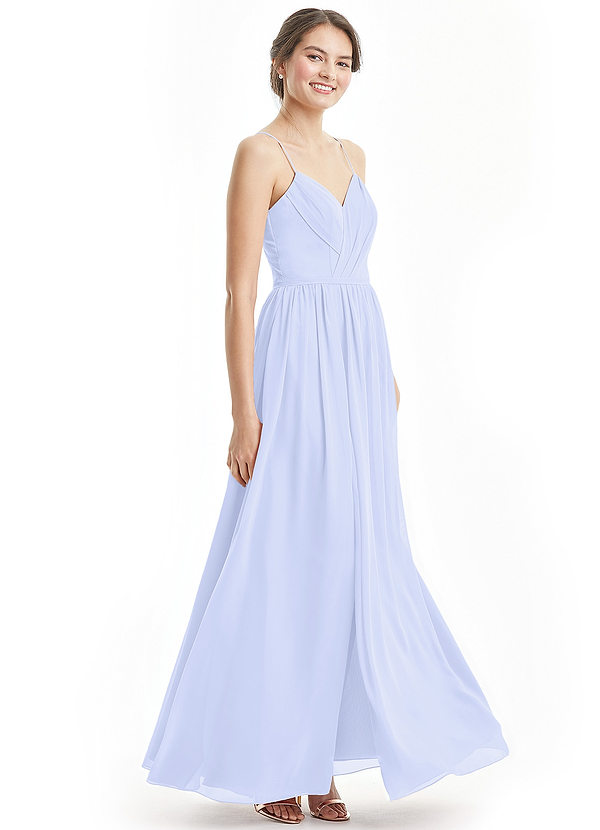 Azazie Cora - $129
from: Azazie Inc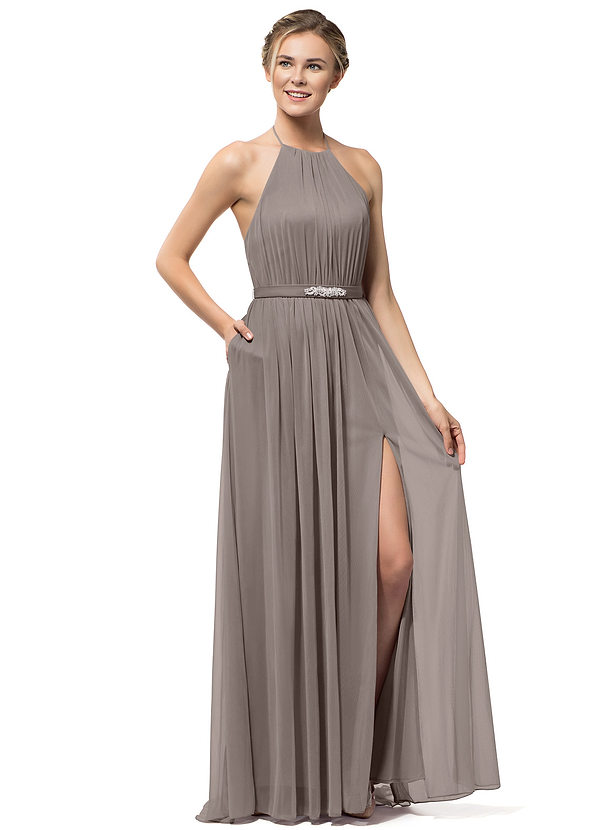 Azazie Hazel - $119
from: Azazie Inc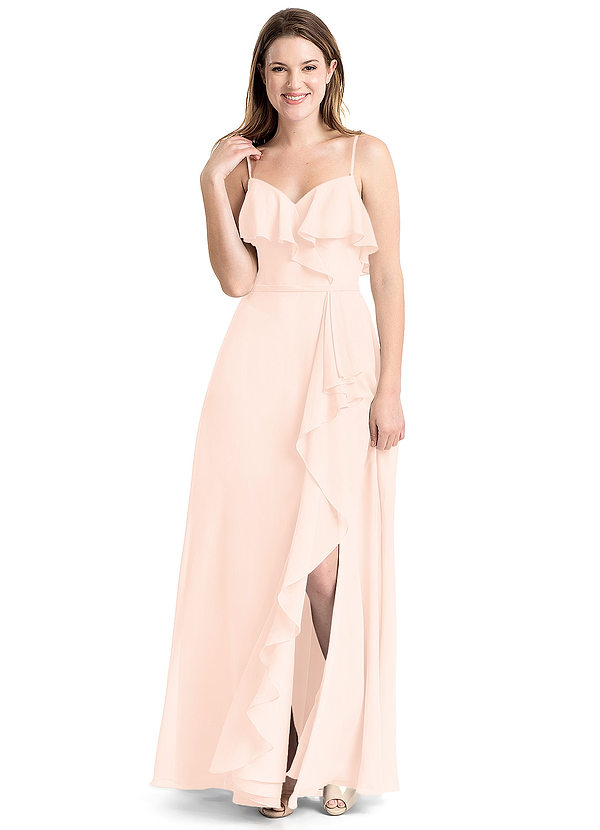 Azazie Tami - $109
from: Azazie Inc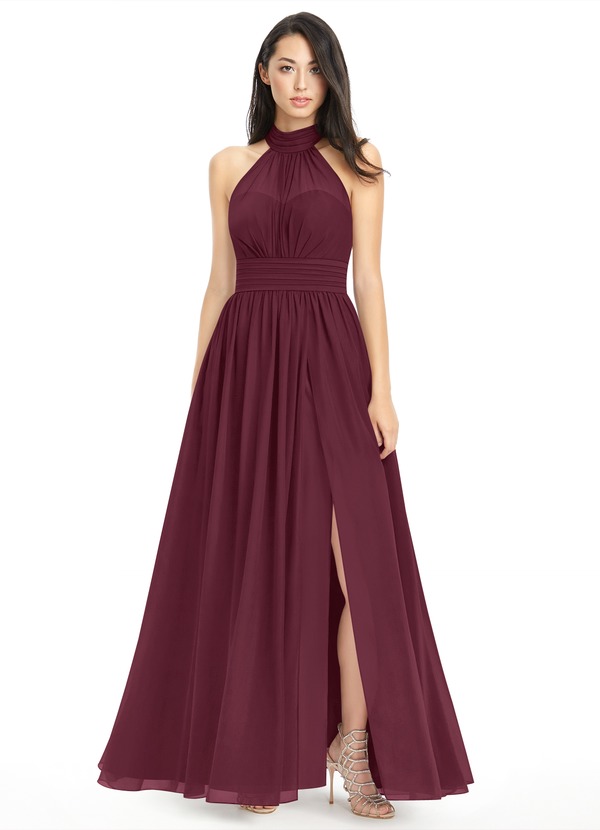 Azazie Iman - $129
from: Azazie Inc
More Azazie Mother-of-the-Bride Dresses You Might Love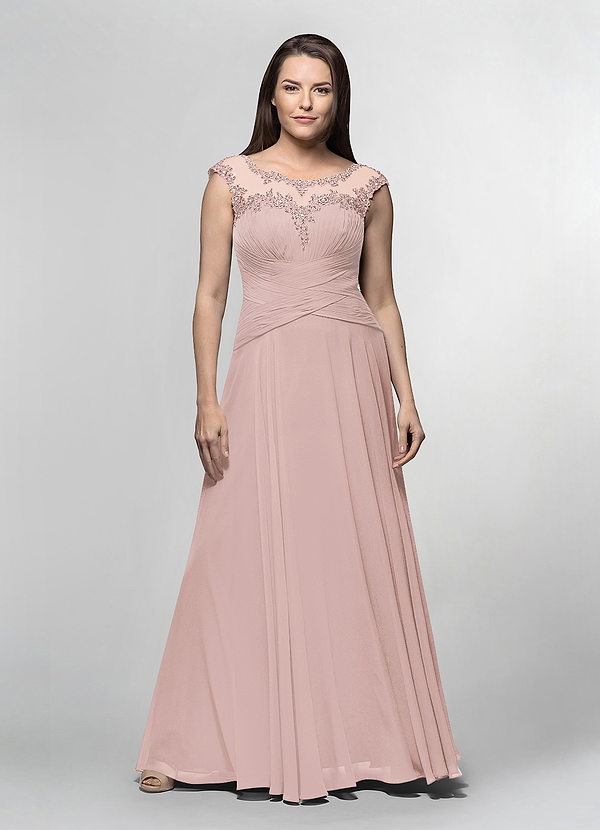 Azazie Mina MBD - $186
from: Azazie Inc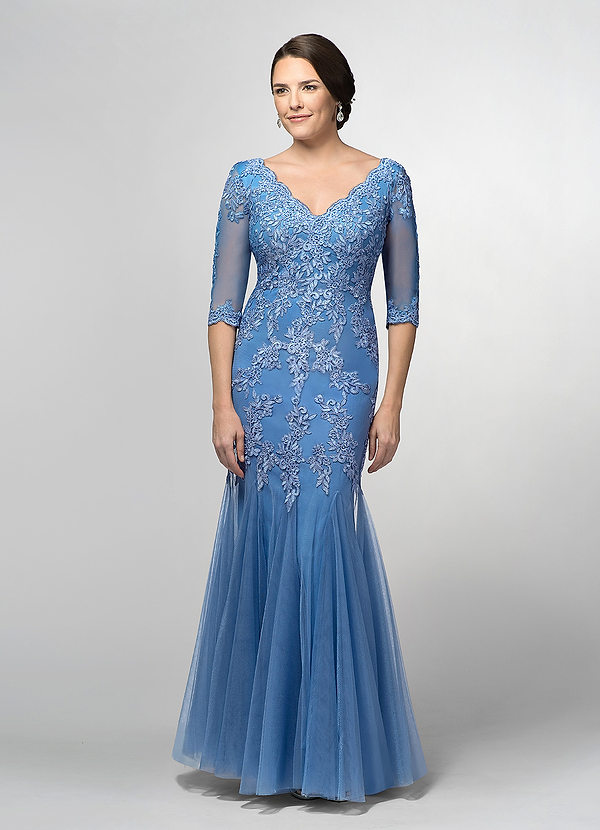 AZAZIE LORELEI MBD - Mother Of The Bride Dress
from: Azazie Inc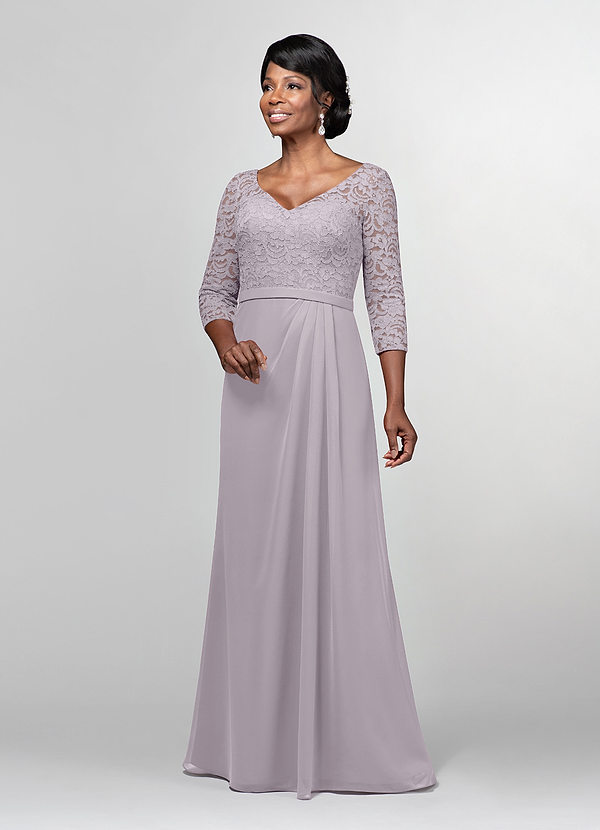 AZAZIE BETTE MBD - Mother Of The Bride Dress
from: Azazie Inc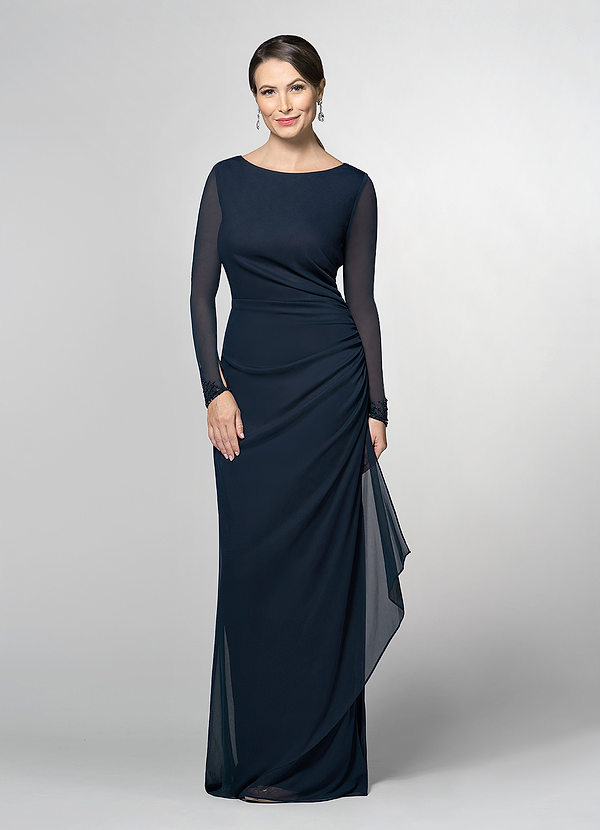 AZAZIE FRANCOISE MBD - Mother Of The Bride Dress
from: Azazie Inc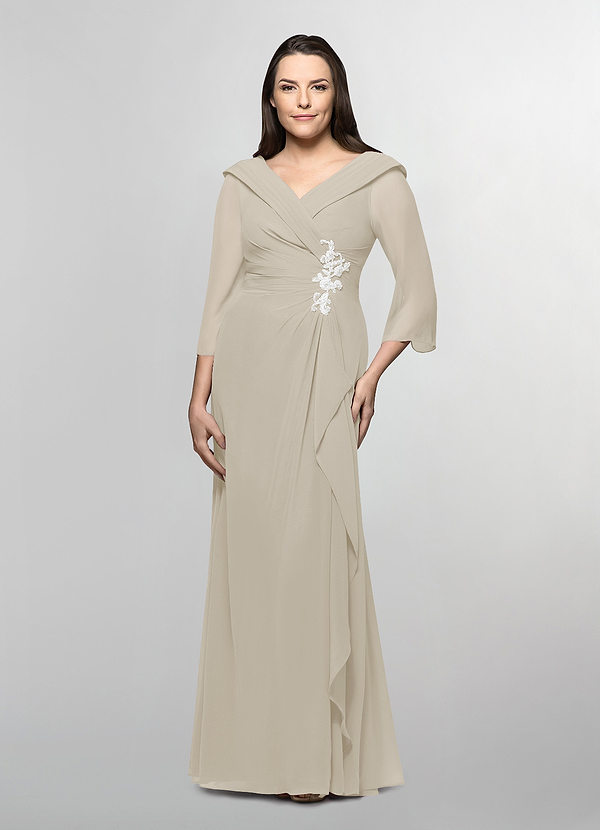 Azazie Jaycee MBD - $166
from: Azazie Inc

Also check out our wedding shop, and bridesmaid dress for more ideas!