Are you wondering what colors are good for bridesmaids for spring weddings? We'll share some of our favorite color palettes for spring weddings. Plus we'll share shopping information on where to find bridesmaid dresses for a spring wedding.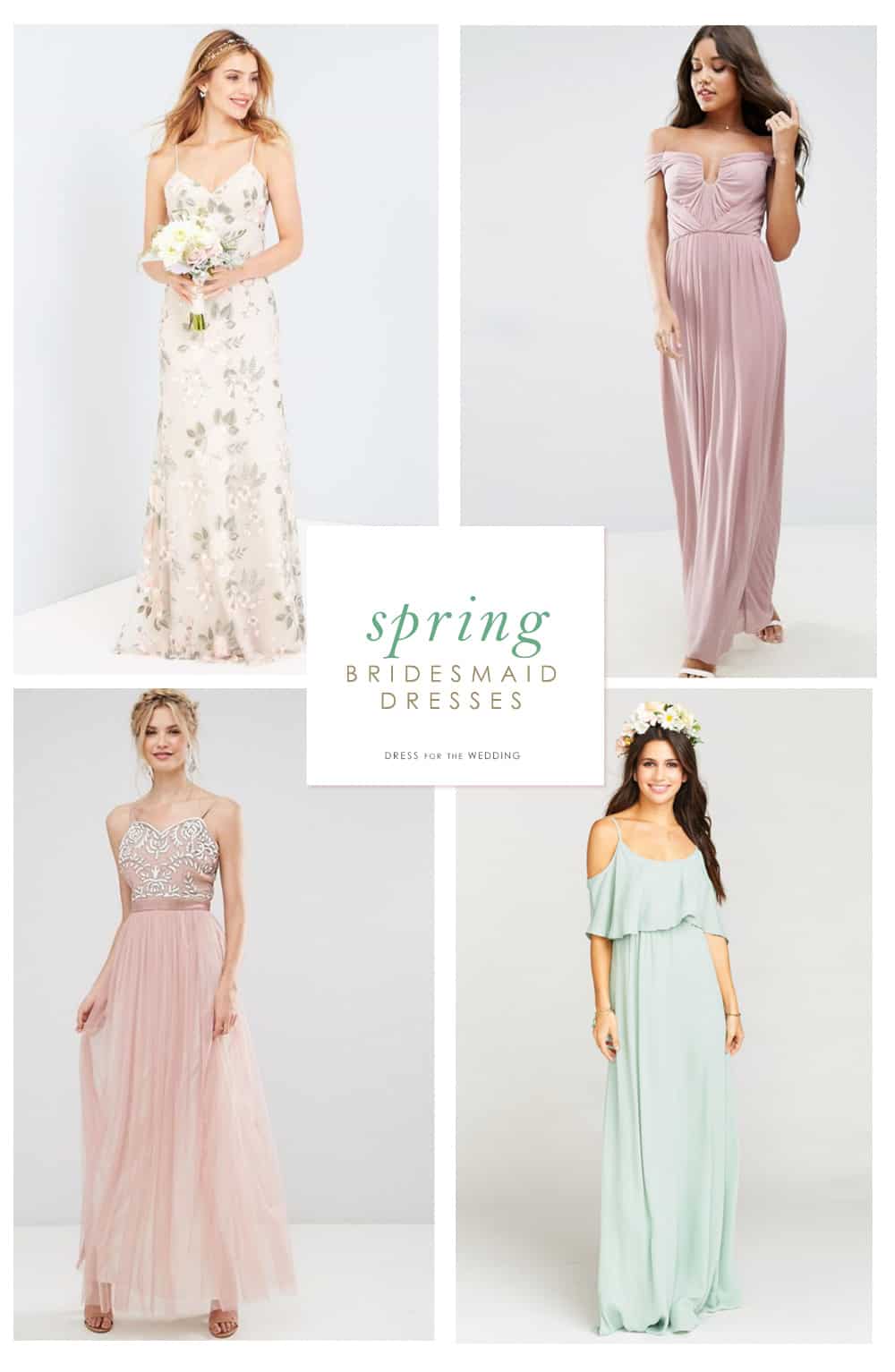 Shopping sources in this post about spring bridesmaid dresses use affiliate commission links.
Dressses: / Floral neutral dress: Jenny Yoo at Nordstrom 2/Mauve off the shoulder gown: ASOS 3/ Pink embellished dress: ASOS 4/Mint green off the shoulder dress: Show Me Your Mumu

Spring Bridesmaid Dresses
If you're planning an April, May, or June wedding, you may very well want to pick spring bridesmaid dresses in colors that will perfectly suit the season! Bridesmaid dresses for spring weddings, can naturally echo some of the colors of the season, or accent them by contrast! Now, we think any color you want your wedding party to wear is fine, no matter when your wedding is held, but these are a few colors we particularly love for springtime weddings!
Top Bridesmaid Dress Colors for Spring Weddings
Color choice is one of the biggest considerations when planning a spring wedding. The wedding attire, bridesmaid dresses and other decor elements always add a great deal to the color scheme for a wedding. Here are some of the best colors for bridesmaid dresses in spring weddings.
Pale or Rosy Pinks - This rosy color is always a perfect match for the blooms of the season. Check out our favorite pale blush and pink bridesmaid dresses. You can also shop bridesmaid dresses in this color at BHLDN, Azazie, or Nordstrom!
Soft Yellows - I love a butter yellow or off-white dress for bridesmaids in a spring wedding! Try the color Buttercup at Dessy, or the shade Daffodil at Azazie
Sage Greens - Sage green is such a beautiful soft color for spring weddings! See our favorite pale green bridesmaid dresses, or try Silver Sage Crisp or Dusty Mint Crisp from Show Me Your Mumu, the color Morning Mist by Jenny Yoo at Nordstrom.
Lavender - Always a beautiful alternative to purple, this pale color pairs beautifully with so many natural spring flowers and colors. It's a calm subtle color that can work as a neutral! Azazie carries some beautiful lavender bridesmaid dresses in lilac, and wisteria. Nordstrom also has a great selection of lavender bridesmaid dresses as does BHLDN.
Dove Gray - Pale gray always sets off the burgeoning colors of spring, and is easy to pair with spring flowers. See some of our favorite gray bridesmaid dresses, or check the choices at BHLDN and Nordstrom.
Pale or Dusty Blue - This is another classic color, just made for spring weddings! Try these looks by Jenny Yoo, or the selection at BHLDN
Navy Blue - We'll never say no to navy blue, not even in the spring! It's always great alternative to black, and pairs nicely with nearly every shade imaginable, making it a good option for spring weddings if you don't want a pale or pastel color!
Neutrals - Neutrals always work, but these light airy colors were just made for spring weddings! See our favorite picks here, or check out the shop section below!
Floral Prints - What better time for florals than a spring wedding? These prints abound and were just made for garden weddings! Check out the new collection of floral Yumi Kim dresses at BHLDN or floral embroidered gowns from Jenny Yoo to get this look!
Pastel Beaded Gowns - Beaded, embellished and sequined gowns have been such a hit for several seasons. We think the beaded styles that let a bit of pretty pastels color come through are a great choice! Adrianna Papell has our absolute favorite selection of beaded dresses in every imaginable pastel color!
Where to Shop For Bridesmaid Dresses for a Spring Wedding
Here are our latest picks for bridesmaid dresses in these top spring colors, patterns and fabrics.
Shopping sources use affiliate commission links.
SHOP THE LOOK