There's no doubt floral bridesmaid dresses are having a big moment. We'll share with you where to shop for some of the best dresses for every budget and in every color scheme.
This shopping guide to floral bridesmaid dresses looks at all the pretty prints and patterns for bridesmaid dresses, and where to shop for the best dresses.
Links in italics and in the shop section are from affiliates and sponsors, meaning that this blog may earn a small referral commission from the retailer, at no cost to the purchaser, if a qualified sale is made.
Gorgeous Floral Bridesmaid Dresses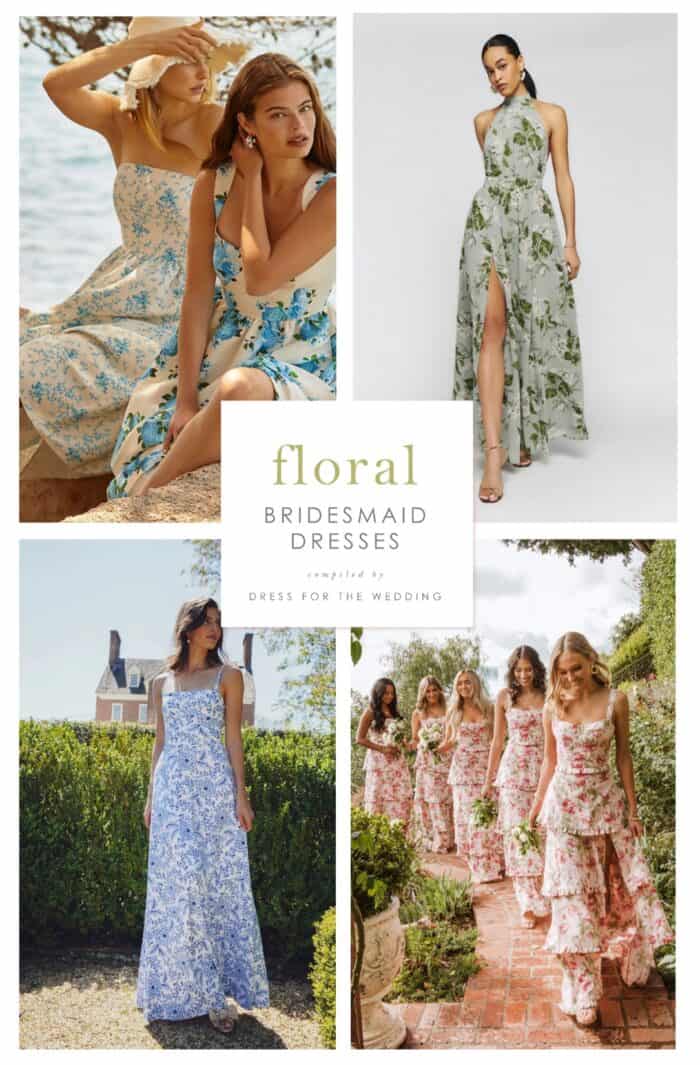 Image credits and shopping sources: 1. Anthropologie Sachin & Babi Strapless Bow Dress and Addison Dress 2. Reformation Andee Dress 3. Smith and Quinn Brigette in Zinna Love 4. Show Me Your Mumu Lady Corset Dresses
We're seeing mix-and-match florals in wedding parties like never before, and we have been fans of this style for years! While floral dresses and bridesmaid dresses have been around for quite some time, modern styling is actually decidedly romantic. We're seeing bridal parties pick out different colors to do a beautiful mix. We really love some of the top looks we're seeing including a blue and white mix, pink floral dresses, punchy tropical floral prints, and more. If you're hoping to have your wedding party sport these styles, we'll show you where to shop for the best floral dresses for every budget and aesthetic.
Where to Shop For Floral Dresses for Bridesmaids
Nothing says romance like a gorgeous floral dress, which is perhaps why floral patterned dresses for weddings and bridesmaid dresses are so hot right now. Always an ideal look for beach or garden weddings, a floral dress has always been a lovely choice to tie together a range of mismatched bridesmaid dresses. We've found some brands to love who do present amazing floral dresses!
Links in italics and in the shop section are from affiliates and sponsors.

Our Favorite Floral Bridesmaid Dresses Designers
Here are a few looks and labels that we think are really doing an amazing job of creating floral dresses for wedding parties.

Reformation has amazing floral gowns that are not only gorgeous they are sustainable. We are absolutely in love with these styles! Big bold floral patterns against beautiful silk - we've never seen anything like these gowns.
Now that BHLDN is back to being Anthropologie weddings there are several floral brands. Anthropologie carries Reformation styles as well as Sachin + Babi, MacDuggal, V Chapman, and more! As you'll see on the Anthropologie website they've paired certain colors together to get the designer gown mismatched bridesmaid style that we're seeing ( and loving!) in so many wedding parties.


Smith & Quinn dresses came about because of the founder's difficulty finding floral dresses for her own wedding so she ended up creating these stunning floral bridesmaid dresses. There are also groomsmen ties to match. We love these preppy patterns and they have really sweet dresses for daytime events as well. Check out the various floral patterns they offer here!

Lulus has become a favorite spot to seek out affordable and stylish bridesmaid dresses. Most of their styles are under $100. They too have tons of floral dresses including some styles that would look perfect as bridesmaid dresses!

If you want that designer floral bridesmaid dress style we love, without asking your bridesmaids to pay top dollar, you may want to look at renting dresses from Rent the Runway. Some of these styles we mentioned by Reformation and MacDuggal and more are available to rent. If you're doing a mix-and-match style, it will be easy for each attendant to find a style they love in the size they need and stay within a budget that suits them with Rent the Runway's amazing designer gown options!

Dessy has one of the biggest selections of bridesmaid dresses we've ever seen, and they've added an array of florals to the mix. YOu can see the floral styles which coordinate perfectly with some of the solid colors they offer. We especially love the ruffled style dresses with details like tiered skirts, tie shoulder straps and other romantic touches. Mix a few of those ruffled styles in with the gorgeous floral styles for a distinct wedding party style filled with one-of-a-kind detail.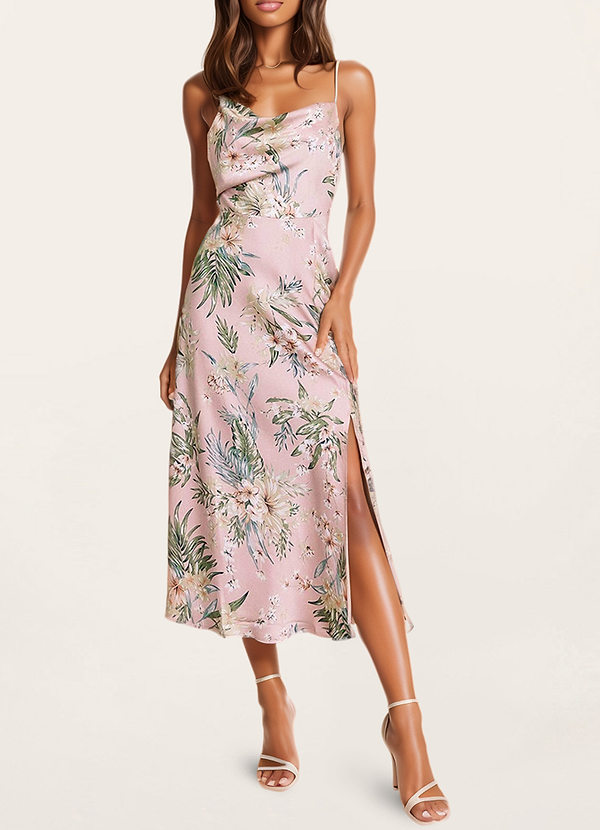 Pink Remarkable Beauty Pink Floral Satin Midi Dress from Azazie
Azazie is one of our favorite spots for bridesmaid dresses of all colors, but they don't have any floral patterns in their regular bridesmaid dresses when we checked. However, they offer some fantastic dresses as a part of their wedding guest collection and there are amazing floral prints to be had there! Best of all, these dresses are under $50.
AW Bridal is a new line we've started paying attention to, for their beautiful bridesmaid dresses and mother-of-the-bride dresses. They offer a gorgeous dimensional flora dress line called Tourism of Giverney. These floral dresses are standout gowns that work for statement-making bridesmaid dresses.

We always think Show Me Your Mumu Does the best job of translating trends into an effortlessly fun and laid-back, cool-girl style. Their take on florals is just perfectly fun styles with ruffles and fitted styles.

Asos' bridesmaid dress offerings have changed a bit in recent years, but they still have them as an option. Asos is moving away from match-matchy styles and colors and has tons of unique floral dresses in a range of sizes and in maternity and plus sizes. We particularly love the floral embroidered styles they offer, that give a hand-sewn designer look for under $250. They also carry Hope & Ivy which always as beautiful watercolor-style floral print dresses that would be perfect for bridesmaids.

If bright preppy florals are your thing, then of course Lilly Pulitzer dresses are the way to go! Lilly's dresses for weddings have loads of styles that would make gorgeous bridesmaid dresses! These are especially perfect for beach weddings and country club-style weddings.
How To Mix and Match Floral Dresses for Weddings
If you want a fully floral style, the perfect mix and match can be done with any mix of these dresses and another solid color, or more florals.
For instance, we love the idea of blue and white florals mixed with light blue or dark blue dresses, the pink florals mixed with blush dresses or soft green, or blue, ivory, and sage as seen in this post. We also love the mix of peach and cream.
We'll try to present more ideas soon, but with florals, there's a beautiful array of colors inherent within those patterns and prints. Just pick from those colors in the floral print and you'll get an array that perfectly complements one another.
Whether you choose to have all of your maids in these botanical prints or decide to choose one or two to mix in with solid colors, these pretty floral bridesmaid dresses have so much charm.
Need more inspiration? Check out all our bridesmaid styling ideas or shop bridesmaid dresses by color!
This page was originally published in April 2015, and has been updated most recently in June of 2023
---
Past Features on This Page
An older version of this post carried images of floral bridesmaid dresses. Unfortunately, these styles are no longer in stock, and Plum Pretty Sugar no longer sells those PPS Couture floral bridesmaid dresses but we keep the links for image continuity.
Plum Pretty Sugar'sBridesmaid Collection All Plum Pretty Sugar images by Jose Villa .
Inesse Dress from BHLDN Cluny Dress from BHLDN
Pink and White Floral Bridesmaid Dress from ASOS
ASOS Wedding Prom Dress in Rose Print
Maxi Tea Dress in Rose Print from ASOS
Neutral floral bridesmaid dress from ASOS
Digital Bloom Print Dress from ASOS
1. Notch Bandeau Dress 2. Floral Bardot Dress 3. Floral Midi Prom Dress
Lilac floral maxi from ASOS Weddings
Printed crinkled silk chiffon dress by Amsale at Nordstrom.
Printed crinkled silk chiffon 'Amore' dress by Amsale at Nordstrom.
Donna Morgan 'Stephanie' Gown in Blue Floral Print
Donna Morgan pink floral printed bridesmaid dress
Donna Morgan Pleated Garden Floral Print Dress.
Here are more floral dresses for weddings on our shop page.
More style ideas you might enjoy :