Statement Necklaces for Weddings
If you've seen some of my styled collages for wedding guests, bridesmaids, or brides, you've probably noticed that I'm drawn to statement necklaces. After all, what better time than a wedding to make a statement? They are also great way to add a little excitement to a standard neckline. Here are a few of the neck adornments I've been particularly coveting lately.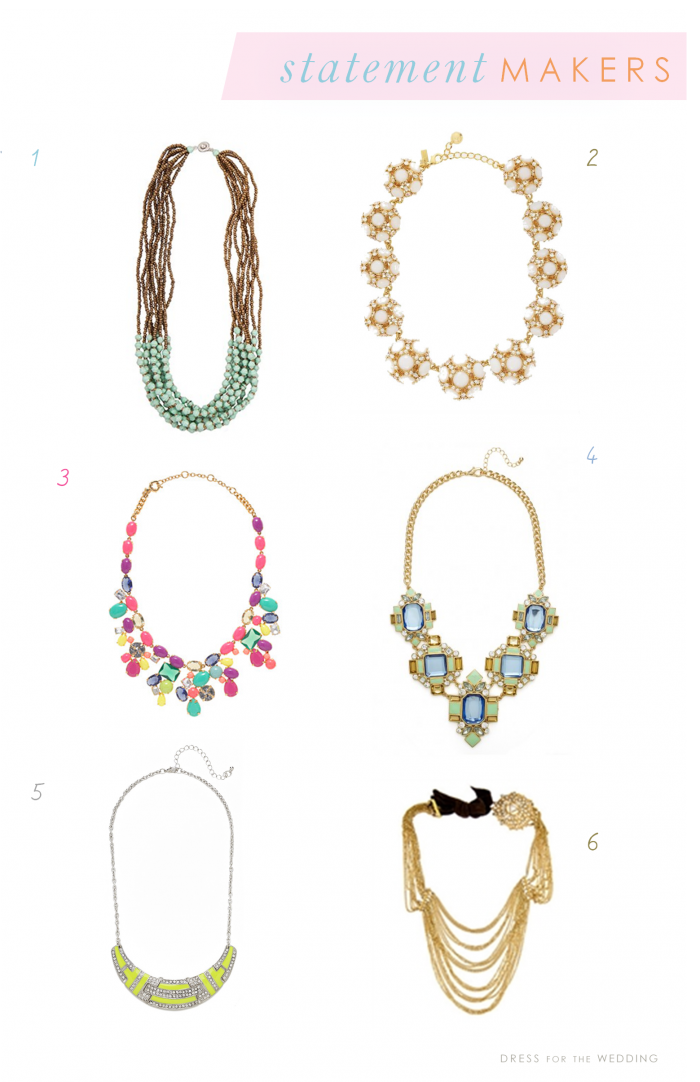 1. Sunday Frill 31 Bits Necklaces in Mint  2. Kate Spade Belle Fleur Necklace  3. Color Mix Statement Necklace   4. Aqua Versailles Bib Necklace  5. Neo Yellow Geo Bib  6. Sanya Necklace by Shabana Khan
The first necklace is from 31 Bits, comes in many colors and proceeds benefit the Ugandan women who make these lovely necklaces. I also really love the Kate Spade Belle Fleur Statement Collar  for a bride  -- it looks so nice with a strapless neckline. The bolder colors are great for bridesmaids to tie in a subtle nod to your wedding colors, and the bright bibs are great conversation pieces for a wedding guest to wear. Usually I exercise restraint when it comes the wedding style, but when it comes to necklaces -- go bold!