Are you in search of a great wedding guest look? We think lace midi dresses are wedding guest perfection!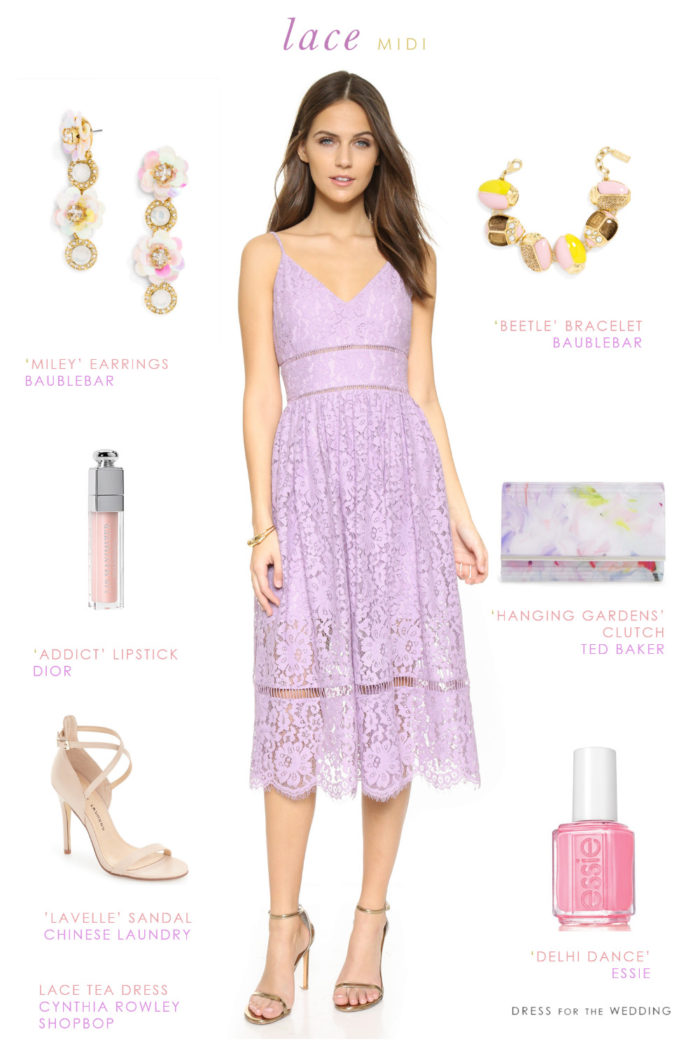 Shopping links in italics throughout the site and in clickable images in the shop section denote affiliate links from our sponsoring retailers.
Dress: Cynthia Rowley Lace Tea Dress from Shopbop Note, this dress may have sold out, but try this Lace Midi from ASOS for a similar style (for less!) | Earrings: 'Miley' Drops from BaubleBar | Bracelet: 'Beetle' Bracelet from BaubleBar | Clutch: Ted Baker London 'Hanging Gardens' Resin Clutch | Nail Polish: 'Essie' Cream Nail Polish in Delhi Dance | Sandals: 'Lavelle' Ankle Strap Sandal from Nordstrom | Lipstick: Dior 'Addict'  Lip Maximizer
More Lace Midi Dresses, Accessories, and Similar Styles

Lace Midi Dresses for Weddings and Summer Parties
If we had to pick the "it" dress for daytime or afternoon weddings, it would have to be a lace midi dress like this Cynthia Rowley Lace 'Tea' Dress. This chic length has come out in new fresh silhouettes that are far from the awkward lengths of ankle length and midi styles of yesteryear.
While this below-the-knee length has been around and proclaimed the new hip thing since Dior's new look in the 1940s, there is a reason fashion keeps coming back to this classic and elegant style, it really does look wonderful on so many - just finding the right proportion and skirt shape is key. It's also highly appropriate because of the length that hits just below the knee.
Lavender Lace Midi Dress
This particular dress in lavender lace is ideal for a morning or daytime wedding, but other styles are more than ready for evening. If you want an elegant look for spring or summer weddings this type of dress may be for you!
Pastel Lace Midi Dress
We've accented this particular lavender dress with touches of pastels, mainly these pretty pinks and yellows in the earrings and in the bracelet and clutch.
If the midi dress isn't your look, we've stocked up our shopping sections with picks for all sorts of spring wedding guest dresses. If you're a fan of this color, but not this style, there are also tons of purple dresses for wedding guests in our shop by color section.
Note: Since the primary dress may have sold out since this post was first written, we've updated with some more shopping picks for the current season!
More Below the Knee Dress Styles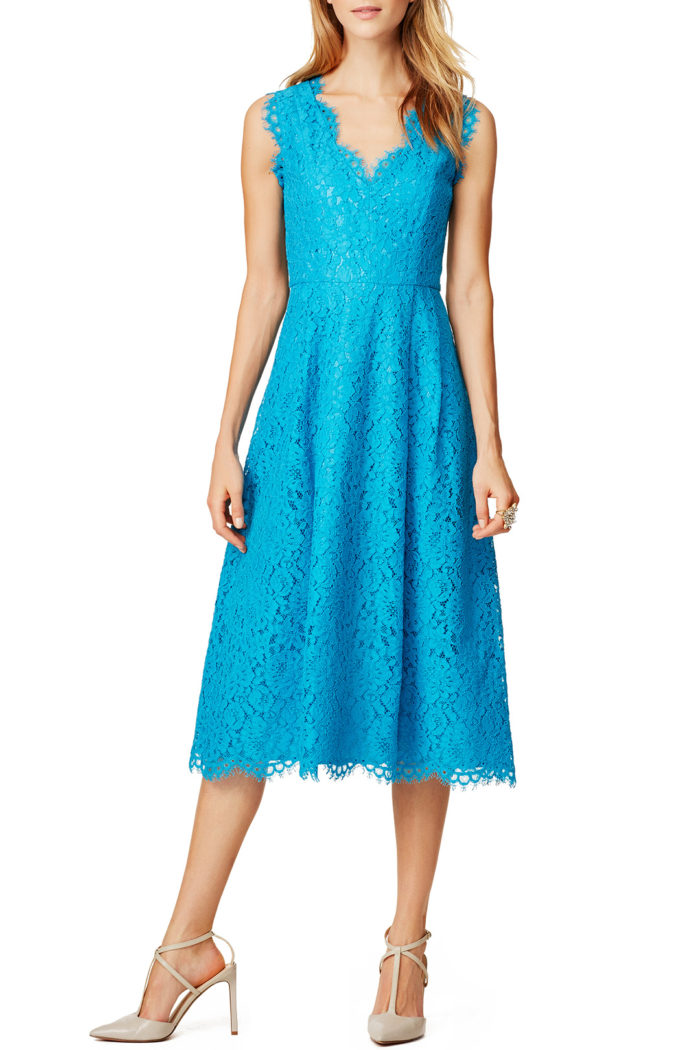 Get the Look: Shoshanna Cindy Midi Dress from Rent the Runway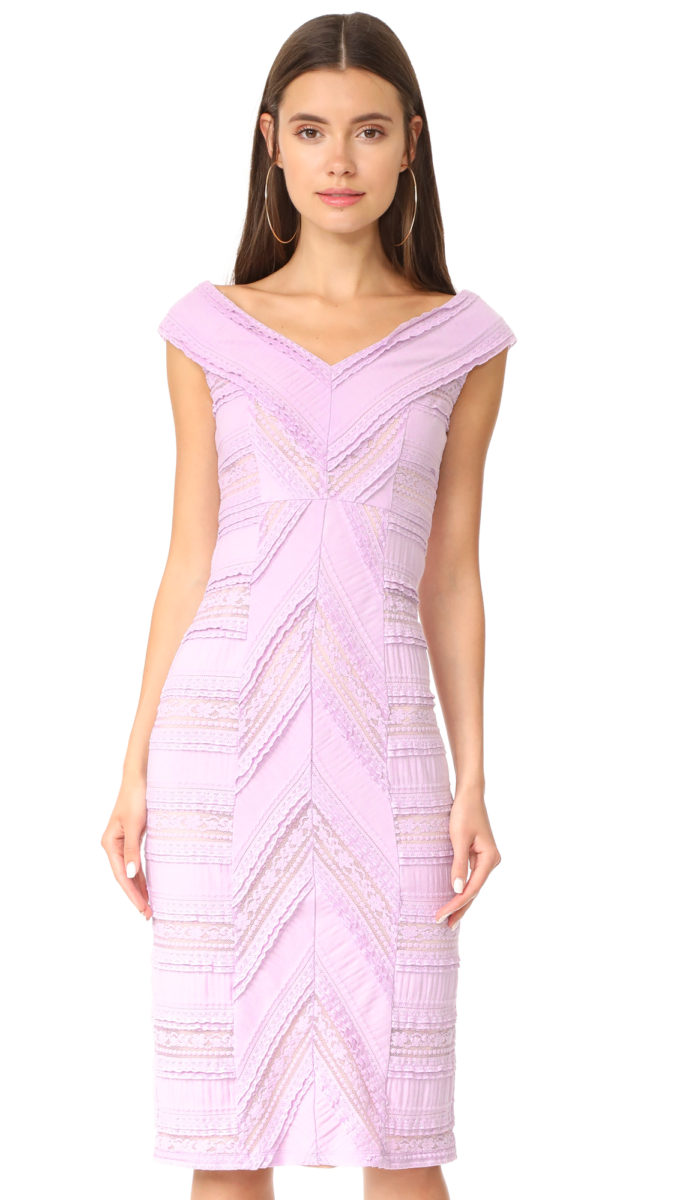 Get the look: Aveline Dress from Shopbop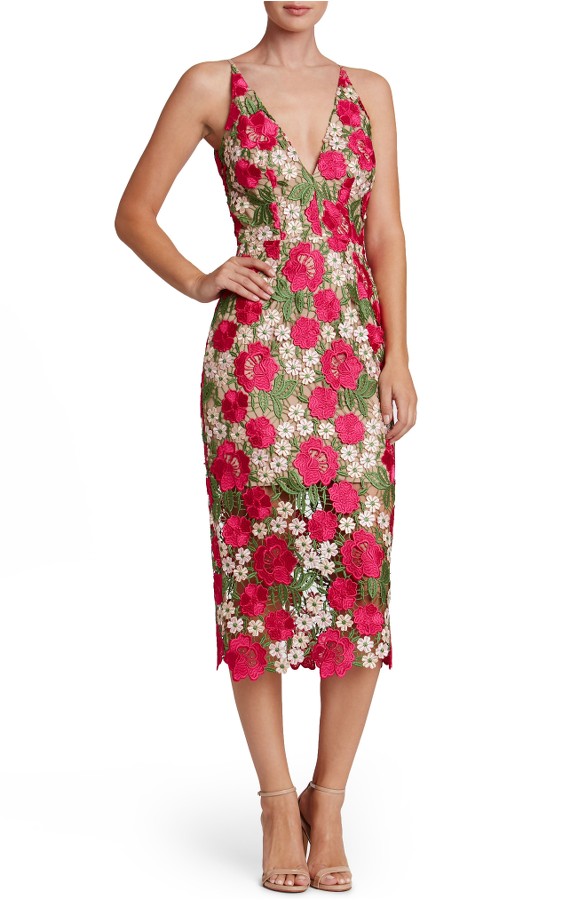 Get the look: Dress the Population 'Aurora' Midi Dress from Nordstrom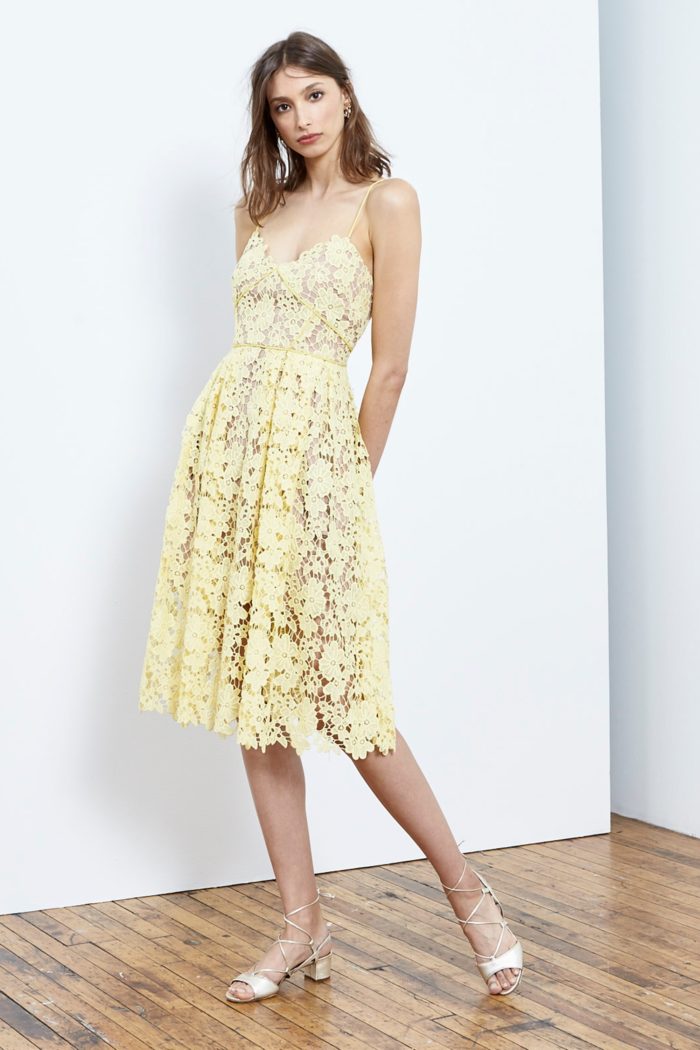 Get this Dress: Valentina Midi Dress from Donna Morgan. (May be low in stock) Also available as a rental from Rent the Runway.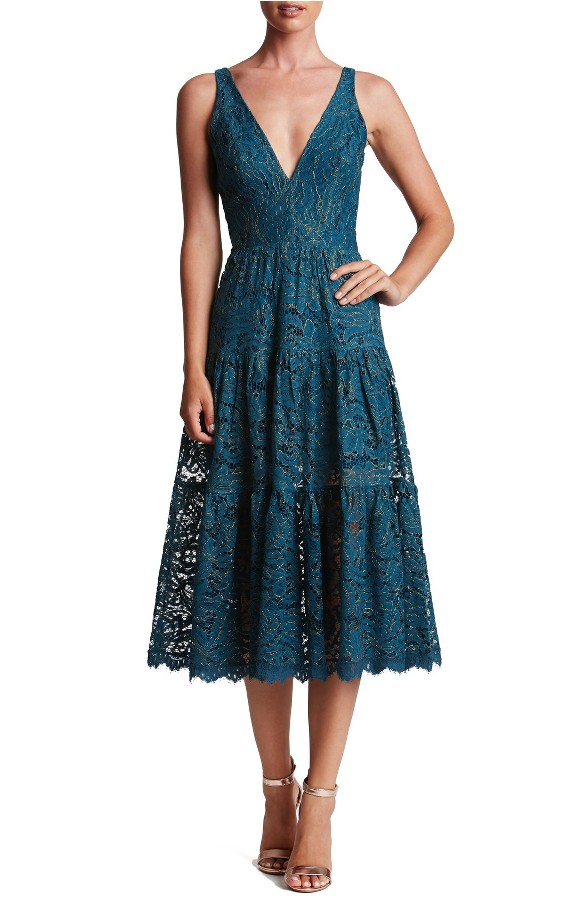 Get the Look: Madelyn Dress in Teal from Nordstrom by Dress the Population.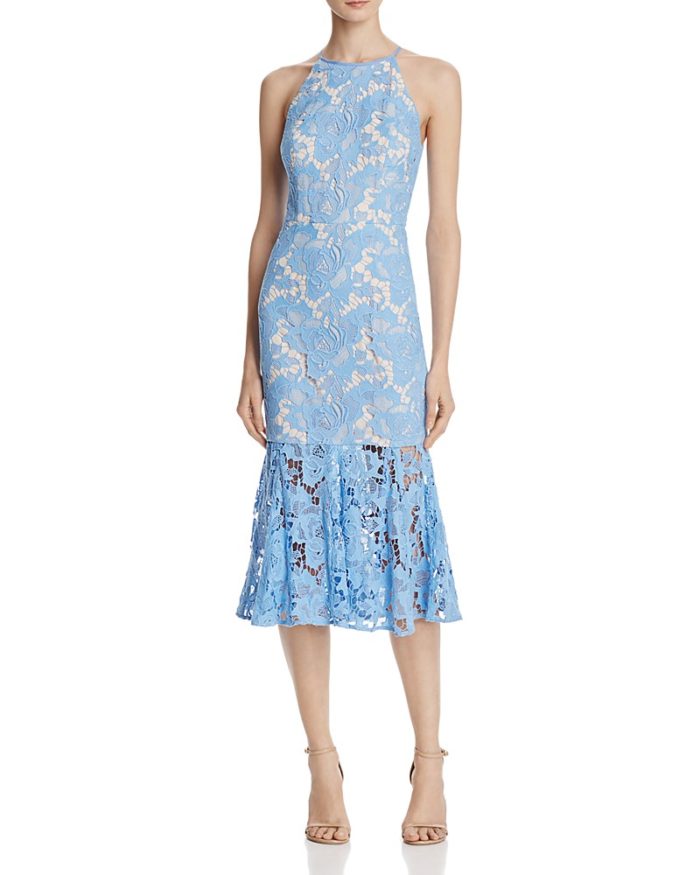 Get this Dress: Lace Midi Dress by Keepsake from Bloomingdale's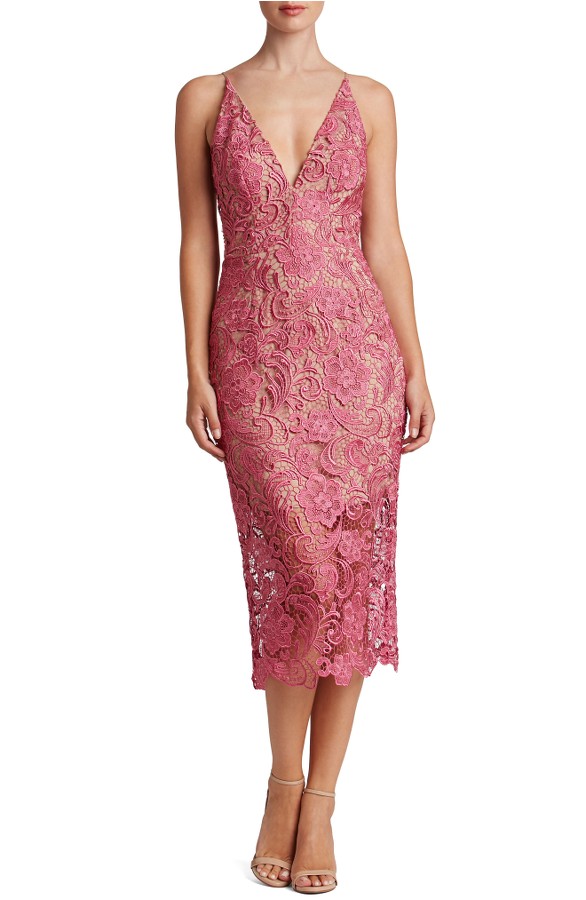 Get this look: Pink Lace Midi Dress 'Marie' by Dress the Population from Nordstrom.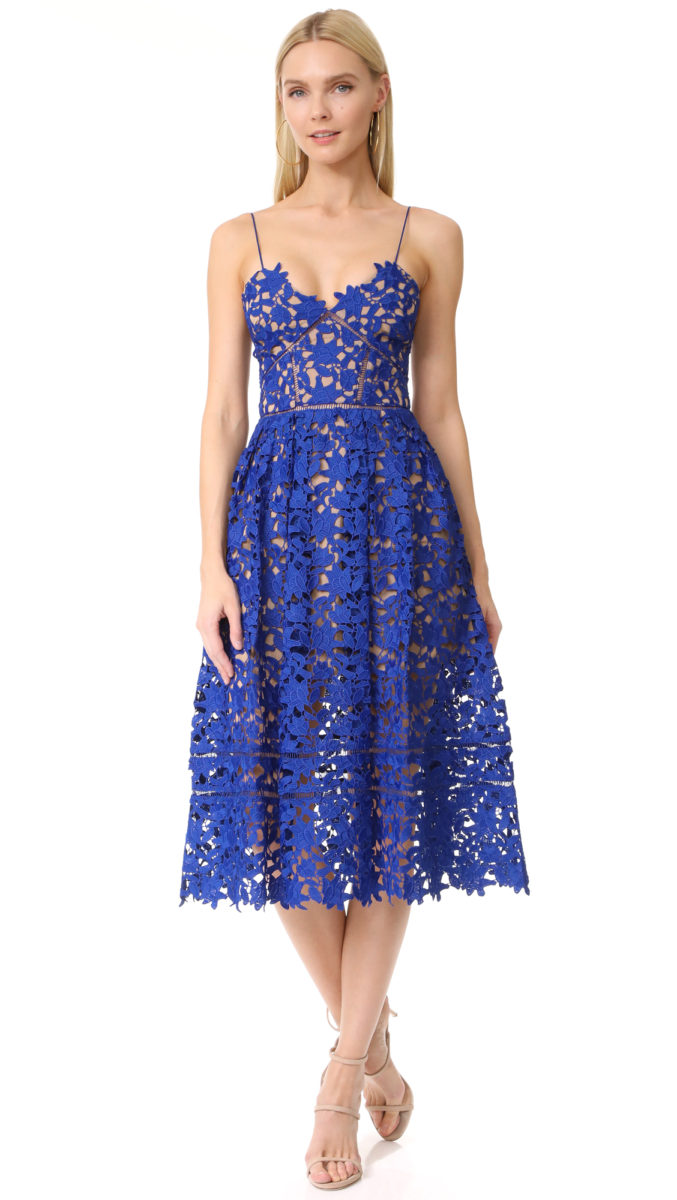 Get this Cobalt Blue Midi Dress: Self Portrait Dress by Azalea from Shopbop.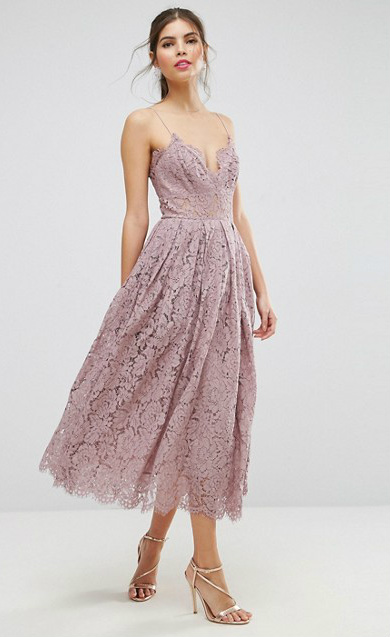 And perhaps the style most similar to our original dress is this Lace Midi Dress from ASOS.
Links in italics and in the shop section are from affiliates and sponsors, meaning that this blog may earn a small referral commission from the retailer, at no cost to the purchaser, if a qualified sale is made
More style ideas you might enjoy :