Black Ties
Today's "Ties for the Guys" collage only seems to be as straightforward as black and white; with these 8 great black ties for the groom and his groomsmen. Happily, there's a little more room for individuality than you might think when it comes to simple black ties.
Affiliate links are used in this post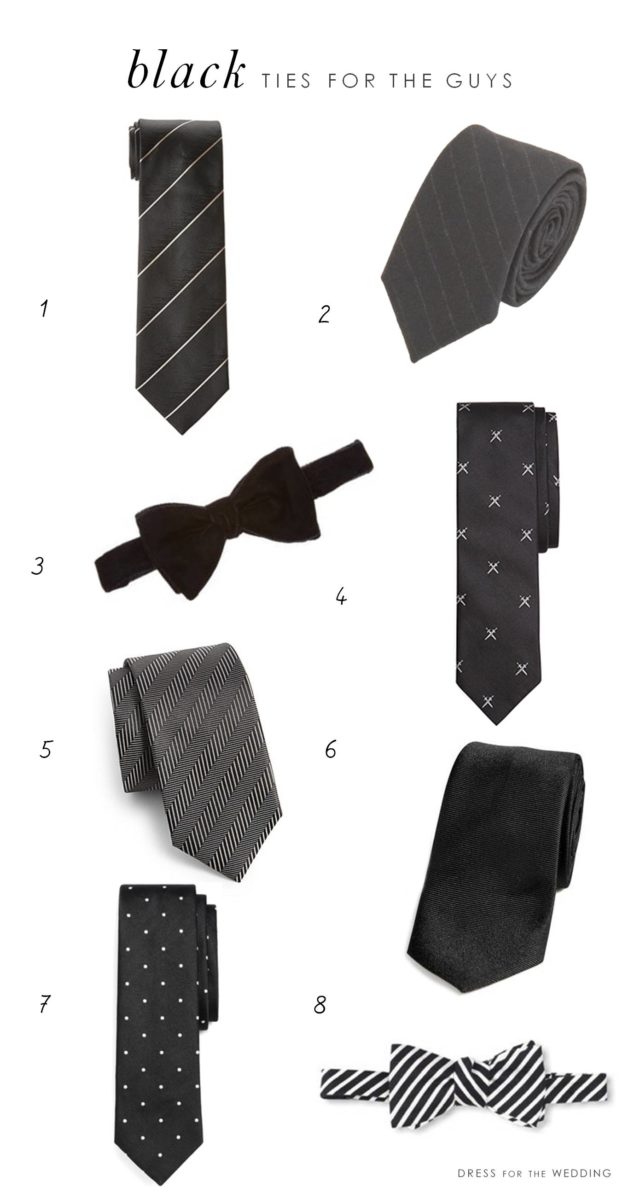 1. Kenneth Cole Ol' Skool Black Striped Tie 2. Band of Outsiders Chalk Stripe Tie at Barneys 3. Drake's Double Black Velvet Bow Tie 4.Crossed Swords Tie at Brooks Brothers 5. Hugo Boss Diagonal Striped Skinny Tie 6. Narrow Silk Tie by Hugo Boss 7. Brooks Brothers Dot Repp Tie 8. Countess Mara Simon Satin Stripe Bow Tie
Classic black tie attire of course still denotes a tuxedo and tuxedo shirt worn with a black bow tie of silk, satin, or velvet. I believe that the right cut of the tuxedo jacket can also work with a long silk black tie and still be considered appropriately formal. So, for truly formal black tie events I still recommend you still stick with a classic bow tie and tux combo.
However, if you're having a less formal wedding and you're not having your groomsmen wear tuxes -- it certainly doesn't rule out using black ties -- that's actually where many of these fun choices come in! Even if you're going for more whimsical or a rustic style wedding, if your color scheme includes black and you still want that chic black or black and white look, there are so many patterns and textures of black ties to choose from.
I actually had a hard time narrowing down this list, there are so many elegant looking stripes, dots, and fun patterns subtly woven into some of the black ties out there. A few of my favorites are really perfect for winter weddings like # 2--the felted wool chalk stripe tie--and #3, that black velvet bow tie. And because I love stripes and dots so much, of course, there's a good dose of those!
So, there's no need to think you need to be stuffy when you think of a black-tie - have a little fun with it!
See more groom and groomsmen style ideas and more ties for the guys here!
Affiliate links are used in this post
Shop Black Ties for Weddings

More style ideas you might enjoy :