Wedding season is in full swing! If you have a stack of invitations, and a wedding to attend nearly each weekend, this post is for you! ModCloth has so many gorgeous wedding guest dresses to wear to this season's weddings! This post, featuring dresses for summer wedding guests, has been graciously gifted and sponsored by ModCloth.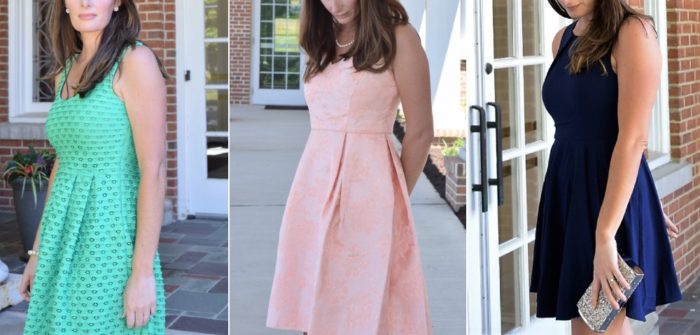 Summer wedding guest dresses from ModCloth.
1. Learn the Yard Way Dress in Clover 2. Stylish Serendipity Dress 3. Transformative Tendency Dress
Dresses for Wedding Guests from ModCloth
Weddings are one of the hallmarks of summer. They are right up there with long days of sun, time by the pool or beach, and warm summer nights! If several couples in your group of friends are getting married this year, you might be attending a wedding nearly each weekend.
Since there are so many different dress codes, plus you're likely to see some of the same friends at each event, and the pictures will fill your social media feeds, you'll probably want to have a few new looks to wear for the 2016 season of weddings. If you're on the search for cute wedding guest dresses, ModCloth is one of my personal favorite spots to look, because their selection is so vast, their styles are beautiful, and their pricing is so reasonable!
I recently had the chance to try out three new styles of ModCloth wedding guest dresses, and they came to a total of less than $300. Isn't it great that you can have 3 looks for less than what one dress can cost at some stores? As I discovered when sharing my post of spring ModCloth wedding guest dresses, ModCloth dresses are very popular, so the styles go very quickly! But, there's no reason to worry, there are hundreds of new pretty guest dresses dresses at ModCloth, with more arriving each day. They have recently added recently some of my favorite special occasion styles like pretty floral prints in watercolor shades, maxi dresses, and cute fit-and-flare dresses in summer hues!
Here are three styles I had the chance to try, that I'm sure you'll love!
Peach Semi-Formal Cocktail Dress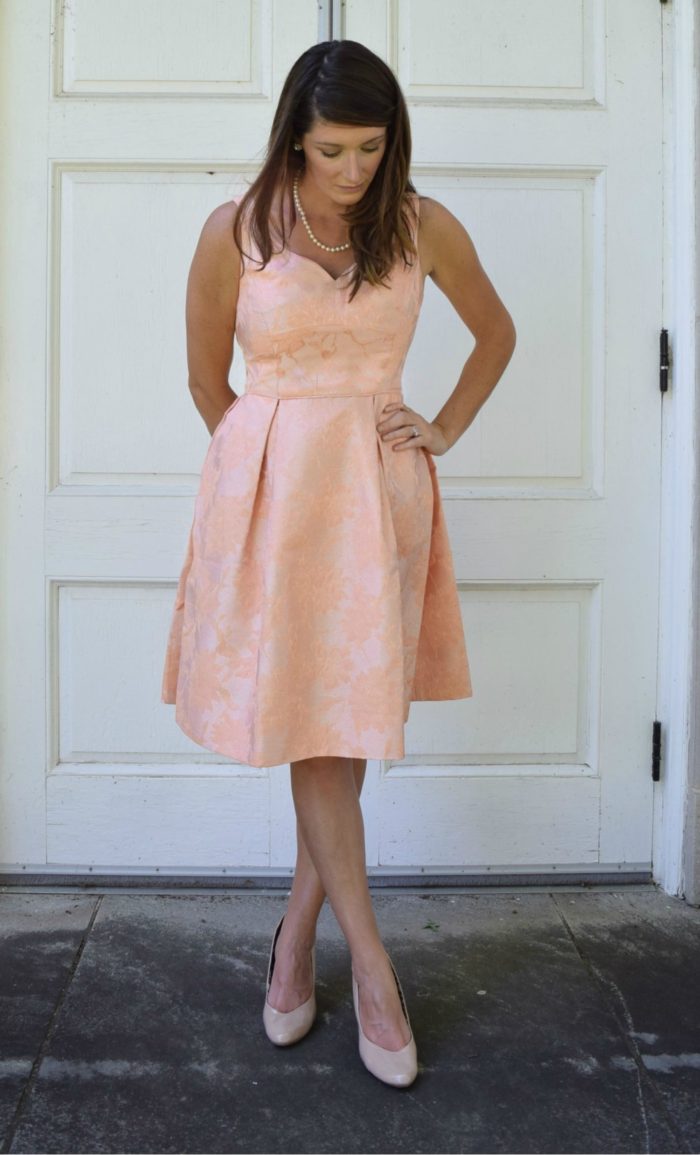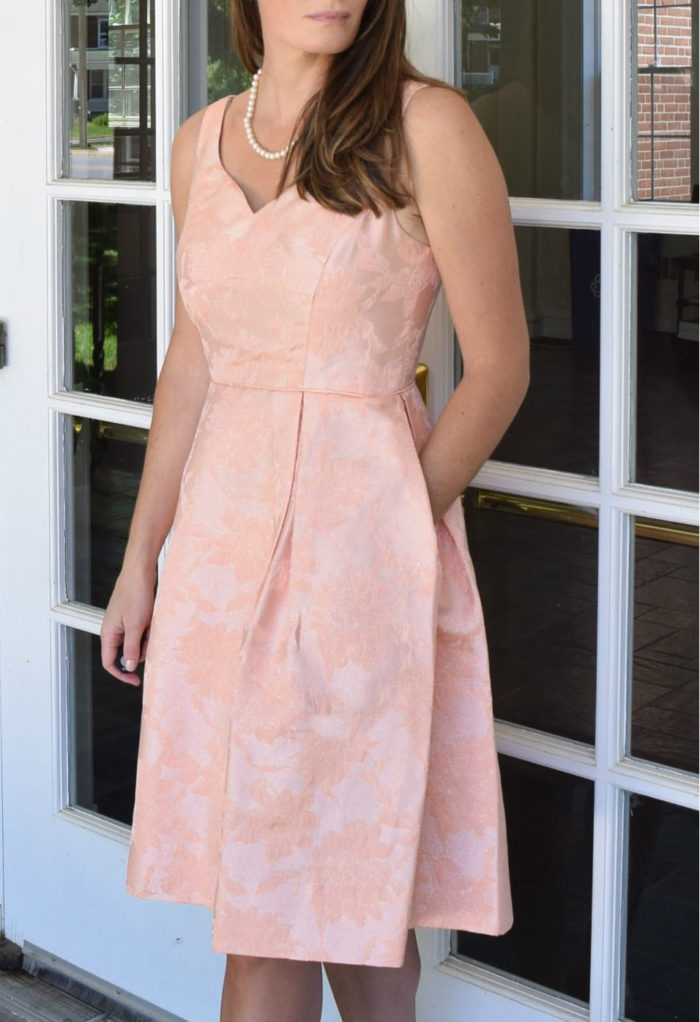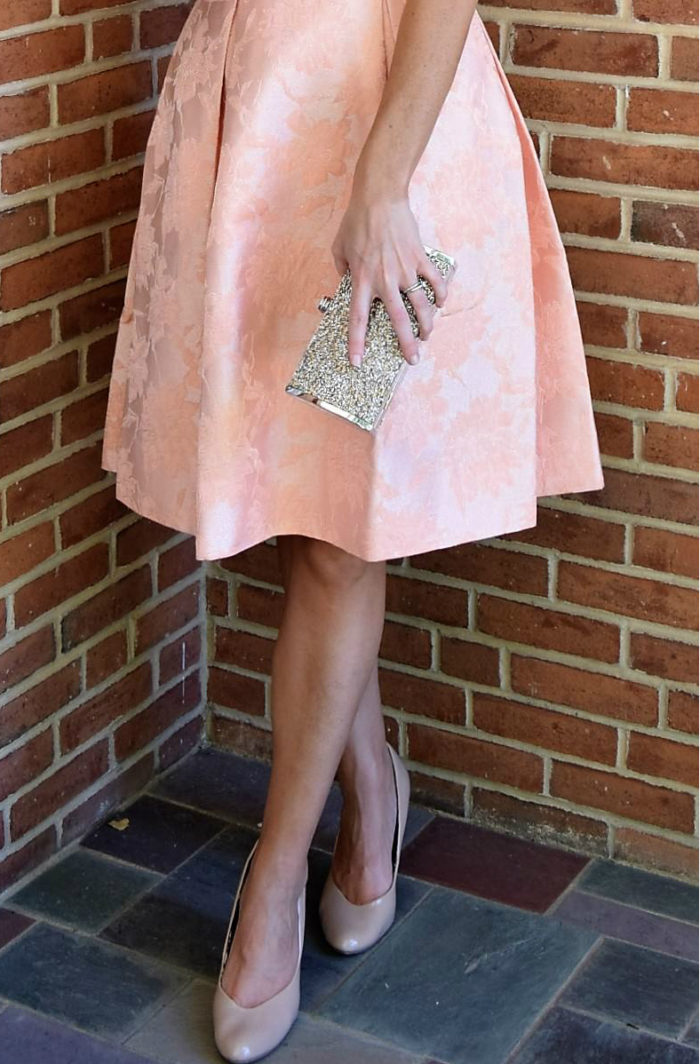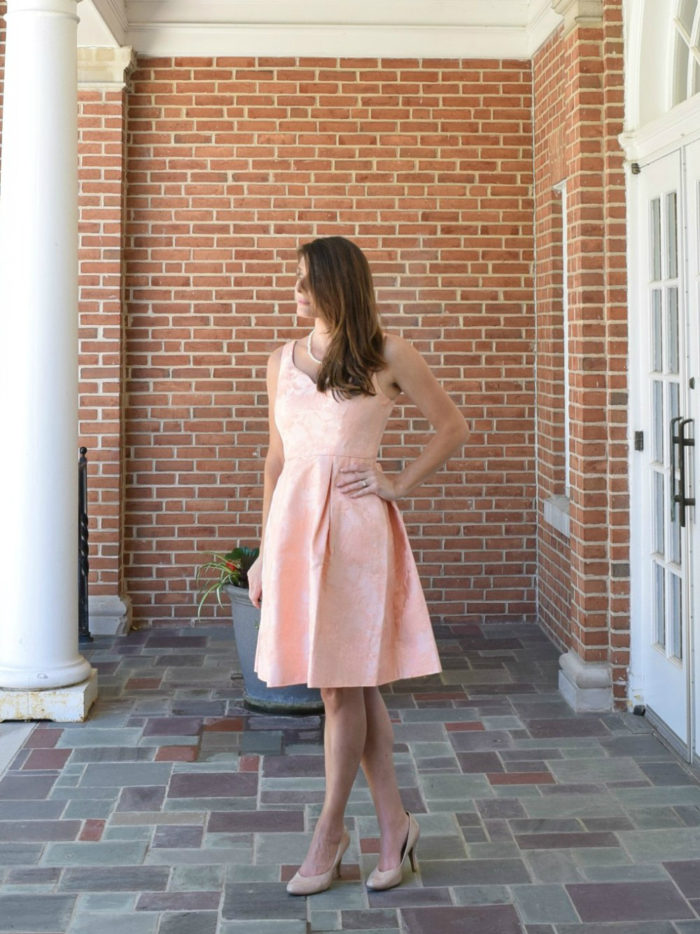 Dress: Stylish Serendipity Dress from ModCloth
I'm drawn to classic silhouettes and lady-like styles, so I've had an eye on this pretty peach dress, called the Stylish Serendipity Dress, from the moment it hit the new arrivals on ModCloth's site. This peach style is such a feminine and pretty jacquard dress with a fitted bodice and a full skirt. Now, while jacquard doesn't seem like a summer fabric, please be assured that this one is light and lovely to wear! I was wearing this on a 78 degree day, and I didn't feel overly warm at all! The fabric has a subtle floral print and a bit of glimmery metallic thread running through it, which gives the look lovely structure. The pretty box pleats make the dress full from the front, but sleeker from the side, and it has one of my favorite features: pockets!
This dress has a delightfully elegant feel. I'd wear this dress for a semi-formal dress code or an indoor summer wedding at a hotel or country club where cocktail attire or semi-formal dress has been requested. Because of its classic styling, I can also see it being a lovely choice for a Mother-of-the-Bride/Groom who is in search of a shorter style for a summer wedding. The color is so lovely and well suited to afternoon and summer!
Because of the sweetheart neckline and slightly retro silhouette, I felt compelled bring out a set of costume pearls and earrings to complete the look, but one could wear any type of gold, silver, coral, crystal, or pretty diamond earrings and necklace to bring even more attention to the face and neckline.
SHOP THE LOOK: Stylish Serendipity Dress from ModCloth


Cute Navy Blue Dress

The Transformative Tendency Dress from ModCloth. Worn with the Beauteous Bravado Necklace in top and bottom photo.
As another reviewer pointed out, this little dress can do everything! It can be a great daytime navy dress, but thanks to a cute, swingy skirt, a stretch chiffon fabric, and a super-flattering cut, this little navy dress might also be the ideal look for your next summer wedding invitation.
This dress, called the Transformative Tendency Dress is great for informal dressy casual or daytime wedding dress codes, but with the right pair of heels and accessories, it can edge into the cocktail realm for evening! I'd wear it to an afternoon wedding at a winery or in a coastal setting. In fact, I'm planning to wear this to a beach wedding I'm attending later this summer.
This skirt is a little shorter than I'm used to wearing -- especially because I'm 5'8, so I'm 5'10 in heels, and I have a long torso -- but I never felt like it was uncomfortably short to move in. It's just cute! Fit and length won't be a problem for anyone shorter than me, or for someone wearing flats. This fabric also had a bit of stretch in the bodice, which I always appreciate, because it instantly gives the dress a pretty, fitted look! This dress is one that will become a wardrobe staple to wear all through summer and early fall!
You'll note that I removed the belt it comes with, just for a more formal style, and I also showed it both with and without a necklace, just so you could see the pleated neckline detail. I also tried my casual and formal clutches with the look, just so you could see how accessories help this dress live up to all of its 'transformative' abilities!
SHOP THE LOOK : Transformative Tendency Dress


Green Eyelet Dress

The Learn the Yard Way Dress in Clover from ModCloth
If you have an informal outdoor wedding to attend this summer, I suggest the Learn the Yard Way Dress in Clover! It is a light, stretchy and very cute casual dress, that has enough substance and interest to make it appropriate as a wedding guest dress. The eyelet detail, vibrant green color, and tank styling gives this dress a fun and slightly preppy feel. It's the perfect look for a casual dress code or a relaxed beach, garden, or rustic country wedding. It also would be a suitable rehearsal dinner dress, or a lovely look for a bridal shower, or an eye-catching color for engagement photos!
From a comfort standpoint, this dress also gets high marks from me! The fabric stretch is great -- it is substantial, but very light -- with dimensional cutouts for the eyelets and squishy, scuba texture. It creates a smooth look, and is a wonderful material for traveling because it doesn't wrinkle at all. Learn the Yard Way Dress in Clover is so easy to wear to feel comfortable and put together for summer occasions.
To accessorize, I paired this dress with a navy clutch and some oversized costume pearls to amp up the preppy feel. If green isn't your color, or you love it so much you want it in all shades, it comes in cobalt blue too!
SHOP THE LOOK: Learn the Yard Way Dress in Clover


Now, I'll admit, since I wear a lot of short casual dresses for summer events, I intentionally picked dresses that were short, and two that were slightly casual to try out. However, if you're looking for longer lengths, ModCloth has tons of maxi dresses for guest styles and more formal looks too. If you need to dress to wear to an upcoming wedding, ModCloth is definitely the spot!
I've created a great little shop section below with some of my favorite picks for summer weddings from ModCloth. They truly have a dress for every dress code, figure, and budget!
Wishing a wonderful wedding season! Check out #MarriedinModCloth on Instagram for more wedding looks for couples and guests!
This post was sponsored by ModCloth. Styling and photography by the editor of Dress for the Wedding. In addition to the sponsorship and the dresses received in kind for review, affiliate links are used in this post. All opinions are my own.
SHOP MODCLOTH WEDDING GUEST DRESSES


See more of our posts featuring ModCloth dresses for weddings:
New Wedding Dresses from ModCloth
Spring Wedding Guest and Bridesmaid Looks from ModCloth