Sponsored post. This post about winter special occasion gowns has been generously sponsored by Nordstrom. Affiliate links are also used in this post and in the shopping sections of this article.
Winter Special Occasion Gowns from Nordstrom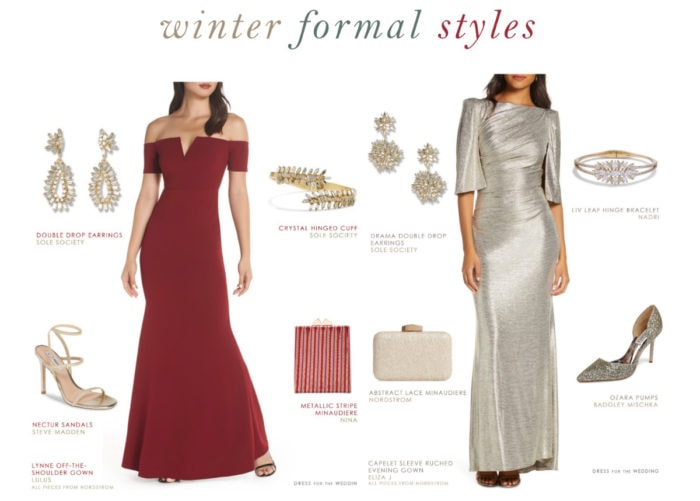 Whether you are attending a winter wedding, or you've been invited to a formal winter event, the season to be festively dressed up is near. Readers of this site know that we consider Nordstrom one-stop shopping for special occasion attire, and it's especially wonderful for formal gowns, and attire for winter wedding parties, and wedding guests!
Nordstrom for Formal Gowns for Special Events all Season
Nordstrom is the place for getting outfits for life's special occasions -- whether it's a wedding or black-tie gala -- because of their huge selection of men's suits and tuxedos, mother of the bride dresses, bridesmaid dresses and formal gowns. Nordstrom also has the top beauty and skincare brands and products to make sure you look your absolute best for these big events!
Here are a few of our picks from the special occasion gowns that Nordstrom has to offer for the season, shown with accessories to accent the look. Nordstrom is one-stop shopping for everything from dresses right down to the fine details, like earrings and clutches.
Off-the-Shoulder Burgundy Red Gown
This off-the-shoulder gown with a notched V-neck is a gorgeous and modern formal gown. The rich burgundy red hue makes this a perfect choice for formal events throughout the winter season. Perhaps best of all, this gown is under $100, making it an affordable look for black tie events!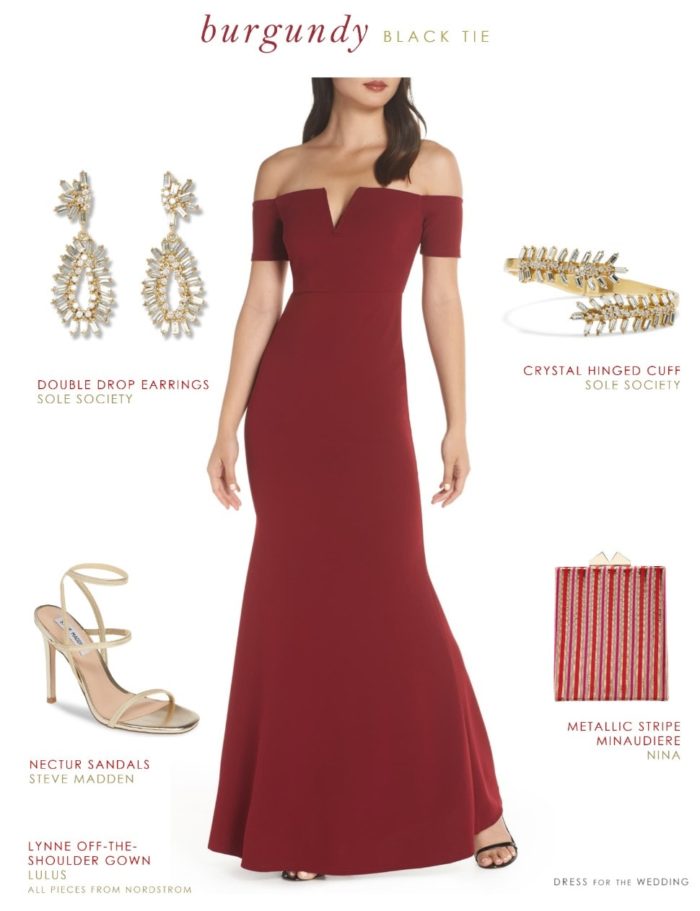 Off the Shoulder V Neck Gown: Lulus Lynne Off the Shoulder Gown in Burgundy from Nordstrom | Crystal Chandelier Earrings: Double Drop Earrings from Sole Society from Nordstrom | Crystal Bracelet: Crystal Hinged Cuff by Sole Society from Nordstrom | Clutch: Metallic Stripe Minaudiere by Nina from Nordstrom | Strappy Heels: Nectur Sandals by Steve Madden from Nordstrom
Formal gowns under $100 are one of the things we love about the Lulus dresses at Nordstrom. There are so many affordable formal styles to choose from with this brand. If you love this color, we've included a few more below in the Shop The Look section.
If you're looking for reasonably priced and stylish dresses for your bridesmaids, we highly recommend checking out all the Lulus dresses from Nordstrom.
Accessories for a Red Evening Gown
An off-the-shoulder neckline always helps to show off sparkling accessories. We paired this dress with gold and crystal colors, and a striped clutch with a unique boxy shape that looks like a present! The super flattering fit-to-flare mermaid hemline that perfectly balances the off-the-shoulder styling.
Shop The Look

Glamorous Gold Evening Gown with Cape
Gold is a great color to wear this time of year to radiate some seasonal glamour! This special gown shimmers with its luxe mixed metal and gold fabric. It also has structured shoulders and a cape detail at the back that gives this gown undeniable Hollywood starlet vibes. It's a gorgeous choice for making an entrance at a winter formal. We also would recommend this gown as a Mother-of-the-Bride look for a winter wedding!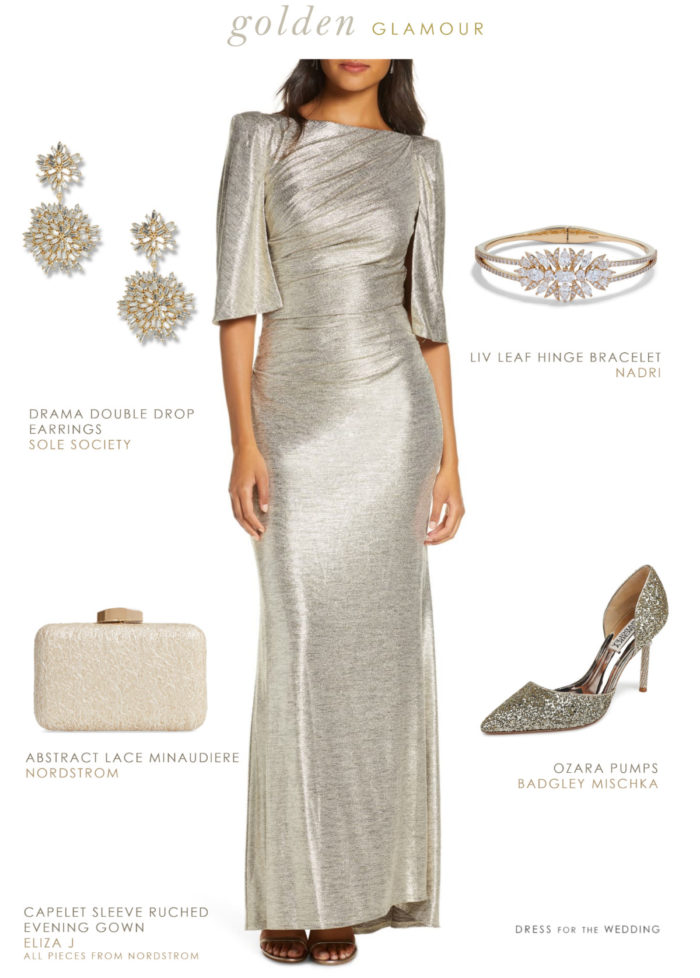 Gold Gown: Capelet Sleeve Ruched Evening Gown by Eliza J from Nordstrom | Earrings: Drama Double Drop Earrings by Sole Society | Bracelet: Liv Leaf Mixed Cut Hinge Bracelet by Nadri by Nordstrom | Clutch: Abstract Lace Minaudière by Nordstrom | Shoes: Ozara Embellished Pumps by Badgley Mischka from Nordstrom
We set off this gold gown with high-wattage crystal earrings and bracelet that reminds us of wintery frosted leaves. Glittery shoes and neutral, winter white clutch complete this glam winter look.
Shop the Look

One Stop for Style for Special Events
If you are shopping for formal wear or wedding attire for any season, here are a few of the amazing labels that Nordstrom carries that will make finding special occasion dresses a breeze.
It's The Season for Nordstrom
With Nordstrom, there are formal and special event styles for everyone, with many size and body inclusive styles. If you need something to wear that day and live near a Nordstrom, you can buy online and pick your items up that day in-store. It's the key to quick and efficient shopping!
It's also not long before it's time to shop for gifts, and Nordstrom has the most sought-after holiday gifts for everyone on your list. Nordstrom also offers eGifting, which is a great service especially when you know what you want to give someone, but you aren't sure of their size or color preferences. The recipient is notified of their gift, then they pick their size and color and other details.
Don't Miss Out on the Nordstrom Sale and Nordy Club Rewards!
Today is also one of the last few days of the Nordstrom Fall Sale is going on through November 17th, so this weekend is the last time to shop and save on some great sale styles!
It's also a time where you can get bonus earnings by joining the Nordy Club rewards program -- it's free to join and offers extra rewards until November 19th!
Shop More Special Occasion Looks from Nordstrom
We hope you love the suggestions above, and we've picked out a few more special event looks from Nordstrom. Also, check out our other post from earlier this week on Party Dresses and Outfits from Nordstrom.

Sponsored post. This post about special occasion style has been generously sponsored by Nordstrom. Affiliate links are also used in this post and in the shopping sections.
More style ideas you might enjoy :