There's nothing more elegant than a pretty wedding bracelet to finish your look. It's the perfect way to accessorize nearly any wedding dress. We'll take a look at the best of these bridal bracelets and give you tips for where to buy beautiful bracelets for weddings!
Wedding Bracelets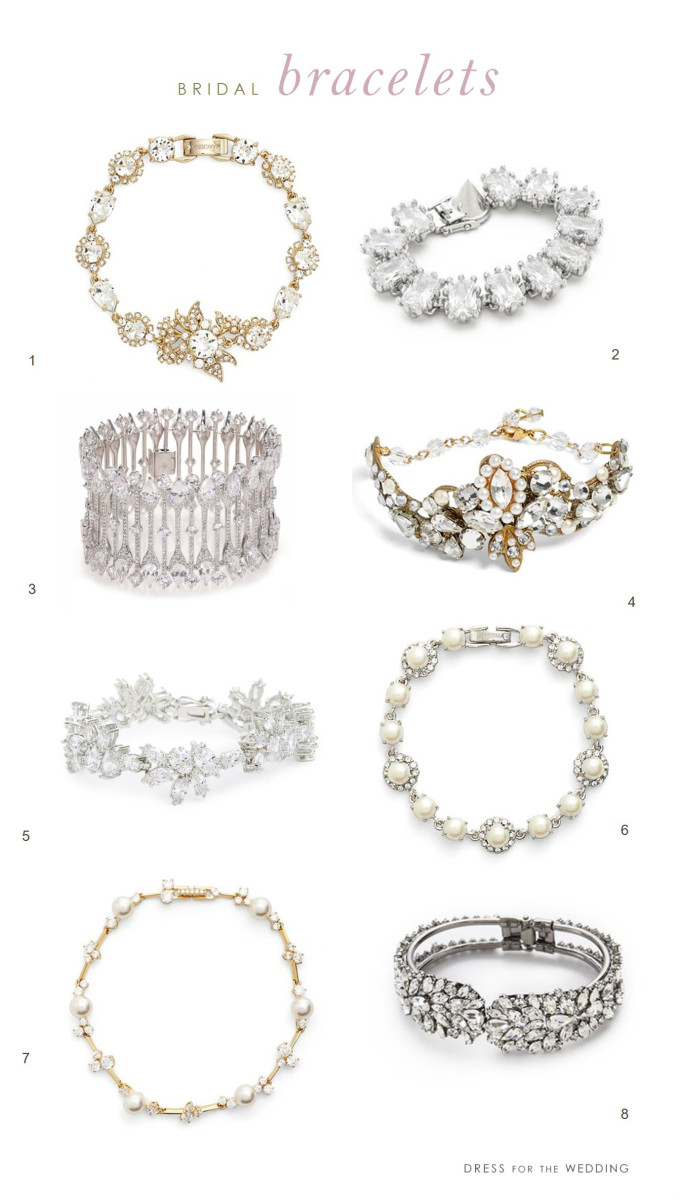 Shopping links in italics are affiliate links from our sponsors
1.Marchesa Crystal Link Bracelet from Nordstrom 2. Eddie Borgo Small Rectangle Estate Bracelet from Shopbop 3. Statement Pave Bracelet by Adriana Orsini at Saks Fifth Avenue 4. Crystal and Faux Pearl Bracelet by Halo from Nordstrom 5. Samantha Willis 'You Are All I See' Bracelet from Nordstrom 6. Faux Pearl and Crystal Bracelet from Nordstrom 7. Nadri Faux Pearl Bracelet from Nordstrom 8. Tesoro Bracelet by Jenny Packham from Shopbop
No matter if you're wearing a strapless wedding gown or a cap sleeve wedding dress, or nearly any other sleeve silhouette, a bridal bracelet is the perfect finishing touch to nearly any wedding gown! When worn on the wrist opposite the ring, it adds a little bit of embellishment and balance to your other arm, and it looks just lovely holding a bouquet.
Where to Shop for Wedding and Bridal Bracelets

Choosing a Bracelet
Next to earrings, a wedding bracelet is one of the easiest-to-wear bridal accessories that adds just the right amount of decoration, but doesn't compete or overwhelm other pieces. Whether you like the traditional look of pearls, the sparkle of crystal, and the tone of gold, platinum, or silver, one of these pretty wedding bracelets will suit your style! S
We also love these sources for wedding bracelets:
Adriana Orsini Bracelets at Saks
Bracelets for weddings from BHLDN
Bracelets for Weddings on Etsy
Check out our other picks for Bridal Jewelry
The shop section and links in italics are affiliate links to our sponsors.