It used to be that buying a wedding dress was strictly an in-person event at a local bridal boutique, and buying a wedding dress online came with risks. However, that is no longer the case, as many reputable retailers now offer wedding dresses. Telling the difference between a good bridal retailer is a case of doing a little research and making sure the online wedding dress company is in good standing. Here we'll show you some of our favorite trusted places to buy a wedding dress or bridal gown online.
Affiliate commission links are used in the shopping links in this post. This means this blog may earn a commission if a qualified purchase is made.
Best Places to Buy a Wedding Dress Online

Lace long sleeve wedding dress from Wear Your Love Xo on Etsy
Bridal boutiques will always remain one of the main places (and sometimes the only places) to purchase some gowns from certain designers we feature here on Dress for the Wedding. However, now buying online is a great option. Buying a bridal gown is an especially appealing option now, as we experience this time where staying at home is a requirement. A few places offer their regular return options, so this is our list of places where you can safely buy a wedding dress online, which we will update often.
ASOS
ASOS has been one of out recommended go-tos for stylish and trendy wedding guest dresses, and bridesmaid dresses, and they also offer gorgeous wedding dresses, suits, and jumpsuits for weddings. The ASOS Edition line has always been full of great choices, they also have many little white dresses for wedding-related events like showers. And of course, we always any white dress that could serve as an informal wedding dress if desired! See our recent feature of best wedding dresses from ASOS.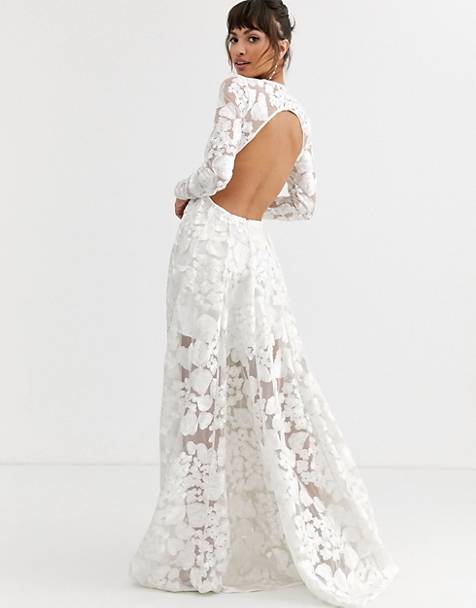 ASOS EDITION wedding dress with open back and floral embroidery
Azazie
Azazie is most known for offering a huge and affordable selection of colors and styles for bridesmaid dresses, but they have expanded this year into fantastic and affordable wedding dresses, as well as dresses for guests and mothers of the wedding. We had the opportunity to experience Azazie's try at on home program for bridesmaid dresses, mother of the bride dresses and wedding dresses, and we were impressed! It's worth seeing if there's a wedding dress you love and signing up to try on at home.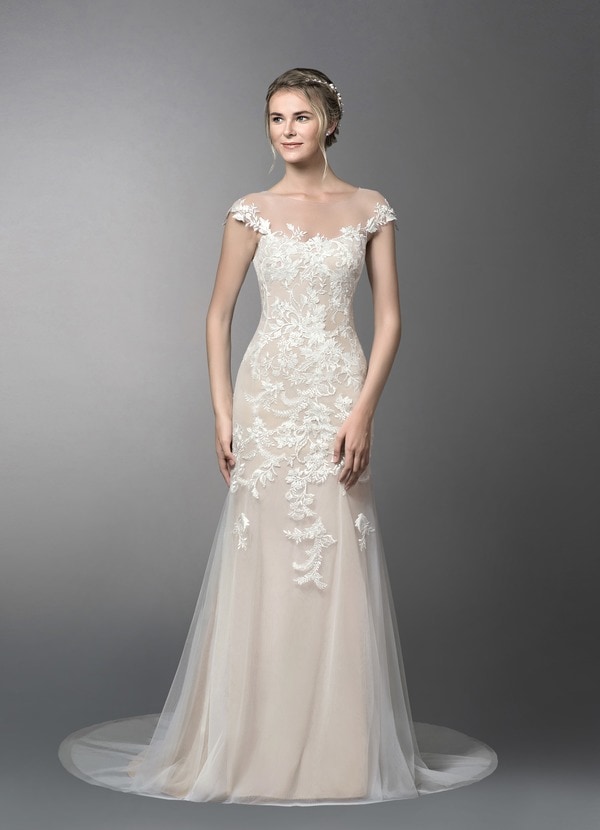 Eudora Gown from Azazie for $249
BHLDN
BHLDN is one of the most trusted places to shop for a wedding dress online. They have really pioneered the idea of purchase wedding gowns and wedding accessories online. BHLDN is also one of the few places where you can buy a dress that might otherwise only be available in a boutique. This is accomplished through their collaborations with brands like Jenny Yoo, Amsale, Watters, and others, as well as their line of dresses. They offer to try on in-store programs, but because of recent world events at the time of this posting related to the COVID-19 virus, online is the only way right now to purchase a dress.
We have featured BHLDN dresses extensively in posts like New BHLDN Wedding Dresses for Spring 2020 and Dresses for Bridesmaids: Favorites from BHLDN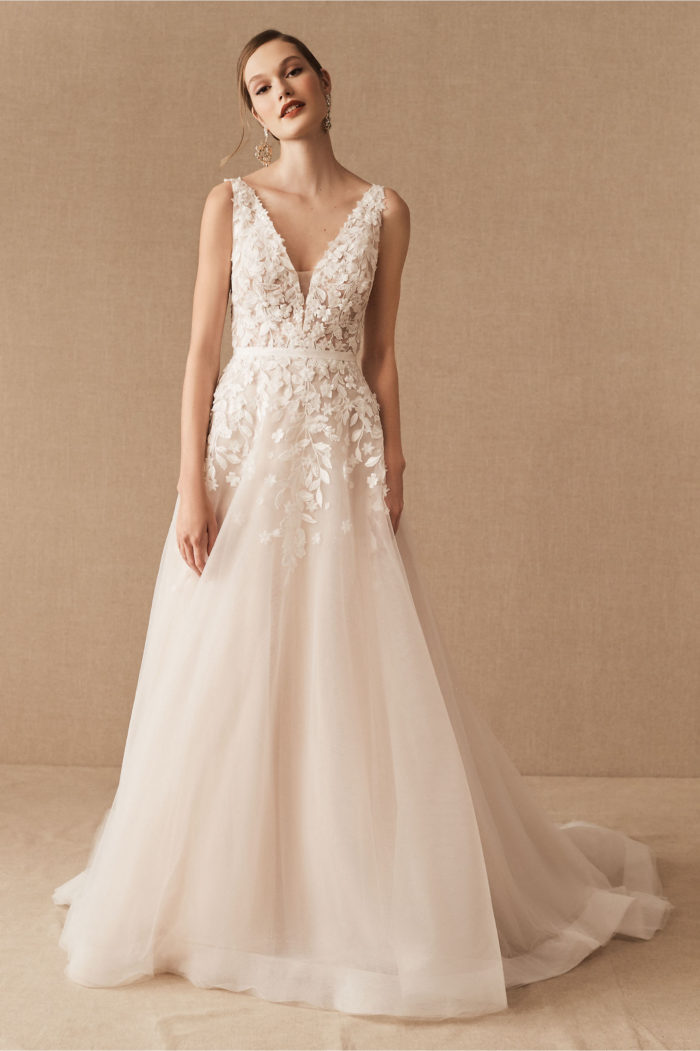 Etsy
Etsy is an amazing resource for all things wedding and us a great way to support small business and independent creators with your wedding budget. There are also lots of handmade and vintage wedding dress sellers. In this case, you'll need to research the reviews and comments to see about the quality of the designs and how positive the seller communication is. Many retailers seem to come and go, so proceed with a little caution. WearYourLoveXO is one is a US-based designer with gorgeous dresses and good reviews. We also love the vintage offerings at Vivian Elise Vintage.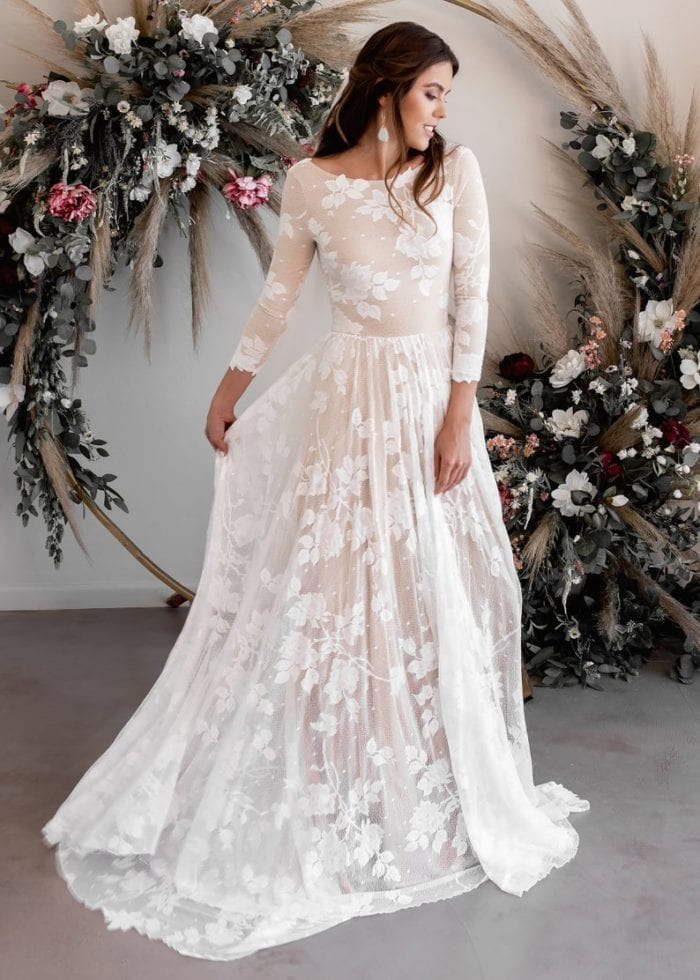 Beautiful Wedding Dress by Wear Your Love Xo on Etsy
David's Bridal
David's Bridal has been the place for all things bridal for decades! Most of the weddings I've personally been in have involved a trip to David's Bridal to try on dresses. While they are known for having locations around the country, David's Bridal offers a range of even more dresses online. At last count, they had over 1,000 wedding dresses and 300 bridesmaid dresses in a range of colors. They also offer Mother-of-the-Bride and wedding guest dresses too. One of my tips if you are seeking ya dress in a particular color, is to look at their bridesmaid dresses - because they are affordable and come in so many colors. This bridesmaid dress tip also works for finding a simple wedding dress. The selection of David's is also one of the places you can find the more affordable and high-quality wedding dresses with a huge selection of wedding dresses under $1500, under $1000 and even under $500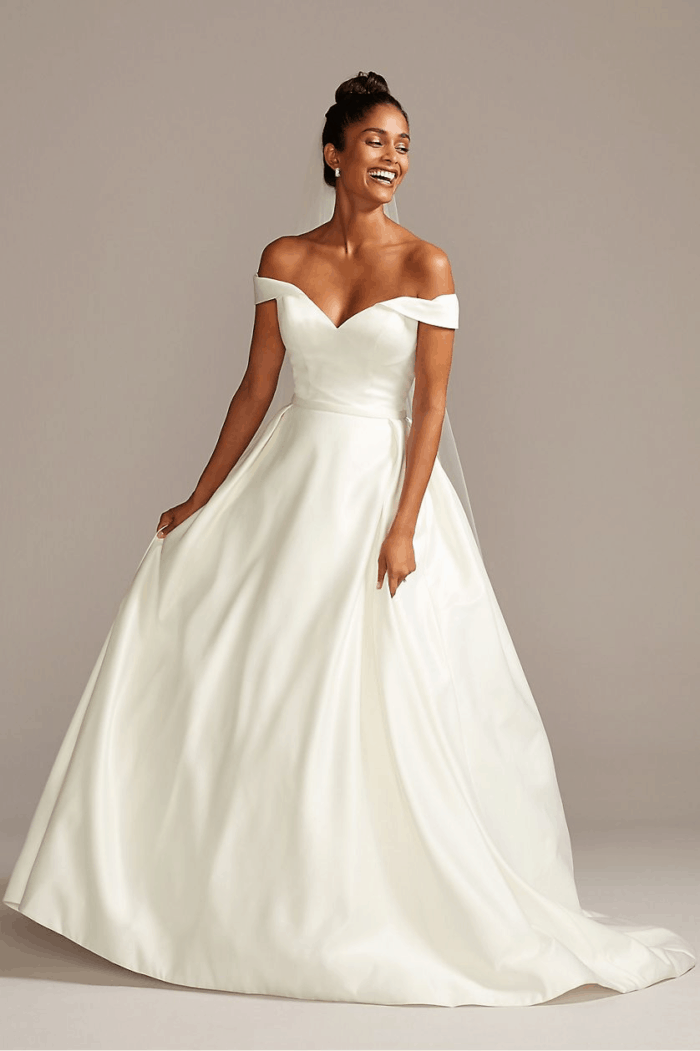 Off the Shoulder Satin Ball Gown from David's Bridal
Dessy
This is another fantastic name in wedding attire, especially bridesmaid dresses! Dessy is one of the places many wedding boutiques offer for bridesmaid dresses. They have a huge array of colors and styles and fabrics for bridesmaid dresses and, we happy to think their bridesmaid dresses in ivory or white make wonderful wedding dresses! These dresses are affordable and stylish! They also offer this gorgeous white wedding tuxedo for women.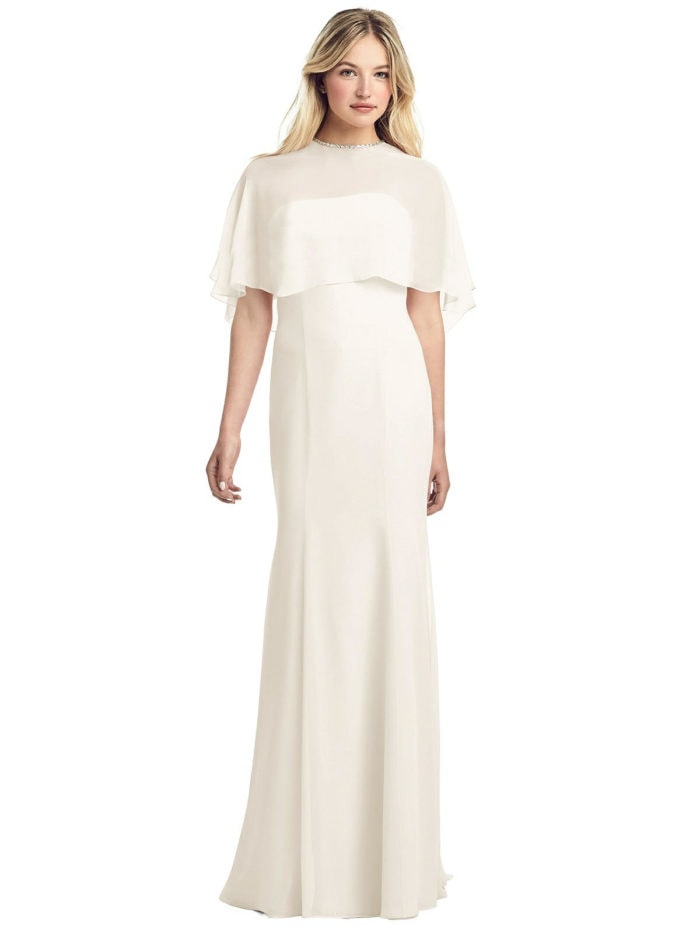 Strapless Chiffon Gown with Jewel-Trimmed Capelet
Lulus
We've featured the Lulus wedding collections a few times on this site, and they have many offerings for weddings including wedding dresses, bridesmaid dresses, and wedding guest dresses. Their bridal collection includes several long white dresses that would serve as a wedding dress, all at Lulus affordable price points. Lulus also has a large collection of white dresses that would work for elopements, pre-wedding parties, simple weddings, bridal shower or honeymoon outfits.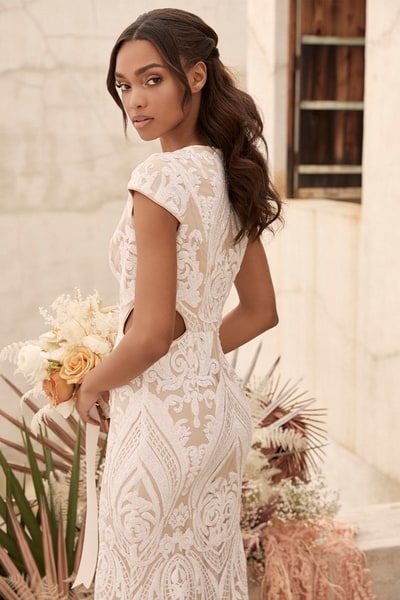 Always Adored White and Nude Sequin Mermaid Maxi Dress (currently sold out) from Lulus.
Nearly Newlywed
Nearly Newlywed is an amazing concept and is a great way to get a designer wedding dress at an affordable price! It's also a sustainable way to shop for a wedding dress. Nearly Newlywed allows brides to sell their gently used wedding dresses after the wedding. They act as a middleman to assure the gown meets their standards for quality. Nearly Newlywed is also a great place to look for dresses from past seasons, that you may have fallen in love with on Pinterest, but are no longer in stock or available at bridal boutiques.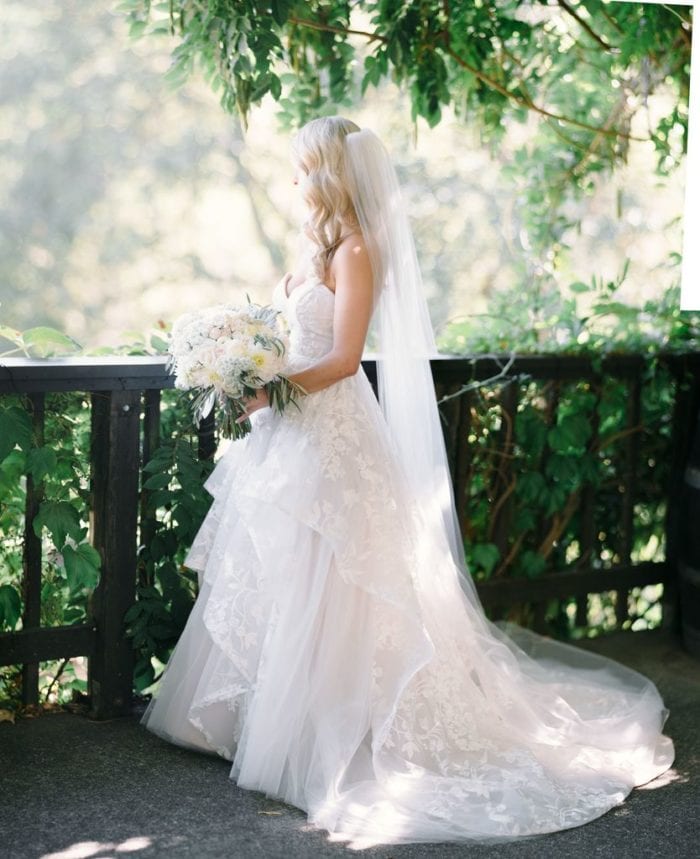 Hayley Paige Lulu Gown from Nearly Newlywed
Nordstrom
Nordstrom has every kind of dress imaginable, so it makes sense that they've extended that to wedding dresses. In their Nordstrom Wedding Suite in-store locations they have some of the top names in bridal. Online they offer dresses from Katie May, Jenny Yoo, Willowby by Watters, and Tadashi Shoji for immediate purchase and shipping.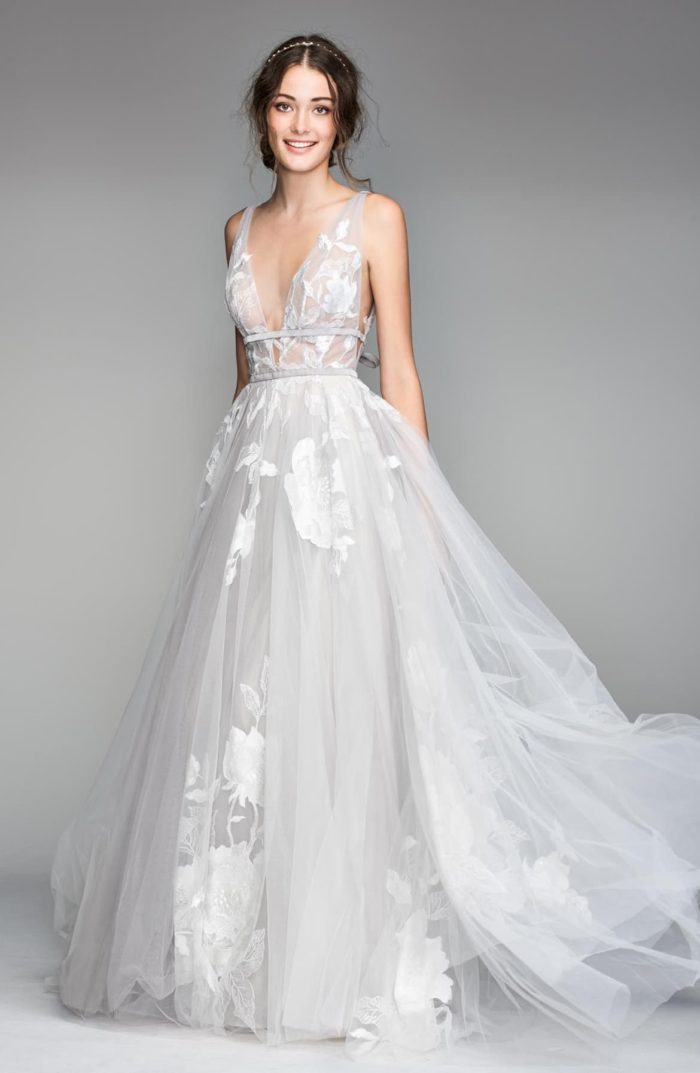 Willowby Galatea Embroidery Gown from Nordstrom
ModCloth
ModCloth has a small, curated wedding selection including long and short gowns. Now they seem to have edited that selection a bit to be more short dresses, and wedding dresses with retro style. Their selection is great if you need a simple dress for a city hall wedding, a backyard wedding.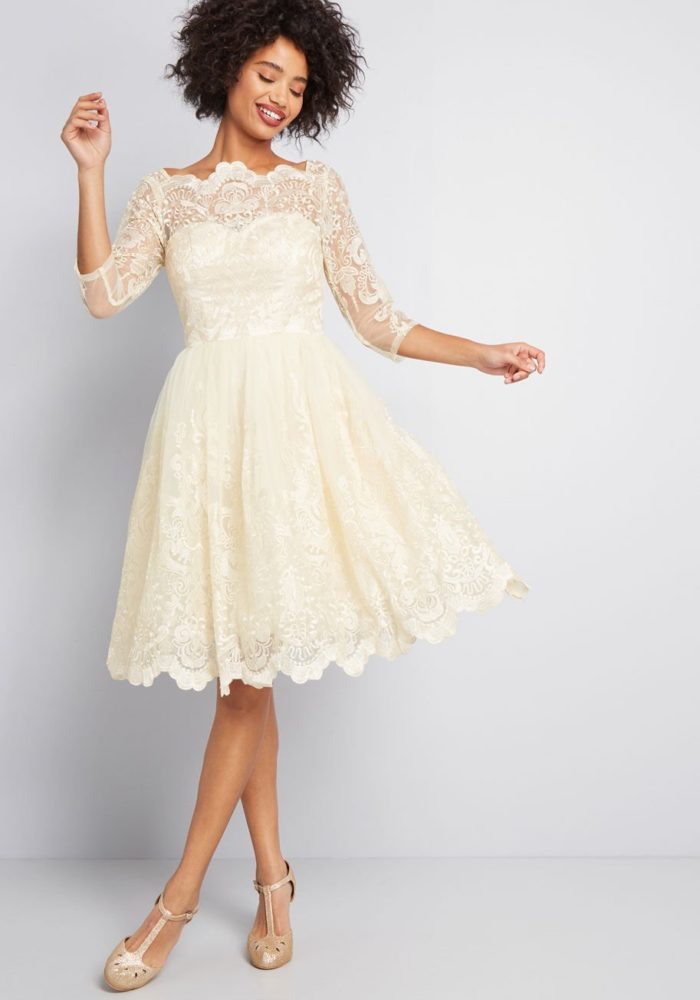 Short Lace Gilded Grace Dress from ModCloth
Revolve
Revolve is the go-to for the chicest modern designer style. They specialize in that laid-back boho cool-girl style and this aesthetic extends to their wedding collection. Revolve has white dresses for weddingsthat would suit every type of wedding event: bridal shower, bachelorette party, elopements, civil ceremonies, and every type of wedding from the backyard to beach to black tie. They also have a bridal section with wedding dresses that are absolutely stunning - and surprisingly reasonably priced, with most under $1,000. These are also great last-minute wedding dresses because they are ready to ship.
Shop Wedding Dresses
Here are wedding dresses we love from some of the shops we've mentioned above. We also have a page where we keep the top bridal gowns from the retailers we mentioned so you can easily shop wedding dresses.

You might also love some of the wedding dresses, wedding decor ideas, bridal accessory ideas, and more in our curated wedding boutique.