We always love to share the latest bridesmaid dresses offered by one of our most popular bridal designers, Jenny Yoo. Today we have for you the Jenny Yoo Bridesmaid Collection for Fall 2019. It's full of warm new hues, appealing silhouettes and necklines, and luxurious fabrics for the fall season.
Jenny Yoo Bridesmaid Dresses Fall 2019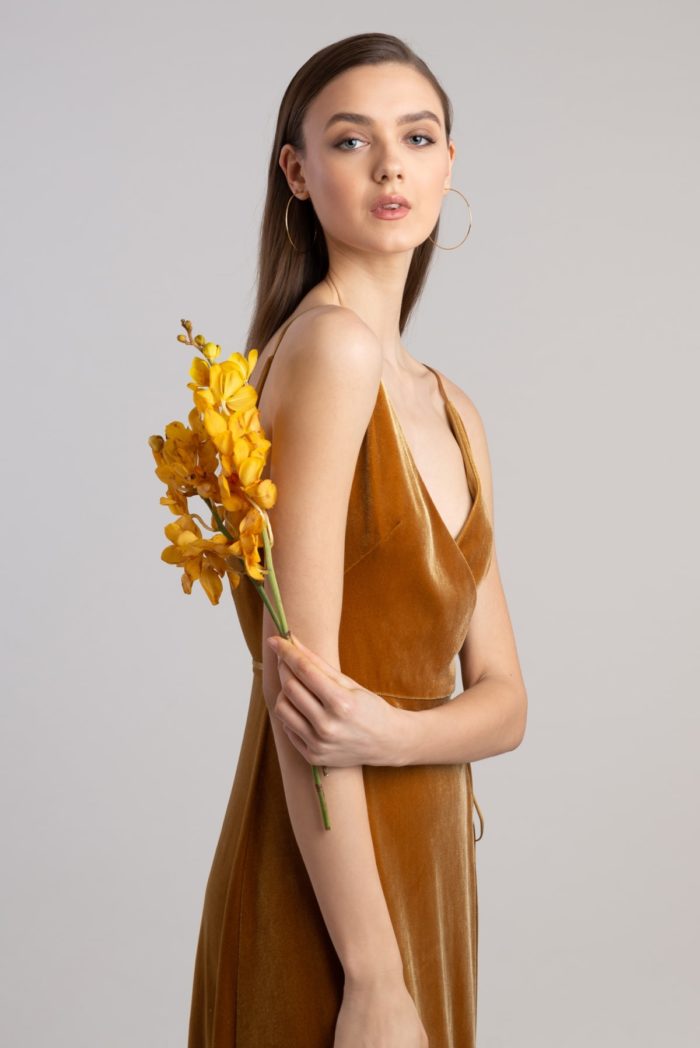 Jenny Yoo always presents the most modern bridesmaid dress silhouettes. The Fall season is a chance for the designer to blend her signature clean and sophisticated designs with the richest fabrics for colder months, in a beautiful color palette that is perfectly suited to fall and winter.
New Jenny Yoo Bridesmaid Dresses
Please enjoy these Fall 2019 Bridesmaid Collection lookbook photos by Marcy Castelgrande. For more information on any of the gowns, or to find out purchasing information, please visit jennyyoo.com.
Affiliate links are used in some sections of this post.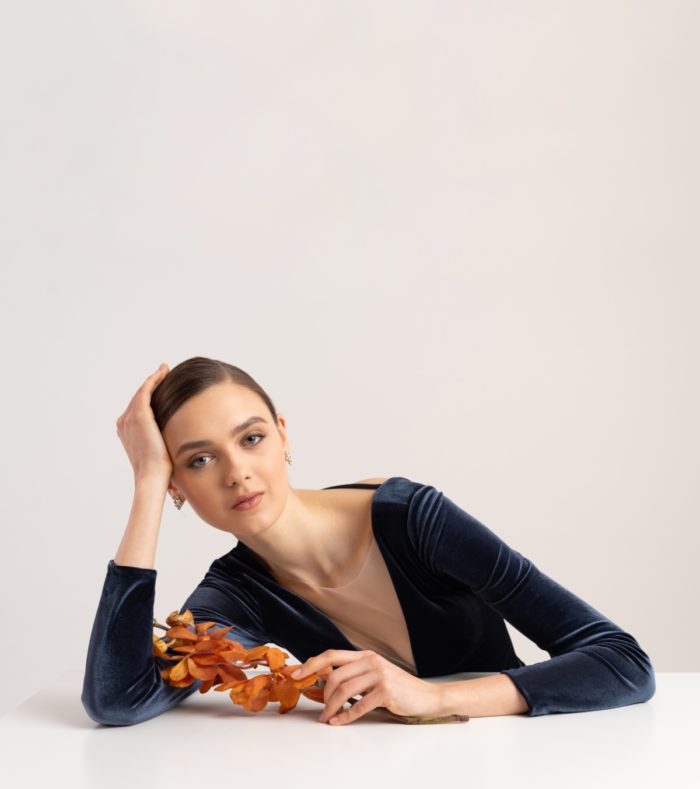 Andi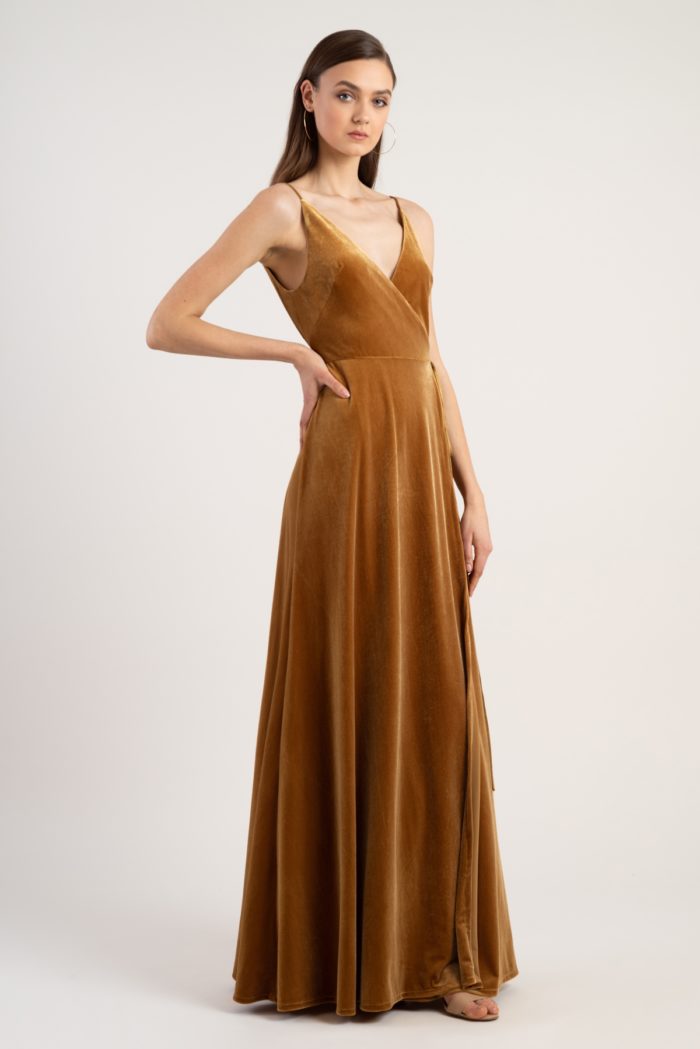 Soft stretch velvet is the highlight of this gorgeous spaghetti strap wrap dress and with V neckline.
In addition to purchasing through Jenny Yoo, Andi is available at Nordstrom.
Billie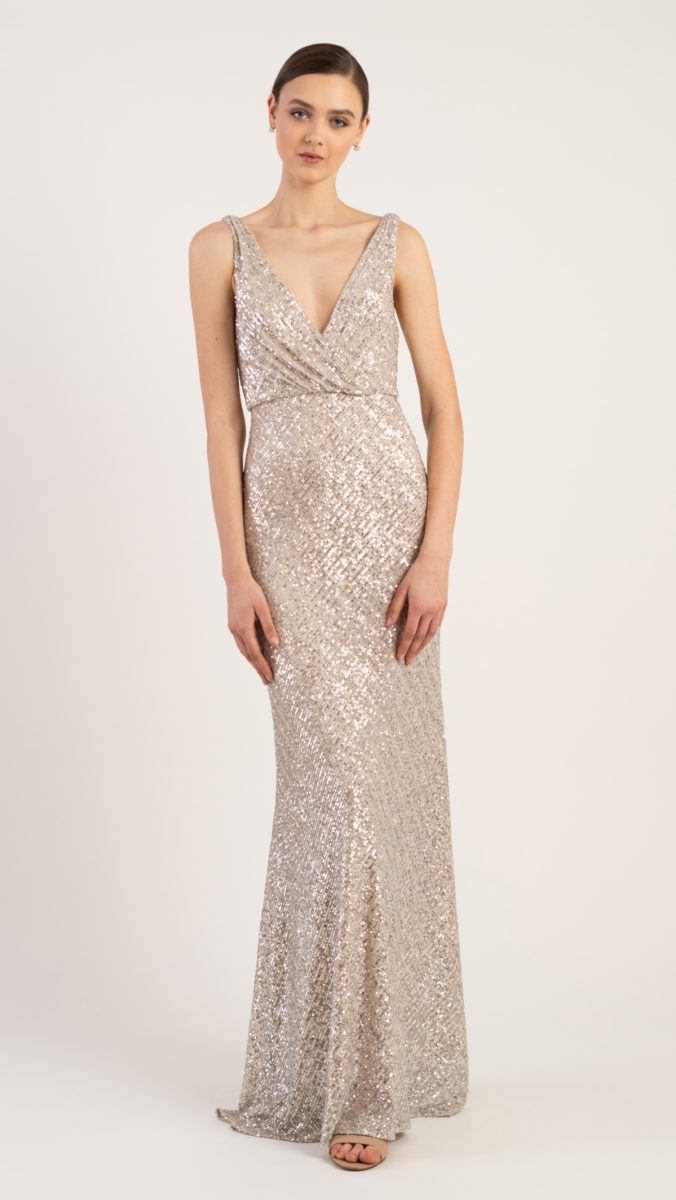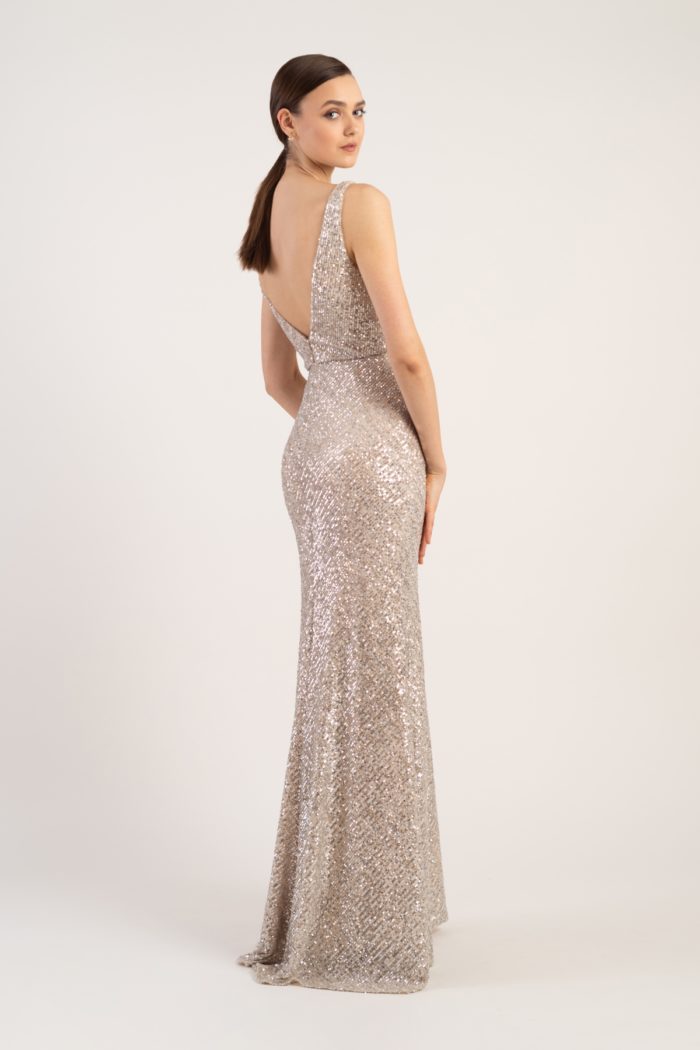 Shimmery striped sequin gown with V neckline and soft draping on the bodice and skirt cut on the bias.
Ari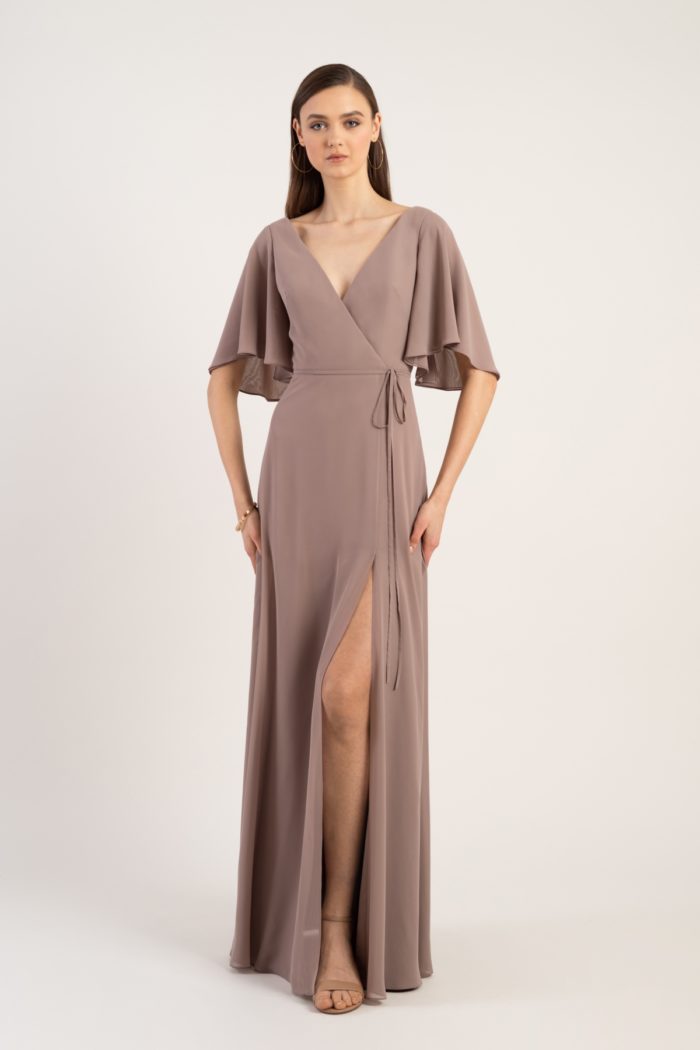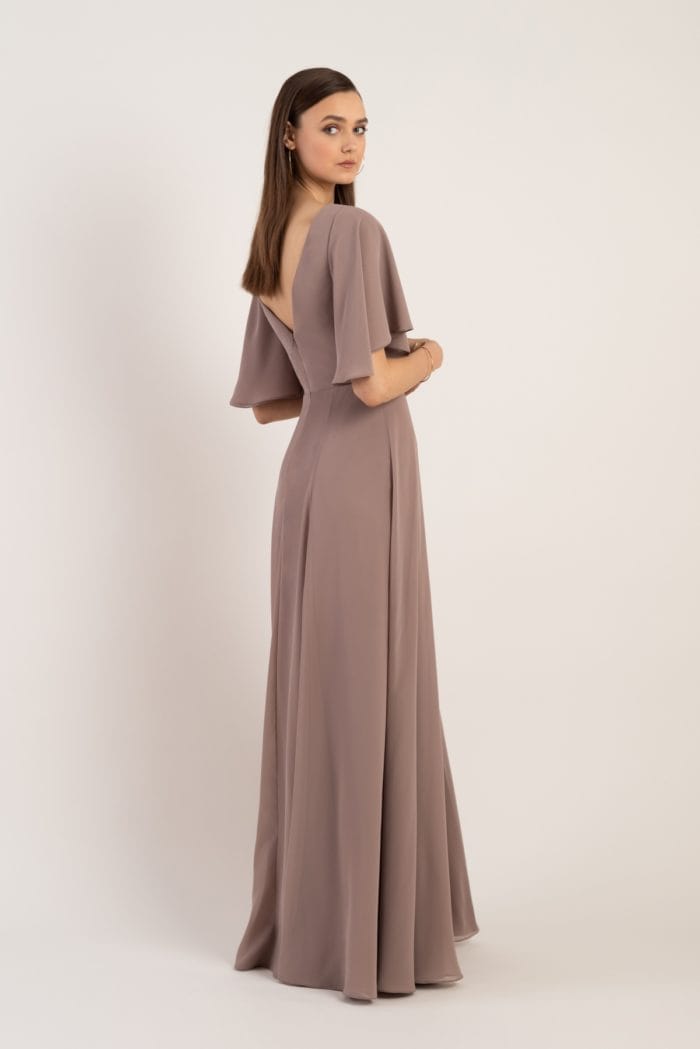 Ari is a wrap dress in chiffon that features cascading flutter sleeves and an A-line silhouette. Ari is available from Nordstrom.
Renee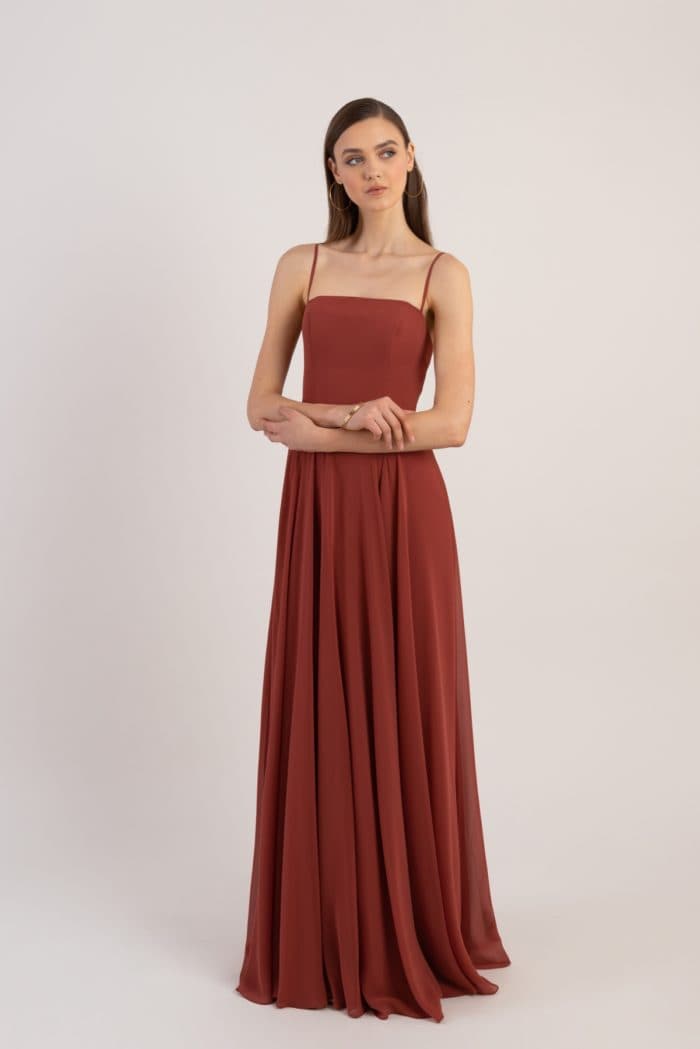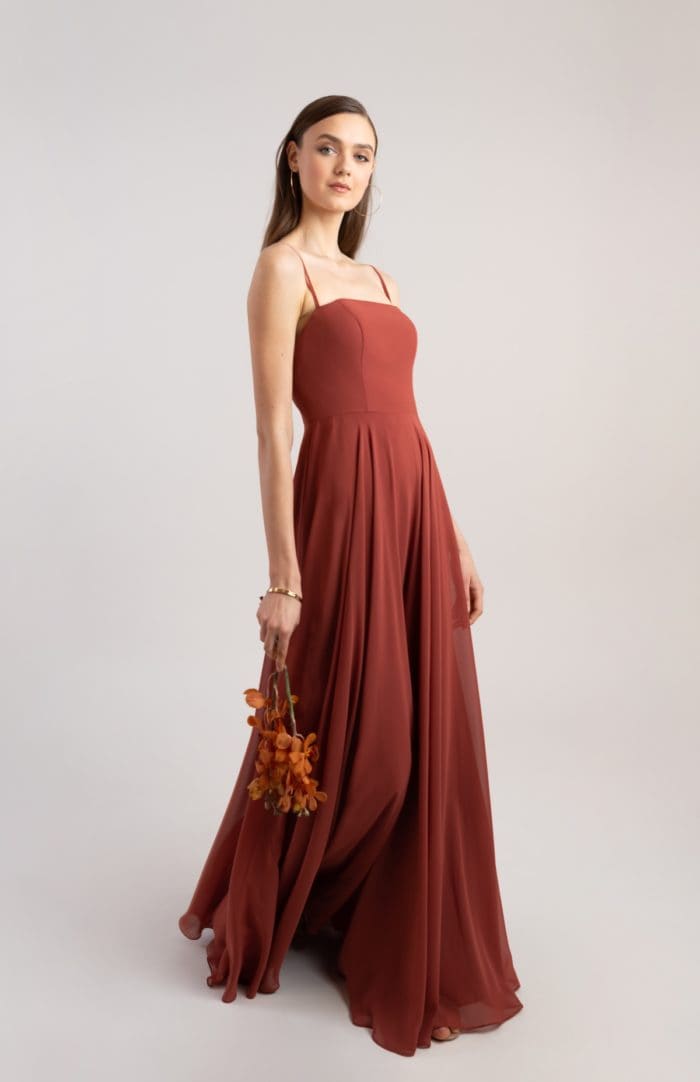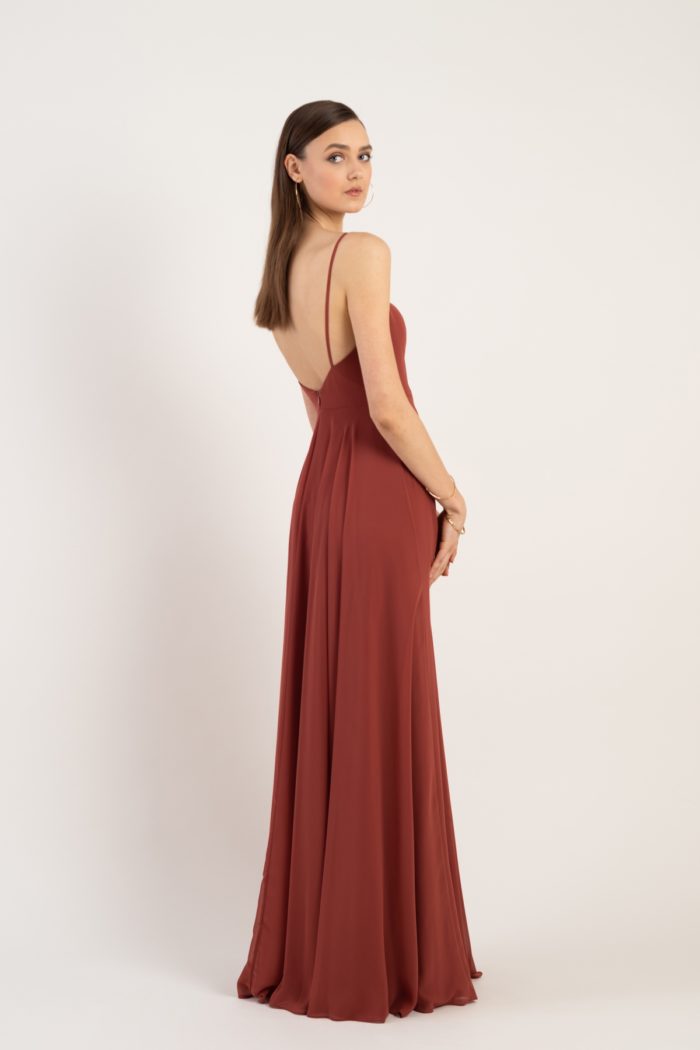 The Renee dress has a straight neckline, skinny straps and a flowy A-line silhouette in Luxe Chiffon.
In addition to purchasing through Jenny Yoo, Renee is available at Nordstorm in the color Eucalyptus.
Selma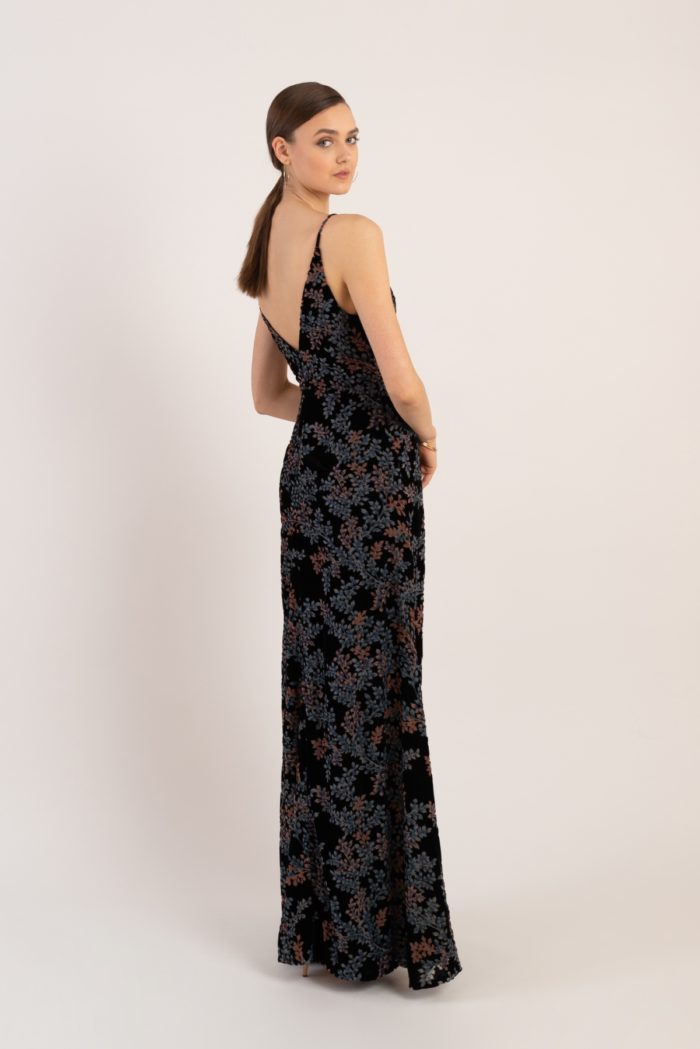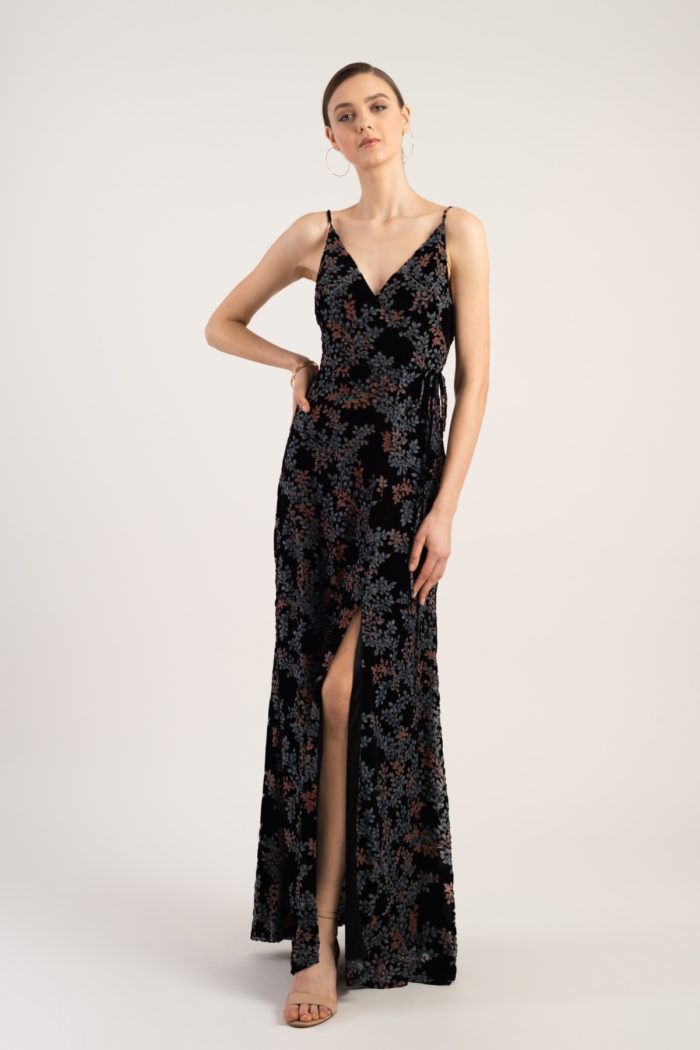 Selma dress is an A-line gown in burnout velvet with faux wrap tie detail and delicate spaghetti straps
Marin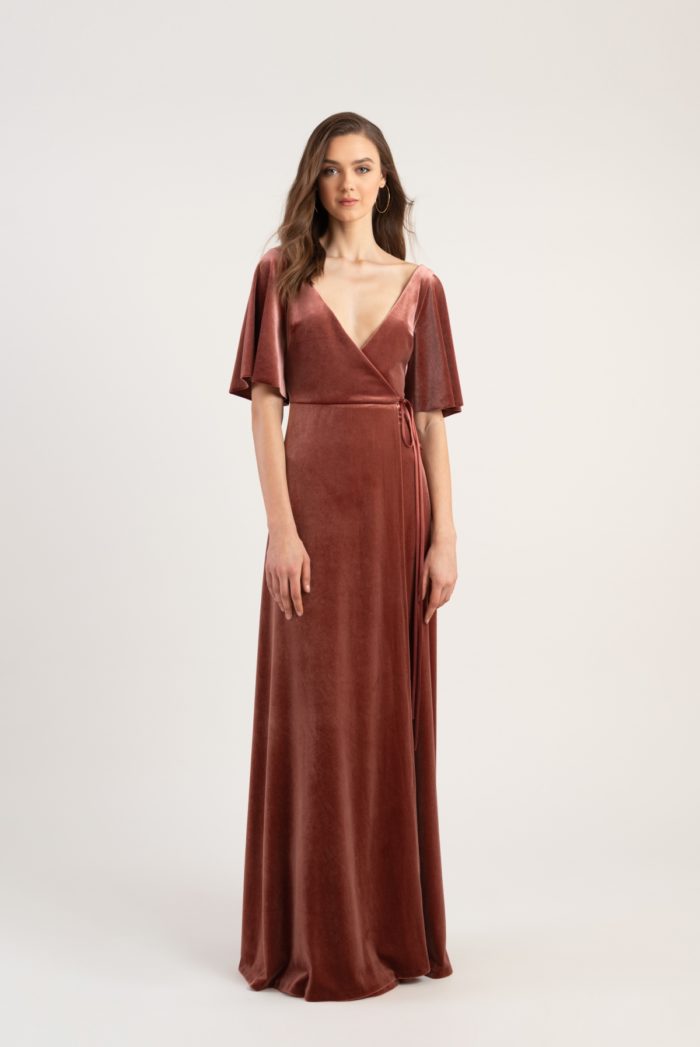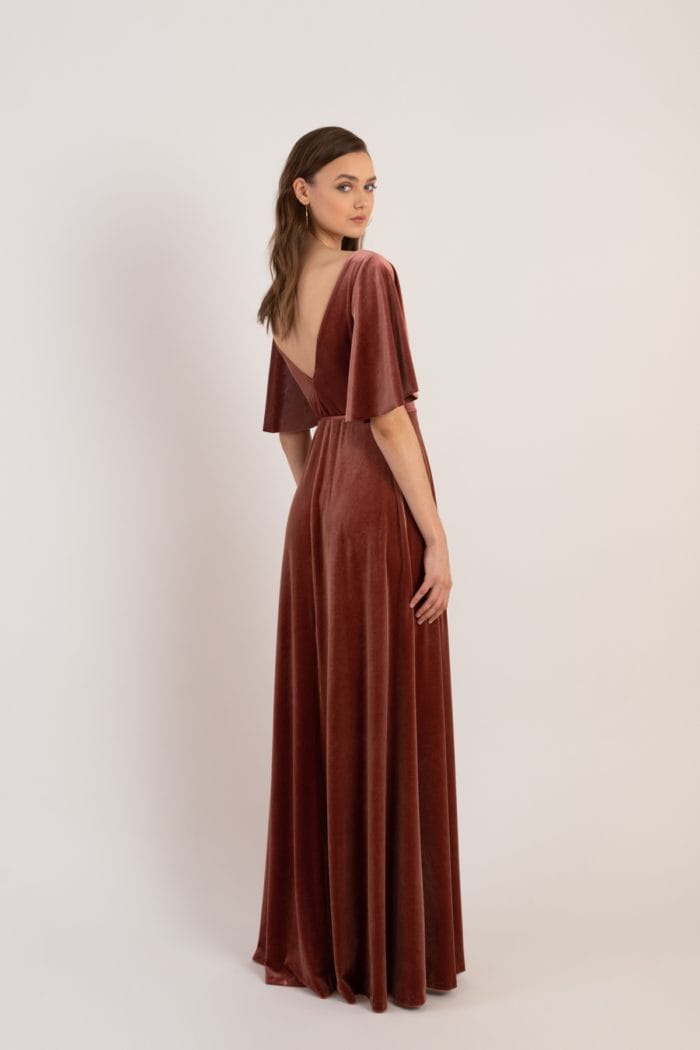 A beautiful wrap style short sleeve gown in velvet.
Marin is available in navy blue velvet at Nordstrom.
Essie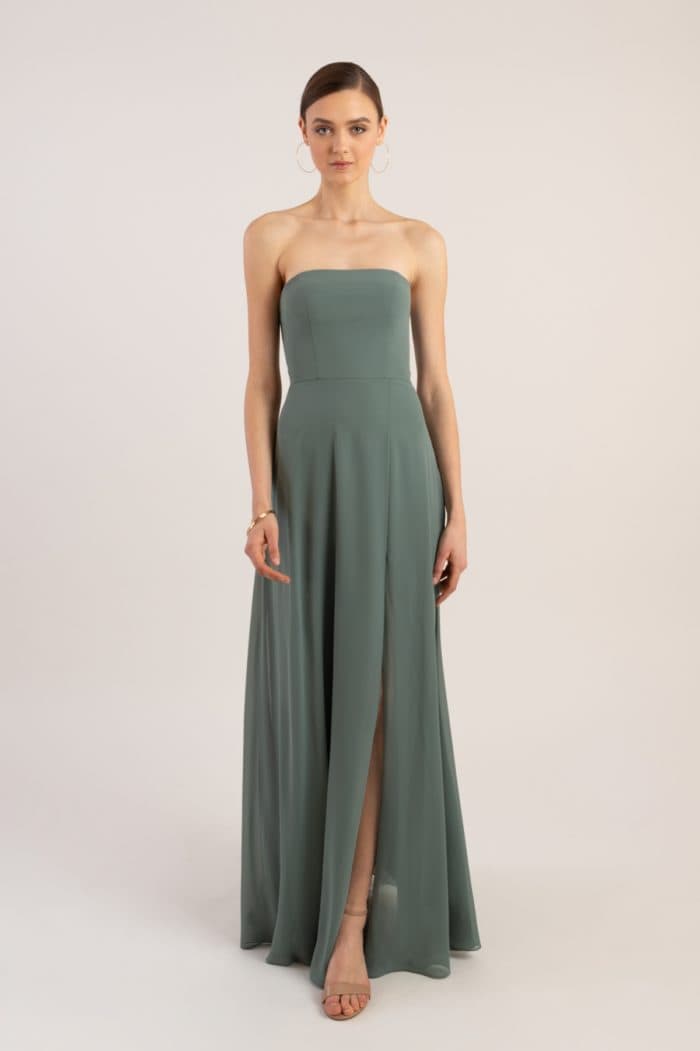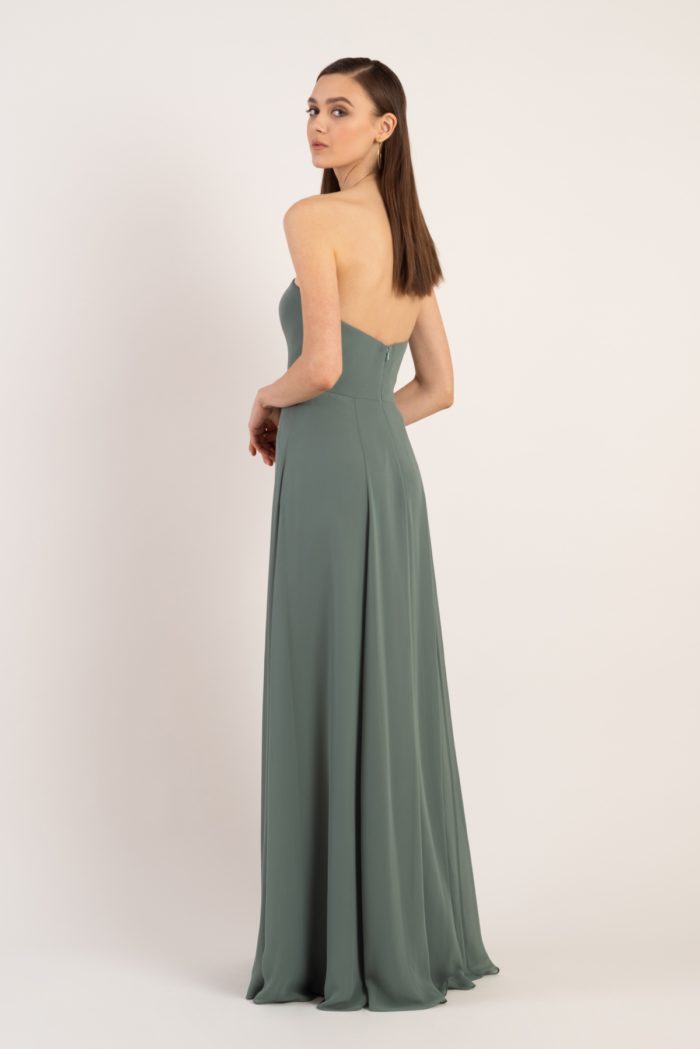 A classic strapless dress in chiffon with modern details like a fitted bodice and a slim A-line silhouette combined with its fitted bodice. Available in a huge variety of colors on the Jenny Yoo website.
Lana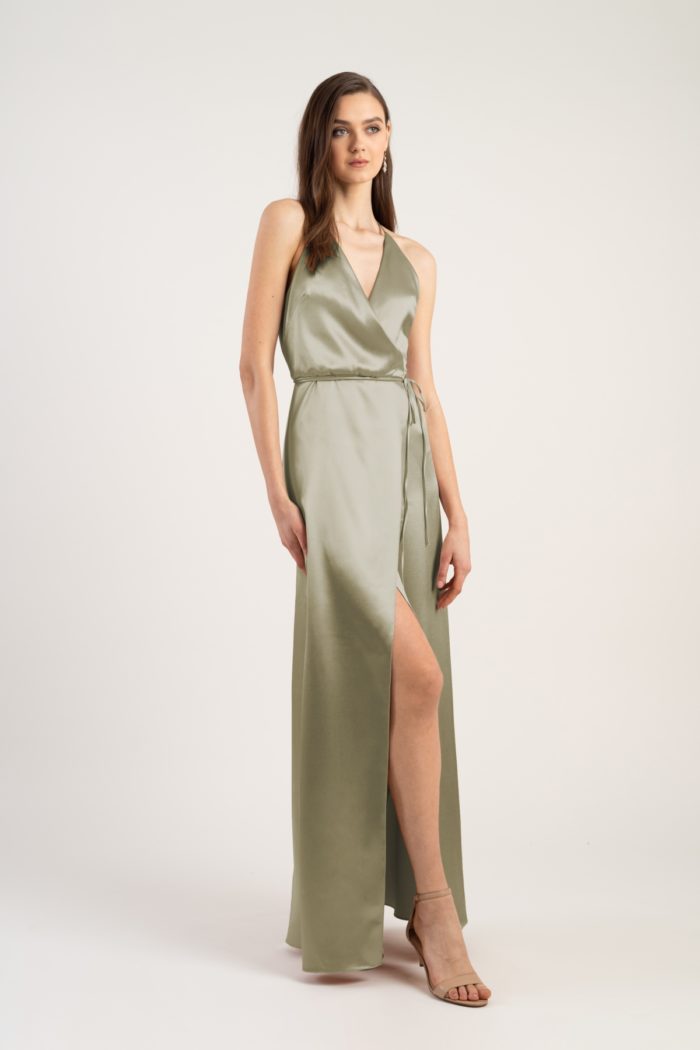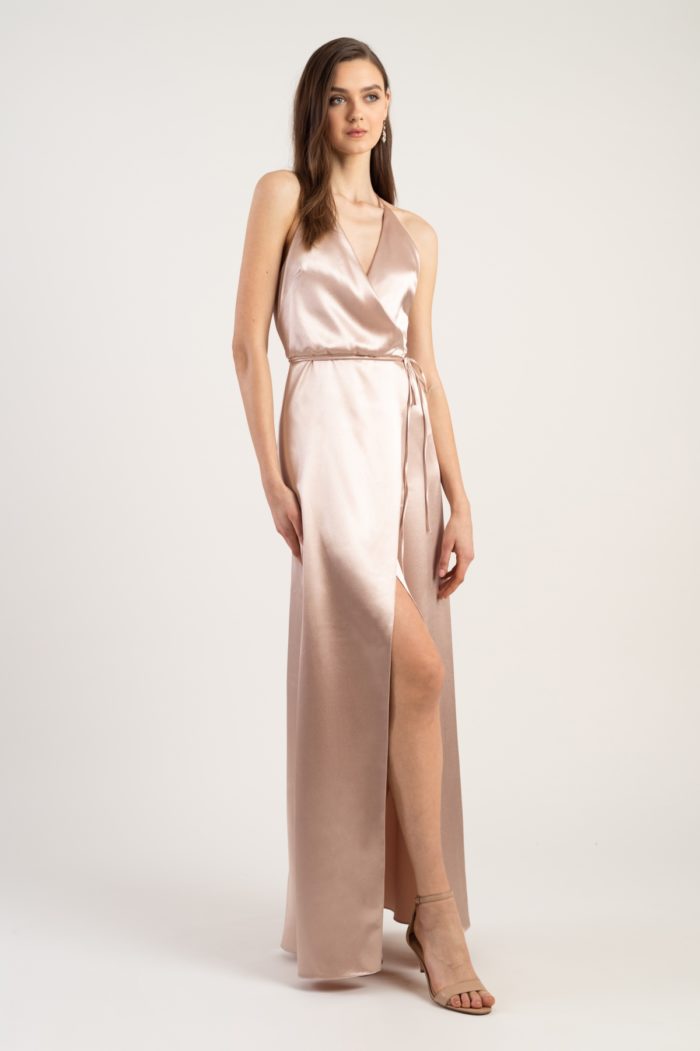 Lana dress is a sleek sating gown with a spaghetti strap halter V neckline and clean modern lines. Available in 9 gorgeous colors. Lana is available in blue at Nordstrom
Malia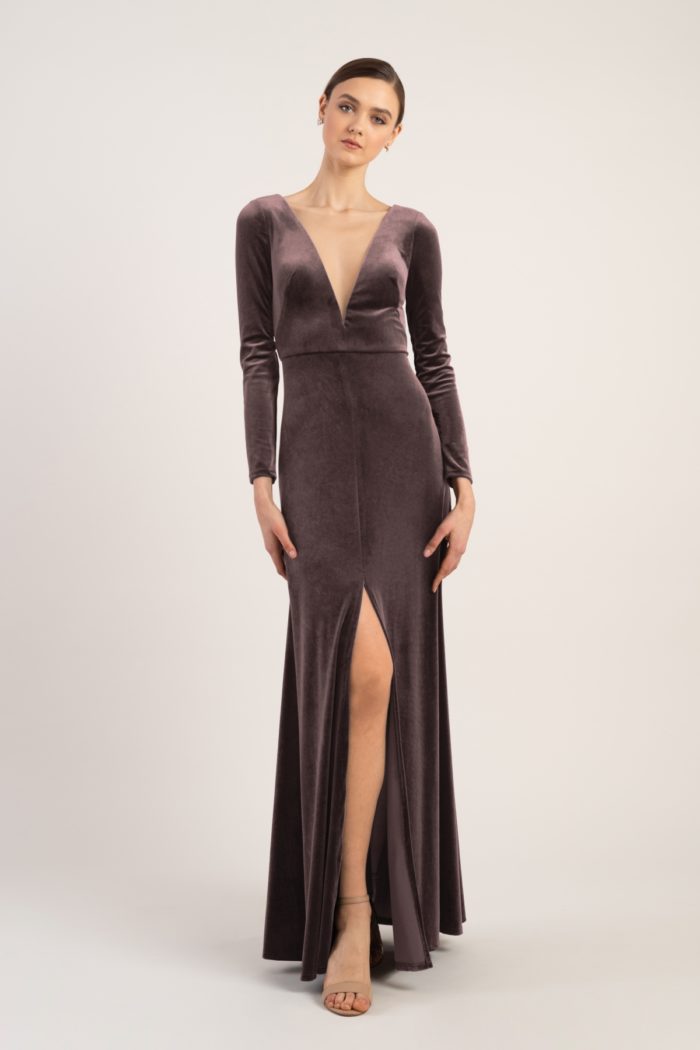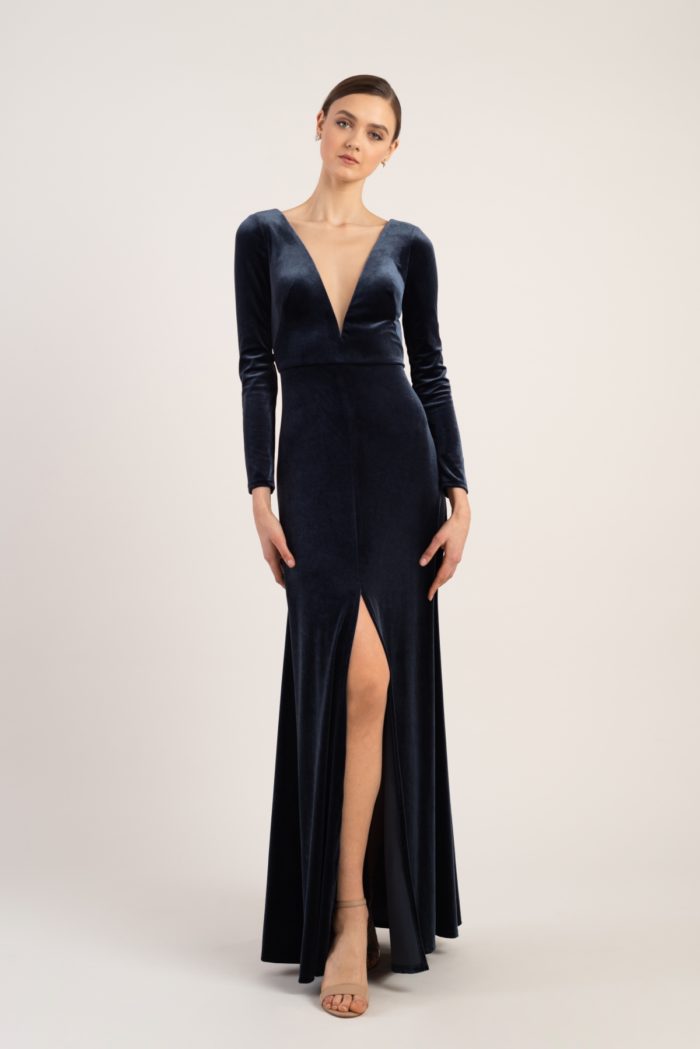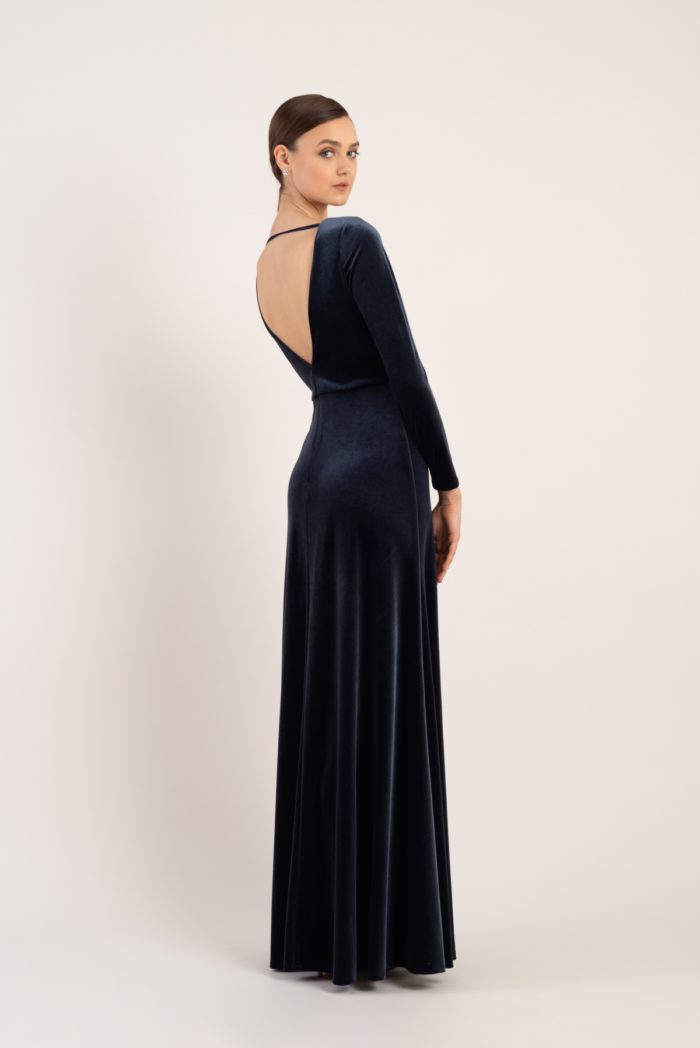 Long sleeve velvet gown with plunge neckline and leg slit. Malia is available at Nordstrom
Reign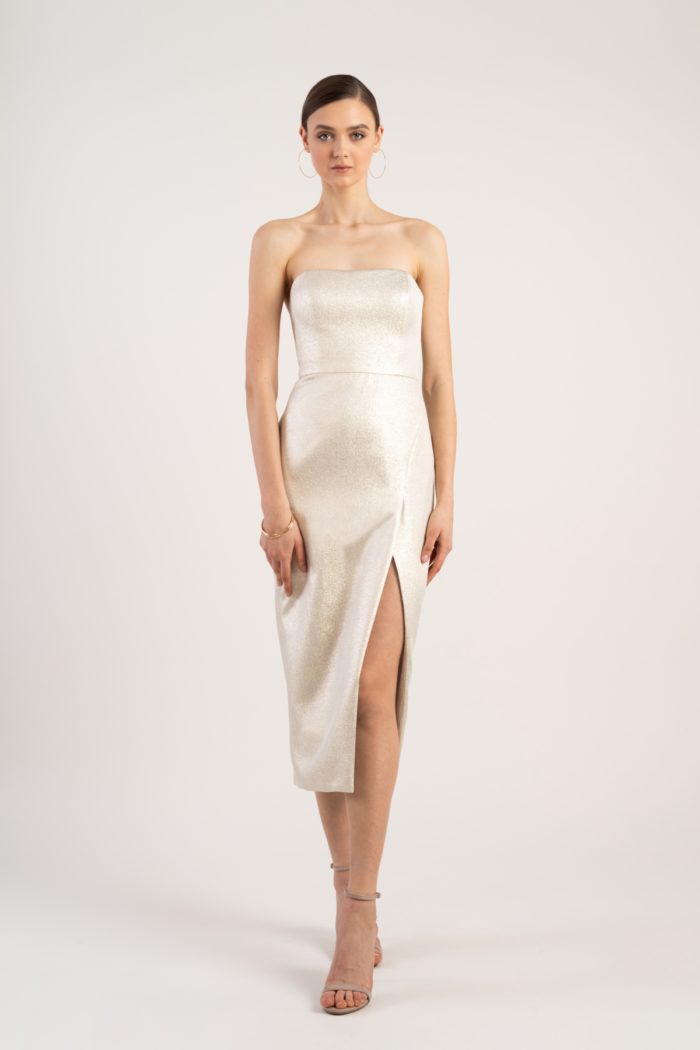 Metallic gold jacquard strapless party dress with a slim midi skirt with vented slit
Carmen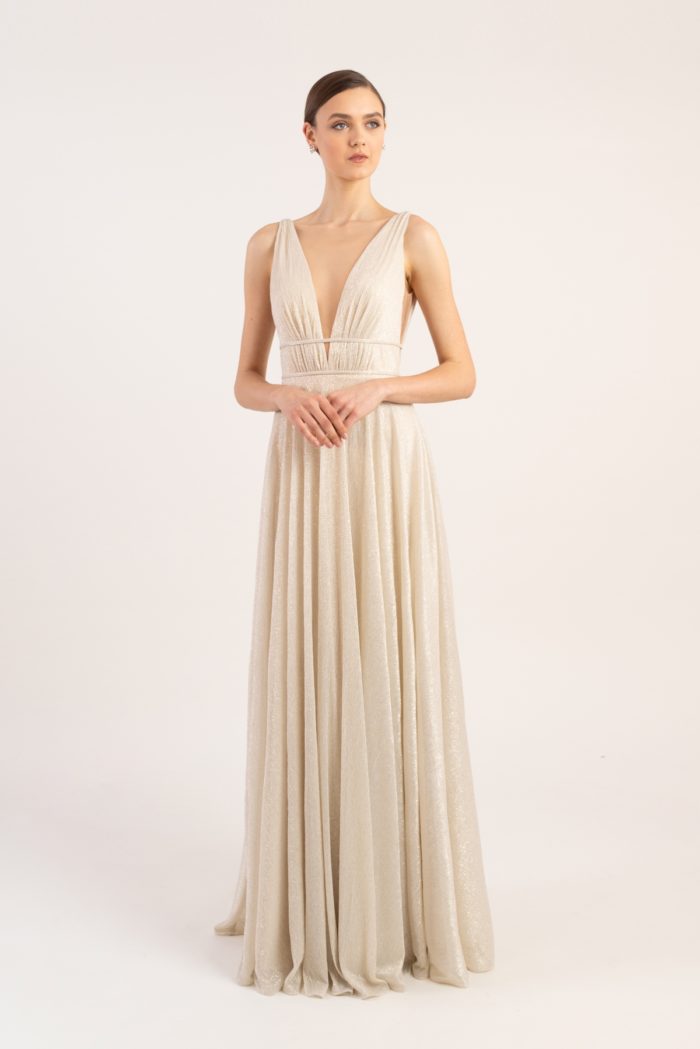 Metallic gold knit gown with plunge neckline
The Design Inspiration for the Jenny Yoo Bridesmaid Collection for Fall 2019
The design inspiration for this collection from the label is described as:
Fall's Bridesmaid collection favors innovative combinations of texture and statuesque lines, built to pair with Jenny Yoo's most attractive styles and fabrics. Each flirty silhouette exudes an elevated and fashionable mix of sultry details, impeccable fit, and alluring necklines. Sleeves were explored in a big way presenting flutter chiffon and sculpted luxe velvet. Velvet continues to inspire as Jenny introduces four new styles, a burnout print, and the rich color crush, Marigold.
Jenny's signature color palette comes to life by adding gorgeous Sage and Eucalyptus hues. Reflecting the most engaging shades across Jenny's assortment, English Rose, French Blue, Whipped Apricot, and Quartz are exposed in a new array of fabrications.
More Dresses for Weddings by Jenny Yoo
See more of our features of other Jenny Yoo Collections including the Jenny Yoo Spring 2019 Bridesmaid Dresses, the Fall 2019 Jenny by Jenny Yoo Collection, and Jenny Yoo Collection Wedding Dresses for 2019, and our shop section for all Jenny Yoo Bridesmaid Dresses.
Shop Jenny Yoo Dresses
Colors shown are just one representation of the available shades. Most of the luxe chiffon styles are available in a large range of colors offered by Jenny Yoo. To order from Jenny Yoo or to find a Jenny Yoo bridal boutique near you, please visit the Jenny Yoo website.
Jenny Yoo bridesmaid dresses are also available at BHLDN and Nordstrom; you can shop our favorites below!
Affiliate links are used in the shopping links in this section of this post. This means this blog may earn a small commission if a qualifying purchase is made.