Wedding Skin Care Routine
Today, I'm honored to be featured on the blog It's Like This (www.itslikethisblog.com) by my new blogger friend Meredith.  As a part of her blog's features, Meredith frequently asks people to share what's on their vanity. We decided that since I write Dress For The Wedding, it would be appropriate if I did a wedding edition.
That was actually easy to do since so many of the products I use now were discovered through my wedding day beauty blunders and triumphs. Be sure to head over to It's Like This to read more of Meredith's wonderful posts, and to get the full details on all of my wedding beauty routine misfires.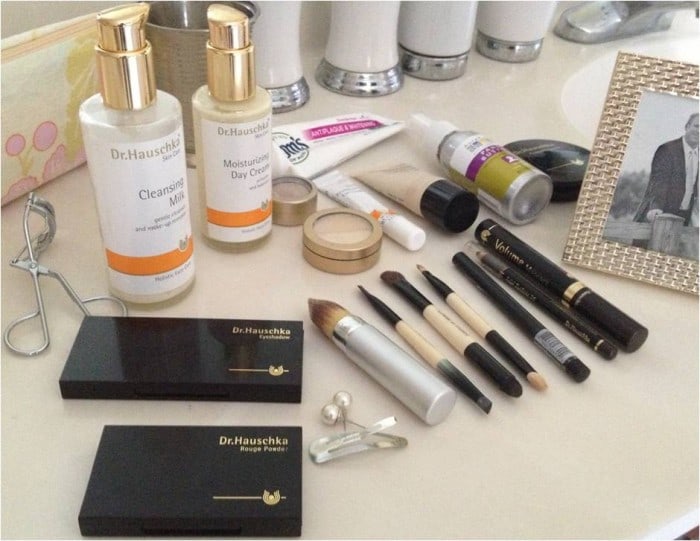 Image by Sukey Murphy. Black and white photo credit: Melissa Koren
Products
Makeup Bag  Here's something I wouldn't change about my wedding!  I bought all of my bridesmaids a small makeup bag from Sweet Sugar Beet on Etsy and filled it with all kinds of stuff. The shop owner was great about allowing me to customize bags, and my bridesmaids loved them. I liked them so much I got a set for myself in various sizes, and I use them daily.
Dr. Hauschka Cleansing Milk  This cleansing milk really removes makeup thoroughly and leaves my skin soft.
Dr. Hauschka Moisturizing Day Cream  This is the face cream that I use in the morning after I wash my face. It absorbs into your skin almost instantly and I see my skin actually perk up immediately. It also smells good and makes makeup go on really smoothly and evenly, so it would be perfect underneath wedding makeup.
Jane Iredale Lid Primer Jane Iredale is my other natural skin care go-to. I bought this because a makeup artist once told me I had oily eyelids (Gee, thanks!) But it was true – anything I put on my lids used to just slide off. It actually moisturizes and helps a makeup grip bit. It's shimmery, so I also sometimes use it as highlighter.
Jane Iredale Circle /Delete  This is supposed to be mainly an under-eye concealer, but I love the texture so much that I use it more for concealer/highligher all over my face. It really seems like the emollients in it also help heal minor blemishes faster. Again perfect for any wedding day breakouts and a bright undereye look.
Dr. Hauschka Revitalizing Eye Cream This gets my gold star award for one of my best beauty product purchases ever. It instantly makes my eye area look peppy, I really think it has actually reversed some of my squinty wrinkles. I would recommend this for any wedding day makeup kit.
Dr. Hauschka Foundation  At first the color seemed a little ruddy on my super-pale skin, and it has a little scent to it that makes it earthy smelling. Now I'm completely used to it and realized the ruddiness was just high pigmentation, and the color actually works perfectly for me especially when used in conjunction with the Jane Iredale concealer and when blended with a brush. This also last forever. I've had this tube for months.
Dr. Hauschka Eyeshadow I should have opened the case to show the color, but there are 4 colors of white, light brown, and dark brown neutrals. This has also lasted over 6 months, and I haven't hit bottom yet in even the most used shade.
Dr. Hauschka Rouge Powder I have a hard time finding the right blush color, but I'm really happy with this set. It has two hues of pink in there, and again, I have had this for 6 months but I still haven't seen that tell-tale bottom of the tray yet. This blush would have been great to make me a blushing bride.
Retractable Foundation Brush / Dual Sided Makeup Brushes  I don't always watch Keeping up with the Kardashians, but when I do,  I spend a good amount of the time wondering how Kim Kardashian gets her makeup to be so perfect. This drove me to YouTube one day, where I watched a video of how she applies her makeup.  After seeing the number of brushes she used, I realized  that maybe my own finger blending method wasn't going to cut it. I "invested" in this inexpensive little set of brushes from CVS, and it actually does make a huge difference. I can actually use less product and be more subtle and precise with foundation concealer and my eye makeup.
Liquid Pen Eyeliner Not a natural product, but I can't do the true liquid eyeliner without dripping – this pen makes it much easier so I keep it on hand when I want a more dramatic look.
Dr. Hauschka Liner in Espressivo  A nice dark brown kohl  pencil that has lasted forever. I use it daily and I love how it blends!
Dr. Hauschka Mascara  Great for daily use because there is no irritation, but I confess, I sometimes go for the Maybelline Falsies kind when I want my eyes to be a lot bigger.
Read here for the full list of products!
Shop The Post: