Winter Groom's Look: Classic Black Tuxedo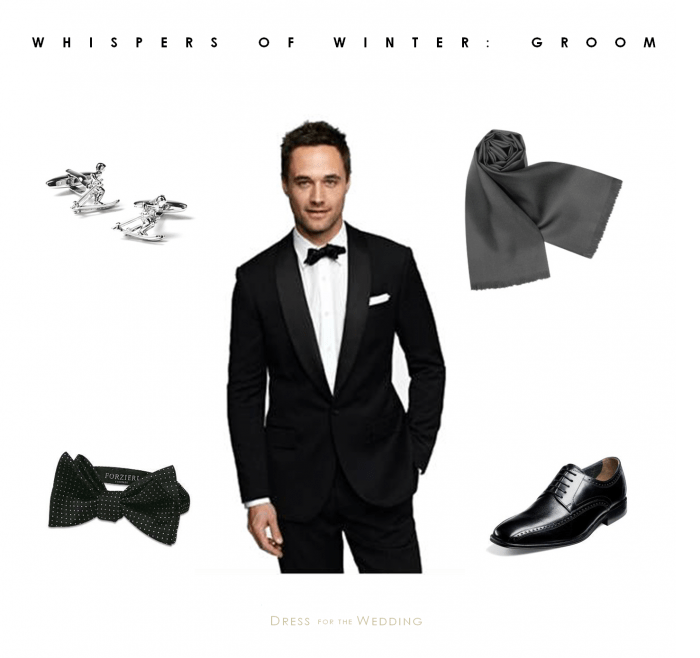 J.Crew Ludlow Tuxedo Jacket / J.Crew Ludlow Tuxedo Pants /Forzieri Solid Silk Scarf / Florsheim Orlando Mens' Leather Bic Toe Lace up Shoe /Forzieri Polka Dot Silk Self-tie Bowtie  /  Skiing Cufflink by Enrico Pardini - Silver Rhodium
There's nothing more classic than a groom in a tuxedo with shawl collar like this one, with an elegant tie for a winter wedding. If you're lucky enough to get snow falling, the black tux looks so sharp against the white background. You can't fool around with a tux too much, and you don't need to -- just pair it with a white shirt, and some shiny, well-made formal shoes.
I'd recommend just adding a few subtle pieces of personality, like these little dots on the otherwise black bow tie, and the whimsical skier cuff-links. I think adding a rich, wool, opera scarf for the groom to wear during outside picture taking adds some fun to the winter spirit, too!
I hope these frosty whispers of winter have actually warmed your heart. Until next month, enjoy the holiday season!
Shop The Look:
More style ideas you might enjoy :