Feminine Tailored Tuxedo
This wedding outfit idea uses affiliate links in shopping sources in images and where noted in italics.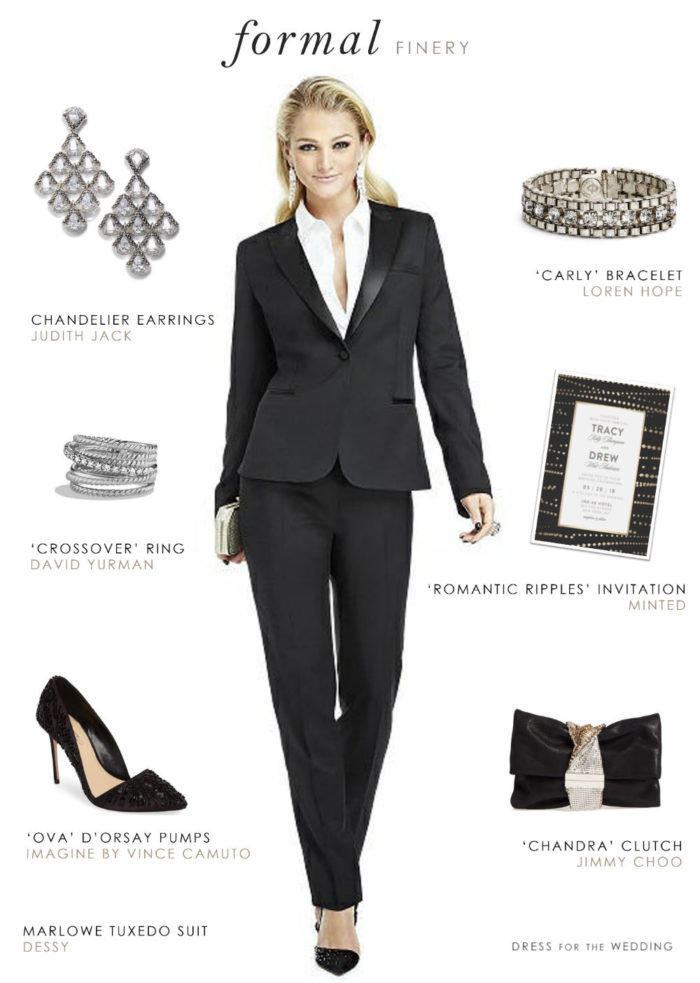 Tuxedo: Marlowe Tuxedo Jacket with Peak Collar from Dessy Pants: Marlowe Tuxedo Pant | Earrings: Judith Jack Semiprecious Stone Chandelier Earrings from Nordstrom | Bracelet: 'Carly' Crystal and Chain Bracelet by Loren Hope from Nordstrom | Invitation: Romantic Ripples Invitation from Minted | Clutch: Chandra Shimmer Clutch by Jimmy Choo from Nordstrom | Shoes: 'Ova' d'Orsay Pumps by Imagine by Vince Camuto | Ring: Crossover Wide Ring with Diamonds by David Yurman from Nordstrom
Tuxedos for Women
My usual posts have been on hiatus here for a few weeks, so this post was started a little bit before New Year's Eve, where I intended to show this tuxedo style for an option for not only a wedding, but perhaps a New Year's Eve event or wedding or for anyone wanting a polished feminine tuxedo like this one. Since then, several awards ceremonies have happened and some of the best looks featured women walking the red carpet in suits, so the timing of this post is delayed, but perhaps even more relevant for those who may have been inspired by those looks.
Women's Tuxedos and Suits for Weddings
With a site named Dress for the Wedding, and an inherent love of the styles of so many wedding-ready dresses, I am realizing that I overwhelmingly tend to focus a little too much on dresses!
However, in "real life" the majority of my outfits include pants on most days - so why not include more of them for wedding looks?
Fortunately, I think there are starting to be many more beautiful options for women's tuxedos, pants, wedding jumpsuits, suits for brides, and I can't wait to feature more of them here. Suits and pantsuits are a great option whether you're the one getting married, you're a groomsmaid, or you are a guest in search of a formal style. Formal weddings don't have to mean a floor-length gown, and the tuxedo look is the most formal of these styles.
Where to Find Women's Tuxes
While many retailers like Ann Taylor, J.Crew, and Nordstrom offer beautiful suits for women, it can be harder to find a special occasion suit that has a fabric and tailored style that befits the a formal wedding aisle and is elevated beyond the usual workplace suit.
If you're searching for more tuxedo styles with feminine tailoring, please also check out Little Black Tux and Her Tuxedo who specifically tailor their lines for women. Custom tailoring is the best way to ensure a perfect fit and style, and having a custom suit made for your wedding is a beautiful way to make the occasion and look special. Bindle and Keep is one place we know of that creates custom suits and tuxedos. Also be sure to check out the offerings on Etsy, like VigilanteLabs who specialize in women's wedding suits and tuxedos.
If you're seeking more ideas, here are a few more looks you might like, and I'll try to be better about showcasing more women's suits and bridal jumpsuits for weddings!
Tuxedo Suits for Weddings
Links and images in the Shop the Look section are affiliate links from our sponsoring shops.

More style ideas you might enjoy :