Yellow Dress with Turquoise Accessories
Today's color pairing is the fresh combination of yellow and turquoise. I think these colors work so well for the transition from fall to summer, but can also be great for spring through the summer months, too! I have been really in love with colors and styles of the latest collection of Jenny Yoo Social dresses, and this one-shoulder ruffled style called "Lulu" is a favorite of mine. It comes in blue, green, and a kind of coral melon color, but I was really drawn to this bright yellow for fall.
Affiliate links are used in this post.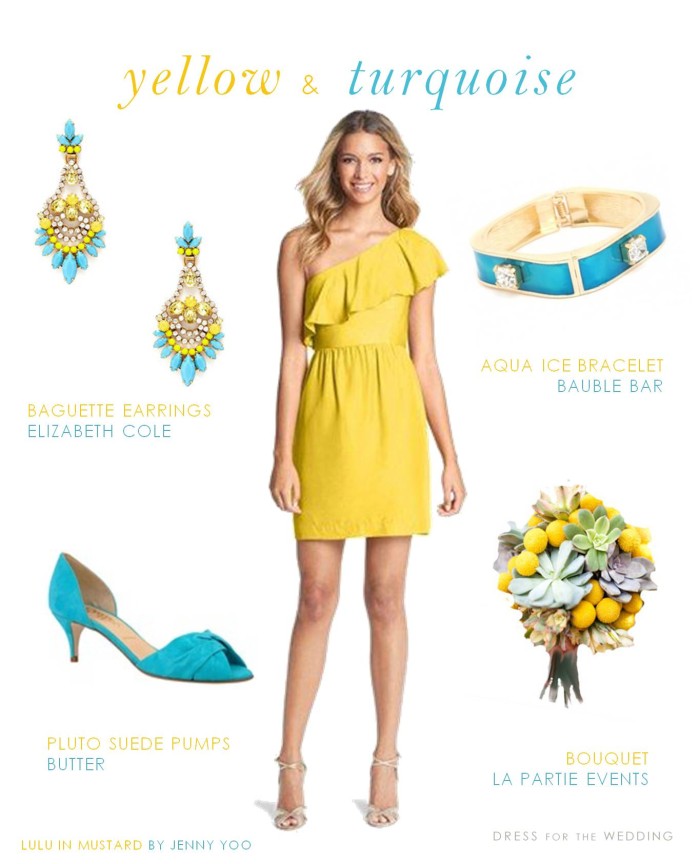 Lulu Dress by Jenny Yoo / Elizabeth Cole Blue and Yellow Crystal Chandelier Earrings /Aqua Ice Bangle from Bauble Bar /Craspedia and Succulent Bouquet via Brides Design by La Partie Events / Butter Shoes Pluto Pumps
These dresses are designed to suit both bridesmaids and party-goers alike, so this outfit could be for a fall wedding guest just as much as the wedding party ( just leave out the bouquet if you're a guest, of course!) I know many bridesmaids who find yellow hard to wear, but in a vibrant hue like this, it actually makes it compliment many skin tones -- especially with a pop of blue. It also looks fantastic in photos!
The pairing of colors turquoise and yellow isn't often seen, but they seem natural together. As you can see, it looks great in those earrings, and can also be found in the bouquet. The dress is the exact color of those Craspedia ( Billy Ball) flowers, and the succulents can have a greenish-blue turquoise tone to them.
These bright party colors would look great for a rustic wedding theme, a Southwestern wedding theme, but could also be right at home in a modern city wedding because of the bold colors, and statement earrings and shoes. No matter how you wear it, I hope you love this eye-popping combination of turquoise and yellow.
For more inspiration check out this turquoise, yellow and peach board on Burnett's Boards, and this turquoise and yellow inspiration on Paper Muse Press and this pretty muted turquoise and driftwood pairing on Fly Away Bride.
Be sure to follow me on Pinterest for more inspiration!