Poppy Red Bridesmaid Dress
I tend to pick colors for my styling ideas a little capriciously -- mostly depending on what inspires me in the days before I write my posts. But at some times, like today, I start to feel like things might be getting a little too random.
When I encounter that same feeling in life, I tend to put things (especially my closet) in order of color. (Honestly, I'm not that organized, so it must be a carry-over from my retail days!)
So, in order to make sure I have a post for every color of the rainbow, I've made a list I'm going to try to start posting a few styles in each color. Starting at the top of the rainbow, today's choice is a poppy red dress and poppy red accessories for bridesmaids. If you'd like to see more red bridesmaid dresses, check out this page.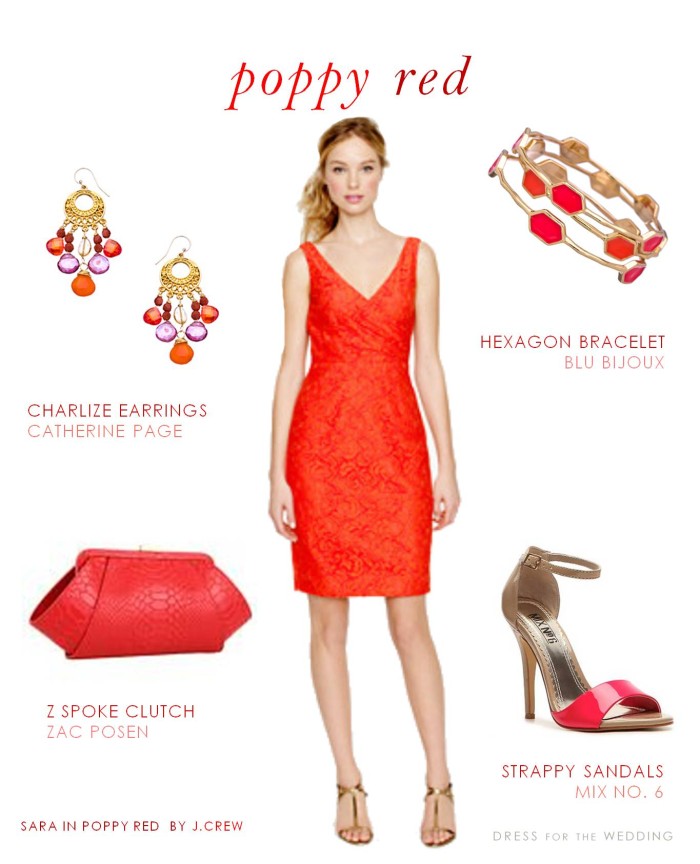 Sara Lace Dress in Poppy Red from J.Crew / Catherine Page Earrings in Orange /Blu Bijoux Coral Hexagon Bracelet / Z Spoke Zac Posen Clutch in Poppy / Mix No. 6 Charlie Color Block Sandal
As you'll notice, poppy red by itself packs quite a punch. I'm showing this monochromatic look so that you can pick and choose your own concentration of poppy pieces, but you'll probably want to pick 2 pieces and break some of this up with gold, another shade of red (either lighter or darker) or a bit of orange or pink, or a completely contrasting blue.
If you're a wedding guest, you may be wondering  if you should wear this color to a wedding. I think wearing all red (for example, this dress and wearing all of the accessories shown) would be a bit much,  and red lace is quite a statement, too  so this wouldn't be my first choice (especially because it's being marketed as a bridesmaid dress).   I think red dresses in general are fine to wear, but just don't go overboard with this color, and don't wear a revealing style -- a little red goes a long way! If you're questioning it, it's probably too much.
For ideas for how to mix poppy red with other colors for your wedding, I have recently been absolutely loving the contrast of poppy red and hot pink, like the shades seen in this bouquet.
Via Style Me Pretty Photography: Jose Villa Photography, Floral Design: Flowerwild
You'll also want to see this amazing use of poppy red and blush in this inspiration by Elizabeth Anne Designs.
To see more examples of how to mix poppy red with other colors for your wedding,  check out my red wedding Pinterest  board.