3 of the Best Lipsticks for Brides
Introducing Clinique's 'Kiss the Bride' Collection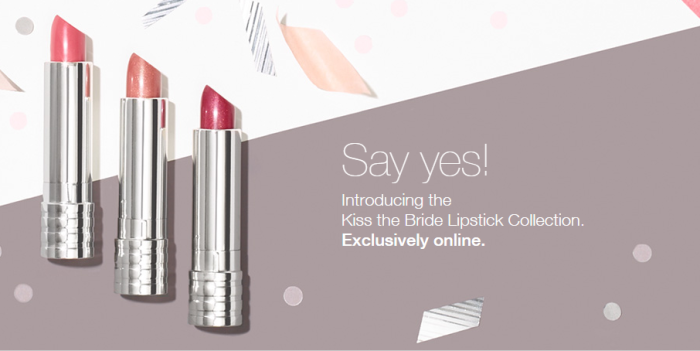 Best Lipsticks for Weddings
Note: This post about best wedding lipsticks uses partnered links. In addition, Clinique has graciously provided complimentary samples of all lipstick shades for our trial and review.  All words and opinions are those of the editor of Dress for the Wedding.
Affiliate links are used in product listings, meaning this site may receive a commission for purchases or clicks made through links in this post.
Update: This collection of lipstick colors from Clinique is sadly no longer available, but this same formula is available from Clinique in different , but similar colors.  Also check out this shop section with other lipsticks we love for weddings!
SHOP THE LOOK

----
I mainly show dresses and accessories here on Dress for the Wedding, but on your wedding day, your makeup is definitely one of those key accessories! And perhaps no part of your makeup style gets more attention on that day than your lips! Your wedding day lipstick not only needs to be a special stand-out shade, but also needs to be long-lasting and a pretty color that gives you a little bit of presence in pictures. Even if you usually wear just swipe of gloss, on your wedding day it's best to have a special color with plenty of pigment to accent your smile, and to highlight that all-important, you-may-kiss-the-bride smooch!
Lipstick is such key part of your bridal look, but surprisingly there haven't been many choices for lipsticks specifically made for weddings. Until this season when Clinique, realizing this lack of choices, created the perfect wedding day lipstick! Using their classic and much-loved Long Last Lipstick formulation, Clinique launched Kiss the Bride Collection: 3 wedding-perfect shades for brides of all skin tones. These wedding lipsticks are so pretty that even though they meant to be a special treat for the bride, brides might find it in their hearts to share these shades with their bridesmaids.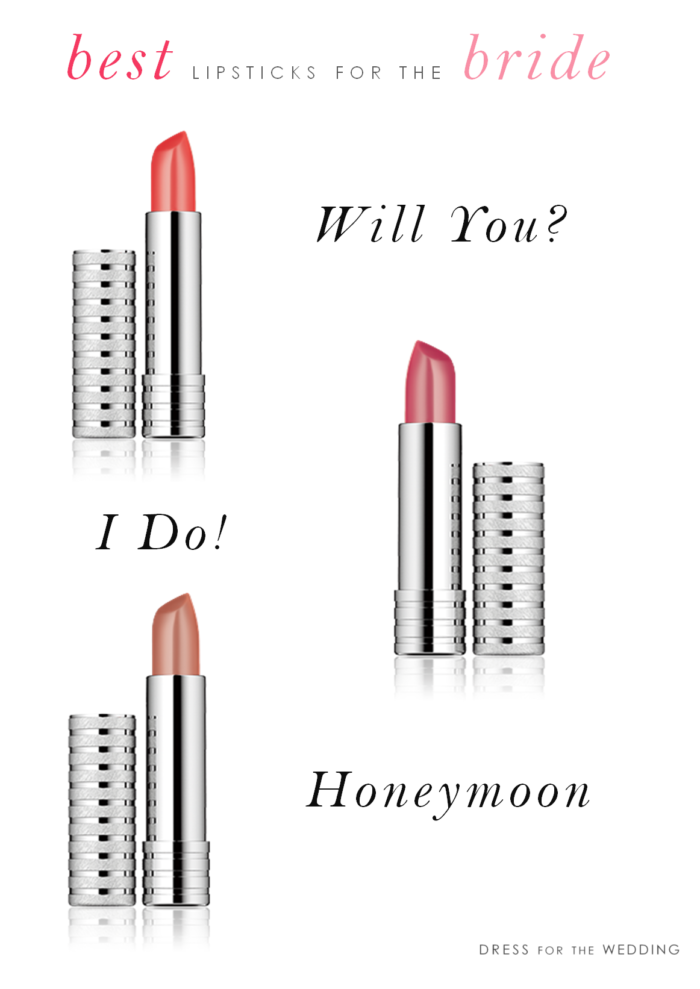 I had the chance to try these 3 new bridal lipsticks from Clinique and I can say without hesitation that these are the perfect lipsticks to wear for your wedding! For starters, the Long Last formula is the ideal mix of hydration and staying power. You'll be kissing your new spouse, giving your relatives a hug and peck on the cheek,  eating, drinking, and toasting-- and through it all, posing for pictures! Trust me, you really want a long-wear lipstick that requires minimal thought, because you really won't have time for any touch ups!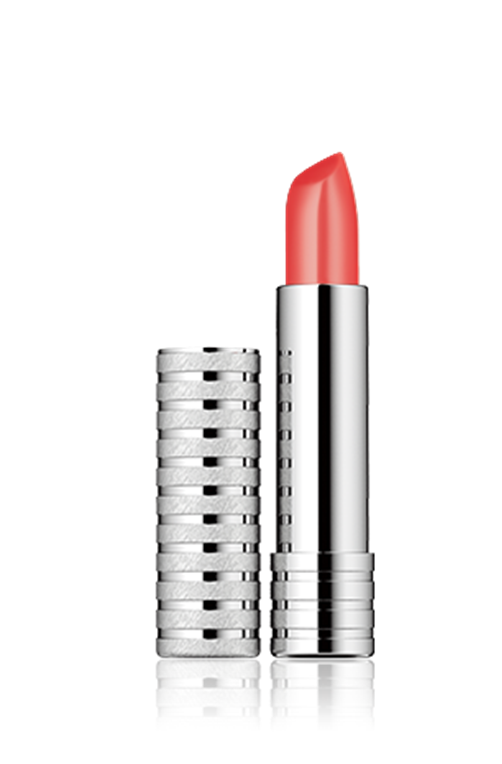 Will You?, the perfect pink lipstick for brides from Clinique.
The three new shades in the Kiss the Bride Collection are aptly named for the wedding: 'Will You?' is a gorgeous pink coral color that gives just the right bright flush to your lips. Next up is ' I Do', a sophisticated berry red. I love a classic red lip, but I have a hard time finding the right red color right out of the tube, but this one is great! It's not too harsh, but definitely gives your lips definition and that polished red look. Bonus: the berry undertones make your teeth so white! The last color, 'Honeymoon' is a neutral shade that has a gorgeous golden glint to it. 'Honeymoon' is perfect choice for a natural look or a beach bride, and definitely one to pack for your honeymoon to even further accent your post-wedding glow!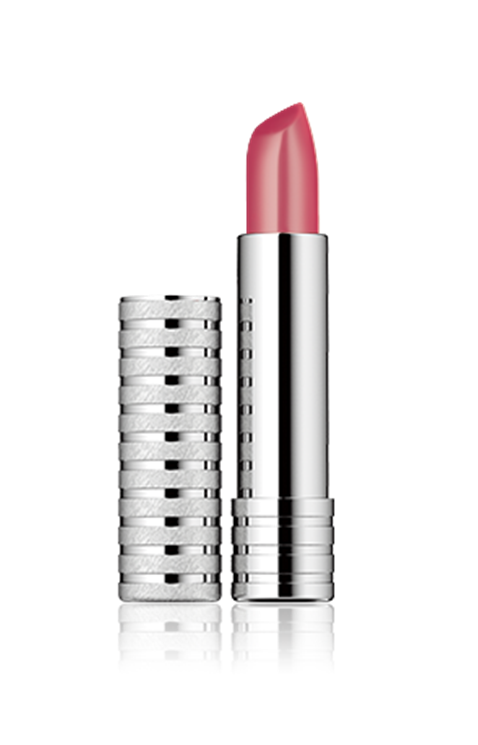 'I Do', a pretty berry red lipstick for weddings
While it's nice to have a special lipstick just for the day of the wedding (and you should, just like wearing a signature perfume), these shades will appeal to you for everyday and special occasion wear as well! And if you're not a bride-to-be, remember: it's that season for bridal showers! Any of these lip shades would make a great addition to a little wedding day emergency kit or a bridal gift basket!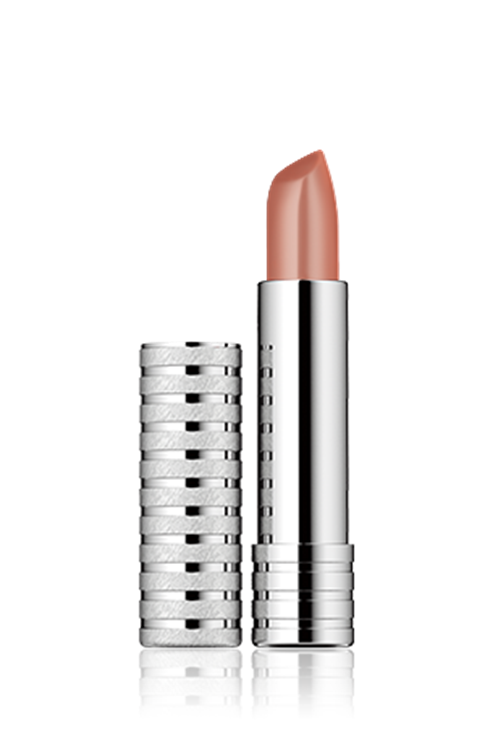 'Honeymoon', a beautiful neutral lipstick for brides with subtle golden shimmer.
Once you've decided on your color, to get the perfect lasting pout: 1. prepare your lips with All About Lips; 2. line your lips with the matching Quickliner for Lips liner; 3. apply your favorite shade of Kiss the Bride Lipstick, pop it all in your wedding clutch, and you'll be ready to go down the aisle! Kiss the Bride  lipstick is exclusively sold online.