Your bridal shower is often one of the first pre-wedding parties you'll celebrate as a bride-to-be! As the guest of honor, you might be seeking pretty dress or outfit to wear to your bridal shower. Here over sixty bridal shower dresses for a bride, along with tips for where to shop the best white dresses, jumpsuits, and outfits for bridal showers updated for the current wedding season.
Affiliate links are used in this post about bridal shower dresses for the bride.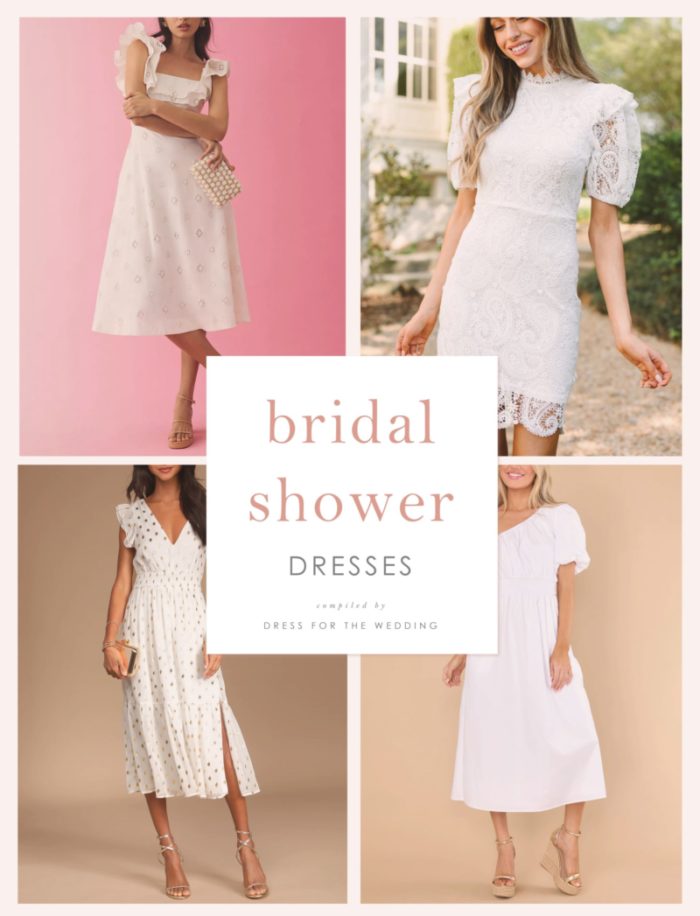 Image and product sources starting top left: 1. Forever That Girl Eyelet Square Neck Dress from Anthropologie 2. Count On You White Lace Dress from The Mint Julep Boutique 3. Cause to Celebrate White Midi Dress from Lulus 4. Eternal Beauty White Midi Dress from Red Dress Boutique
Best Bridal Shower Dresses If You're The Bride
We have a 'thing' for bridal shower dresses, and spring into summer certainly the season for them! If you're bride, you have so many choices for what to wear for your bridal shower. Since you're the guest of honor, really anything you like goes-- dresses, skirts, pants, rompers, and jumpsuits! In this spring season, we love some of the spring dresses we see that just look like they were picked by a Hollywood wardrobe department as the quintessential bridal shower dress. We have a weakness for lace, eyelet, pastels, pretty sundresses, and florals. But any dress, top or outfit that you feel is your look for your style of bridal shower will be a perfect choice.
Shop 60 of the Prettiest Bridal Shower Dresses for Brides
There are many pretty and elegant dresses to wear to your bridal shower. We've picked the best bridal shower dresses for you to shop from in the present season. We've included plenty of white dresses you're a guest of a bridal shower, we've covered that in this post about what to wear to a bridal shower as a guest. Our main tip as a guest is to be sure to avoid wearing white, since that is a color most often worn by the bride.
Shopping sources on this site use affiliate links, which means this site may earn a commission if you make a purchase from our links.
Shop Dresses for Your Bridal Shower

Favorite Bridal Shower Dresses and Where We'd Wear Them
White One Shoulder Midi Dress

This one shoulder midi style white dress has a fresh, breezy style that seems perfect for a bridal brunch or a beach-side bridal shower picnic or lunch. The full sleeve and one-shoulder styling make it stand apart from the typical little white dress. We think it's a bargain at under $60.
Lace Mini Dress with Puff Sleeves

Having a semi-formal or upscale bridal shower? This lacy look is the perfect cute dress that will be a standout. We think this style will look sweet for a bubbly-filled champagne bridal shower, a bridal tea, or a Paris-themed bridal shower event.
Ruffled Off the Shoulder Maxi Dress

This boho, beachy inspired ivory maxi dress would be the perfect choice for a festival-inspired bridal shower, a farmer's market themed shower, a ranch theme, or a desert theme bridal shower.
Ruffled Eyelet Dress

This eyelet sundress from Anthropologie has a ruffled neckline and full skirt and floral eyelet details looks prefect for a grand-party style bridal shower, or a laid back wedding shower picnic with friends.
Gold Dotted Midi Dress
The gold dots on this Lulus dress just look like a toss of confetti, and therefore ready for a party. Again, this is a great look for any kind of vibrant lunch, brunch, gathering at someone's home, especially if there's a bubbly theme like a mimosa brunch, or just a shower gold and white color scheme. The v neckline, midi length and slight gathered waist and subtle ruffle details all make this dress super flattering too! Best of all, it's under $100!

Short Sleeve Ivory Jumpsuit with Cutouts
Sometimes the best outfit isn't even a dress. We think this short sleeve ivory jumpsuit is an elevated style for day or evening bridal showers, with the polished yet relaxed comfort of a jumpsuit. The flutter sleves and cut-outs add some stand out details to the clean lines of this sweet style.

Criss Cross Midi Dress with Full Skirt

White the number of outfits you might find you need for wedding-related events, renting becomes an very appealing option. Renting keeps you from ending up with a closet full of whtie dresses you might not wear again, is an eco-friendly option, and allows you access to some designer styles for less. Rent the Runway has an extensive selection of white event dresses, including this stylish look. We love the fitted bodice, with criss-cross and cut out and the full skirt. We picture this one for a coast themed shower, or tea-themes shower.
Dresses That Aren't White to Wear to Your Bridal Shower
Sometimes white just isn't your thing! The editor of this blog actually didn't wear white to her bridal shower, opting instead for a shade of pink she had always wanted to wear. White, ivory and cream is not an hard and fast rule of what the bride should wear, so feel free to choose any other color besides ivory or white.
What To Wear Instead of White to Your Bridal Shower
We also love floral dresses with white backgrounds as a way of wearing white, but still having a bit of color! Wearing blue as a something blue or any other color you love or perhaps think of as your signature is another great option! Your bridal shower is a great time to rpastels, or something that suits the theme of your wedding or the theme of your shower in some way. So, if one of your wedding colors is green - wear a green dress if you like! Having a bridal tea? A pretty floral dress will always be a great choice! It's also a great time to work in a "something blue". Pick any color you like - it's your day to wear anything that makes you feel as lovely as can be, so no color is really off-limits. Some of these of course will also work as shower dresses for guests.
Shop Colorful Bridal Shower Dresses

More Bridal Shower Outfit Ideas
The outfit that a bride chooses to wear to her bridal shower is a great opportunity to either set the stage for the wedding and echo the colors for the big day or the opposite-- wear some of the colors that you love but couldn't use in your wedding, or use the opportunity pick up on the theme of your shower with a fun dress that really matches the mood. Pretty little white dresses are a popular choice and certainly should be reserved for the brides to wear to their showers, there are also many colorful options. Here are a few of my favorites for this season for the bride to wear! Many of these dresses are affordably priced, but you may like our White Dresses Under $100 for Wedding Events. You also might be interested in White Jumpsuits .
More Dresses for a Wedding Events
If you're the bride and you know that you'd like to wear white to your bridal shower, and several other events like your engagement party, rehearsal dinner, and bachelorette party, then please also check out those posts.
Past Bridal Shower Dresses We've Featured
We keep this section of links for continuity for some of the dresses that were previously featured with this article was originally published. Sometimes, a dress image will inadvertently be used as a pin from an older edition of this post. The dresses below are now usually sold out, but included here for reference. We keep the links on the off chance that the dress comes back into stock, or if you are just wondering what happened to that dress fitting on of these!
White dress with full skirt, spaghetti straps pale pink and green applique flowers, pictured on a blonde model: Floral Cami Dress from ASOS
V Neck white lace dress with vibrant pink and green flowers pictured on a brunette model with short hair: Taylor Lace Dress from Anthropologie
A pretty blush pink knotted waist fit and flare dress, is a beauty for your bridal shower dress pick! Faille Knot Waist Dress from Anthropologie
This blue and white lace dress is the 'Starflower Scalloped' Dress by Eva Franco available at Anthropologie
This pink lace popover style is one of my favorite new silhouettes, and in pink lace it's bridal shower perfection! Dress by Donna Morgan from Nordstrom
White lace shift dress with short sleeves is a great bridal shower dress for the bride. The lace makes it dressy and special, and the shift shape keeps it slightly casual. Eliza J Lace Cap Sleeve Dress from Nordstrom
A pretty light blue maxi length sundress with dots of floral colors is a lovely pick! Floral Print Strappy Dress at Nordstrom.
Open weave lace shift dress with 3/4 sleeves Tahari Sheer Lace Shift
Pale light blue fit and flare with lace overlay and illusion straps is the Celestina Dress from BHLDN in Blue Harbor
A pretty yellow lace dress is a great look for the bride or a bridal shower guest. Drop waist yellow lace dress by Adrianna Papell at Nordstrom
Cream colored fit and flare with box pleated skirt and boat neck with a bold floral print Asola Dress at Anthropologie.
Ivory shift dress with long puff sleeves and and a bow at the hem makes for a completely darling dress! Penny Dress from Kirribilla
Here's another sweet pale yellow short sleeveless fit and flare with a light floral pattern - The Buttercup Dress by Erin Fetherson available to rent at Rent the Runway!
Short ivory fit and flare dress with floral overlay - the Tori Garden Dress by Jay Godfrey at Rent the Runway
Off white fit and flare dress with floral design at the waist Floral Erin Fetherston number, available to rent at Rent the Runway, or buy it at Anthropologie!
Sweetheart Roses Dress by Erin Fetherston at Anthropologie
A bright periwinkle blue sleeveless full skirted midi dress with square neckline Printed Cotton Midi Dress by Donna Morgan at Nordstrom
White lace dress with spaghetti straps and full skirt Reese Dress at BHLDN
Short eyelet sundress dress with square neckline watercolor print Elin Print Dress by Trina Turk from Nordstrom
Body Con Fitted Dress with Watercolor Print over White Background and 3/4 Sleeves ASOS Curve Scuba Dress with Digital Floral Print Pattern
Black and White Striped Fit and Flare Dress with a Pink Stripe Eliza J Dress from Nordstrom
Navy Blue Fit and Flare Dress with Striped Skirt: Navy and white striped dress by Eliza J from Nordstrom
Midi dress with spaghetti straps, fitted bodice and full skirt with pale yellow, gray and light blue stripes done in sheer organza and ribbon. Ribbon Midi Dress from ASOS
Sleeveless blush pink sheath dress that hits at the knee and features a mock crop Sheer and Soft Pencil Dress from ASOS
Pink blush short chiffon swing dress with a bow: Coast Lauren Dress from ASOS
Until my next post, I hope you are looking forward to being showered with gifts and surrounded by friends and family!
Links in italics and in the shop section are from affiliates and sponsors, meaning that this blog may earn a small referral commission from the retailer, at no cost to the purchaser, if a qualified sale is made.
Portions originally published 2015 and April 2018, updated most recently May 2023.
More style ideas you might enjoy :