Bridal Shower Dresses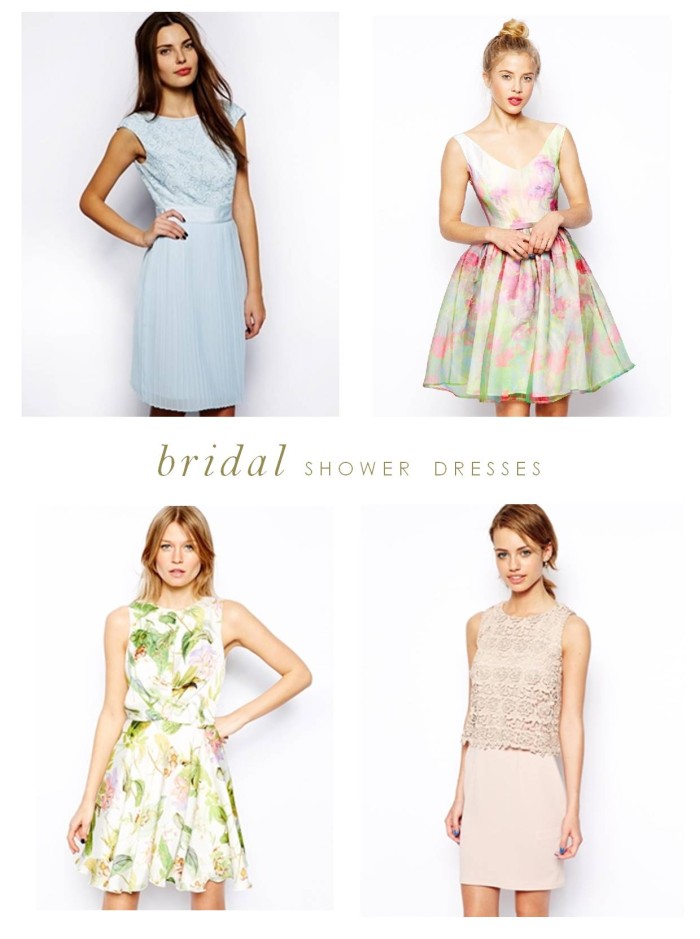 All from Asos: 1.Ted Baker Blue Dress 2. Floral Prom Dress 3. White and green floral Dress 4. Pink Crochet Cutout Dress
What to Wear to Your Bridal Shower
I've been promising this post forever, and I'm finally making good on it! This time of year is not only prime wedding season, but also the time of year for bridal showers. My own bridal shower was held around this time in June a few years ago, and so I can't help but reminisce and want to seek  all the fun and great things to wear at this time of year.  There are so many pretty dresses, so this post is a big one!  I wanted to bring you lots of shoppable ideas for dresses for the bride to wear to her shower, so I think I have upwards of 60 dresses to show!  If  you're the bride and you know that you'd like to wear white to your bridal shower, then please also check out this post on little white dresses,  because I tried with this bridal shower post to give many color options, not just white!  Some of these  colorful dresses will also definitely suit bridal shower guests, but I chose most of these pretties with the bride in mind.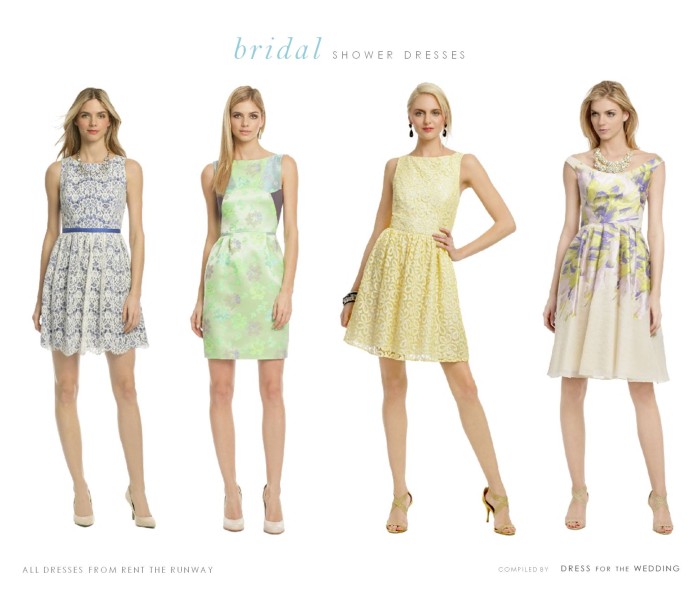 All from Rent the Runway: 1. Shoshanna Blue lace Dress 2.  Matthew Williamson Pale Green Dress 3. Yellow Lace Shoshanna Dress 4. Lela Rose Dress 
If you are the bride, I think your bridal shower is a great time to wear white, or pastels, or something that suits the theme of  your wedding or the theme of your shower in some way.  So if  one of your wedding colors is green – wear a green dress if you like! Having a bridal tea? A pretty floral dress will always be a great choice! It's also a great time to work in a "something blue".  Pick any color you like – it's your day to wear anything that makes you feel as lovely as can be, so no color is really off limits.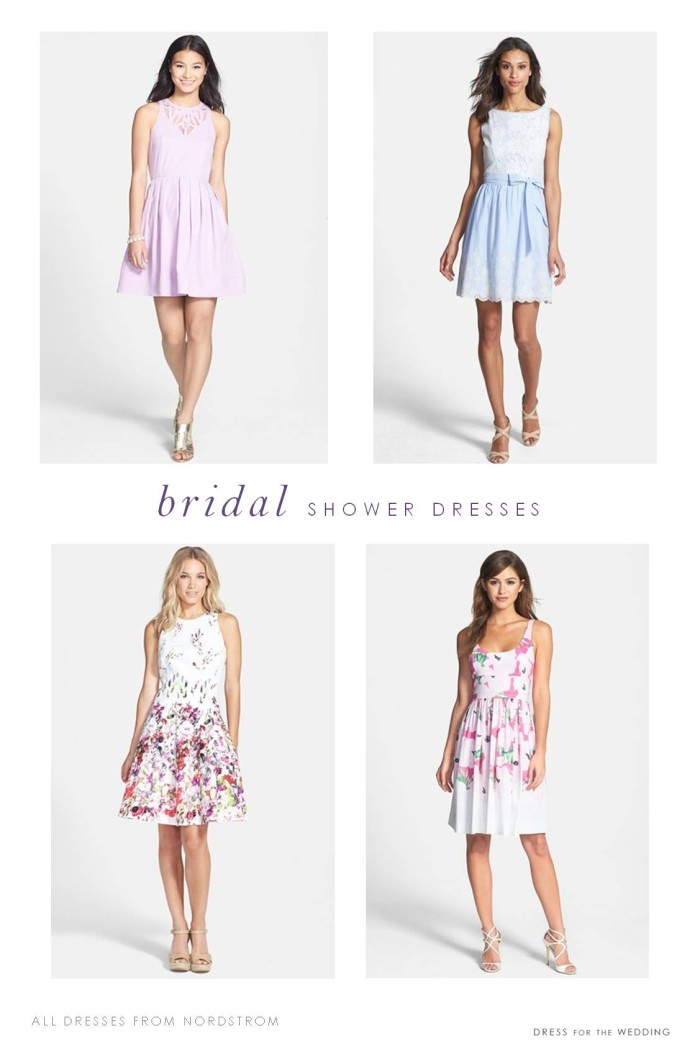 All from Nordstrom 1. Lavender lace dress 2. Blue lace dress 3. White & floral dress 4. Floral Print Dress
For bridal shower guests, I'd recommend steering away from white (so as not to compete with the bride) and anything too severe ( like a black lace dress would likely be too somber – especially since bridal showers are usually bright daytime events)  Most bridal showers I've attended have a dressy casual theme, so everything from dressy pants and a top, a cute skirt ,  or sundresses, maxi dresses, and any pretty daytime dress and beyond usually works if you're a guest.  If you're the host and the bridal shower you're throwing is less formal or more formal than dressy casual be sure to give guests the heads up, so that they don't  come over or under-dressed.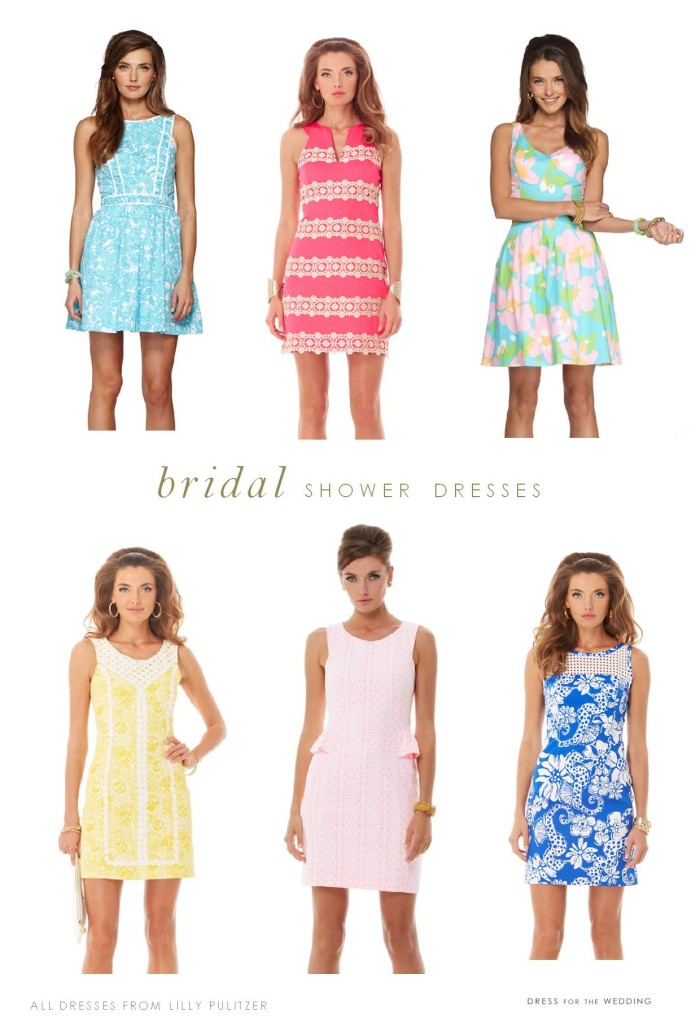 Lilly Pulitzer does bright and festive like no one else! Her dresses are perfect for fun summer bridal showers and bridesmaid brunches!
Top Row : 1. Becky Dress 2. Augusta Shift Dress  3. Lexington Dress
Bottom Row: 1. MacFarlane Dress 2. Abby Peplum 3.  Marianne Shift Dress
Need more inspiration? Check out my Rehearsal Dinner, Engagement Party, and Bridal Shower Dress Pinterest board, ( I have one just for Bridal Showers now too)  You'll also want to check out these previous posts:
Without further ado here are the rest of my picks!



More style ideas you might enjoy :