Modern Wedding Guest Attire
With the upcoming wedding season, you may be wondering what to wear to various types of weddings. I'm going to try to do more posts that help with specific --and sometimes unusual-- wedding styles and dress codes! Today, we'll tackle what to wear to a modern wedding!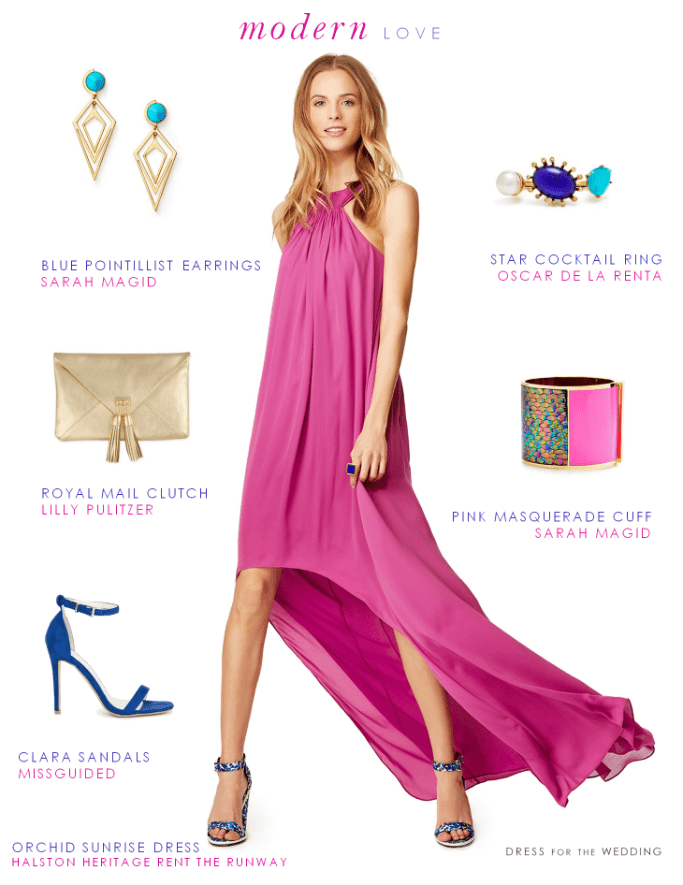 Sources and shopping links in italics are from our affiliated sponsors.  Dress: Halston Heritage Orchid Sunrise Dress from Rent the Runway | Earrings: Sarah Magid Blue Pointilist Earrings at Rent the Runway | Ring: Oscar de la Renta Star Cocktail Ring | Cuff:  Sarah Magid Pink Masquerade Cuff  | Clutch: Royal Mail Clutch by Lilly Pulitzer | Sandals: Missguided Clara Strappy Sandals
When I first laid eyes on this dress, I knew it was collage-worthy! The beautiful orchid color, the fun high-low hem, and those blue shoes -- one look and I knew I needed to do a styled look! At first I was going to title and style this for a beach wedding -- and I still think this floaty colorful dress would be wonderful at a chic seaside event -- but once I started looking at this style, I realized it was also really a great gown for a modern wedding. And, since I haven't done a specifically modern wedding guest look in a few years, I knew it was high time I created a new collage for it.
Now what is a modern wedding, you ask? Technically it really would be any present-day wedding -- and I do think this dress is versatile enough to go to nearly all types of weddings if this dress is your style. However, I think it would be a particularly fantastic dress choice for a wedding held in what I think of as a decidedly modern wedding: a wedding in a contemporary art gallery, a chic restaurant, a rooftop deck,  or some hip industrial space. Often a it's city wedding, or any wedding where you know the aesthetic will be fashionable and cutting edge. For weddings like that, you most likely want a dress that reflects the chic and sophisticated style of the event. This is exactly that sort of gown!
I love the way Rent the Runway put bright blue sandals with this dress, and I didn't want to compete with that -- it's beautiful! (However, if you can't quite picture yourself buying blue shoes, gold heels would be my second choice.) Cobalt blue and turquoise are two of my favorite colors for pairing with a pinkish-purple orchid dress like this, so I decided to play that up color palette even more. Geometric accessories in bright, punchy colors just set off all the fresh aspects of this dress.  The cuff bracelet has a bit of pink, and a bit of purple on the opposite side, so it can match, or contrast -- whichever you prefer! With the exception of the sandals, all of these pieces are from Rent the Runway, so you can rent them all as you see them here, or pick other accessories you love. Speaking of modern dressing trends, the ability to rent a dress is one of my favorite modern-day innovations! It's such a great way to go, especially if you have all sorts of weddings to attend this season ( Hint: try their Unlimitedoption to keep those dresses coming!) . If you love this style as much as I do, I've also included a few more of this loose-fitting pretty maxi dresses in the shop section below, and I have a whole page of maxi dress picks for the season. If you're a gentleman looking for modern wedding attire, I'm thinking ASOS  has a great section of suits that really has you covered, and I'll be doing fully-realized style idea for the fellows soon!
Links in italics and in the shop section are from affiliates and sponsors, meaning that this blog may earn a small referral commission from the retailer, at no cost to the purchaser, if a qualified sale is made.



More style ideas you might enjoy :