8 Great Engagement Gift Ideas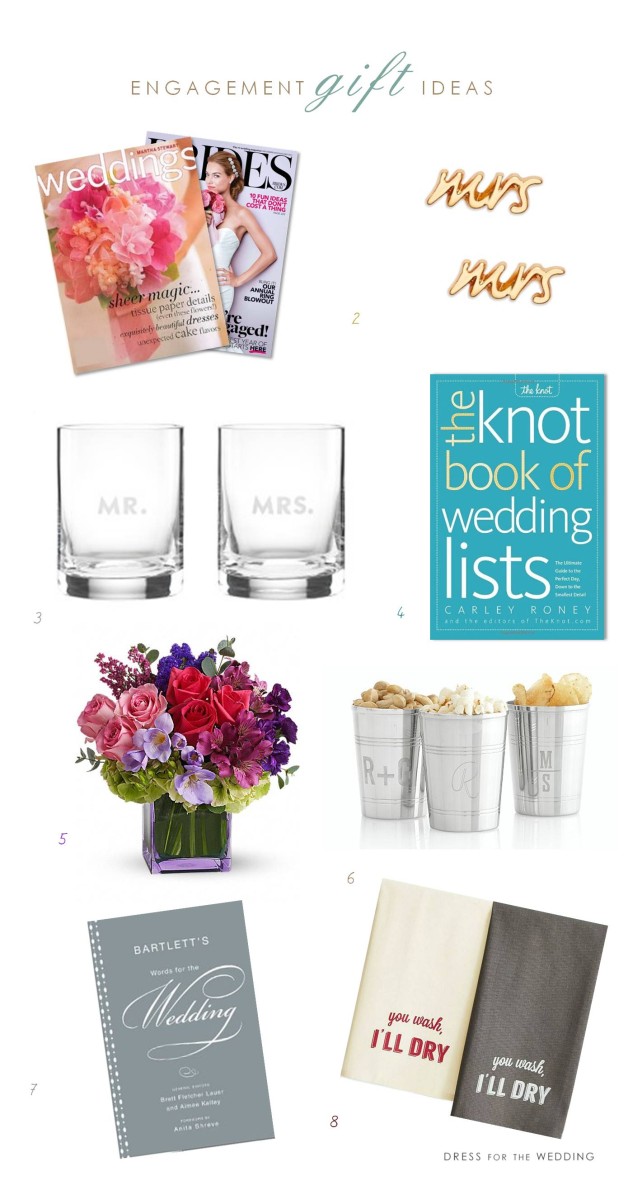 1. Martha Stewart Weddings Subscription & Brides Magazine Subscription 2. kate spade new york say yes "mrs" earrings 3. kate spade new york "mr." & "mrs" double old fashioned set 4. The Knot Book of Wedding Lists by Carley Roney 5. Flower Arrangement by Teleflora 6. Triple Roll Tumble with Monogram from Mark & Graham 7. Bartlett's Words for a Wedding by Brett Fletcher Lauer and Aimee Kelly 8. "You wash, I'll dry" Dishtowel from Red Envelope
Yesterday's post was all sorts of engagement rings in honor of engagement season. However, even you're not the one getting or giving the ring, it may be your time to congratulate some of your friends on their engagement! While engagement gifts aren't a requirement, it can be fun to join the couple in celebrating by marking the occasion with a little token.
Ideally, an engagement gift suits both members of the couple, and gives a nod to their decision to unite. Admittedly some of my picks are a little bit lady-centric, but these are great gifts if you just want to give a meaningful little something to a close girlfriend or co-worker. For more couple-focused gifts, a set of candlesticks ( for romantic dinners together), a personalized photo album to capture this time in their lives, a certificate for a couple's spa day, or a romantic dinner can certainly make a great gift. If you're invited to an engagement party, a gift still isn't required, but it is a very nice gesture to bring a small gift to mark the occasion. A bottle of wine or anything you might bring as a hostess gift will often work, but here are a few ideas of things I've seen or received, and enjoyed giving as engagement gifts.
Engagement Gifts
1. Martha Stewart Weddings Subscription & Brides Magazine Subscription Once I got engaged it was as if I was finally "allowed" -- and even required-- to buy the bridal magazines I had surreptitiously flipped through in my single days. If you're giving the couple a gift basket, tuck in a few issues of a magazine, and give them a fun looking binder - there will be plenty to organize in the coming months!
2. kate spade new york say yes "mrs" earrings These are an adorable gift for a bride to be on or before the day of the wedding. You can to save them when you're officially the "Mrs", or look forward to your new status and don them during the engagement period. And if giving something to the couple, get these cufflinks!
3. kate spade new york "mr." & "mrs" double old fashioned set Kate Spade does it again, with the great little engagement gifts! I love these Mr. and Mrs. double old fashioned glasses ( DOFs - for short) There's no mistaking which glass is yours, and it's a fun way to start your engagement and to enjoy your married status on your sips for many years to come.
4. The Knot Book of Wedding Lists One of my bridesmaids gave me this book, and although I picked up a few different ones, this was the one that really worked for me. The advice was firm and helpful, and kept me on track but didn't give me that " Um,you should,start freaking out, because you're waaay behind on this!" feeling that other planning books gave me! We love this book so much we added it to our post on Best Wedding Planning Books.
5. Flower Arrangement Nothing made me feel quite so much like my friends were there and instantly celebrating with us, than the flowers that were sent to us by a few far-away-friends. It made our house feel as joyful and happy as we were, and we thought of our friends good wishes every time we looked at the flowers. Pick one out from your local florist, or call a great florist in the couple's area.
6. Triple Roll Tumble with Monogram Now that you'll be sharing things, including a last name - it's a great time to monogram everything! These silver julep tumblers can be used for fancy drinks, but they are also wonderful for holding snacks, or as a pretty catch all for pens, or as a vase for flowers.
7. Bartlett's Words for a Wedding Here's another gift we personally received from my parents, and it helped for finding quotes to inspire us, and to use in our vows, and some of the programs and other wedding related things. It's a nice book to peek at together to find the right words to express your relationship.
8. "You wash, I'll dry" Dishtowel Get the teamwork started early - these dish towels would be a cute little gift - and will be a subtle reminder to the bride and groom of the fun partnership during even the most mundane household responsibilities!
Need more ideas? Check out the Shop section below for more hand-picked engagement gift ideas!