We'll show you some of the best wedding planning books to make planning your wedding easy! Our recommendations for the top wedding planning books and notebooks to keep your wedding planning efforts organized and on track.
Affiliate commission links are used in the shopping links in this post. This means this blog may earn a commission if a qualified purchase is made.
Best Wedding Planning Books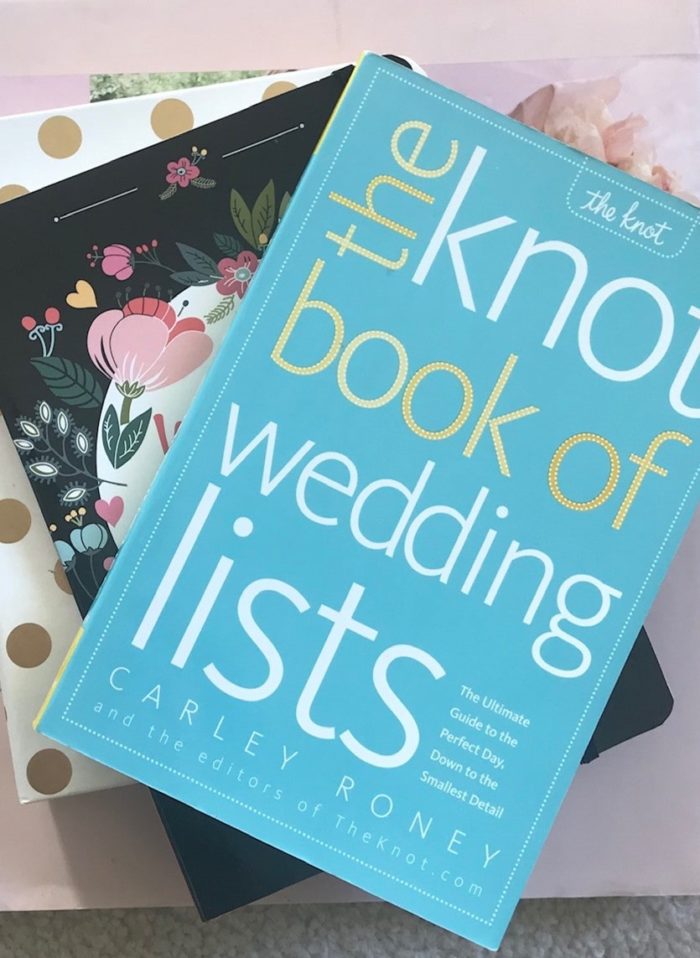 Wedding planning books seen here: 1. The Knot Book of Wedding Lists 2. The Wedding Planner Checklist, 3.kate spade gold dot planner and notebook 4. The Best of Martha Stewart Living Weddings
While I obviously love blogs, Pinterest, and Instagram for getting wedding planning tips and ideas, sometimes you just need a book! I found having a wedding planning book helpful for keeping a running list of all the things to attend to. After all, for most of us, wedding planning is our first experience with planning an event of this size and importance.
Even if you have the help of a wedding planner, your vendors, and other professionals, you might find a wedding planning book to be helpful and to keep you on track. Here are a few that I know of and recommend. These also make great engagement gifts for couples.
A note of advice: since you may want to make notes and easily show other people your ideas, I recommend buying the physical book, not the Kindle version. Here are a few of the books I personally found helpful, or know others found to be helpful during the wedding planning process.
Best Books to Make Wedding Planning Easy!
The Knot Book of Wedding Lists
The Knot Book of Wedding Lists was the main book I relied on to plan my wedding, and I still think of things I learned from it frequently as I write this blog.
If you like (or need) checklists and want to know details, timelines, and deadlines for when you most likely need to accomplish certain tasks, this might be the book for you. This book as a lot of really helpful information. I especially liked definitions of unfamiliar terms and the expert advice that is included in each subject and task, helping you and your partner learn as you check things off your wedding to-do list.
The Wedding Planner Checklist
I also acquired this book The Wedding Planner Checklist, and I like the write-in and list format of this. I am a list maker, and this book seems good for a quick at-a-glance can answer the nagging question of 'Have I completed this or not'?
However, this book doesn't have the explanations and guidance of making decisions on each item like The Knot Book does, so it's more a nicely packaged running checklist of what has been completed. I can see using The Knot book as a deep dive into how-to-plan and what decisions have to be made, and then using this book for a quick check to make sure everything has been attended to. It seems like agreat book to have on hand to share with your wedding planner, coordinator, or other vendors and friends who may be helping with the process.
Martha Stewart Wedding Books
Years before I got married or was in the wedding business, I would watch and read everything produced by Martha Stewart. Because of my fandom, I have a copy of The Best of Martha Stewart Living Weddings in my office. I was certainly inspired by the ideas within it as I was planning my own wedding, even though some of the ideas are probably 20+ years old. I am not sure if it has been updated recently, but it's a classic book for wedding inspiration.
The Budget-Savvy Wedding Planner & Organizer
Jessica from The Budget Savvy Bride is a fellow wedding blogger who has written The Budget-Savvy Wedding Planner & Organizer: Checklists, Worksheets, and Essential Tools to Plan the Perfect Wedding on a Small Budget.
As the name of her book suggests, there are lots of budget savvy money-saving tips based on Jessica's own wedding planning experiences as well as years and years of featuring budget-savvy weddings on her blog.
There are examples of real couples and the actual wedding budgets that worked for them. There are also many questions that will help you and your partner determine what is important to you and the best way to allocate your budget. Even if you have a decent budget, this book will help you make a celebration that is really yours!
Three Ring Binders and Clear Pockets
I got married when things weren't nearly as digitally-based as they are now. I found that I needed something to contain all the fabric swatches, invitation, and paper samples, and brochures I collected as I planned. I still think even though you can save things digitally you still have to get samples of dress fabrics, table linens, and invitations. I found that just a plain white binder with a ton of clear sheet protector sleeves helped me corral all those items in one place for easy viewing and reference.
Wedding Planning Notebooks and Date Books
I use and used a Kate Spade Planner to keep track of dates both for my wedding and just in life in general, but I think I'd be pretty tempted to order this more specialized Kate Spade Wedding Planner. I also found that there are some amazing wedding planning books on Etsy, like this one from Starboard Press.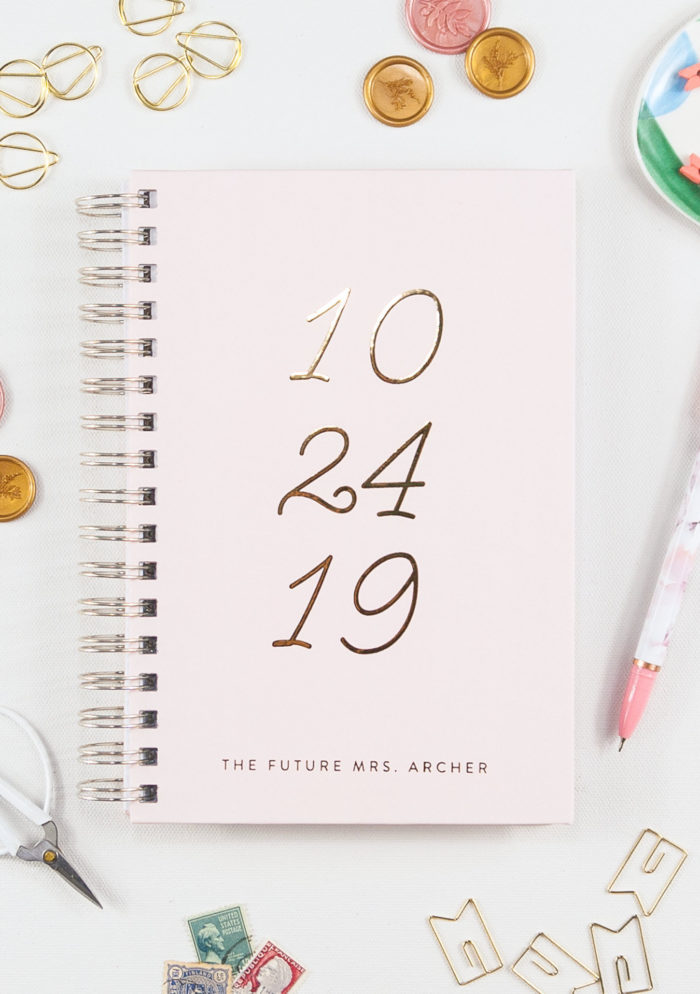 Wedding planner by Starboard Press on Etsy
More Wedding Book Recommendations
The White Dress Destinations: The Definitive Guide to Planning the New Destination Wedding. Beth Chapman is for her incredible bridal styling and her boutique The White Dress by the Shore. In 2018 she co-wrote this book about destination wedding planning, and it seems to be an elegant and informative guide. Destination weddings are a different planning experience than a wedding that takes place in your own local area. With a destination wedding, you have to understand the process of communicating with vendors in other locations, and understanding cultural norms and habits. This book will help you navigate that in style!
Books for Gifts
For couples and friends who enjoy cooking, I like to give The Newlywed Cookbook as an engagement gift. It's specially written to make cooking a team event.
More Books To Love
Here's a visual and shoppable guide of the recommendations above as well as some other books to assist you as you envision and plan your wedding.
Affiliate commission links are used in the shopping links in this section.