Velvet ring boxes are as practical as they are pretty! Not only do ring boxes give you the perfect way to safely store your wedding band or engagement ring; they also make for a beautiful presentation for your proposal and in your wedding photos. We'll show you where to find some of the prettiest engagement ring boxes!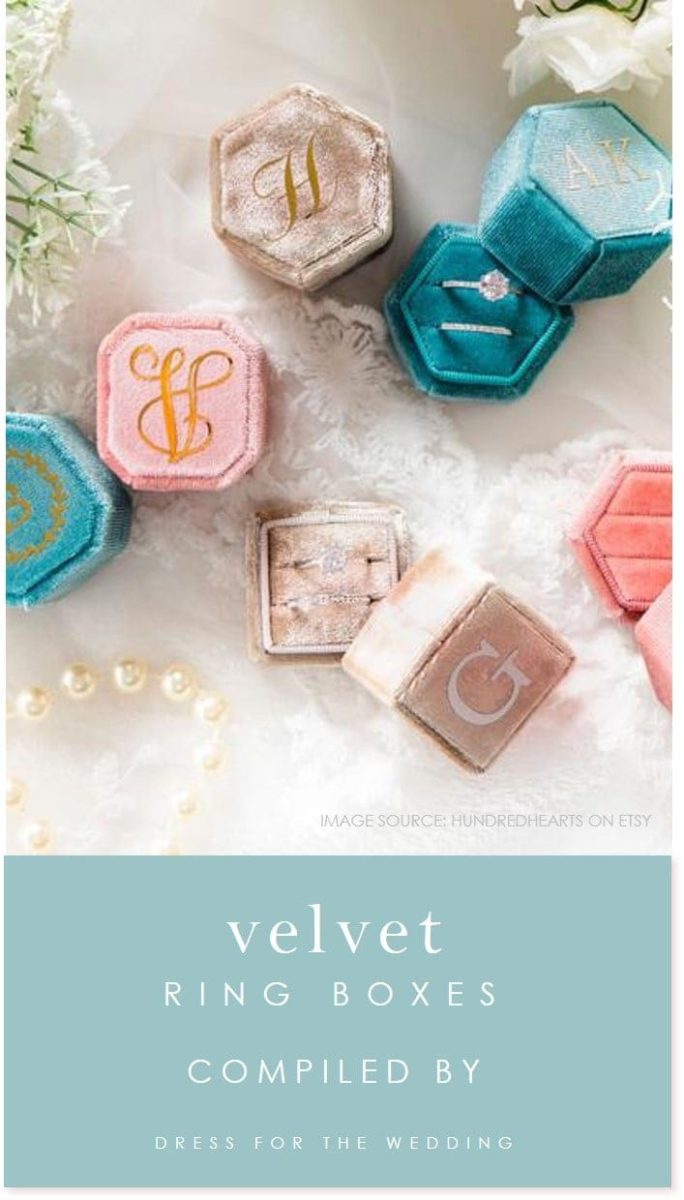 Featured image and ring boxes: Engagement Ring Boxes HundredHearts on Etsy
Velvet Engagement Ring Boxes
Velvet ring boxes have been around for decades, but the new offering of shapes, colors, and personalized touches makes them even more special! Usually, your engagement ring and wedding band will come in a box, but it may not be as lovely as these pretty velvet styles, that both protect and beautifully display your rings. These make a great added touch when proposing and presenting the ring. On your wedding day, this pretty keepsake can also be an element your wedding photographer can use in flat lay images of your rings and other wedding accessories. These pretty cases are also a must-have to keep the ring safe during your ceremony, and will be an heirloom possession for years to come! We found the best selection of velvet ring boxes is on Etsy. Here's a shoppable guide to the boxes we found!
Pretty Ring Boxes for Proposals

Where to Find Engagement Ring Boxes
We included boxes from these shops in the shopping guide above, but thought they deserved an extra shout out, since many have some other beautiful wedding-related offerings!
BelovedFineJewels has some beautiful oval ring boxes and pretty jewelry to go in them!
HundredHearts has beautiful sorbet colored ring boxes as well as so many other bridesmaid robes and personalized gifts and wedding accessories!
The FamilyJoolz on Etsy has bespoke ring boxes in rich colors, and boxes that will fit multiple rings
We love this zippered style jewelry case from MadeinRose. A great personalized gift for brides, bridesmaids, and mothers!
More Wedding Style Inspiration
You might also like our engagement ring picks and engagement gift ideas. If velvet is your thing, you'll love these velvet bridesmaid dresses and these velvet dresses for wedding guests! If you'd like more Etsy items, check out our 100 Finds for Your Wedding from Etsy.