Sending a gift to celebrate a couple's engagement is always a wonderful idea. Gift boxes full of presents for the engaged couple just add to the fun of celebrating the decision to get married. If you'd like to give an engagement gift, we'll show you where to shop for some of our favorite engagement gift boxes. We also share ideas for what to put in an engagement gift box, if you want to create a custom package of presents.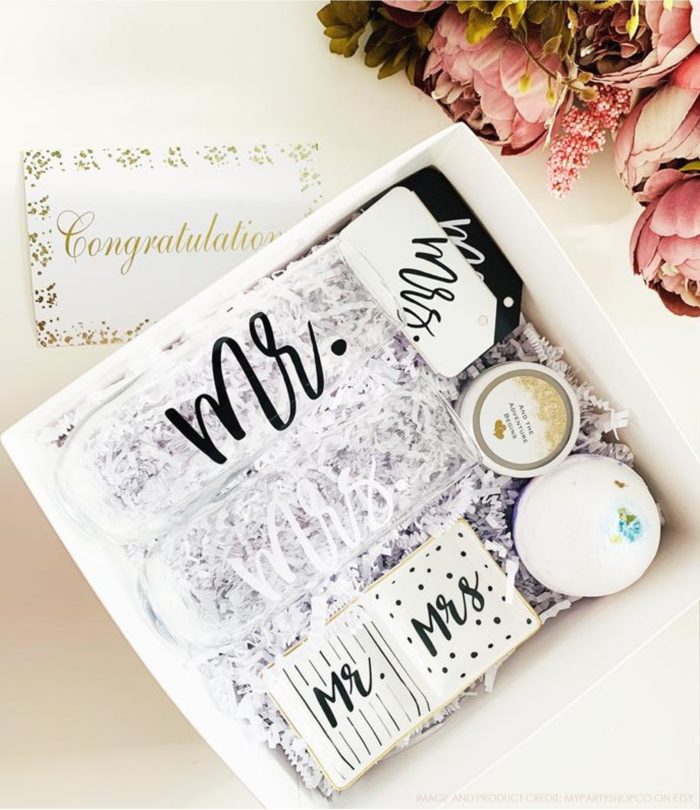 Featured image and product credit: MyPartyShop on Etsy
Engagement Gift Boxes
This time of year -- the holiday season into Valentine's Day -- is when we typically see the most engagements. While this year has undoubtedly been a little different for planning weddings, it seems engagements are still certainly happening. Since we can't gather together to celebrate this year, perhaps more than ever, it's nice to send an engagement gift to your newly engaged friends. It's a beautiful way to let them know you're happy for them and celebrating with them!
We have shared some of our favorite ideas for engagement gifts here in the past. Today we're focusing on a specific type of gift that can encompass many items! It's an engagement gift box, and you can make your own and fill it with gifts you know the couple will enjoy, or you can buy them already created!
If none of these specific ideas are for you, the ideas are endless - just think of something you know the couple will enjoy!
Where to Find or Shop for Gift Boxes for an Engaged Couple
Etsy seems to be one of the best places to get a ready-made engagement gift box. In fact, I just ordered one for my niece and browsed a ton of great ideas. Some shops have pre-made boxes, while others will be happy to create a custom gift box so you can fill it. While many engagement gift boxes center around gifts for brides, ideally an engagement gift has something for the couple as a whole that both partners will enjoy.
Here are a few of our favorite gift boxes we found to send to your newly engaged friends. Affiliate links are used in this section. each image links to the shop where you can find the item pictured.

What to Put in an Engagement Gift Box
A special couple deserves a special gift! if you want to create your own gift box, have at it! Here are a few ideas for what to put in an engagement gift box if you are creating your own.
A card wishing the couple a happy engagement
A bottle of champagne, wine, beer, or ingredients for a favorite cocktail, non-alcoholic drink, tea, or coffee
Baked goods
Candy, like these champagne jelly beans
Personalized mugs or tumblers, stemless wine glasses or travel mugs
Socks with their newly engaged status
An ornament commemorating the year of the engagement
A personalized photo album with photos or left blank for the couple to fill in
Journals or notebooks
Cookbooks and utensils for the couple who likes to cook together
Movie night gifts
Countdown until the wedding blocks
Luggage tags
Gift certificates to a special restaurant or hotel for a mini trip!
Bling Wipes for keeping jewelry sparkling
Ring boxes or jewelry dishes and holders
Any monogrammed or personalized gift in their initials
PJs or bridal robes with a monogram
A keepsake handkerchief with the initials of the couple - also one of our favorite ideas for something blue!
Meal subscription services
A gift certificate for wedding related items
Spa gift certificates
A gift certificate to fun activities to do together like, amusement parks, escape rooms, bowling, or the driving range
Board games to play together
Custom puzzles created with a picture of the couple
Custom cutting boards
Picture frames
Ring boxes, ring dishes or jewelry rolls to hold rings and other special pieces.
Sunglasses
Personalized drink or can holders
Of course, you don't have to give an entire box, just a card, a single gift, or even just a greeting of congratulations is appreciated by most couples! See more of our favorite Etsy wedding finds,
More Engagement and Wedding Planning Ideas
You might also enjoy these engagement outfit ideas, including cute white dresses for wedding events halo engagement rings, bridal shower decor finds, our LGBTQ and same-sex wedding finds, or you might want to browse wedding dresses.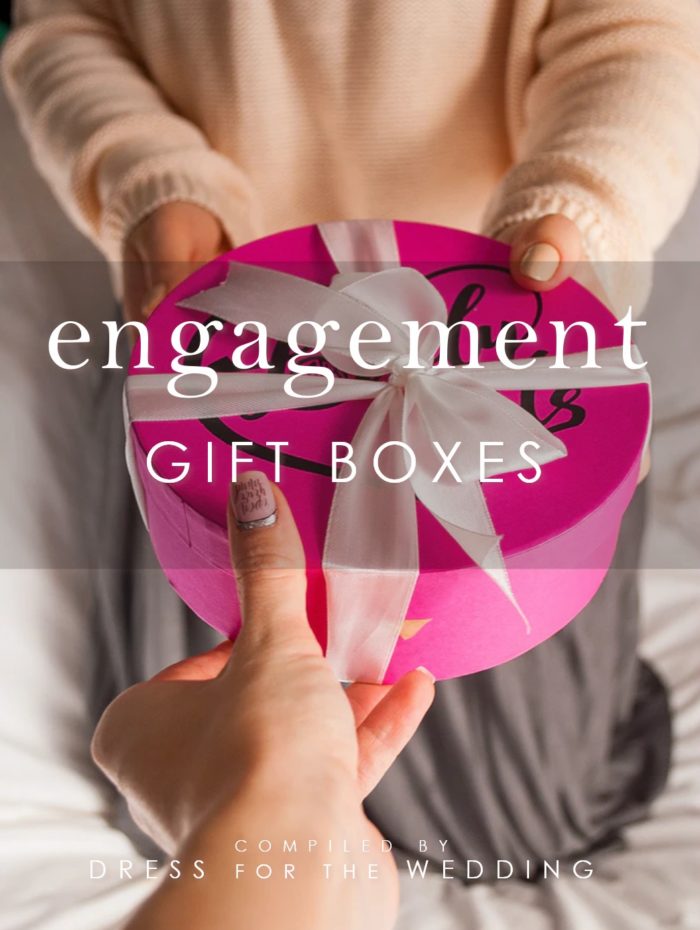 Graphic by Dress for the Wedding, Photo by Kate Hliznitsova on Unsplash