A glittering alternative to the typical wedding dress!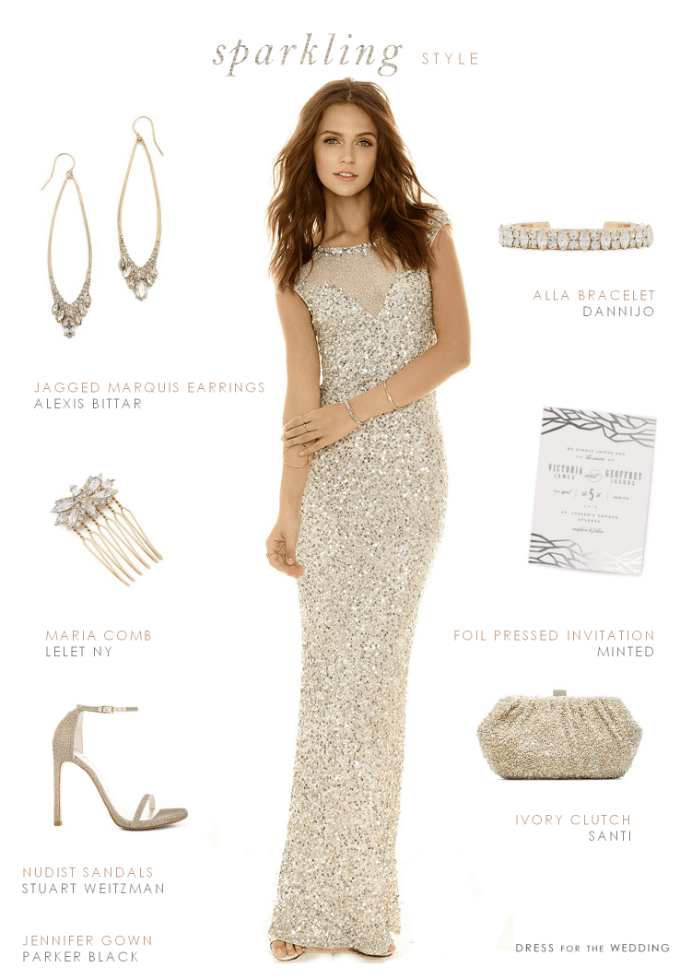 Shopping links in italics in this post use affiliate links. Dress:  Jennifer Sequin Dress by Parker Black from Revolve ( Now out of stock, but it seems to be still available on Amazon!)|  Earrings: Jagged Marquis Teardrop Earrings by Alexis Bittar from Shopbop  Bracelet: Alla Bracelet by Dannijo from Revolve | Invitations: 'Organic' Foil-Pressed Wedding Invitations in  Clutch: Santi Clutch in Ivory from Revolve | Heels: 'Nudist' Heels by Stuart Weitzman in Platinum from Revolve | Comb: Maria Comb Crystal Comb by Lelet New York  from Shopbop
Sometimes while picking dresses for post, I see a dress that sends me immediately to my collage drawing board, because I'm so moved to create a look. This sequined gown was one of those dresses.  I was clicking around checking out the new Revolve Wedding Dress offerings, which features many boho and modern gown styles, and I came upon this sequin encrusted number.  I was originally searching out a beach wedding dress for a friend, but I saw this sparkling gown and was immediately transfixed.
Where should you wear it? Well, definitely not as a wedding guest, because this much wattage is certainly going to be too much for anyone not in the wedding party. Instead, I see it as a sparkling statement wedding dress, a gown fit for someone who wants an twinkling alternative to to a white dress - I think it would be a great alternative wedding dress  for a second wedding - or for a standout dress to change into for the reception of after party, or for guest of honor a black tie formal engagement party.  Now if you're not heading to a wedding, then this gown would make a perfect evening gown to suit other super-formal events where you need a gown that will light the room! But for me, in my wedding-dress centric mind it's an astounding sequin gown that would make a glamour-filled alternative to a white wedding dress.
Links in italics and in the shop section are from our affiliate retail partners and sponsors, meaning that this blog may earn a small referral commission if a qualified sale is made. Happy shopping!



Want more glitter?  See these posts:
Truvelle Wedding Dresses ( Including one with a sequin 'dipped' hem!)
Beaded Mother of the Bride Dresses
Or shop these pieces:
Badgley Mischka White Sequin Gown