Lace wedding heels, pumps and sandals for brides to be, mothers, or bridesmaids.
This post about lace bridal shoes contains affiliate links. This means this site may earn a commission if you make a purchase from our links.
Picks for Lace Wedding Heels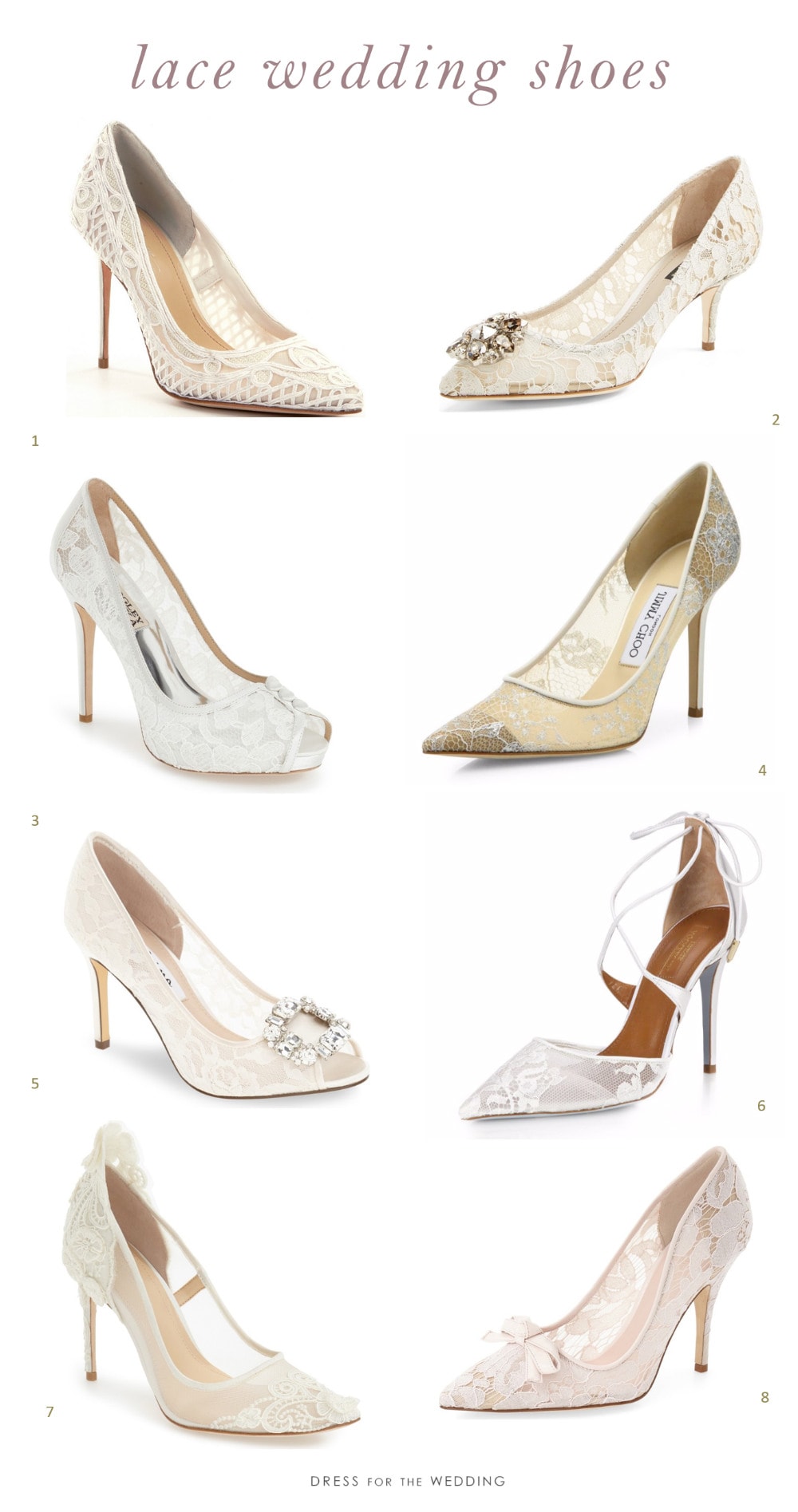 Shopping sources listed in italics use affiliate links from our sponsors.|1| Imagine by Vince Camuto 'Olivia' Dress Pumps from Dillards |2|Dolce and Gabbana Pointy Toe Pump from Nordstrom |3| Badgley Mischka 'Nerissa' Lace Peeptoe Pumps from Nordstrom |4| Jimmy Choo 'Abel' Lace Point Toe Pumps |5| Nina 'Rhodes' Crystal Embellished Lace Pumps from Nordstrom |6| Aquazuura Matilde Leather and Lace Pumps from Saks Fifth Avenue |7| Vince Camuto 'Ophelia' Lace Pointy Toe Pumps |8| kate spade new york 'lisa' lace pumps from Nordstrom
Lace Bridal Shoes
Lace is a timeless material for wedding gowns, so it only stands to reason that this delicate and beautiful material would find its way into other wedding accessories! Bridesmaid dresses, bridal capes, gloves, and veils, are all a natural use of lace fabric, but lately, we've been noticing some lace showing up in footwear, and we love the results!
Whether you are looking for lace wedding shoes to coordinate with your lace wedding dress, or looking for a pretty lace shoe to add texture and interest to a sleek wedding dress style, lace wedding shoes are the perfect choice for brides!
Tips for Wearing Lace Shoes
Since the shades of lace can vary, you'll want to try the pair you love most with your dress to make sure the lace matches the shade of your gown (or at least coordinates with it!) Keep in mind lace may stretch, so be sure the fit is snug to begin with ( but not so tight that your feet are pressing out of the shoes, of course!)
To make sure the shoes make it through the day, you may want to put some stain guard on them to make sure the lace fabric doesn't pick up too much dirt. (Check the care instructions for more details or recommendations on how to treat the pair you pick! Not all styles and fabrics will take kindly to being sprayed)
Now all that is left to do is find the perfect pair for you! We've placed a few more picks in the shop section, which we'll try to keep updated with our latest shoe loves!
Shop for Lace Heels and Shoes for Weddings
Affiliate links are used in this section.

Finishing Your Bridal Look with Lace Bridal Heels
As you will see, several of our favorite bridal shoe designers have created lacy wedding shoes this season, and we count ourselves as fans of many of their interpretations of how to add lace to a stylish wedding show.
The delicate lace texture, and - in some cases - the sheer peek-a-boo style - gives the shoe an undeniably romantic look. Whether you're looking for a classic bridal shoe, a slightly rustic bridal style, or a romantic wedding style, a lace bridal show can give you the style you're after!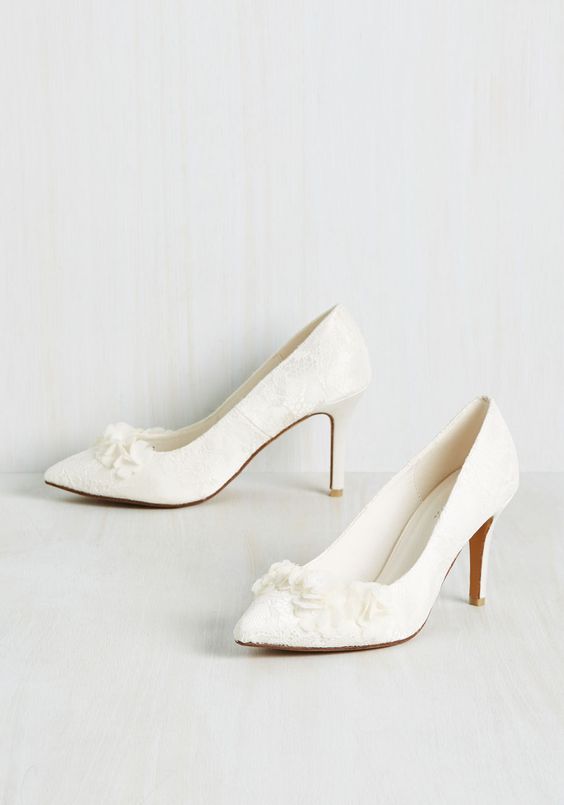 Looking for a retro lace style complete with a kitten heel? Try the Ornate Occasion Heels from ModCloth!

Lace Wedge Wedding Shoes in Lace by Bella Belle Shoes on Etsy. Photo by Rachel May.
Looking for more wedding shoe ideas?
Check out:
Cage Sandals and Wedding Booties
Our Favorite kate spade new york Wedding Shoes
Picks for Designer Wedding Shoes
Christian Louboutin Wedding Shoes We Love
Shopping sources in 'Shop the Look' sections and links in italics denote sponsored affiliate links, which mean we may earn a small commission on qualified sales to support this blog.