Armour Sans Anguish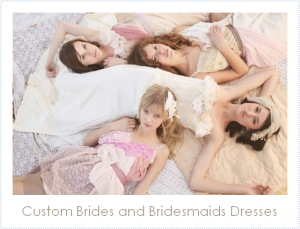 I think we can we all agree that bridesmaids' dresses have come a long way from the strange poufy party dresses or full-skirted confections that were in vogue when I was a young flower girl. There are now some timeless and classic silhouettes to be had, with current and flattering colors, and wear-it-again appeal. But if I have one small criticism, it's that sometimes there's a certain sameness to many of the dress styles, and even though they are beautiful; if it's not your taste, you might feel out of luck as you search.
If you're a bride who mirrors that sentiment and is searching for something different and striking for your maids to wear, I'd like to introduce you to Armour sans Anguish, a couture dress boutique, that uses reclaimed vintage materials to create one-of-a-kind bridesmaids dresses and bridal gowns. (Reclaimed materials = Ah! So that's where the poufy dress has ended up!)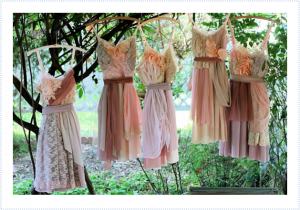 So, I'm dating myself here, but do you remember the scene in the movie, Pretty in Pink, when Andie, played by Molly Ringwald, sliced up that outmoded dress and made a more current one to fit her own style for her prom? That's similar to what's going on at Armour Sans Anguish, except with even more elegant results!
Like Andie, Armour Sans Anguish's designer, Tawny Holt has recognized that vintage fabrics certainly still have inherent beauty and history and just need to be retranslated for this day and age. Tawny is not only creating beautiful designs but is taking sustainable approach to couture clothing, which is stands out against the usual in the "out-with-the-old, in-with-the-new" attitude in the trend-churning world of couture.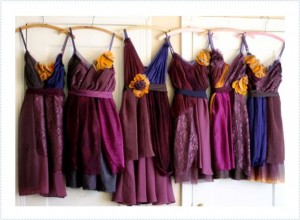 While these dresses will be stunning in a number of scenarios, I particularly think Armour sans Anguish's dresses are perfect choice for brides who may be considering the mismatched look for their bridesmaids. I did the choose-your-own-dress adventure myself, and, as it turns out, it's very difficult to have your maids find dresses that complement each other without having two of the same, or so many disparate styles that it looks chaotic. I know it can be done, but it was also one of the most time-consuming parts of my own planning.
Amour sans Anguish is the perfect compromise, because the one-of-a-kind dresses give each of your maids their own look, but since the reclaimed materials are cut from the same fabrics and bits are used on each dress, the cohesion also happens naturally, with really beautiful results. It's a perfect balance! And, since it is custom-made, you are sure to be able to incorporate several of your wedding colors.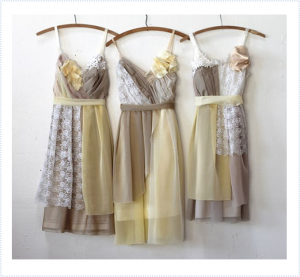 Amour sans Anguish is also the ideal choice if your wedding theme is at all romantic, bohemian, beach-y, nature-inspired, garden-y, or you're looking something with a bit of an edge. If coordinated, classic, and crisply tailored is your style, then this look might not be for you, but I think anyone can appreciate the beauty that is the end result of these one-of-a kind pieces.
Well, since this post had so many 1980s references, why not add a few more? To recap: if you're into a little more uniformity, then you can watch this a clip of Robert Palmer's Addicted to Love video on You Tube, and there will be other posts from me for finding you the perfect dress!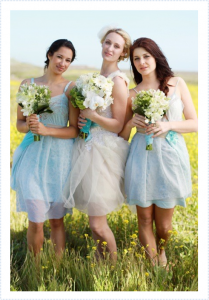 However, if you swooned over Madonna's style in Desperately Seeking Susan, loved it when Jennifer Beals wore that expertly torn sweatshirt in Flashdance, and were at the edge of your seat when Molly Ringwald/Andie made her debut at the prom, then you probably love a little personality to your clothing and would adore Amour Sans Anguish's very current take on vintage for your wedding.
If you are interested in ordering a suite of bridesmaid dresses or a one-of-a-kind bridal dress for your own wedding, please contact Armour sans Anguish through their Etsy shop here or on their site at www.armoursansanguish.com Please also keep in mind that they are a small shop and custom work like this takes time, so plan ahead, and please also be patient with getting a response. I promise, it will be worth the wait!
Our thanks to Photographer Scot Woodman www.scotwoodmanphoto.com (photos 1, 2, 3) for his beautiful images, and to Armour Sans Anguish for remaining photos and allowing me to feature them!